How to Wrap Hair in Scarf for Sleeping: A Step-By-Step Guide
Have you ever experienced styling your hair the night before and ended up realizing that you have to do it all over again the next morning? How about making expensive investments with hair care products only to eventually recognize that they aren't doing anything?
Admittingly, we tend to think that we are doing the right thing when it comes to our crowning glory and seem to forget that this needs protection even while we sleep. 
As we doze off, our hair gets into contact with our pillowcase and this, in the end, causes frizzy hair. A silk or satin scarf wrapped around your hair will absolutely reduce the friction and help you see what your hair is capable of looking and feeling.
For a frizz-free morning, follow this step-by-step guide on how to achieve certain scarf wrap styles for a convenient way to hold your hair together.
What Is a Head Wrap?
As the name suggests, a head wrap is a technique used by women to smooth out the strands and let them rest against the scalp for a sleek finish. One of its main purposes is to preserve the style and prevent the current hair situation from reverting back to its natural form.
A scarf is then used and placed around the head, concealing the entire head and hair. Thick hair is often used with a bobby pin along with the scarf to make sure that the headwrap lasts the entire night. 
The headwrap or head covering used to be the status symbol of class, wealth, and relationships in the past. This is deeply rooted in black Americans as well as Indians and many other groups of culture. 
Start by Prepping the Hair
The hair has to be in its right condition before you proceed to wrap it. Comb it with a quality brush and part it if necessary. For a more secured state, make use of bobby pins to hold your hair together.
The only time you ditch your brush is when you have curly hair. Letting it get combed through may cause it to frizz out, so the better alternative would be using your hands. Depending on the condition of your hair, prepping would highly vary. 
3 Ways on How to Wrap Your Hair With a Scarf at Night
1. Turban Style Scarf Wrap
Dubbed as one of the easiest styles to follow, the turban wrap only requires a silk or satin scarf that is thick in width. If possible, go for a square scarf for this one. Take one corner and let it meet its opposite corner to form a triangle.
Check which side feels smoother to the touch and use it with it facing your hair so there'd be less rubbing that's going to happen while you sleep.
Both long ends of the fabric should drape around your neck and the middle must be placed against your neck's nape. For those with long hair, tilt your hair forward as you start wrapping so they would all be covered.
Gently, pull both ends and place them along your hairline up to the top of your head. Tie a knot until you're satisfied with its tightness and draw the remaining fabric down to the base of your neck and make another knot.
Tuck the new knot below the cover to keep it in place and bring the remaining edges up to your forehead. The remaining pointed corner on the back must be tucked under the first knot as well as on the sides and ensure your whole hair is covered.
2. Classic Scarf Wrap
Tie your hair, braids, or dreadlocks into a messy bun in the upper center of your head. You can carry it low depending on what's more convenient and comfortable for you. 
Those with short hair need not tie their hair in a bun. Proceed directly with wrapping.
The next step would be forming a square scarf into a triangle. You can make the other side a bigger triangle for more coverage. Match the long edge of the scarf along with your hairline while the tip of the triangle rests in your face.
Both taut ends must be tied together at the base of the neck and do so in the right fit and tightness. The draping fabric in front of you should then be placed to the back and tucked beneath the knot and edges.
For a guaranteed no-slip experience, tie the draping fabric with the first knot before hiding it in or use an elastic. If the excess fabric is still lengthy, simply draw both edges up to your forehead and tie them together.
3. Pineapple Scarf Wrap
The pineapple method resembles the look of, well, pineapple with its crown. What you need to do is to gather all your hair and tie it loosely in a ponytail on top of your head. You can do the same if you have curls.
When using a hairband to achieve the high ponytail look, make sure there won't be any super tight feeling that can cause stress on your scalp and hair follicles. This technique, by the way, is ideal for those whose hairs measure around 8 to 20 cm.
Next, you'd need a rectangular scarf. If it's too thick, consider folding it once or twice to make scarf wrap thinner. Let the middle of the scarf rest at the back of your neck after.
Hold both ends and lead them up to your forehead. Get them to cross over each other and draw them both back down to the base of your neck and do a tight knot to seal the wrap. 
As you'd notice, the hair is grouped in the center. Short curly hairs can be left as is, but you can also opt to use a satin bonnet to conceal everything including the scarf.
The Best Scarf Wraps to Purchase
Not all scarves you see in the market can be used as a hair wrap at night. You have to choose the right fabric which is either silk or satin as they're smooth and can cause less damage to the hair compared to one that is made from cotton.
Quality is also a significant factor many ladies would highly consider before ultimately purchasing a scarf. Some would appear smooth in the eyes but stiff to the touch. Versatility is also another feature to look into. 
With that, we have compiled the 3 best scarf wraps for your nighttime hair care routine.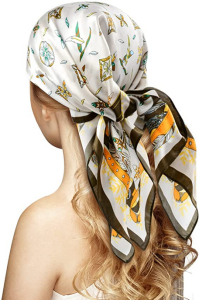 Made from 100% mulberry silk, this headscarf will turn out to be your favorite out of your collection. It is breathable, lightweight, and emits no odor that can disrupt the pH balance on your scalp. Its length is about 68×68 cm which is neither too big nor too small to be worn. The fabric won't rip apart after a few stretches as you take advantage of its multi-wear properties.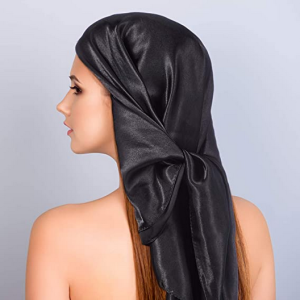 If you got a large volume of hair, this silk headscarf that comes in black and many other colors sure would fit your entire head effortlessly. Its large size accommodates anything from straight to curly. Since it is made from silk, the fabric feels smooth and looks shiny. It is naturally dyed so rest assured you won't see any fading or discoloration in any areas nor would it leave certain marks on your light-colored hair after it comes into contact with your head's moisture.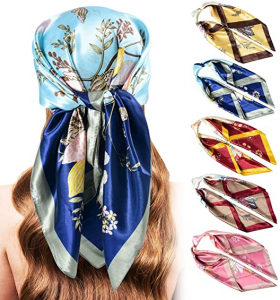 Another type to complete your scarf collection is one that is made from satin. This is mostly the same with silk as its features include being light, breathable, smooth, and soft. This is measured to be 35×35 inches perfect for ladies out there who have long and thick hair. Aside from the fact that this can be your hair's best friend at night, this scarf can also be sported along with your casual or semi-formal outfits. Overall, this piece of fabric is durable, high-quality, and worth the money.
What Are the Benefits of Doing a Head Wrap Using a Scarf?
A headwrap may sound like something that's from the 1950s, but the truth is that modern women can benefit a lot from this. Primarily, what this does is promote healthy natural hair growth. As we age, the quality of our hair changes.
We can also notice the reduced dryness on your scalp as you commit to this routine every night. The scarf that is tied and wrapped on your head and hair helps retain the moisture and natural oil your skin produces.
Additionally, if you just had your hair treatment, know that your hair would be highly prone to breakage due to the chemicals present on every strand. With a silk or satin scarf protecting it from your pillowcase, less tension and friction will be caused by their contact.
Lastly, you would notice a significantly less occurrence of hair tangles every morning since all are in place as you move around and switch positions during your sleep. 
Pro Tip for Beginners: If your hair seems to be extra dry, consider spritzing your favorite hair oil like argan, coconut, jojoba, or castor oil, or water all over your hair before wrapping your entire head and hair with your preferred scarf.
If you are not comfortable with headwraps, resort to using silk pillowcase instead and change it regularly to prevent acne breakouts. A bonnet would also be a wise alternative as they are usually easy to use.