11 Best Crossbody Bags for Moms with Toddlers in 2021
Bags are not only a staple for many women's outside businesses. For mothers, having a handy bag that is functional is an understatement. A bag carried can be a factor that can either make or break their day!
But when kids come to the scene, a mother should not only pick any type of bag available to make it through the day. She might be attending different situations all the time, and settling with the usual backpack would not suffice. Choosing a crossbody bag is, on more terms, way better for mothers who travel, work, or tag along with their kids all day!
Why Cross Body Bags Are Ideal For Moms?
Done are the days that say plenty of stuff only calls for backpacks or stroll bags. Modern women can still get convenient storage and space without compromising fashion! 
An excellent breakthrough is the making of many crossbody bags for varied women of today. Now with a functional crossbody bag, women can get their hands to other essentials too! 
Depending on the daily needs or the belongings that a mother needs for safe-keeping, there is a sure crossbody bag that can suit her very well.  Mothers who trail along with their toddlers can also let loose their bags on their side to have more ease of moving. 
If you are what we are talking about, a crossbody-style bag can be your most reliable in your getaways or errands!
What To Look For In A Cross Body Bag?
To know which is the perfect bag, you must determine first what details would interest you most. Do you always bring your gadgets with you all the time? Then a bag with compartments and pockets for cords or wire will be very efficient. Do you need to have a secure containment for your cards? Then a bag that supports an RFID feature can take that task for you! 
The following criteria can help before buying that bag you've been eyeing for weeks now:
Material and Structure
Quality is evaluated from the bag's material, sew and structure. If the bag is from durable and weatherproof material, it will be apparent in its high price or make. 
You may want your bag to be made of thick leather or canvas, depending on the context of your business or walk. You see, you can also express your personality with the material composing your bag! 
Look out too for things such as the bag's design. More and more retail companies are trying to produce anti-theft bags for more functionality. With this kind of bag, zippers or openings are more firm and concealed. On some occasions, with women bringing baby items (i.e., for prepping bottled milk), a bag with good insulation is also something that she should look forward to buying.
It is not surprising that bags with lots of compartments interest more owners who are into sorts of daily activities with kids. Bags that have plenty of pockets and zippers are so convenient to have if you want ease of access to your things while managing your youngsters!
Before spending some money on that new bag, you may also check the sewings, interior, or exterior linings that hold the bag altogether. Say you don't need to go through that hassle of complaining to customer care all the time. 
Capacity
Are you an office-kind of person who can spare some time with dinner dates and weekend escapades from time to time? Then you have to mind both the style and the size of the bag you should bring with you! 
Do you like carrying another pair of sandals with you or your Macbook to the place you will be going? Whatever your choice is, make sure that you are not overfilling a small bag if a medium one will do better!
Do not underestimate those buckle-designed bags too. You may have seen how some bags can stand with more class with the chain straps and buckles. These extras are not much of an accessory as they help extend the functionality of your purse or bag.
Some bags with buckles support maximizing the space inside and also help you carry more items. Adjusting these helps the owner to be able to bring more things in one go. 
Shoulder bag straps may also come with chain-like accessories. This one helps shorten or extend the bag strap to the owner's liking. These extras indeed are not just there to look handsome for the bag!
Budget
Of course, if you are looking for a bag that offers different price ranges, we hope that this list can be of great help to you! Whether you are looking for a nice-priced crossbody bag or a luxury one, sure, any of the bags below can be of your liking.
The good news is, other bag retailers have also taken inspiration from the quality and design of branded companies. Plus, you can find most of these bags on sale at great prices too!  With the tips for buying that perfect crossbody bag for women (e.g., especially with toddlers), a princely-looking bag can not be much harder to find this year!
---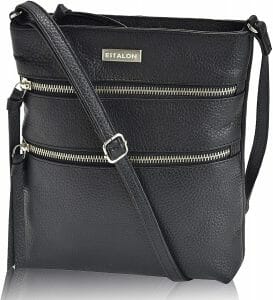 If vintage leather stuff is your thing, the Estalon Leather Crossbody Purse is a great, affordable find. With its plenty of pockets and intricate stitching, your money will go well with this premium quality bag!
This small crossbody bag is also lightweight and suits well for any female's body size. For practical occasions or even travel, this bag is a perfect companion indeed.
You may choose from a range of colors of black, mocha, russet, and more to match any of the styles you decide for the day!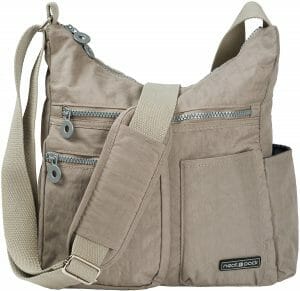 The classic nylon bag from NeatPack is a sure winner for any women's daily businesses! The material used in the bag is weather-resistant and is able to repel both stains and moisture. 
You will even love the many pockets it has that are designed for your phone, keys, and all the other daily items you don't want to be left at home.
The bag also supports RFID protection for your credit cards and passports. With this function added to the lockable zippers, you will be worry-free whenever you are out in the busy streets or trafficked areas. A sure favorite for moms on the go, as the bag is also small and lightweight enough for the hustling days!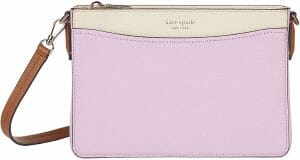 A crossbody-style bag made of genuine cow leather, Kate Spade's bag is a sure treasure to have. Make it up to your family or friends after a day of work, wearing this medium-sized containment!
Like any modern bags crafted these days, the bag also comes with that specific "pocket" for your mobile phone for easy access while you are on the move.
You will not also go weary of the same colors of the bags you already have, as this bag also comes with other colors. Choose among peach, pink and taupe black to complete your get-up!
While some would say that the bag looks smaller than what it says it is, the compact size still nicely captures that ideal bag for your immediate items. A thoughtful addition of a well-sewn front pocket will make you love this more, too!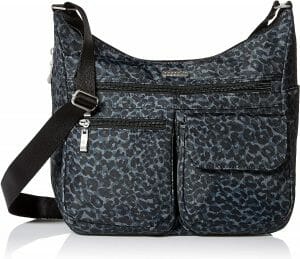 Like as the name suggests, who does not want to miss a bag that can be used everywhere? Having this stylish Bagallinni creation will ease any mom's burden in hand-carrying!
Neat and organized, the Baggallini Everywhere Bagg has intricate pockets and room for the usual items brought by any lady today.
A bag lover would also love that it is made in water-resistant nylon for durability. The bag is washable and proves practical to be used in every get-go of an occasion.
Included also with the bag is an RFID-designed wristlet. It serves as a perfect room for your phone and credit cards that you want to be safe from any data theft issues.
Indeed, this modern bag is a good score for a thoughtfully crafted storage!
One of the most secure bags that deserves a place on our list is something that comes from Travelon.
It may not be as fashionable as any other bags out there, but the bag is so next level when it comes to security against pickpockets! This sleek design of a bag is suitable for anybody's size (even for short-bodied women)!
The messenger-style bag has a slash-resistant body, and a zippered inner wall pocket that can almost replace any purse you always have.  It is convenient too for women's walks or travels due to its easy-access interior and exterior pockets. Grabbing this bag is also worth your money for those essentials you always bring with you (e.g. bottled water or umbrella).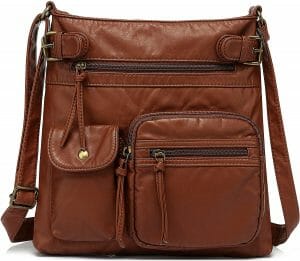 Do you have to bring a bunch of kid snacks but do not want to mess up with the other things in your bag? Oh, and don't forget the water bottle you need to stay hydrated!
Well, this washed vegan (PU) leather bag is strong and durable enough to give you a hand for that weight. 
The shiny, neutral color also blends well with any of your clothing making it a sure, gorgeous addition to your wardrobe!
Keeping up with modern fad on your shopping, traveling, or vacation is easier for sure with this affordable gem.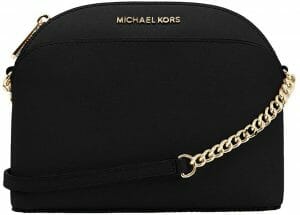 Are you searching for a not-so flashy but luxe-looking bag? The crossbody bag from Michael Kors might make it on your checklist! 
This compact-sized bag makes sure to hold enough of your things without looking bulky at all. The strap also exudes shiny details such as a chain-link accent paired with a beautiful tassel.
If you are looking forward to matching your OOTDs with a petite bag (that is not too big at your side), then get this black, svelte bag.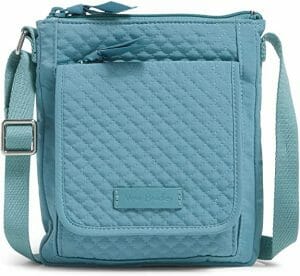 You might love a bag that hugs well with your body size. The crossbody purse from Vera Bradley sports the signature quality of quilted cotton.
It also comes in different colors and patterns that complement any given personality!
The bag has versatile pockets and secures your cards with RFID technology too. With your everyday tasks or routine, this modern ally is almost like taking with you a high-standard bag in a lightweight manner.
With its ample storage for your needs, you know you can always be ready for your excursions, anytime.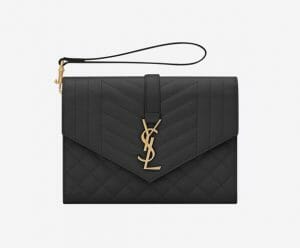 Showcase your elegant pursuit in your statement outfits in the stylish colors of this fashion bag from Saint Laurent.
With the trademark logo, YSL this bag makes a great piece along other small, delicate-sized bags. A tasteful addition for bag collectors and enthusiasts alike, the bag can give that classy aura to its wearer.
The beautiful satchel bag has a front flap for keeping all your things inside, making it one of those best bags with a simple but modish look. If you love ladylike bags that do well in any graceful event, you should jot down this one too.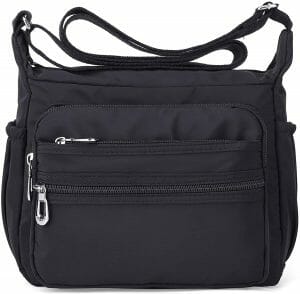 Do you frequently go on short trips downtown? For sure, you will love carrying your basics and other sundry items in this mini organizer-like bag!
With tons of pockets and an easy access system for your phone and wallet, you will be satisfied with this bag that is sheen to the touch.
What's more, is that this bag is also an affordable option for budget-wise moms. It is available in colors that women shoppers would love to have, and it does not bother much along with the groceries, too.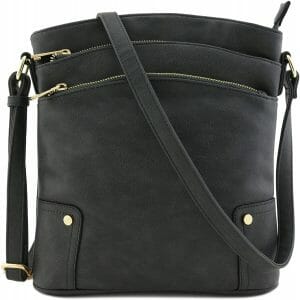 A posh or chic bag, excellent for gifting for your sister or friends with mom duties, too!
The bag has a unique take on main compartments, making it a good steal for any classy woman today. Made of faux leather, it is fabulous for office work and even on planned cocktail occasions. Leveling up your clothes with this crossbody bag is almost like owning one of those high-priced bags on the shelves.