13 Best Everyday Bags for Moms With Toddlers: Top Picks (2021)
Now that your baby's getting bigger, having a diaper bag isn't enough to place all the essentials you need, especially when strolling around the city. Neither a small bag can cater to that extra stuff you may need, or else it'll snap in an instant.
While a practical and functional bag would do, it's much better to have an "everyday" bag that looks good on you as well.
Before delving into our top picks for the best bags for moms with toddlers, you'll need to consider some points to get the most out of your money.
What to Look For When Looking for an Everyday Bag for Moms
It's time to ditch that ordinary diaper bag you've been using for quite some time. Now that your toddler's learning to stand and walk, make sure that you get yourself a bag that could carry all your essentials in one go.
Before making an impulsive purchase, here are the ones you should consider when looking for your best everyday bag:
Space
Having a toddler also means you need to bring food, snacks, diapers, and other stuff. Thus, you need to have an everyday bag that can accommodate your toddler's essentials. Choose a handbag that can cater to all these without looking bulky.
Size
Aside from space, choose a handbag that's neither too big nor too small. Take note that toddlers want to be carried most of the time, so buying a large one would cause trouble.
Material
The material of the bag you're going to choose should be long-lasting and durable to use. After all, you don't want to burden yourself by changing your bag every single day.
Weight
Finally, a functional and spacious bag doesn't necessarily need to be heavy. There are lightweight handbags out there that don't compromise quality and function. And take note, the essentials you'll be carrying in your bag add up to the bag's weight. You don't like to suffer from shoulder pains at the end of the day, right?
13 Best Everyday Bags for Moms With Toddlers
If you're with a toddler, choosing an everyday bag would be a pain in the neck. Having those considerations in mind, we've rounded the best regular bags you can bring while with a toddler.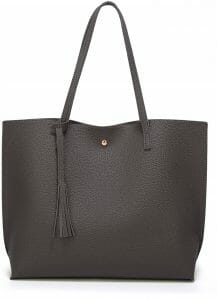 Dimension: 14.1 W x 11.8 H x 4.3 D inches
Material: Faux leather
Colors available: 50+
You can never go wrong with the Dreubea Tote Bag that's the best and most affordable bag you can use every day. This bag doesn't feature multiple compartments but gives you one slip pocket to quickly get things on and off.
Moms who already had this bag praise its functionality. It can accommodate diapers, snacks, a phone, wallet, wipes, and several extras.
Besides, this tote bag is easier to carry while chasing a toddler. Despite the cheap price, you'll definitely love how expensive this bag looks.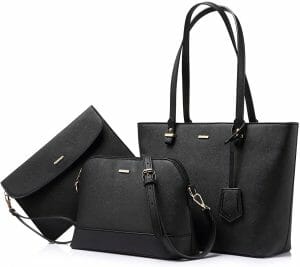 Dimension: 11.8 W x 9.8 H x 4.5D inches
Material: Synthetic leather
Colors available: 24
What you'll love about the LOVEVOOK shoulder tote bag is that it comes in a set of three bags with different styles. Further, it offers the versatility you need depending on your mood for the day.
Planning to run a quick errand? Then pick the clutch or crossbody bag. Wanting to have a nice stroll day at the park? Maybe the tote bag is what you need. Each piece comes with a large compartment. The tote bag has a compartment, two slot pockets, and one zipper pocket. It also secures your toddlers' essentials with its top zipper.
Besides, this bag boasts durability and light material. You won't have to worry about the bag's style because it's classy and chic.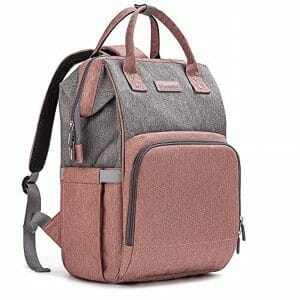 Dimension: 12.6 W x 15.9 H x 3.46 D inches
Material: Oxford fabric
Colors available: 2
Perhaps the most spacious and functional bag for moms, this bag works wonders when you're out with your toddler.
In addition to a big compartment, you'll get three thermal pockets and 11 additional compartments to organize your toddler's stuff and essentials. In fact, this bag can hold a total of 25L weight capacity. Really worth the price.
This diaper bag is considered an "improved" typical bag. It has an extra USB chagrin port so you can slide and connect your phone quickly while still attending to your kid's needs.
It also has three insulated pockets, keeping your baby bottles warm and pleasant while kids enjoy their beautiful moments with you.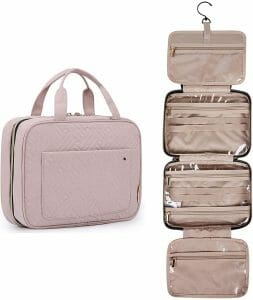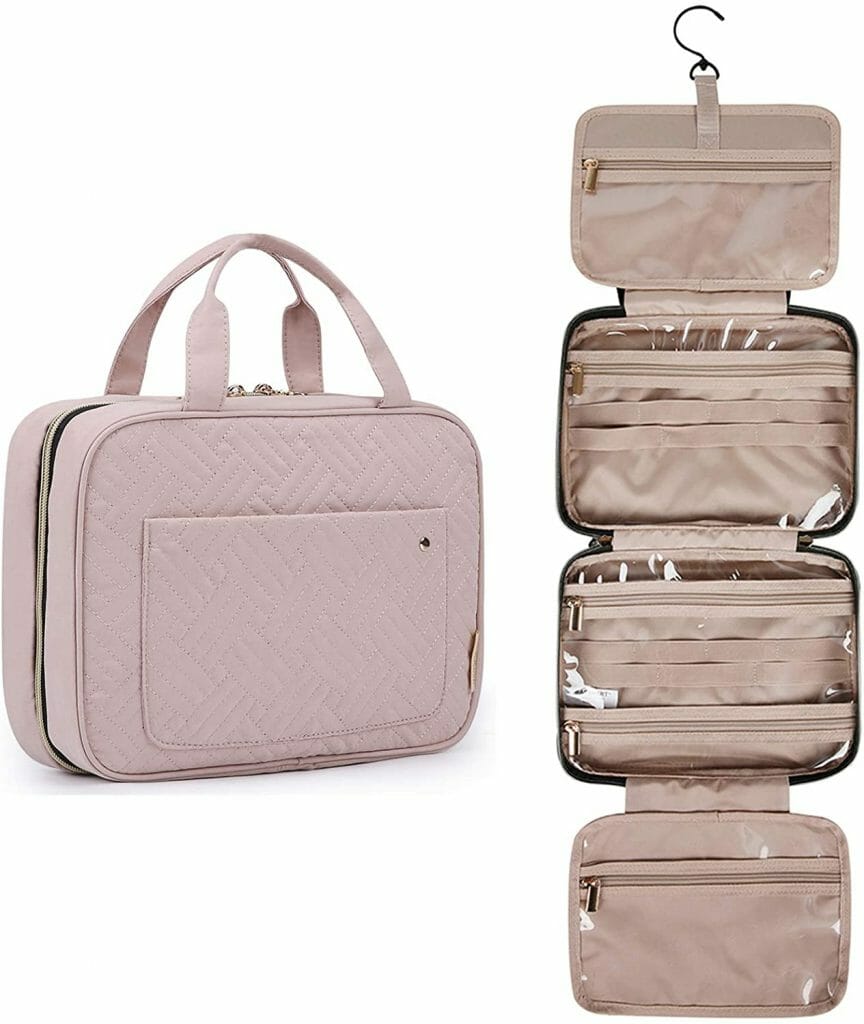 Dimension: 12.6 W x 9.1 H x 4.3 D inches
Material: Water-resistant polyester
Colors available: 5
You'll never see other organizers the same way again with this BAGSMART handbag that serves as toiletry and travel bag. And there are two ways you can access your essentials: unfold the bag's roll or unlock the double-zipper compartment.
Moms who had this bag have one thing to say—it fits all your toddlers' essentials and stuff. This bag contains four spacious compartments for great organization.
Meanwhile, the inner pockets have elastic straps where you can place your kid's bottles securely. The quality of materials used to create this bag is excellent and is well-padded to keep your bag's shape despite the "extra" stuff.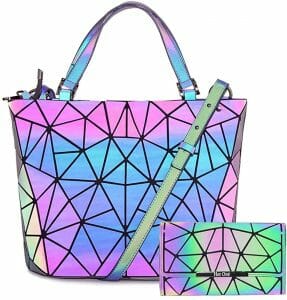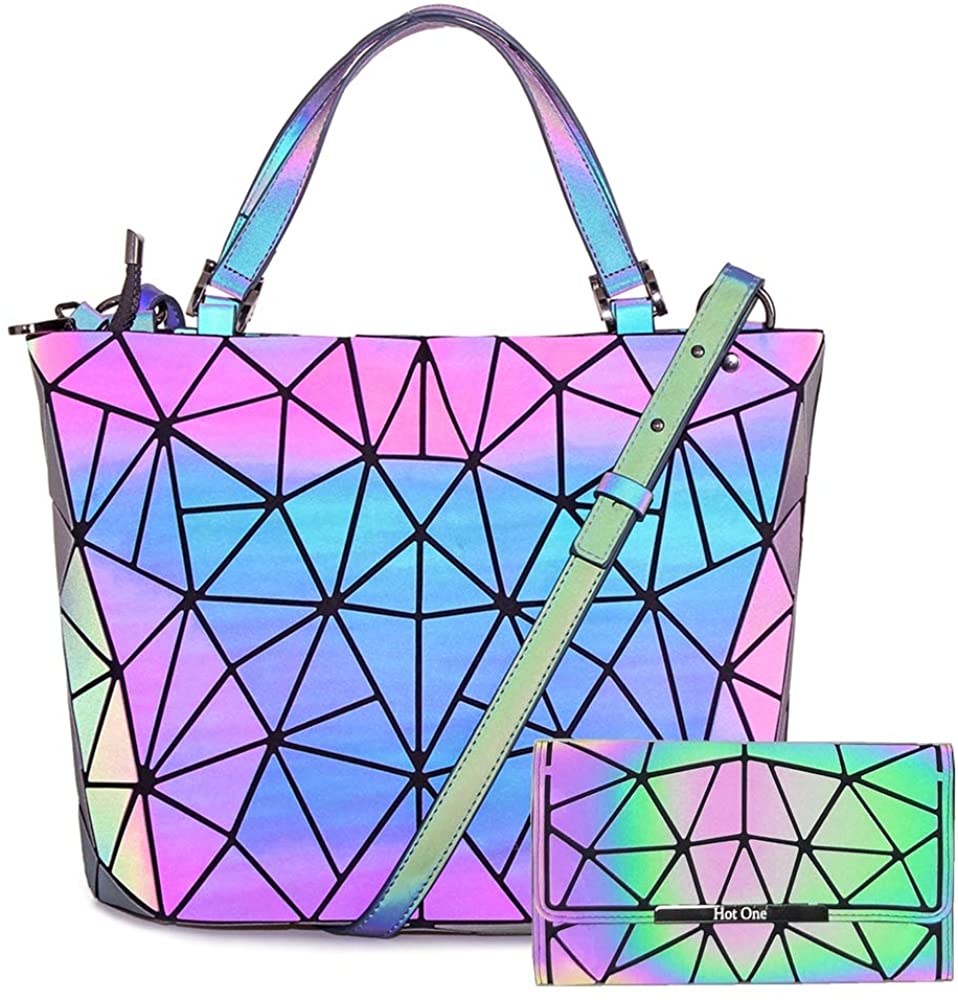 Dimension: 12.9 W x 6.5 H x 1.2 D inches
Material: Polyurethane
Colors available: 5
As a mom, you'll only want the best for your kid. And so must you. This HotOne Luminous handbag can be your next not-your-so-ordinary purse with its geometric patterns.
But hey, did we mention that this bag's color changes from dark gray into a holographic one? Yes, it does! In fact, the color depends on the observer's distance and the light's angle.
Additionally, this bag comes with an adjustable strap. So, you can choose how you'll wear this bag while out with your toddler. Nonetheless, this idea keeps you from fiddling with the purse.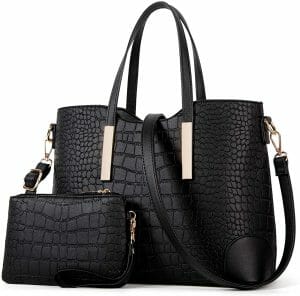 Dimension: 13.3 W x 9.4 H x 5.1 D inches
Material: High-quality PU leather
Colors available: 44
Keep your hands free while carrying everything you need for the day with this TcIFE handbag. This lets you take your toddler's essentials with ease and comfort.
In addition, you can consider this bag as versatile. It lets you have a diaper bag in disguise. It features a noble but chic design that you can bring anywhere, every day with you.
You'll find the bag's material durable, and the handle is sturdy enough even when you're carrying extra baggage.
The bag comes in a perfect size, letting you put lots of weight without compromising the bag's quality.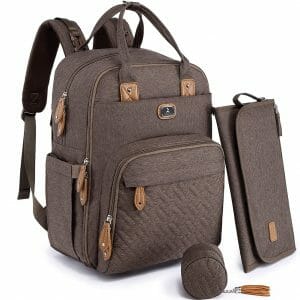 Dimension: 12 W x 16.5 H x 8 D inches
Material: Polyester
Colors available: 5
There's no other way you can bring your toddlers on a day out than having this diaper bag backpack that comes with a changing pad. Yes, a changing pad!
It holds large compartments plus a portable changing pad, stroller straps, a case for your kid's pacifier, and a key loop. Additionally, it encompasses five insulated pockets to keep baby bottles warm and cozy.
Did we mention that this bag contains 18 packers and two spacious compartments? You can quickly get the items you need with its easy-access, convenient, and hands-free bag.
With these features, this bag is more than a diaper bag beyond toddlerhood!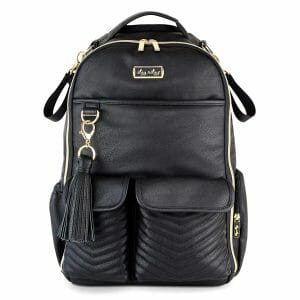 Dimension: 18 W x 10.5 H x 7 D inches
Material: Faux leather
Colors available: 5
You'll be more confident going out with your toddlers with this backpack that gives you roomy compartments. You have two options to carry this bag: using the built-in handle or wearing it as a traditional backpack.
Moreover, the bag contains a total of ten internal and seven external pockets. There are also insulated pockets dedicated to baby bottles, a changing pad, and stroller straps.
Moms particularly love the bag's detailed accents; the manufacturer didn't skimp on any unique feature. Ideally, this bag can even hold a newborn's stuff, your toddler's needs, and your essentials conveniently. Thus, you can bring anything you need while away from home.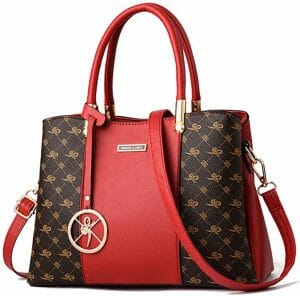 Dimension: 11.1 W x 8.27 H x 45.12 D inches
Material: Faux leather
Colors available: 21
Who said moms can't be sleek and stylish? This KURGOOL handbag could be your next "sneaky" diaper bag, as it doesn't get bulky at all (unless you put too much in it).
It offers versatility because you can use this handbag for everyday use. Depending on your errand, have this bag as a handbag, a tote, a crossbody bag, or a shoulder purse.
Inside you'll find three main compartments, a back zipper pocket, an interior pocket, and two open interior pockets for ease of access.
Not a fan of red bags? This everyday handbag is available in 21 colors. You'll have exactly what you need for your next outdoor trip with your toddler.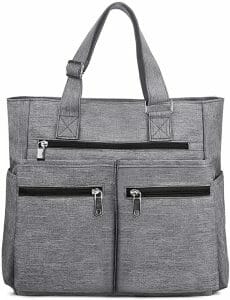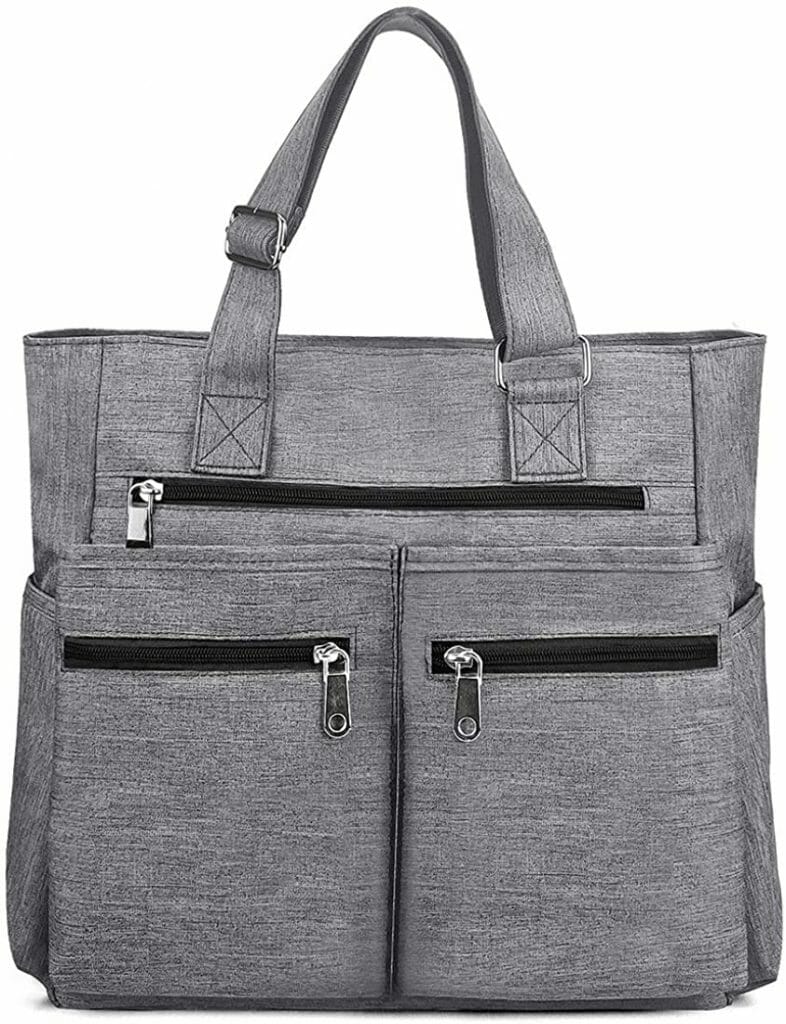 Dimension: 14 W x 13H x 5.1 D inches
Material: Oxford nylon
Colors available: 15
This VOLGANIK ROCK tote bag is another perfect bag if you're looking for a more spacious and functional purse, especially when going out with your kids.
Subsequently, it can hold the necessary stuff your toddler needs without striking a balance between convenience and style.
You can keep your essentials and belongings safely. The bag contains compartments that let you organize things easier (even with one hand).
The strap is adjustable as well. You can modify it based on your preferred length and carry it as either a handbag or a shoulder bag.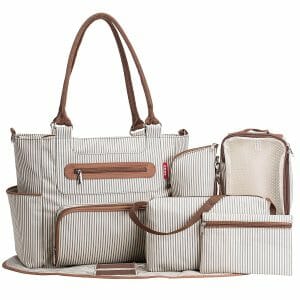 Dimension: 17.6 W x 13.6 H x 2.2 D inches
Material: Faux leather
Colors available: 50+
Maybe this SoHo Grand bag is the most convenient and complete set in this round. As such, it comes with seven bags: a diaper bag, a mom purse, a changing pad, an accessories bag, an organizer bag with mesh, an insulated bottle bag, and stroller straps.
With these mentioned compartments, you can keep everything organized. You'll quickly find where the bottle, medicine, blanket, or clothes are in an instant.
Moms who had this diaper bag set stated that this bag can even hold a day or two worth of essentials for toddlers and newborns.
Further, ease your worries away with this bag's durable and solid compartments. Plus, it's super affordable; you won't even need to think twice when buying this SoHo bag set!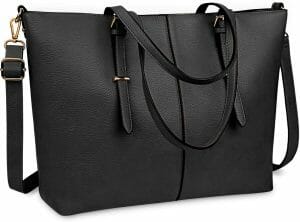 Dimension: 15.3 W x 12.6 H x 5.1 D inches
Material: PU leather and polyester lining
Colors available: 9
We know a working mom who's minimalist and straightforward but gives the best to their kids. This NEWHEY waterproof tote bag could be their next favorite tote bag that can disguise as a diaper bag as well.
It has adjustable straps, and you can wear them over your arm, shoulder, or hand. Alongside this feature is a total of 9 compartments. This bag can accommodate a laptop and office files, while other pockets let you bring your toddler's essentials.
You'll love how the bag is spacious enough to cater to all the needed stuff when going out on dinner with your toddler.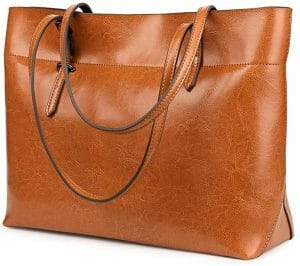 Dimension: 13.77 W x 10.63 H x 5.11 D inches
Material: Genuine leather
Colors available: 4
Finally, this Kattee Vintage might be the one you're looking for if you want to keep that diaper bag style, but it is sleeker and chic in style.
Although this might look like a typical diaper bag, it contains a main compartment that gathers all your kids' essentials for a day out. To compare how spacious the room is, the bag can accommodate an 11.8 x 6.7-inch laptop.
It also has a bunch of pockets. Some are zippered, while the rest are open. Nevertheless, this bag is made for years of everyday use. Pretty worth your buck.