11 Best Crossbody Bags for Petites (and How to Choose One)
What Is a Crossbody Bag?
A crossbody bag refers to a type of bag that is neither too large nor too small for you to tote your everyday essentials. Moreover, women consider crossbody bags an essential carrier because of their versatility, functionality, security, and style.
Unlike backpacks and shoulder bags, crossbody bags are good for your back because they distribute the weight on both sides of your body. You can easily carry your things without too much load that other bags do. 
Versatility
You can never go wrong with having a crossbody bag that can match almost all of your OOTDs, whether it be a dress, casual, or streetwear. They have adjustable straps that you can easily change depending on how long you want your bag. Besides, crossbody bags can be effortlessly worn across your body or carried over your shoulders.
Nevertheless, the best crossbody bag color (for most women) is black, mainly because of its versatility. It cannot be denied that the black color goes along well for different occasions and can match your outfit's hues.
Functionality
As mentioned, you can wear a crossbody bag depending on your preference. You can loop it on your shoulder, run the straps on the opposite side of your body, or carry it like a regular shoulder bag.
It's the most practical and functional bag, especially when you want your hands free while walking or strolling around the city. As such, crossbody bags don't fiddle while holding onto a cart or carrying bags when shopping.
Security
Another reason why women prefer crossbody bags over shoulder bags is their security. Since a crossbody bag runs on your body, it stays close to your side. Besides, most crossbody bags come with zipped pockets, so they're safer to use.
Furthermore, it would be challenging for evil-minded individuals because it would be hard for them to pull off your bag in one pass.
Fashionable
Finally, crossbody bags are timeless fashion bags. They're chic, sleek, and stylish that adds a vibe to your overall OOTD. Plus, you don't have to worry about carrying such a bag while running an errand because they're strapped on your shoulders securely.
For petite women, crossbody bags work well because they usually come in medium and small sizes, which doesn't overwhelm their body figure. What's more, crossbody bags come in various shapes, colors, and materials, letting you find the best bag that compliments your OOTD handily.
How to Pick a Crossbody Bag Style That Best Fit Petites?
If you're petite, you need to consider several factors when choosing a crossbody bag to flatter your look. You need to acknowledge the color, size, material, and style. Further, here are the things you need to know:
Color
When choosing a crossbody bag, always opt for a neutral color, such as black, white, and gray. As stated above, black is the most versatile handbag color because it matches and accents all your OOTDS.
Size
The key concept here is to always have a handbag that's proportional to your size. Thus, petite women should carry a crossbody bag that's small to medium in size, which is guaranteed to make you look fat.
Petite women may carry a large purse for practical purposes. Yet, it isn't an excellent fashion choice to compliment your overall look. In fact, carrying bags more than your body shape would make you look more petite.
Material
Any crossbody bag material would go well with a petite figure. Nevertheless, it's best to choose the ones that are sure to last for years, such as faux leather, nylon, suede, and fabric.
Style
Finally, opt for a style that adds weight to your shape and figure. You may want to choose a crossbody bag that hangs freely but securely on your waist. Further, choose a crossbody bag with an adjustable strap that lets you have a 20 to 50-inch drop. This way, you can modify the bag's strap length to your preference.
11 Best Crossbody Bags for Petites
Further, here take a look at our favorite crossbody bags dedicated to petite women in mind: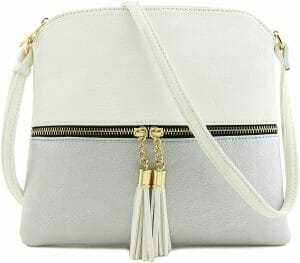 Dimension: 10 W x 9 H x 0.5 D (inches)
Material: Faux leather
Adjustable strap: 25.5-inch drop
Colors available: 44
First on the list is the crossbody bag from the Deluxity Store, earning over 20,500-star ratings on Amazon as of this writing.
The crossbody bag is small in size but is surprisingly roomy to carry your tote essentials. You can fit your phone (holds iPhone 7), keys, and makeup accessories. And mind you, this bag doesn't get bulky at all, so it generally flatters petite women.
The strap is longer than the average, so you'll find this a lightweight bag that's easy to use and carry. Inside you'll find a zipper pocket and an open pocket. All colors come with a front functional pocket zippered with a tassel.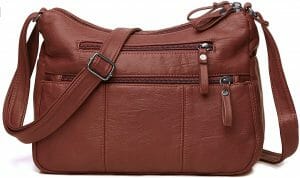 Dimension: 10.2 W x 7.5 H x 4.7 D (inches)
Material: Washed PU leather
Adjustable strap: 30 to 59-inch drop
Colors available: 32
If you need to carry many essentials that the crossbody bag above can't hold, this bag delivers. This bag can accommodate an iPad, wallet, cellphone, makeup, perfumes, and a cushion.
You'll find plenty of pockets in this bag: two main bags, inside pockets, three pockets (outside), and two side pockets.
Further, you can also consider this bag an organizer, perfect for petite women who love to bring many items. Besides, you can quickly adjust the shoulder strap from 30 to 59 inches, depending on how long you want your bag to hang.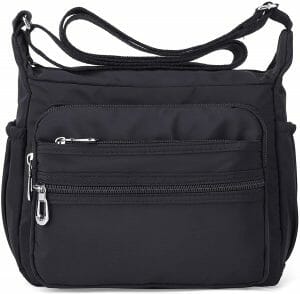 Dimension: 10.2 W x 8.6 H x 3.5 D (inches)
Material: Water-resistant nylon Oxford
Adjustable strap: 36-inch drop
Colors available: 4
For a more stylish-sporty look, NOTAG offers a crossbody bag that's high quality.
It comes in four different colors made with water-resistant nylon fabric. In this way, you can secure your essentials without worrying they might get wet.
The zippers are strong and don't easily break, ensuring your items' security even when you're wandering around the city. The number of pockets makes a great room for all your needs, making them easier for you to organize.
What makes this item more petite-friendly is that you can wear them any way you want: shoulder bag, handbag, or crossbody bag itself.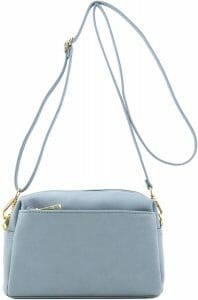 Dimension: 18.5 W x 5.5 H x 2.75 D (inches)
Material: Soft faux leather
Adjustable strap: 26-inch drop
Colors available: 25
What you'll love about this crossbody bag is its perfect dimension for a petite frame, not overpowering one's shape and figure.
It's secure to use, thanks to its solid zipper closure that lets you wander around freely without worrying about losing your items.
Despite the size of this crossbody bag, you'll have plenty of room to organize your essentials. It contains one inside pocket and zipped pockets on the front and back of this bag. And yes, you can even fit a 180 mL bottle of water inside!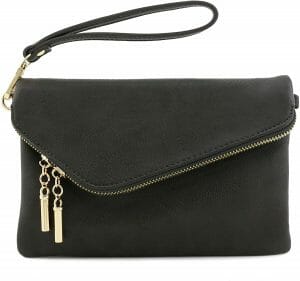 Dimension: 9 W x 6 H x 1 D (inches)
Material: Faux leather
Adjustable strap: 23.5-inch drop
Colors available: 26
The envelope wristlet clutch crossbody bag might be the next big thing with its style and accent.
It's a petite-friendly bag because it doesn't overpower your body's figure. As such, it's small enough to carry your needs but doesn't get bulky at all. This can accommodate a large phone, a maximum of four cards, keys, passport, and makeup.
What's more, this crossbody bag is more versatile than you think it is. The clips on the metal chain let you convert your crossbody bag into a handbag by shortening the chain strap.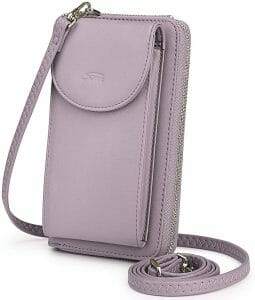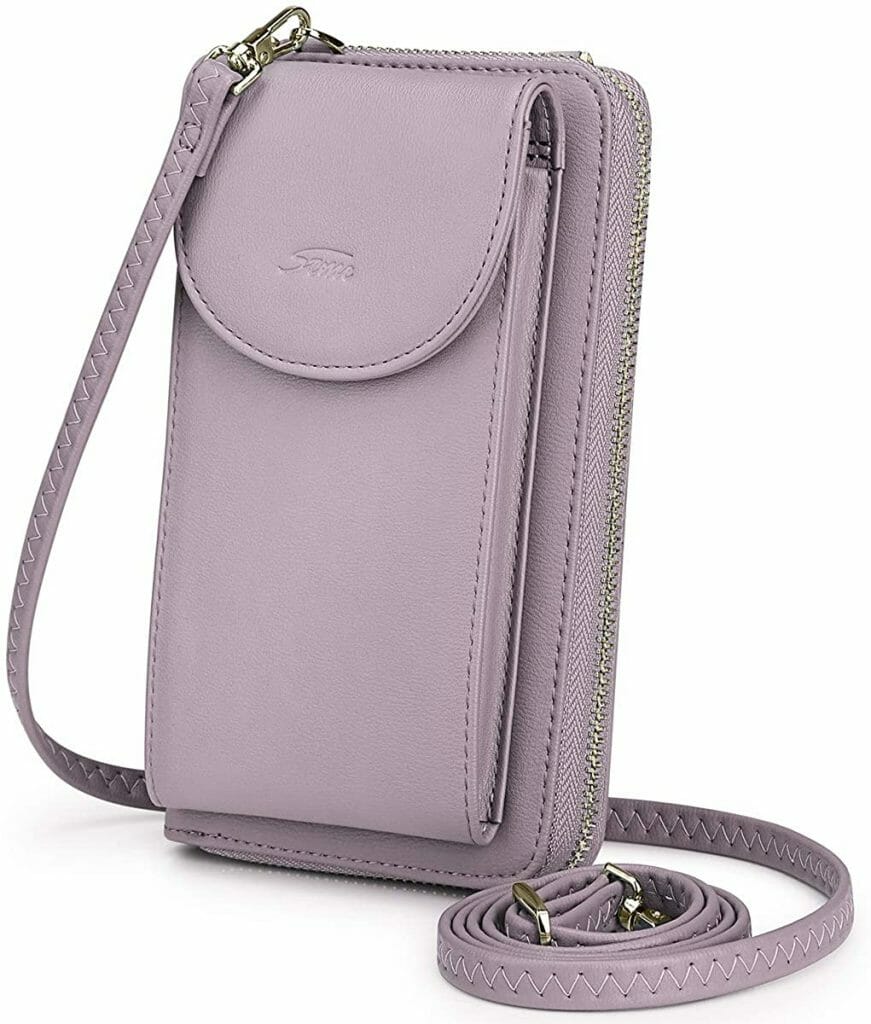 Dimension: 3.5 W x 6.5 H x 0.6 D (inches)
Material: Superior vegan leather
Adjustable strap: 14 to 26-inch drop
Colors available: 44
Your petite body won't seem out of proportion with this RFID-blocking crossbody bag. This bag is convertible into a crossbody bag, a single-shoulder purse, and a clutch wallet.
You'll appreciate the material used to create such a sophisticated item in the list, making it last longer than any other brands cheaply assembled in the market.
Nonetheless, it gives you enough room for your everyday items. You can insert cash and cards that are secured with a zipper. Meanwhile, the front-buttoned pocket can be used as a cellphone pouch (can fit up to 6.5-inch phone length).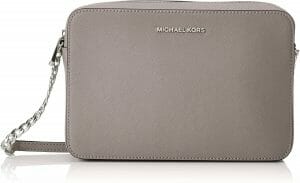 Dimension: 9.5 W x 6.25 H x 2 D (inches)
Material: Faux leather
Adjustable strap: 25.5-inch drop
Colors available: 14
You'll find this bag the most expensive, but it shouldn't stop you from buying this sought-after crossbody bag today.
Michael Kors jet set crossbody bag comes in 14 available colors (all neutral), making it challenging to buy the best hue for you.
Customers particularly love how spacious this crossbody bag is. After all, it doesn't cover too much of the wearer's body, making it among the ideal bags for a petite frame.
This might be the best splurge on this list.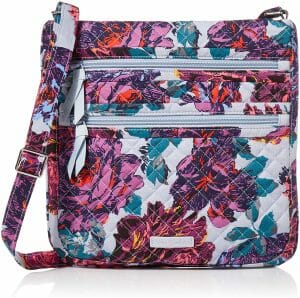 Dimension: 11.75 W x 11.75 H x 1.25 D (inches)
Material: Signature cotton
Adjustable strap: 56-inch drop
Colors available: 35
Suppose you're looking into a more roomy organizer-like crossbody bag. In that case, the Vera Bradley hipster purse will work wonders for you.
You can consider it as your on-the-go crossbody bag, whether you're heading to a market, traveling, or wandering around the city.
With its 56-inch drop adjustable strap, you can modify the length based on your needs. Plus, you'll never feel the burden on your shoulder because this bag distributes the weight evenly on your body.
Petite women would love how this hipster bag would give them a slim silhouette without looking too thin.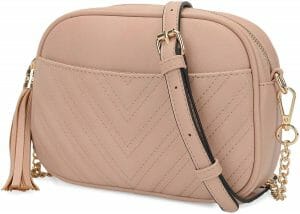 Dimension: 8.5 W x 6 H x 2 D (inches)
Material: Faux leather
Adjustable strap: Not mentioned
Colors available: 20
Another versatile crossbody bag great for a petite frame is this quilted bag from Lola Mae. In fact, you can wear this bag in three ways: crossbody bag, shoulder bag, and a clutch—one bag, three looks!
It includes every petite wearer would want in a bag; it's big enough to carry all your tote essentials but small enough to be sleek. It has a pocket dedicated to your phone and a large zipper pocket that secures your items against theft.
Lastly, this crossbody bag accents an easy-pull zipper tassel that makes it look chicer when worn over your shoulder.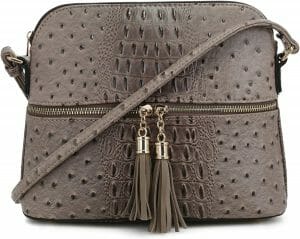 Dimension: 9 W x 10.2 H x 0.5 D (inches)
Material: Vegan leather
Adjustable strap: Not mentioned
Colors available: 11
The lightweight dome crossbody bag isn't only petite-friendly and but also makes your OOTD stand out against the crowd.
As such, it features an animal print pattern on the bag's exterior with a zipper tassel that's more functional and stylish.
Nevertheless, this bag is sturdy with the vegan leather material used. You can easily clean this bag by just wiping the dirt away. 
Inside, you can fit plus-size phones, a hair comb, a wallet, keys, and sunglasses. The strap is adjustable enough to accommodate your height.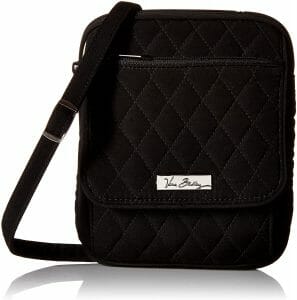 Dimension: 10 W x 9 H x 0.5 D (inches)
Material: Quilted cotton
Adjustable strap: 25.5-inch drop
Colors available: 44
Finally, the Vera Bradley cotton crossbody purse is perfect for a petite frame with its dimensions.
This little purse has room for you to carry a lot of extras. For instance, you can fit a small travel journal, a cell phone, and a passport into the main compartment.
You'll also find the quilted cotton material nice and the straps adjustable enough to fit your preferred bag length.
Nonetheless, it's a good size for running errands quickly.
Are Crossbody Bags Still in Style in 2021
Crossbody bags are considered timeless, staple bags, so it's still "IN" in 2021. Many people, including celebrities, continue to use crossbody bags for their versatile, practical, and flair features. Although it comes in many colors, most women opt for neutrals.