Does Lululemon Hem Leggings? Answering Your Questions
To get you going and active without having to say goodbye to your old favorite leggings, Lululemon commits to hemming your gear the way you like it. In part of the brand's dedication to aiding you in having a seamless moment during your drills, tops and pants, in general, can be altered in length.
So, think twice before heading your way to the local Lululemon shop to buy a new set of leggings for your everyday drills. If you have a few old ones which can still be used after shortening them, it's wiser to give in to that alternative. It's also one way to show effort in restoring a healthy planet.
Now, I know you have a lot of inquiries in mind concerning Lululemon's offer to hem leggings that come from them. We gathered all frequently asked questions in one packed article filled with details and answers you've been looking for.
What Is Hemming?
Hemming is an interesting sewing method to finish off the edge. The process involves folding the fabric for about an inch or so and is sewn to prevent the fabric from trimming. This also includes adjusting the length of the garment such as the bottom of the pants for a more appealing fit.
You can have your Lululemon leggings hemmed shorter if you have issues around the ankle, for example. To keep the garment useful, get it short or clipped instead of throwing them away. Hemming, by all means, is practical for those who love the comfort their leggings offer. 
How Hemming Works in Lululemon
Luckily, hemming your Lululemon leggings is not as complicated as it seems, especially if you have little knowledge about seamstressing. Simply visit a Lululemon store and the educator will guide you through the process. 
Of course, never forget to bring the Lululemon leggings you want to be hemmed. You will then be asked to put them on for more accurate insight on how short you want them to be. 
An assigned educator will be the one who will pin the hem according to where you want it and once that's done, the tailors will do the rest of the hard work.
It's the waiting game after. Lululemon will inform you of the estimated number of days before you can pick up your hemmed leggings. The actual turnaround time may be less so keep in touch with your local Lululemon store or showroom. 
Once your item is ready for pick-up, don't forget to bring with you your hemming receipt. 
Things to Do Before Getting Your Leggings Hemmed
Don't be quick to rush your way to the Lululemon store to get your leggings hemmed! There are a few tips the brand conveys to their customers who want to have their gear subjected to such a process. 
Here are some of the things you should take note of:
This needs not be said. Your Lululemon leggings must be clean and fully dry before they're brought to the store.
For a more precise measurement, bring the shoes you would typically wear with your gear. Not doing so may result in your pants looking awkward in length the moment you put them on.
There are certain features that would disqualify your gear from getting hemmed. If they have cuffs, thumbholes, drawcords, zippers, and buttons, then it is most likely that your leggings won't be hemmed by your local store. 
How Long Does Lululemon Take To Finish Hemming off My Leggings?
Getting your Lululemon leggings hemmed would only take around three to seven days. If you have brought them to a store, expect that within three days or less, your gear is ready to be picked up. Seasonal stores or showrooms, on the other hand, would take a long time at about seven days.
What's good about the Lululemon brand is that they are very much into giving their loyal customers the convenience they deserve. In case you can no longer get to the store where you have had your leggings hemmed, the team will simply ship it to your address.
Does Lululemon Also Fix Loose Seams and Holes?
We are letting you in on a shopping secret– Lululemon does fix holes and loose seams in your leggings. In all honesty, it's hard to not find Lululemon leggings as pieces of investment. Of course, this solution won't always be glittery perfect, so keep the expectations moderate.
In certain instances wherein the hole is located in the middle of the thigh or anywhere far from the seam or noticeable areas, the hole is sometimes sewed up with a matching thread. Up close, this may look visible but not really in distance.  
Can Lululemon Turn My Leggings Into Shorts?
Absolutely! A TikTok user, Sonali (@so_narly) found out about this incredible "hack". She shared that she had an old pair of leggings that have holes below the knees. Knowing that Lululemon hems leggings for free, she didn't hesitate to experience the offer and turn her leggings into shorts!
Basically, she had her full-length Lulu leggings and requested that these be hemmed into biker shorts and that's exactly how the tailor did it. There are no receipts or tags required at all.
Repurposing Lululemon gear is no longer impossible with the help of the brand itself. With that being said, it's achievable to have your leggings working suitably for you in all life stages for as long as they're usable. 
Hand-me-down Lulu clothing can also fit any new wearer with just a bit of hemming here and there.
Can I Exchange My Old Lululemon Leggings for a New One?
Everything is almost possible with Lululemon, meaning you can certainly exchange your old Lulu leggings for a new one eventually. Any gently worn items that pass the standards will be refreshed for someone else. In return, you'll receive credits which you can use to buy a new Lululemon gear.
The e-gift card can be used both at your local Lululemon shop or on  lululemon.com. Leggings and bags have an equivalent of $10 credit. For outerwear, expect to receive $25, and $5 for tank tops, shirts, and shorts.
Additionally, old Lululemon leggings that are damaged are no longer eligible for the credit. It's the same with swimsuits and other self-care products (mainly for hygiene purposes). 
Check as well if there are discolorations, rips, and pilling on your item. Lululemon does not accept items with these conditions.
Can I Exchange My Lululemon Leggings if They Rip?
If the leggings didn't satisfy you, Lululemon is with you in giving you only the best experience by offering you the chance to return or exchange the item as long as it adheres to their policies.
Should you contact a customer service agent, they will ask you a few probing questions to understand the situation and why the ripping occurred. This isn't done to find a way to put the blame on you by checking if you used or washed the leggings wrong. 
Simply put, be honest about how the results came to be and express your disappointment despite doing your best to take care of the gear. If the store refuses to offer you a new pair of leggings, contacting Lululemon's customer service is the next step.
Lululemon Products That May Not Be Ideal for Hemming
Not all Lululemon items can be hemmed the way you want them to be. Educators will usually advise you not to go through if the products are the following:
Mesh Fabric. Once hemmed, the fabric will become warped and ugly.
Seamless Leggings. Hemming seamless leggings defeat their primary feature. The presence of flat-locked seams will no longer make your item seamless.
Has a Raw Hem. Hemming tights or any garment with originally raw hems also take away their primary feature. 
3 Lululemon Leggings That Can Last
Lululemon is always with you in your pursuit of products that will really last a lifetime if possible. Choose Lulu leggings that can be hemmed so you can continuously use them for longer years. For high-quality durable workout or yoga pants, we list the top three from the brand: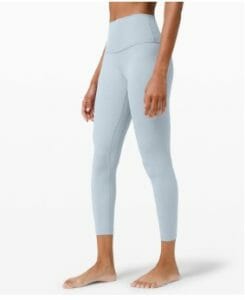 These leggings designed for yoga can provide you with the perfect coverage you need no matter what movements you make. With a wide selection of colors, any shade you choose is suitable for any casual wear. Buttery when touched, these leggings are practically weightless with their superb Nulu fabric, so we truly understand your urge to keep wearing this pair. These are seamed on the bottom, so should there be any adjustments, doing so wouldn't be a problem.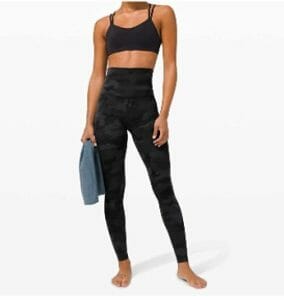 What's amazing about Lulu leggings is that they're just excellent for whatever purpose they're made for. Take these yoga pants as an example. The high-waisted feature isn't to merely show off your figure but to also make sure that pants have a firm grip to avoid the unwanted exposure from behind should you perform your squats. True, these body-forming garments may eventually be outgrown by you, but luckily, as they're seamed, any tailor can make magic happen.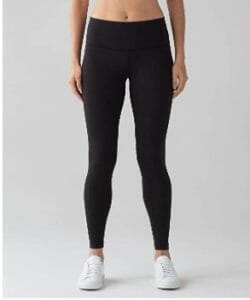 Another Lululemon leggings you have to consider adding to your athleisure wear collection are these Wunder Under High-Rise Tights. It's full in length which gives you the option to have them cropped or turned into biker shorts in the future if your body adds up more height. What makes us think these will last for loads of years? The Lycra fabric is blended right in and this is responsible for shape retention. If it's getting tight around the ankle, get them seamed or hemmed and continue to enjoy the positive experience you're getting from Lululemon.