What Does Bralette Mean? Its 6 Features and More!
For comfort-conscious and fashion lovers, a bralette is best described as a women's garment that offers a superb experience that is far better than your typical bra. It's meant to be seen in your whole outfit unless you've chosen to throw on a sheer one. 
It remains a hot topic for some as to why bralettes are becoming an uncontrollable craze right now. But, once you've developed the confidence to show more of your skin, you might end up buying them in bulks! Get to know more about this fashion clothing through this jam-packed article written especially for you!
How Bralettes Started
The 1920s and 1930s bras pass today's standards for a bralette. In its early widespread emergence, people would often think bralettes are merely for kids! Surprisingly, a more revolutionized construction was introduced and is taking over the place of push-up bras that would always show up in lingerie ads. 
In recent seasons, bralettes have become a wardrobe staple for many women all over the world. These garments are slowly dethroning the kind of bras that would usually have gaping cups, wires underneath, and stubborn slipping straps!
With excellent innovation, several other artists and well-known celebrities are starting to support the bralette fad like Miley Cyrus and Rihanna, for instance. Even Victoria's Secret came up with a slogan for their ad campaign which says, "No padding is sexy now!"
What's a Bralette For?
This lightweight bra is mainly used by women who want to feel freer when it comes to their clothing. It's time to take the liberty to let go of constricted movements, uncomfortable feelings, and painful wire pokes. Aside from the goal of comfort, a bralette also serves as an aesthetic piece that can complete a sexy ensemble. 
To add more, this is lingerie 2.0 except that you can wear this as a top– outerwear. Whether you think about giving your partner something special to look forward to or simply impressing him even more through a date, a bralette is never the wrong choice of clothing! 
6 Features That Make a Bralette
Now that we know what a bralette really is, knowing what makes it one is the next thing to know about. In the bra world, there are loads of types you can see and it's easy to mistake one thing for another. 
So, before you head your way to the store and purchase your first ever bralette, here are 6 features to add to your checklist to guarantee you bought the right one:
1. Free From Wired Cups
A bralette is generally wire-free and some would sport a thick band underneath the bust. For a tempting vibe, bralettes with mono or multi-straps are also available. The lack of wires for each bust is a true comfort unmatched by no other! Bralettes can be worn by anyone who has sensitive boobs during pregnancy, period, or even if you're lactating. 
2. Has Minimal Structure
Compared to your typical bra, the bralette has less of a structure. It's not super thick nor are its cups prominent. Mainly, this garment is stretchy that comes in a lace fabric. The way the back looks also tells a lot about how genuinely minimal it is. Some bralettes have rear styles that are far different from the generic bra and can be worn over the head like you would with a shirt. 
3. Less to No Padding
Light and breezy! That's how most women would describe a bralette. This is because most bralettes have no padding but if ever they do, they're so minimal to the point wherein you'd think they're nonexistent. The goal bralettes try to achieve is to provide you with more liberty after being years of using prison-like bras. 
A bralette is not meant to push anything but rather give you a more easy-going look and feeling. 
4. Less Coverage
From the word itself, anyone would automatically assume bralettes would offer less coverage and it's true. Most bralettes would show a bit of your cleavage depending on the style, but the important bits remain concealed. This is why some bralettes are ideal for women with smaller boobs.
Since bralettes are worn as a top in most cases, be sure to check their sheerness level first in the mirror before heading your way out. 
5. Variety of Cup Shapes
No matter which store you go to, bralettes will always differ from one another not just in looks and fabrics, but as well as styles. The most common cup shape is one that is larger and wider at the bottom bust and tapers up above, just right under the shoulder blades. 
This is preferred by women with smaller boob sizes and quite unflattering for those that are large. For plus-size women, rounder cups are the perfect bralette style to go for or those that come with a high-neck feature.
6. Back Designs
The style doesn't end at the front! Bralettes also feature back designs that can either be strappy, haltered, lacey, or whatnot. Let's not ignore how sexy our backs can be hence why designers pour effort into making the back of these bralettes attractive to look at.
Backless shirts and other tops alike are best matched with sexy bralettes with seductive designs behind them. 
4 Bralette Types You Need
I firmly believe that for each girl out there, a bralette is made specifically for her. You don't have to travel the whole world looking for it nor do you have to schedule yourself for a custom-made bralette, although that would be a wise choice.
I know, we have our own unique struggles. If you happen to experience having difficulty choosing the right bralette, here are 4 types you might need: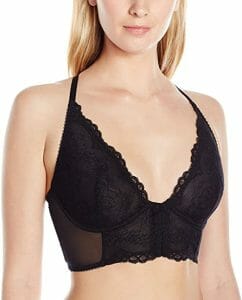 Have you ever sported a lace bralette and ended up seeing a mono-boob in the mirror? Heal the trauma and worry no more, especially if you're that determined to include a bralette in your fashion game.
What solves your issue is a bralette with underwire and plunge features. What this does is set your boobs apart and prevent them from looking squished together. The underwire under the bust aids in keeping your chest maintain its shape as well as to make it stay in place.
The comfort remains the same, but one thing you've absolutely eliminated is the dreadful squeezed-in cleavage.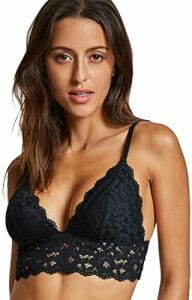 Before you ditch the bralette trend because of the lack of support you receive from many of them, try putting on the longline bralette first. This will be enough to hold you from getting back to the traditional bras that are mostly plain, boring, and just monotonous to say the least.
The longline bralette offers more support under the bust with a thicker band on the back. You get to see the same bralette structure in more advanced characteristics and it's undeniably stylish as heck!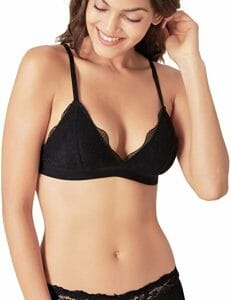 For women who have barely anything there to those who come in medium-size, the triangle bralette top will help you ooze out your fiery sexy look. The deep plunge neckline that goes down to the lower section between both busts makes the most out of your assets!
The way the triangle bralette is made pushes and scoops everything up right into the center for a fuller appearance. It will look just the way you want it!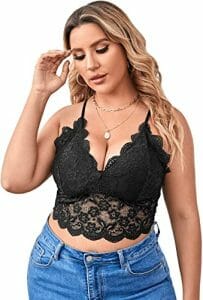 Worrying you'd look bad if you're plus-size? A bralette will surely make you look your best! With thorough online shopping, you will quickly come across feminine bralettes that would come in your size. Those with the wires will help cup your breasts in their ideal positions, hence offering you the whole support you need.
It's preferable that you go for a bralette with a hook and eye so you can freely adjust the wrap according to your comfort.
How Is a Bralette Different From Other Bras?
A bralette comes in a generic standard yet pretty design with a few alterations depending on what design is more preferred by the tailor and is wire-free while bras, on the other hand, are undergarments that would either cover or support a woman's breast.
The whole point of wearing the traditional bra is to redistribute some or most of your bust's weight around your shoulders, hence the strap, and waist, hence the mid-straps present in a few bras. With the right traditional bra, at least 80% of the weight will be carried by the band and the rest by the shoulders.
Meanwhile, a bralette leans more to comfort rather than utility, although it's fair to say that for some, a bralette is enough to provide the support needed for everyday affairs. With it coming in various versions, be sure to try each one from your options until you find a bralette that doesn't shift places or make your breasts spill over the sides!
Can a Bralette Cause Sagging?
Absolutely not. Mind not this widespread myth. Sagging is mainly caused by gravity and aging. Although it is true that a bralette's support is rated minimal at best, the hoax remains baseless.
So wear your bralette anytime you want!