Best Lululemon Leggings for Everyday Wear [15 Top Choices]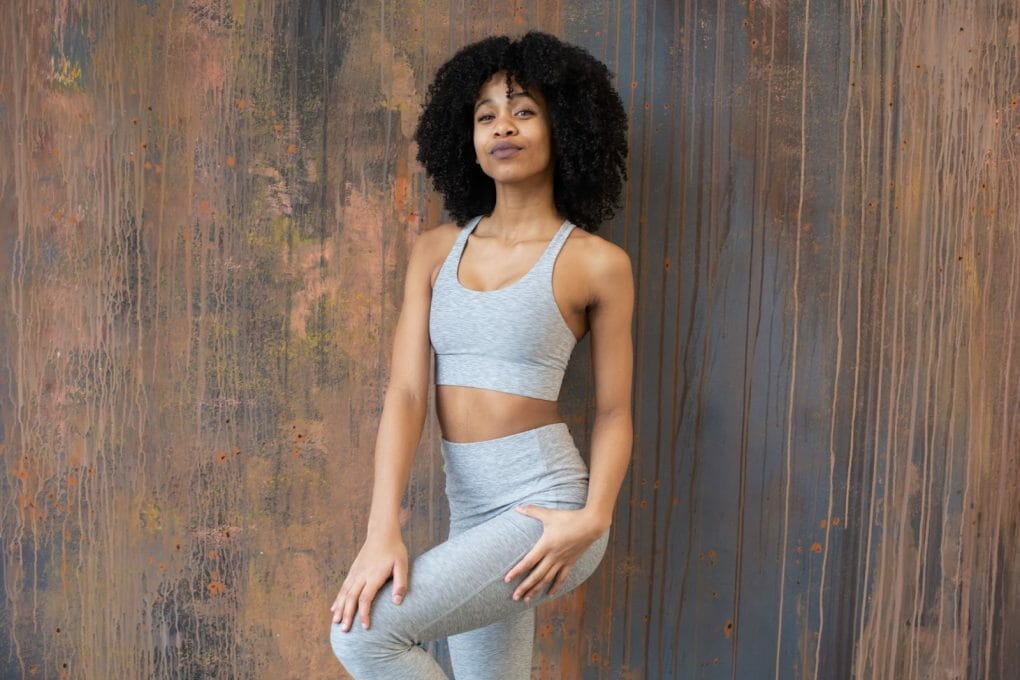 Lululemon leggings are the holy grail of athletic pants. With a pair of these, you no longer have to worry about limited breathability, irritations, movement restrictions, and rolling down waistbands. 
It comes in several sizes to offer you the right fit in premium materials and styles to keep up with the aesthetic look. While these are primarily for comfy workout periods, Lululemon leggings can also be used during casual days. 
It's time to take a break from jeans and trousers with Lululemon leggings. The experience they give will get you hooked! Get into our list of the best Lululemon leggings, their material, looks, prices, and more. 
15 Best Lululemon Leggings 
Lululemon leggings are not just hype. They are every gym-goer, fitness fanatic, and yogist's top choice regarding athleisure pants. The brand guarantees more than a bang for your buck, keeping customers patronizing their products. 
In fact, it's a brand known for their excellence in quality for years. Lululemon is one of everyone's choices when it comes to leggings and other apparel. So far, all of them are more than satisfied, more so with their various services such as hemming your old Lulu leggings. 
Since there are plenty of Lululemon leggings, we have rounded them all up into just 15. Dive in, head first, into this guide to the best Lululemon leggings for everyday wear.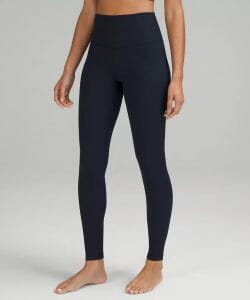 Get your vibrations high while keeping distractions low. These Lululemon Align ribbed high-rise pants are ideal not just for yoga but as well as for daily errands. It's made from Nulu fabric, ensuring the material stays buttery-soft throughout the day. As the waistband goes up to the rib cage, rollovers are impossible. They fit just right without digging deep into your skin. The fabric goes down to the ankles, giving entire warmth to your legs like compression leggings. Priced at $118, the Lululemon Align leggings are worth every penny you pay for. Unlike other pairs, the quality of these pants is retained for periods, provided you follow their care instructions.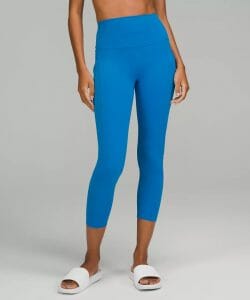 Another Lululemon align high-rise pant draws a crowd of fitness fanatics into its realm. When put on, the material easily stretches to give way to your legs, and they hug the skin perfectly and evenly in a smoothed-out manner. This is made from Nulu, ensuring a cloudy feeling around your legs. What makes it great for everyday wear are the side and back drop-in pockets. These are convenient storage spaces for your keys, cards, and phone. Although this is primarily for yoga sessions, these pants on sale for $99 can be casually worn.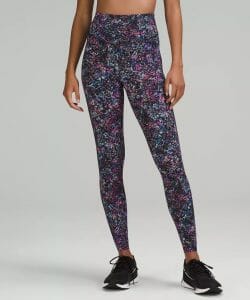 Sport the Lululemon base pace high-rise running tight when you feel cheeky during the day. The attractive abstract design is eye candy. It has a weightless Nulu and Lycra fabric coverage, perfect when the breeze slightly chills the spine. There is an added drawcord feature for seamless cinching around the waste when needed. There are no inseams, too, so you can stride with ease. A back pocket is added to make these pants a complete package. These are low in maintenance, too. Just follow their easy care instructions to lengthen these pants' quality, starting at the price of $98. 
Be vibrant in pink! You'll fall in love with these pants in your first feel of their material. These are made to be smooth, soft, breathable, and stretchy to accommodate your every movement. As it's stylish and classic in details, the Instill high-rise crop can be used for any casual occasion. Just top it with complementing pieces of clothing, and you're off to go. The nylon and lycra combination are incorporated to make this final output. The garment stays put the whole day, keeping you from taking unnecessary breaks in between. These $89 Lululemon leggings also have a back pocket for your essentials.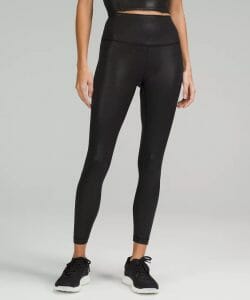 The Wunder Train high-rise tight takes on the classic look of the leggings. It comes in various colors, but you can never go wrong with black. It bears a foil look that subtly reflects light, making this a great alternative for clubs and parties. The Everlux fabric infused in the material, along with Lycra, polyester, and Coolmax polyester, all work together to keep this garment breathable, fast-drying, supportive, and stretchy. The design goes up to the waist and around 1 ½ inch to the ankles. For a price tag of only $118, these Lululemon leggings will surely stay durable for many years.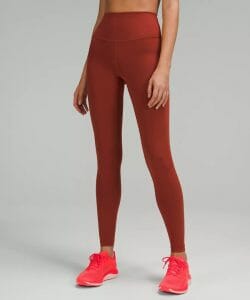 Your leggings will fail you only if they're not made from high-quality materials. Well, that will only happen if you wear a pair from Lululemon. The Wunder Train high-tight is also a popular option among leggings lovers. These come in several colors, which can match your mood for the day. This is best worn during hot, humid days, as the fast-drying technology of the fabric enables muck sweat to evaporate in no time. It's also soft and cool to the touch, allowing you to do movements without breaking any sweat. The matt and brushed exterior also repel lint and pet hair, so you'll look your best throughout the day. This is typically sold for only $98, which is a bargain!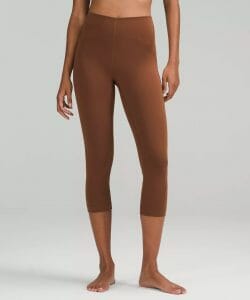 If you love to be out and about without looking too covered, this Instill high-rise crop is your best wardrobe pick for a casual look. It comes in roasted brown only, but this matches almost everyone's skin tone. The waistband has a unique design, and it doesn't go down, regardless of how intense your movements are. On top of that, you're getting the best of both worlds thanks to its nylon and Lycra fabrics. The whole garment stays in place, and you won't have to keep adjusting them mid-activities. Such a $79 garment can offer you a quality experience as long as it's from Lululemon.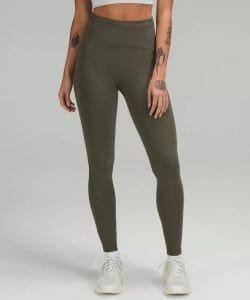 Being in your loungewear is one of the best, unexplainable feelings in the world. You get to be comfortable in classic garments, such as leggings. But they shouldn't be just any leggings; Lululemon is always a great pick when you want to take a day off and laze. The Swift Speed high-rise tight may have been manufactured for workouts, but its features make it too nice not to be worn during a typical day. It has slick and low-friction support and a contoured waistband to emphasize your body's contour. On top of that, this has reflective details to keep you visible even at a distance. All these make these $128 leggings a true masterpiece.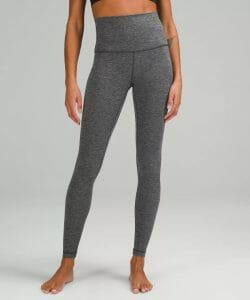 Another Lululemon legging for everyday wear is the Align super-high-rise pants. These are a perfect match if you're in the mood to wear a sports bra or a super-cropped top. The waistband is thick and durable, keeping it in place without the dreaded rollovers. It's weightless, buttery soft, and made from Nulu fabric. This is primarily made for low-intensity workouts, but people also use these leggings if they need something comfortable to wear. There's a hidden waistband for cards and car keys, too, so you won't need a carry-on bag wherever you go. For a product that lasts several years, you'll only get to pay a price that starts at $98.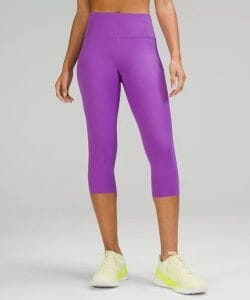 The Fast and Free high-rise crop is primarily made as running leggings, but those who love to lounge can enjoy the many benefits these leggings offer. Made from Nulux fabric, the garment is guaranteed to match any activities you do in a day. It even passes the squat test, so worry less about unwanted exposure regardless of the color you go for. This also sits around the mid-calf, allowing the fresh breeze to get through your skin, keeping you cool. These leggings priced at $118 are indeed a buy that's worth every dollar.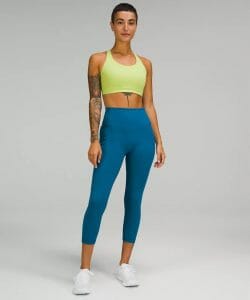 All the Right Place, high-rise waist crop, is in the right places. They don't move around, sag, or give you a hard time doing your usual routines. This is undoubtedly one of the best pairs for everyday wear. The waistband sculpts your waist, and it's not too tight to the point that it digs into your skin. It also has the right allowance to give certain parts the necessary freedom. As a cropped pair of leggings, this look allows your legs to look more elongated. There are no noticeable seams on top of these features, and it has a continuous drawcord for a perfect fit and pockets for your everyday essentials. These Capri leggings will cost you only $118.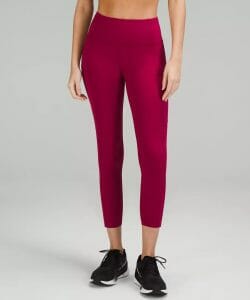 Need leggings for your errands, but it's a little cold outside? The Fast and Free high-rise crop is made from brushed Nulux fabric. It retains the usual softness and comfort you love from Lululemon leggings and, at the same time, gives you that extra warmth you need for cold days. Aside from the cozy feeling it gives off, it's also sweat-wicking and quick-drying. Those cold sweats you may get at any time of the day instantly evaporate through the fabric, keeping you dry and fresh. There are five waistband pockets, ensuring you can carry all your basic items, from cards and keys to even your phone. This is priced at only $118, and with proper care, these leggings can last a long time.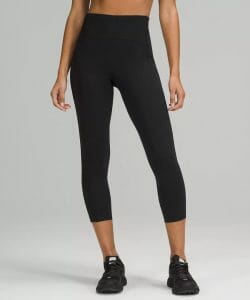 The last thing you'd want from your favorite pair of leggings is for them to sag when you need them for comfort. However, the Swift Speed high-rise crop brushed Luxtreme leggings have a shape retention capability, preventing your garment from losing its figure. You also feel more warmth when it's brushed inside, which makes these perfect as leggings for cold mornings. It's supportive and has a four-way stretch, ensuring you get all the coverage you need without unwanted exposure. There are also reflective details to keep you on the radar, and it comes in black and turquoise, which you can match with just about any type of casual clothing or sportswear.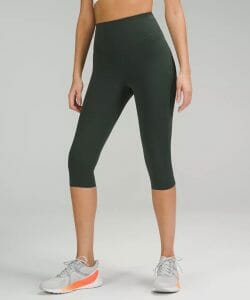 You can go some out with your morning wear for quick morning errands. Try the recommended Base Pace high-rise crop if you want a better lightweight experience with your leggings. These are made for those who love to take their everyday runs, but they are also a nice piece to grab coffee with your friends or grocery shop. There are no inseams to keep your skin from the dreadful friction that can cause skin irritations and chafing. There's also a back pocket for your bills or credit cards, perfect if you need more time and have no extra to spend to look for a bag to carry with you. This will only cost you $88, and you're getting a high-quality pair.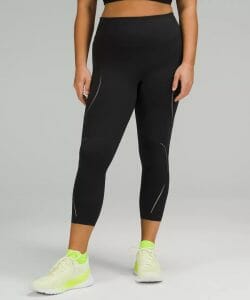 The unique little lining details on the Base Pace high-rise reflective crop allow you to be spotted from all angles. But other things make this on the list of the best Lululemon leggings for everyday wear. Its features include a drawcord to achieve the perfect fit around your waist, a back pocket for your little items, and an inseam-free addition for smoother strides. It's made from the weightless Nulux fabric with added Lycra for better shape retention and quick-drying, breathable properties. This feels sleek and cool to the touch, perfect for hot summer days or when you decide to use this as your everyday workout garment. Get this for only $108.