10 Best Handbags For Plus Size & Tips on How to Choose One
Being classy and fashionable does not have to be limited to the clothes you choose for the day!  Shopping for handbags is not only enjoyable but having one can also adorn or complement any body type with personality.
If you are a maxi size, accessories such as handbags can be a great line to match up for any wardrobe you decide to wear.
Today, the manufacture of handbags for different body sizes earns more focus in more companies than ever. And so, it is to no surprise that any woman now can have more convenience in choosing a better bag for any given event. Given this knowledge, we have summed up some factors that you should know before buying a good handbag for yourself.
How to pick a handbag style that fit for plus size
There are tons of fancy-looking handbags available in the market, and it would always be compelling for us women to buy any item that we foresee as something precious for wearing in the future. Another thing is that there are plenty of choices today that can cater to us even if we are plus-sized! The following is a sort of guideline on how you can choose well the handbag by your style:
Size
Being a maxi fit, you can select a handbag that makes you look smaller. A medium-large bag can give this effect, compared to a smaller-sized satchel. It is good to remind yourself that the best handbag to choose is the one that does not overwhelm your size. 
As you are shopping for a new handbag, it is more excellent to do this in person. It is more advantageous for us women to look personally at the clothes or bags, especially as we can try them in front of a mirror. We can give a closer look at which bag size can mostly give that flattering look, particularly if we want to emphasize more our body's good points.
But if you decide to buy online, you can enjoy some perks and discounts too. A good reminder: take note of the product's size description so you could get a better grasp of how the bag would look on your body once you wear it. Having a visit to a bag retail store would give you much of an idea of bag sizes.
Color
Of course, it is always safe to say that choosing neutral colors for your wardrobe eases the pairing of other items that comes with your whole outfit. But this does not speak the same with the bags you carry. 
You can either match your bag with the color accents of your clothes, or try to add emphasis to your outfit by using handbags of different colors to give that kind of aura you want to emanate. 
Most bags are also available in black and dark tones. We know that these hues give that slimming look to the person who wears it in her body. For budget-wise ladies, choosing bags of dark colors are also handy to have for whichever pretext they go in!
Strong structure
To know if the bag you are buying is worth the price, you might want to check the nooks and crannies of the item. You may look at the stitches, zippers, or tags if well-sewn, adhered, or buckled, not only the material itself. 
Most designer bag manufacturers guarantee to produce items of sturdy material. These bags are usually donned for a high price lest the user uses them for a long time. 
Even if it's a cliche, it is best that your handbag is dust or waterproof and can surpass any weather condition.
Functionality
Today, many modern handbags are not only trendy-looking but can also carry a lot of items at the same time. Indeed, an innovative idea for women who love to bring things around yet still wanted to radiate style!
Some handbags can also be theft-proof and may come in extra features (e.g., plenty of pockets). If these are on your checklist, then you can still get one in different sizes and capacities.
If you likely bring gadgets (i.e., laptops) with you, the best handbags for you are those that have good inner cushions. Sometimes, as long as the bag can maximize space and is flexible inside, that is already a good buy!
Following these standards will help you buy a great bag for your overalls. Not to mention that this also eases your searching for a price-worthy gem handbag meant for a plus-size body.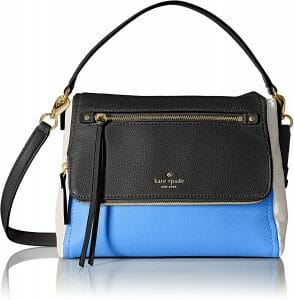 First off in our list is the Kate Spade New York 'Cobble Hill- Toddy' Satchel. The classic handbag is perfect for your urban walks and even on any weekend getaway.
Crafted to carry your day-to-day stuff, the bag owns plenty of compartments to handle most of your gadgets too!
With most of us trying to secure our iPhones or iPads wherever we go, this Kate Spade satchel has impressive zipped pockets for the convenience of the everyday woman. 
Available in a range of colors, you will surely get to like shopping for this bag!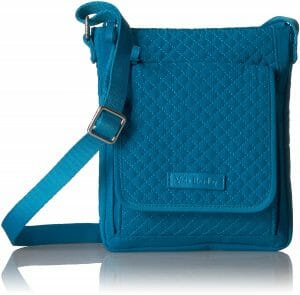 This crossbody bag is best for achieving a svelte look at a glance. Sporting only 8 inches high, 6.5 inches wide, and 0.75 inches in diameter, this stylish bag makes the wearer thinner and slender.
 It also has an adjustable strap that is flexible for any body size!
Made in lightweight material, you can also bring with you a lot of everyday items such as your cards and wallet in its customized pockets (provided with RFID technology) that are safely secured no matter what journey you have ahead. 
Excellent personal storage indeed if you also have loose tech essentials to use along the way.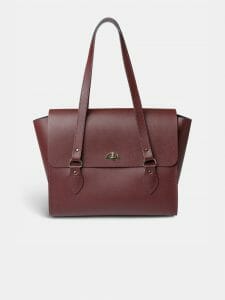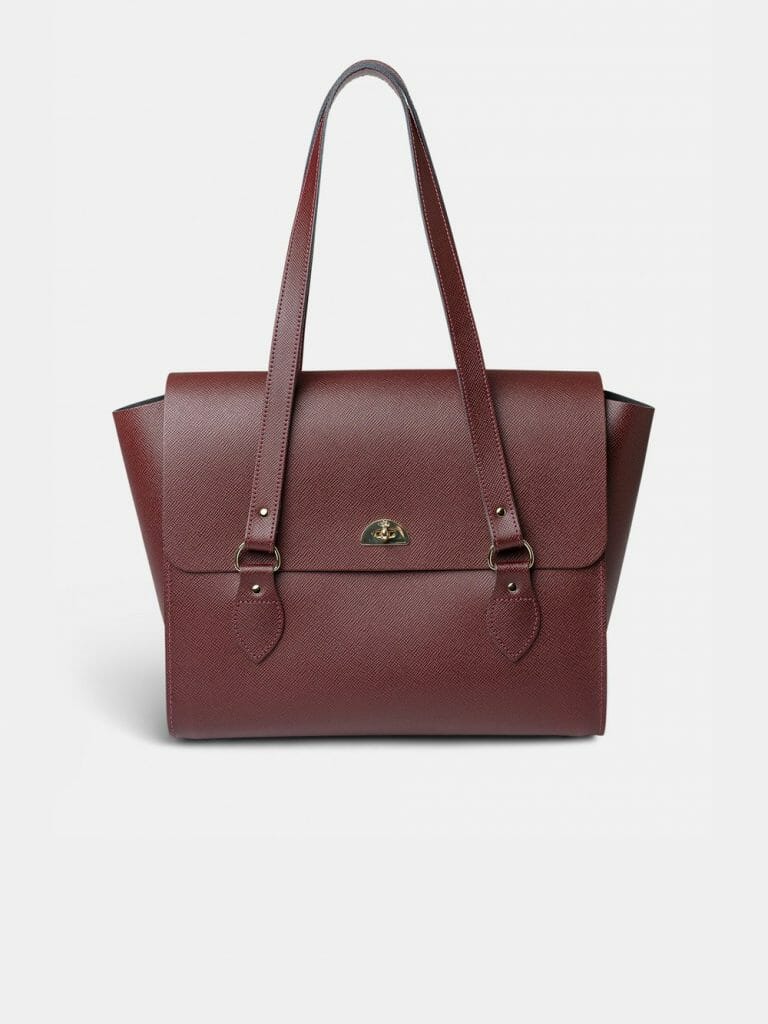 The North South Tote bag from Cambridge Satchel Co. has come up with eye-pleasing colors of a novelty bag. 
The size of this tote bag complements ladies with maxi bodies and emphasizes a slim silhouette. It enhances the height of the wearer, therefore also great for less tall women.
This tote bag also suits any lady that has diverse daily activities! With its large capacity, it can securely handle your phones or notebooks and is durable enough to take a weight of 3 kgs!
If searching for a bag for both your office and casual meetings, this one is a good pick for you.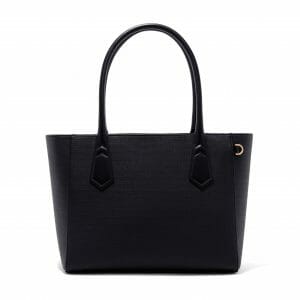 Also called the Dagner Dover Tiny Tote, you will love this glam-looking handbag!
A great companion to have in every social event, the Petite Tote is ideal for work or evening galas. Even bag enthusiasts would surely love the coated canvas and the well-thought finishing touches of the brand.
One of the few admirable details of the Petite Tote is its detachable leather key leash. Along with its many pockets and slips, for sure, all of your items have a place to stay!
The tote bag also has a roomy interior that caters to women that are fans of oversized handbags. If you are looking for a not-so-large tote bag but still flatter your looks, give Dagner Dover Tiny Tote a go!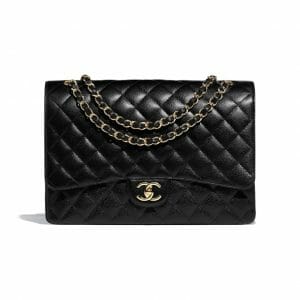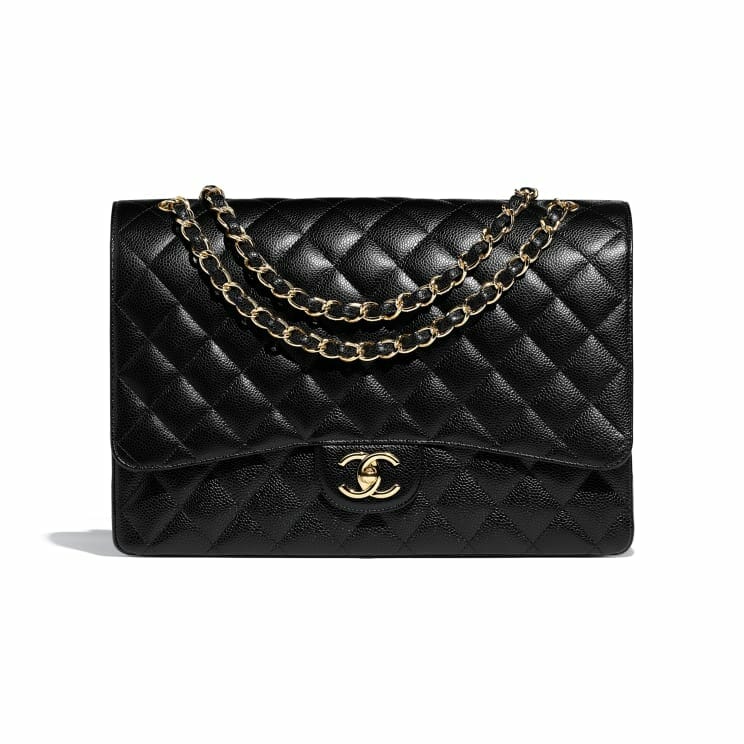 If opting for a Chanel bag for a statement piece, take the Chanel Classic Flap Maxi with you!
Chanel Classic Flap Maxi has a size of 13.4" x 9.1" x 3.9″, a bag that is excellent not only as classy storage of items but is also for women graced with substantial body measures.
You could say that the structure of this bag is sturdy enough because it is a bit heavy (quality leather make).
This handbag is usually slung around by woman travelers to accompany their packing, especially if you still want to look beautiful in stride.
As a maxi version of a handbag, it is perfect for any of your outing gigs. What is more, is you can choose from a variant of colors to match up for your OOTDs!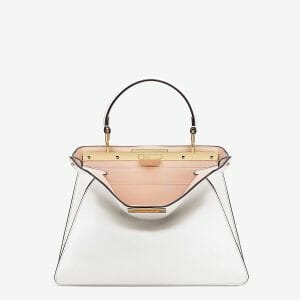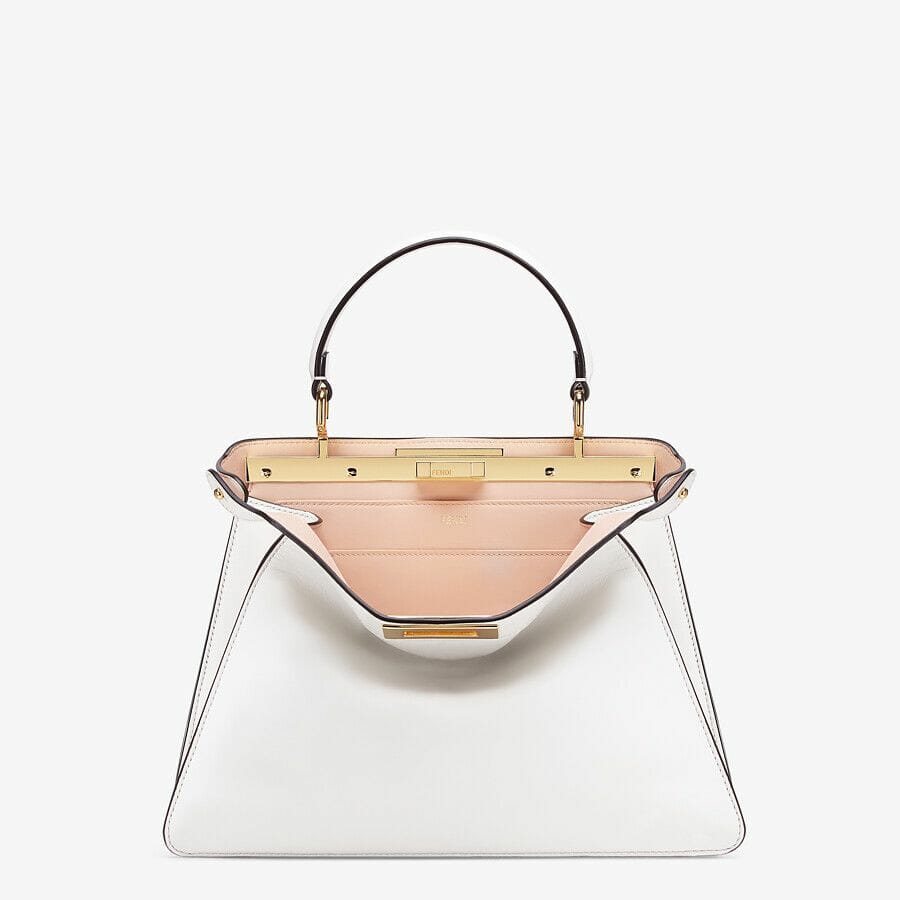 The PEEKABOO ISSEU Medium of Fendi is a high-class make for an elegant but executive handbag. 
This in-style bag can be your next favorite! Aside from looking sophisticated in this fashion runway prop, this bag can also exude that aura of confidence no matter what body type you have.
Built with a classic twist lock, you can assure that your things are well-secured, bringing you no worries whether you are in the midst of people or facing any event.
The leather bag also comes in black and other neutral colors to accessorize your chosen style for the day. If you are feeling a bit extra, this one is worth buying!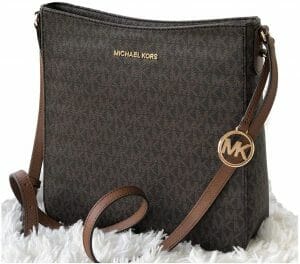 Though most think that it looks more of medium size, the Michael Kors Jet Set Travel Large Messenger is still a must-have on our list because its features are best for body-conscious women! 
If you are after a good buy for a quality bag, then the design of this bag would be class for you.
Comes with a top-zip closure and three pocket holders, the canvas bag is well-built enough for keeping all those daily essentials you always have. It also has a stable flat base that gives that upright height to your bag, helping it maintain its structure even if you set it aside.
If you love bags with back slip pockets, then you may want to check this out.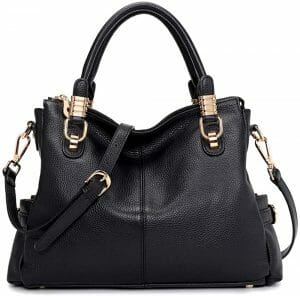 With a genuine cowhide leather make, this quality handbag is one of our excellent fashion finds for ladies who love pretty and high-standard items!
The bag showcases a spacious interior, and you can even manage personal things or tech, such as a 12.9 inch iPad on it.
The straps and buckle designs on this new handbag are very functional, enabling you to adjust them to your liking. The adjustable shoulder strap extends up to 7.87-inch for comfortable wearing.
Such features make this bag from Kattee Women's a multi-way carry (e.g., shoulder bag or cross-body bag). A practical choice indeed if you want to have a bag that stands out in your everyday attire!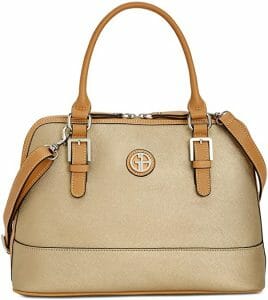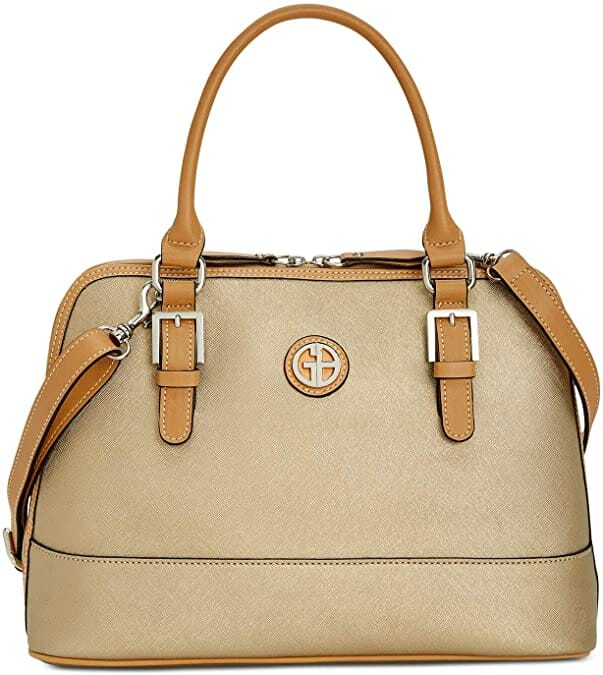 You would surely love the impeccable quality of this cross-hatch detail tote bag!
This fabulous creation from Michael Kors is in a domed satchel style. A one-of-a-kind bag crafted for women of all heights and sizes!
You would love carrying this around, as it is not protruding on your side if used with the 24″L shoulder strap or even while bearing it in the crook of your arm.
Even the intricate buckle and zip pockets add more aesthetic to the bag that suits your business and ladylike gestures.
It is roomy enough for your tablet or notebooks sized 8″-10″ just as its compartments are also a game-changer (e.g., cord and pen pockets for your travel).
Lastly, you will admire that the bag is made from water-repellent material (i.e., faux leather) and stays fine in any spectacle or weather, such as rain and snow.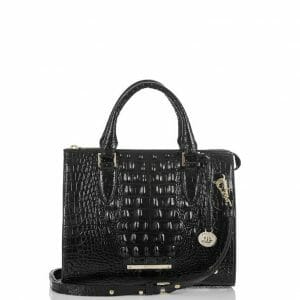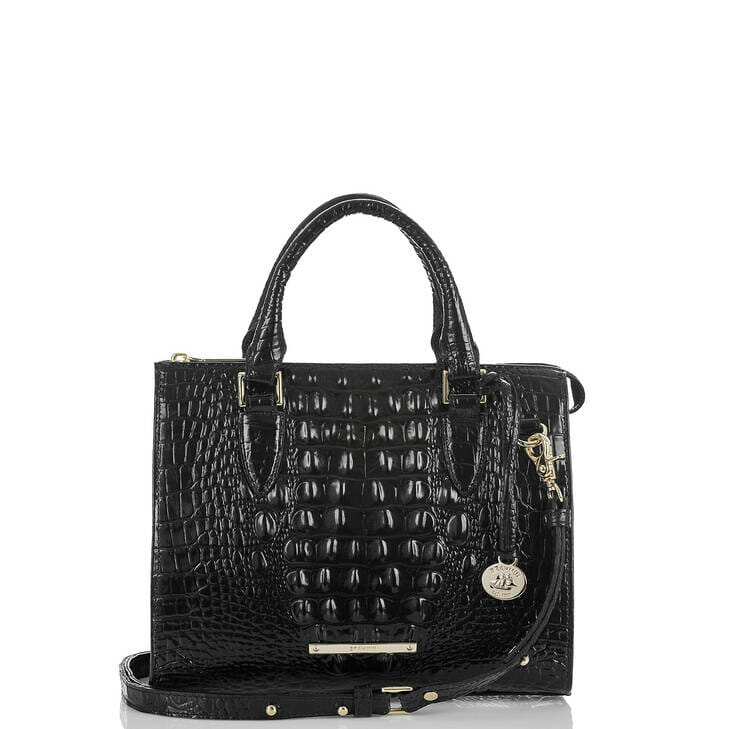 No one could say no to an elegant Brahmin handbag! This gorgeous classic right here is a sure show stopper, especially as it comes with croc-embossed leather in our favorite color of black. 
This elegant piece is a keeper in its 4.5″ handle drop and 24.5″ strap drop. Its size is also on point as it is not too large or small for your daily office or even weekend vacays! 
It is also a good investment for a designer bag if you love rolled handles and carryalls that can convert into a crossbody bag.
If you love to have a black Melbourne sporting a great look and feel, this one will not miss a beat!
Conclusion
Looking for novel fashion finds can be a little bit tricky for women with plus-sized bodies. The good news is that being fashionable does not heavily rely on any specific body size! 
With this, consider handbags as your personal go-to whenever you go try for a new fashion ensemble.  Just like in our list, there is a variety of body-flattering handbags that still maintains that fashionable flair—a win-win situation indeed!