Best Headband Hair Extensions: 9 Picks Just For You!
Just had your hair chopped mid-length or in a bob? Expect the urge to go back and forth between short and long hair or realize the regret and wish you stopped yourself from going to the salon during a fresh heartbreak. But, you know what, this shouldn't be a problem anymore. Extensions are a quick and easy way to add back the length you lost or crave, that's why you should consider investing in quality headband extensions that would boost the quality of your crowning glory.
We often see celebrities that sport a very short hair length and then see them post pictures of themselves in long hair from time to time, especially during special occasions. Chances are that they, too, take advantage of the benefits headband extensions offer. If you're new to this term, being skeptical is reasonable. After all, we don't want to deviate from the "natural look". The thing is, however, you can see high-quality extensions that won't be obviously unreal. 
Here are our top 9 picks that can turn into your staple hair item every time you get tired of your short hair.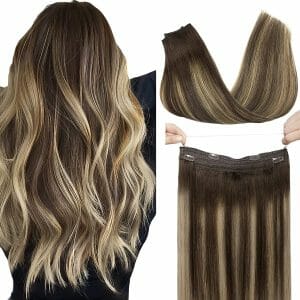 One of the primary things to look for when it comes to headband hair extensions is if they are made from real human hair. They carry a more natural look, shade, and shape compared to the ones made from synthetic materials. Purchasing the real deal would mean being able to style it with straighteners or curling irons however you want. Goo Goo offers that feature and its wire can blend perfectly with your hair color. It will only take 5 minutes or less to install this on your hair without the need for a professional hairstylist since this one's a halo type. There is a standby wire which you can manipulate so it would fit your head size perfectly.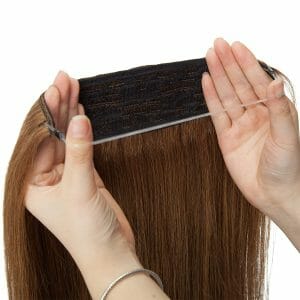 Of course, who would want to install headband extensions that would scream attention in the public? Not me and neither do you! My-Lady really does know how to hit the spot for countless women out there who are desperately in search of affordable and easy-to-install halo headband extensions. It's also made from human hair, easy to place, and easy to remove with no assistance needed. The translucent wire it comes with is adjustable and translucent, so it blends excellently on your scalp. Add some clips to the weft if that works for you or leave it as is. It's available in a wide range of shades, so there's a good chance the shop has the right matching color for you.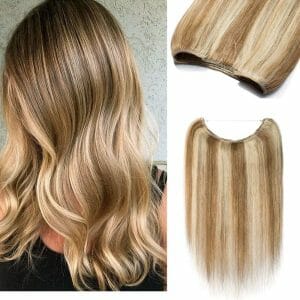 This headband human hair extension, first and foremost, comes in a variety of colors from different shades of dark to blonde. It's labeled to be a Remy hair extension, so rest assured you're not getting a synthetic product for a whopping price of $50.90. Add this to your cart as doing so won't cause you any regrets! You can definitely do a lot of things with it just as you would with your hair. Dye it, style it, or bleach it until the results satisfy you. The wire can be concealed nicely only if you still have lusciously thick hair. In other words, this headband extension must be treated not as a full cover-up but merely as a volume addition.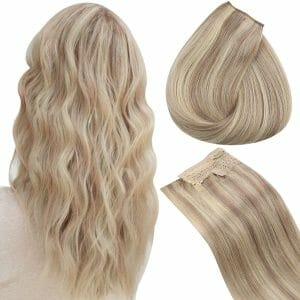 There is no need to be scared toward installing a headband extension or get anxious throughout the day whilst wearing it. Just as long as you know exactly what you need from a quality product and where to get it, your head would garner loads of positive interest from others. The Sunny extension would only take a minute to place it neatly on the hair and a few seconds to take it off. Since it's made from real human hair, you'd have a no-frizz experience and gain a heat-resistant add-on volume, so you can have it changed both in texture and in style. It's available in several dark and light colors, so choose your shade wisely!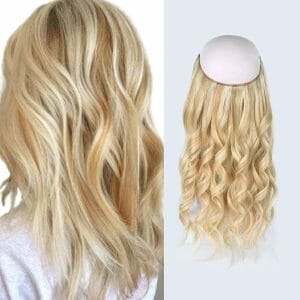 When it comes to material and quality, Sassina wouldn't be placed on the low-grade list. It's made from 100% real human hair so you can style it at any time of the day! Just a little precaution, help preserve it for a long period by avoiding it from getting subjected to very high temperatures. The adjustable wire can be tightened or loosened so it would have a nice grip on your head. It can be a bit embarrassing if your extension gives up on you in the middle of an important event, after all.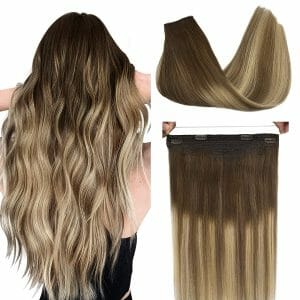 Whether you want to add more volume to your hair or flaunt a longer length in natural colors, Doores is the way to go. With its price that's $85.99 only, you are guaranteed a high-quality product. It's also made from real human hair, put together neatly to aid you in your pursuit of having a coveted hair look. It's not mixed with chemicals or tapes that might damage your hair and scalp. Also, feel free to tailor your hair to different hairdos. Washing it after won't be hard work.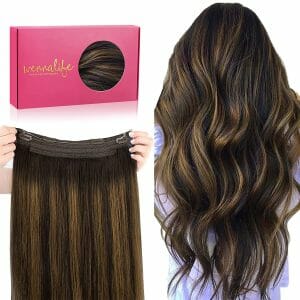 Let's face it, it's not just men who constantly deal with thinning hair. Women may be silent about this, that's why we are here to help! We are recommending Wennalife's headband hair extension as well since it is made from ultra-shiny, soft, silky, and tangle-free human hair. The hair won't look unnatural as it easily blends in with your real hair. On the package, two extra wires are granted, one of which is elastic. There are various ranges of hair colors available in the shop, but if it's slightly off, you can absolutely go ahead and dye it until it perfectly matches yours.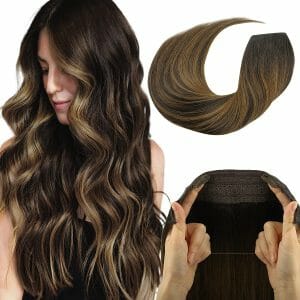 There are several lengths which you can choose from Swinginghair. From 12 to 20 inches, where else would you go? This straight human hair type of extension headband can sit gently on top of your head without getting noticed. Just make sure you position it properly. On top of that, there are four sewn clips on the weft to keep the extension stable while you wear it. This would be your day's savior if you have weddings, parties, or formal events to attend.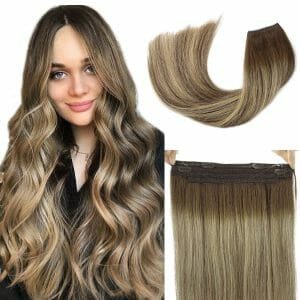 Have an excellent headband extension that's not synthetic from TIVBOES. It's thick, silky, natural, and affordable, you would definitely recommend this to your friends. The length ranges from 12 to 18 inches, perfect for your goal which is to sport longer hair! Unlike other products out there, these halo hair extensions with transparent strings have no glue. Upon wearing this, expect your hair to look full and super plump, you don't want to give up using it! Invest in yourself by putting money into something that would boost your confidence.
How to Choose the Right Headband Hair Extensions
There are hundreds of different brands of headband hair extensions out there and although we have chosen the top 10 must-buys, it can still be quite difficult to choose which among them should you order online. So, here are a few factors to bear in mind when it comes to ultimately deciding the right item:
Quality. Don't settle with cheaply made products or you'll end up sabotaging your aesthetics and experience with headband hair extensions. The best ones come off costly, but they have more guarantee when it comes to durability.
Brand. Well-known brands sell their products more expensively than lesser-known ones. It's wise to check out their deals since they won't be popular if they have a bad reputation when it comes to manufacturing hair extensions.
Function. Since headband hair extensions function in a certain way, ask yourself if you are okay with how it is installed. If you feel uncomfortable with it, there is no point investing in more in the future.
Customer Reviews. The best way to know more about the brand is by being informed about what other people have to say about it. Check the reviews and identify the pros and cons of the product. Weigh each detail so you'd end up with a better judgment.
Price. Lastly, check the price and determine if all the perks and features are enough to make you say that it is worth buying. If you see a headband extension of the same brand and benefits at a lower price, then why not switch to it and save a few dollars?