Is Adidas a Good Brand? What You Should Know
Without a doubt. The unmatched quality of the products manufactured by Adidas is what drives and keeps this German multinational corporation to business since 1949. Adidas is very much associated with sports hence why countless popular athletes advertise the use of the company's merchandise.
What's so special about Adidas is its products that rightly fit the needs of sportsmen. The brand started as revolutionary and fresh whilst breaking stereotypes when it comes to footwear.
There may be new releases each year, but their all-time classics remain available for everyone. 
4 Things Adidas Is Known For
What Adidas sells, the crowd goes gaga over it. The brand is far from just a short-lived hype. Although we initially know that this designer manufactures superb shoes great for athletics, there are more than what the company offers to people.
We have four things that Adidas is mainly known for…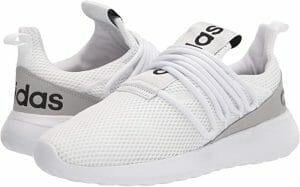 Footwear is, of course, the major product of Adidas. Aside from the ones that are primarily for sports, the company also focuses on providing casual shoes and sneakers for men and women.
As the fashion world gets even more creative and in line with futuristic trends, Adidas ensures their footwear styles come in wide varieties to satisfy everyone's preferences. All of their common denominators are the robustness and athleticism of the designs.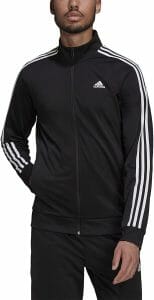 What people love about Adidas is how versatile its clothing apparel can be. Its cool shirts and track pants can be worn on or off the field, they're almost chameleon-like as their fabric quality and appearance suit any casual to sports venues.
The brand's identity is known to consist of the famous three-stripes. The careful design of the logo to represent the brand's image instantly made the company spike to the top.
It's also surreal how wearing an Adidas collection can instantly boost someone's performance. The comfortability upon wearing their garments can be experienced for long hours making this sports apparel the best in Europe and one among the top choices in the world.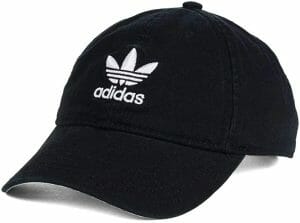 The collection won't be complete without having any accessories to match the whole attire. Adidas does not limit itself from producing only clothing and shoes which is why they have already gone out venturing a much wider field in business production.
Many loyal fans of the brand go nowhere else than Adidas should they be on the hunt for the best cap, socks, bags, gloves, sunglasses, and water bottles.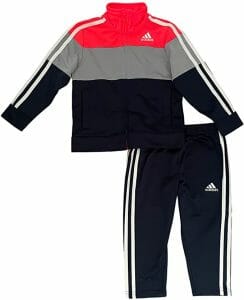 Another thing that explains why Adidas is such a big hit is its inclusive audience. The potential to reach great heights in the future sparks at young ages. Adidas, with its quick thinking, has involved kids in their goals and objectives.
Babies, toddlers, kids— all can look sporty and cool with Adidas. The spirit to strive for the greatest goal and work hard for it in a childlike way is a great start to encourage motivation for these young kids.
5 Reasons Why Adidas Is a Quality Brand
Having known what Adidas is all about, it's time to truly assess what makes it a good brand. Some may have jumped into the Adidas craze simply because of the name, but it would be unfair to discredit the brand for what truly makes it extraordinary.
1. The Founder
The man who started it all is  Adolf Dassler alongside his brother,  Rudolf. Adolf was a Cobbler as well as a fervent athlete himself. One thing he's put his heart into is making shoes for athletes.
And, they shouldn't be just any shoes. Adolf wanted the equipment to be the best. With his enthusiasm, the founder of Adidas put into application all the knowledge he has about what athletes need for sports. 
The great man wasn't daunted to try out new technologies and find the flaws in his creations. With his obsession to create a difference, his fruits of labor are beyond impressive. His work isn't merely composed of material but as well as of his spirit. 
2. Innovation & Customer Satisfaction
If Adidas was focused on making profits, the brand wouldn't have lasted this long. The company dedicates itself to continuously adapting to the changes in fashion without compromising its main objective—to be the best in the world.
The constant novelties the German brand roots itself in provide customers the reason to continuously remain unswerving when it comes to brand loyalty. 
In 2019, the net sales of the company were at their peak although they dropped a bit low in 2020 when the pandemic hit. But years before that, the line continuously rose at a fast pace in terms of sold items in apparel and shoe categories. 
3. It's Made for Athletes
It's no question. Adidas sure was made for athletes after knowing what inspired the founder to start the company. Let's not forget that U.S. sprinter Jesse Owens was offered to wear Adolf Dassler's handmade spikes at the 1936 Summer Olympics. 
After Owens won four gold medals, Dassler's shoes became reputable in the world of sportsmen and their trainers.
Additionally, the brand was in a way part of Germany's winning of the 1954 FIFA World Cup. Despite the country being labeled as an underdog, their Dassler shoes gave them the confidence and the spirit to defeat Hungary.
4. High-Quality
When we discuss Adidas, we all are aware that this isn't your typical brand. Adidas has major competitors like Under Armour, Nike, and Puma. 
To stay at its place or remain top-notch than everyone else, Adidas ensures they only provide the best of the best. Their materials are always worth the price you pay. 
5. Variety 
Lastly, the reason why Adidas is one-of-a-kind is due to its variety in styles and designs. Everything they produce is born out of their careful brainstorming to maintain the brand's image, quality, and loyalty from their customers.
Check out their release calendar to stay updated with their newest trends.
Does Adidas Give Out Sales?
Of course, they do! At times, they would require you to provide a code to activate the sale discount. You can browse their wide range of products that are available at considerably lower prices that can be at least 30% off.
The brand also offers you free membership to join their Adidas Creators Club for a 15% discount on your next purchase. Shopping online is undeniably the most convenient, so check on their promos and sales to save on everything you need before the game or sports event starts.
What's the Average Budget Suitable on Adidas Products?
It depends on what you are buying. In shoes, the average cost would be $75 and that's already a nice quality pair. On clothes, some range from $35 to over a hundred dollars.
There's no specific and reliable figure that would tell the average spending budget you'd need for Adidas products, but what you can be sure about is that you are definitely set to bring any of their items home with just below $100.
If you prefer the ones that are more exclusive, they will be tagged at a higher cost. 
Where Are Adidas Products Manufactured?
Adidas has hundreds of factories worldwide. They are present in Africa, Asia, Australia, New Zealand, Europe, and the Americas. Out of them all, Asia has the most Adidas factories than any other continent.
As per the statement of the Adidas Group, China alone is home to at least 27% (337) of all the companies' factories. This is followed by India which has 99, Indonesia with 79, Vietnam with 76, and between 10 to 60 for Japan, Taiwan, Philippines, Cambodia, Pakistan, and Thailand.
Are Adidas Products Environment-Friendly?
Yes, it is. This business operates around the globe and with its cycle of merchandise production, Adidas finds itself responsible for making sure that it cuts down greenhouse emissions. 
The renowned German brand has tailored a road map for 2025 and beyond to address carbon footprint while increasing the use of sustainable materials in the completion of their quality products.
With the impacts of climate change, Adidas, in its own operations, takes initiatives to reduce absolute energy consumption, CO2 emissions, transition to clean energy, and search further on opportunities for energy harvesting.
How Good Is Adidas's Customer Service?
Fair. Should there be a need to get in touch with Adidas, their customer service is open for inquiries, concerns, and feedback. The site has online shop support which includes Facebook, live chat, and phone details.
Unfortunately, some people have bad experiences with the overall customer service of the brand. The issues may at times revolve about the product not coming in the right size, color, or the ones sent were not what was ordered. In other cases, the issue would conflict with Adidas's return policy.
These bad experiences are normal in business and no brand is perfect when it comes to customer service. Sometimes, agents would sound apathetic toward the client's concern and this draws a bad light to the company.
Nevertheless, Adidas strives hard to keep its incredible reputation and that includes keeping their customers happy in the best way that they can.
What Is the Return and Refund Policy of Adidas?
Dissatisfaction with the product is eligible for a refund within 30 days of receipt. There are some exceptions, however, like if you have had a personalized item ordered, a refund would not apply.
Meanwhile, Kanye's Yeezy products must be returned within 7 days of the delivery date via the online returns portal. There are certain standards too for the item to be considered returnable and refundable.
The product must be sent physically from within the United States.
The product's packaging and original state are maintained.
The original tags are still attached.
Footwear is in the original box.
Accessories have all the original packaging parts.
Once the return process is approved, the credit will be granted back to the original form of payment within 10 business days. 
Is Adidas Better Than Nike?
Flat out, it is. Adidas is an original and no other brand can match its game. Its technology is often replicated by other well-known companies, making Adidas the forerunner of sportswear. 
Moreover, the quality is outstanding and the deals it has with popular figures like Lionel Messi and David Beckham just instantly finishes its match against Nike, although of course, Nike, on its own does pretty well with other athletes with big names.
Adidas also dominates the pricing game as its shoes don't usually retail for over $220 compared to the thousands Nike has placed on theirs.