Best Leggings for CrossFit: We Have Reviewed 10 of Them!
Gym enthusiasts would all agree that having the right equipment would help you achieve your results—and dependable sportswear like leggings is always part of a fitness fanatic's arsenal. 
CrossFit workouts are a fitness regimen that would constantly require different functional movements at a high intensity. The best leggings worn for CrossFit is one that is durable, opaque, squat-proof, stretchy, and moisture-wicking.
From barbell deadlifts to murphs, your fitness wear must be able to endure whatever drill you throw at them.
Features to Look For in CrossFit Leggings
Most if not all best workout leggings are made from quality polyester and spandex for a better experience when it comes to doing vigorous movements. However, the way they are made as well as the features added in the garment are what makes the clothing exceptional.
CrossFit workouts are unmistakably challenging, but it's going to be even harder to deal with if your sportswear can't keep up. Make sure your leggings have the following features and qualities as these help in powering you through your entire daily dozen.
Material
When shopping for your workout leggings, the first thing you have to scrutinize is the product's material. CrossFit is an energy-consuming activity that would eventually make your body heat up in no time. Your workout pants should be able to let the skin breathe with its capability to wick away moisture to keep the temperature and humidity under control.
It proves to be invaluable as well when the weather conditions change. The right leggings would be able to combat cold environments, encouraging you to keep smashing your workout goals.
Nylon, spandex, polypropylene, polyester, lycra, merino wool, and bamboo are some of the top choices when it comes to the fabric of your leggings.
Style
High-rise CrossFit leggings are preferred by many as these prevent users from constantly experiencing the roll-down effect. Other features also appeal to a number of fitness enthusiasts like the drawstrings for a tighter fit and extra pockets to carry small essential items. 
Seamless workout pants are a crowd's favorite too. The seamless structure keeps the skin from chafing while you squat, lift, and run.
Comfortability
The best leggings for your intense workout drills are those that don't feel heavy on the skin. It's a topmost priority for avid gym goers that they feel comfortable with what they wear. Compression pants have to be barely there when worn.
Wearing the right size is a no-brainer too. You can only experience the fullness and goodness of wearing quality leggings when they properly fit your legs, rear end, and waist.
Stretchability
CrossFit workouts are so varied you have to be prepared to do something different whenever your fitness coach changes the dynamics of your routine. With squats, lifts, jumps, and runs as possible drills, your leggings have to be stretchy enough to give adequate space for the movements.
They have to be thick and closely woven so they stay opaque in all areas. Avoid wearing CrossFit leggings that show fragile elasticity as these may tear at one point of your sesh. The best one feels like a second skin.
Moisture-Wicking Properties
Drenching in your own sweat is a no-no. Fortunately, there are CrossFit pants out there that have this advanced technology feature to keep users dry the entire workout drill. Typically, the fabric is a sweat-wicking polyester that lets the moisture evaporate quickly rather than absorb.
This would also maintain the light feeling as it doesn't let the sweat stay on the skin and clothing for too long.
10 Best Leggings for CrossFit
Bearing in mind what features the best CrossFit leggings have, we have compiled a list that can either be 7/8 or long to cater to your preferences. Of course, we have cherry-picked only the most excellent when it comes to overall quality.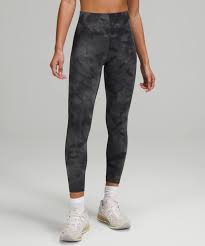 Doing CrossFit means training hard not just for a day but regularly throughout the year. With that, you'd need a pair of athletic leggings that would last a long time without getting worn out after wearing them a few times. These Lululemon Wunder Train Hi-Rise Tights are made from a combination of polyester, lycra, and nylon, for the guaranteed fit and comfortability you need. They quickly wick away the sweat so you'd feel less sweaty even after 30 minutes of intense movements. You'll feel these wrapping your skin just right, especially on the waist with its drawcord.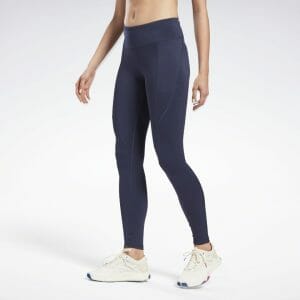 As the name suggests, these Reebok leggings will always make you on the go. From warm-ups to the actual CrossFit challenges, these pants are sure to catch up. The construction of the fabric is designed to be skin-tight to give you a flattering silhouette to encourage you to keep going with your gym routine. From the waist down to the ankle, the sweat won't ever bog you down as the moisture is eliminated on the get-go. They're super durable; they can withstand kettlebell swings to cindies.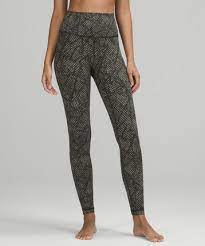 Lunge, squat, lift, or jump. Whatever you do during your CrossFit workout, these leggings will certainly keep up. It's made from nylon, polyester, and lycra—three of the most desirable materials when it comes to sports garments. Aside from its sweat-wicking feature, the fabric feels cool to the touch, making your body temperature controlled despite the extraordinary use of your muscles. Have uninterrupted calisthenics only with Lululemon. On top of that, these have waistbands that lie flat and pockets for your keys and bills.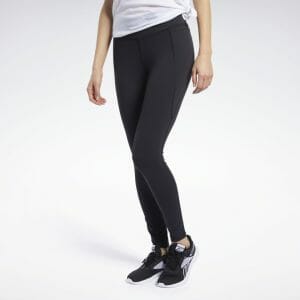 If you are on the search for the most versatile leggings as a CrossFit athlete, Reebok got one for you. Whatever routine mixes you have to do for the day, these pants will give you a distinct experience you would never get from others you'd commonly see in the market. For women, you'd stay dry the whole time. Rest assured, the sweat won't just be absorbed but rather turned into vapor in a quick period. Do your moves no matter how powerful they are because the stretchy fabric is made from 80% nylon and 20% elastane. It's not going to be sheer, loose-fitting, or baggy in the feels.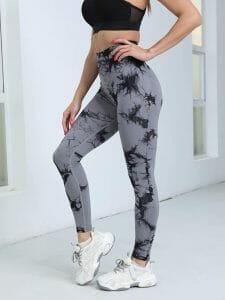 Made from high-tech fabric, Ovesport boasts of its tie-dye-designed full leggings for women who like it high-waisted. There is reduced friction when you use this and the material used will help cool you off during a heated drill. No question, it's skin-friendly and highly competent when it comes to lifting off the sweat from your skin. Aside from the unique design, the way the leggings are constructed offers tummy support and adequate pressure to lift the hips. You won't have to worry about rolling waistbands anymore.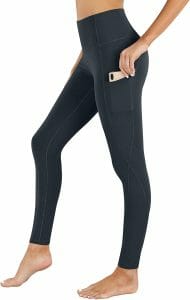 Have the one-of-a-kind support around your hips, waist, and tummy with Phisockat's leggings for the workout. We don't know, but you might end up lifting barbells or doing runs and pull-ups in a day, you have to prepare yourself for the most complex CrossFit drills. No matter how you stretch or squat, these pants won't break off or give up in opaqueness. The leggings are seamless as well, so say goodbye to discomfort and skin frictions. There are two side pockets designed so you can carry your little items with you. Overall, these leggings are breathable, cozy, and reliable for rigorous training.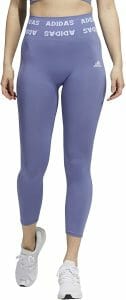 Admittingly, Adidas is a renowned brand known for its high-quality clothing of any kind. When you think about doing CrossFit, you have to think about Adidas. This Aeroknit Training 7/8 tight is made from recycled materials that are high in performance. It also promotes a swift sweat-wicking action so you will stay dry the entire CrossFit performance. Have the mobility and comfort you deserve and if you want to grab some Starbucks after the gym, you won't have to change clothes anymore. This pair of leggings is eye candy enough for casual wear.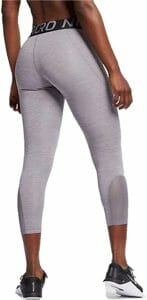 Another popular brand on the list is Nike. Truthfully, it isn't well-known just because of the name. For years, the brand has always aimed to satisfy its consumers' expectations, especially when it comes to workout leggings. The quality is not compromised as this is made from 83% polyester and 17% elastane. Throwing in a pair would automatically make you feel locked in a cool sensation, perfect for heated pieces of CrossFit drills. There are mesh panels added on the lower portion for added breathability too. Of course, it isn't just the brand logo that seems to be noticeable, but as well as the overall performance it can withstand as you do your intense maneuvers.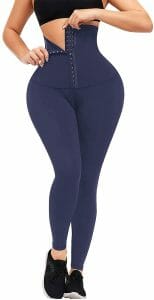 When it comes to workout leggings, you just won't need something that offers compression. It also has to be in tune with your body and provide shape and support in certain areas. With Powerasia's leggings, you'll get the right tummy control with its unique corset leggings. You won't be dealing with waistbands that don't stay in place anymore too. This is made from an upgraded Thermo sauna fabric that helps trap in more heat for a faster weight loss journey. The polyester and spandex also work together to get rid of the trapped moisture inside your sportswear.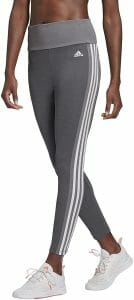 It's somehow reassuring to wear leggings from popular brands like Adidas. Their 3-striped identity on clothes is a common image to us. These leggings are at the top of their performance when it comes to staying in their highest quality no matter how passionate you are about your CrossFit regimen. The high-rise style gives off better coverage so the sportswear won't move and expose your rear end every time you do squats. The other important features include sweat-wicking qualities and a waistband pocket.