Best Running Leggings [15 Leggings for All Runners]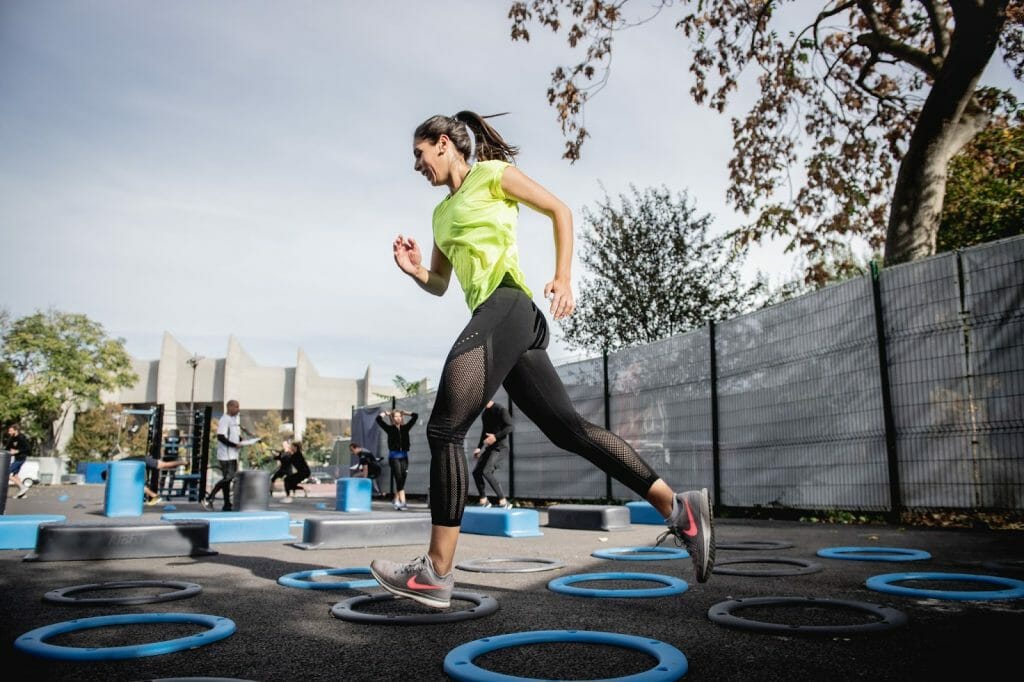 Though the marketplace is flooded with numerous leggings, only a few of them carry certain features that make a pair the best for a workout. First, the leggings shouldn't make any regular runner feel too hot in them, nor should they give a sweaty experience.
Add in some characteristics perceived to be desirable, such as getting the lightweight feeling that won't restrict your movements, moisture-wicking properties, and an odor-free technology. Having pockets is great too. These little details will prove to be essential for those who run errands after their daily jog. 
Who would want to hold their phone with their sweaty hands over the course of their run, anyway? Now, if you're on the hunt for workout pants, we present you with a list that covers 2022's best running leggings.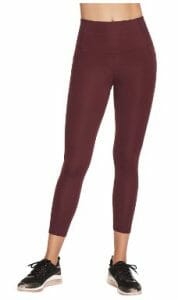 The first thing you'd feel upon putting these leggings from Skechers is their GOFLEX feature that's described to be super soft and cotton-like despite the matte finish. This product is a combination of nylon and spandex for a more durable quality that will last a long time. For moms who would love to get back into shape, consider getting this pair. They'll impressively hold your tummy and fit perfectly around your legs. The outer pockets are located on the side to carry your essential items, too, such as your car keys, cards, and phone.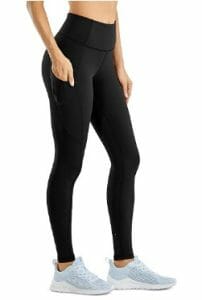 If you're looking for a Lululemon replacement, CRZ YOGA definitely got you. Well, aside from the dramatic difference in the price tag, the leggings they offer also exhibit quality features you'd certainly love. The naked feeling you'll get is all thanks to the combination of polyamide and spandex. For a perfectly tighter snug, it has a drawstring closure too. Also, the brand boasts of its quick-dry and 4-way stretch properties for a more effortless running experience.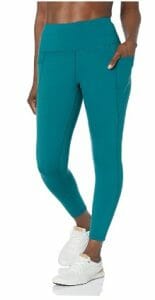 You're gonna love the fit of these leggings. They're comfortable to the core, especially if you use these for your winter runs. Unlike the other leggings that cheap it out by using thin and poor-quality materials, Jockey actually aims to serve runners the best experience through their running wear. It's interlocked, has a moisture-wicking gusset, has a back pocket with a zipper, and has a machine wash feature. After your running routine, you simply have to toss these leggings into your washing machine and relax.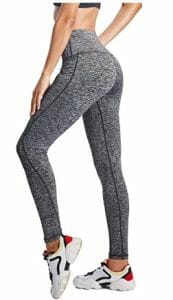 Get yourself an extremely stretchy yet comfortable pair of leggings for your running. This is especially better than anything else if you plan to mix out your drills. In every movement you make, you won't be having see-through moments at all. For a price that starts at only $22.86, you're in for a lot of benefits. There is a 4-way stretch, a big pocket for a large phone, and tummy control features. You won't feel your stomach bouncing as you go out and about in the running field.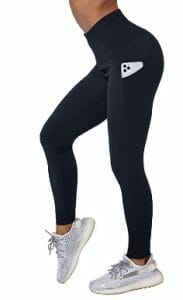 There's just something about high-waisted leggings. Aside from the fact that they give you a more flattering figure, bending over wouldn't mean adjusting your pants afterward. AbleTree has that to offer and more. It has great compression without making you feel too restricted. Check out the leggings' pockets too. You won't have to worry about your phone slipping out anymore as the brand made sure the design won't allow accidental slips. Plus, you'd see how great this pair would look on your entire figure and bum, and you can certainly wear this more often.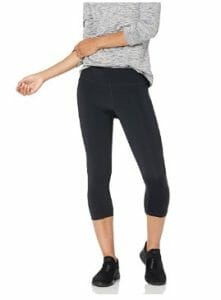 If you love the look of Capri leggings, go nowhere else than to the Core 10 Store. They let you build your own pair by choosing two waist styles you prefer: mid-rise or high-rise. Don't be too surprised to find mesh panels on their pair as well. These are included for added breathability. You don't want to feel soaked as you run in the field, do you? For your daily items, pockets are designated at the back for your phone and card. Let's not even ignore their drawstring closure for a perfect fit around the waist. Getting these leggings will absolutely make you buy a second pair.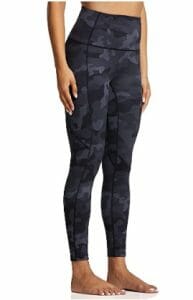 Zuty offers the essential item you need for your daily running errand. Its high rate of spandex will allow you to make movements without accidentally exposing certain areas like the bum part. Not only can this be used for yoga, but as well as in the gym, for your outside exercise, and for casual events. It's not shiny at all, plus its features include being moisture-wicking. No matter how much you sweat, the droplets of your hard work will be lifted off the skin and pushed out of the fabric to evaporate. To make you feel good, a 5-inch waistband is added to add more shape and a butt-lifting property to achieve pear-shaped bottoms.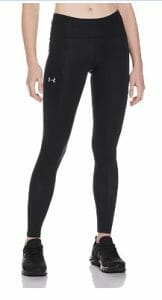 Under Armour is not an unfamiliar brand to many of us. With their superb clothing quality, it's nothing new if they produce tight leggings that can keep up with your workout game. From the way their leggings are built, you can easily conclude that you'll have all the coverage you need without the heavy feeling. The material used allows you to stay dry with ultra-tight compression. This makes the garment feel like your second skin.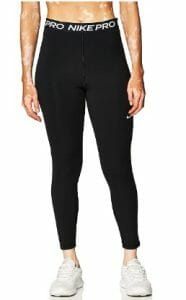 Nike is a reputable brand known worldwide for its shoes, clothing, and accessories. A good portion of their product is offered for the sporty community, and it's no-brainer why many are attracted to the brand. Just check out these high-rise 7/8 leggings from Nike. Aside from the fact that you'll get your money's worth regarding the quality, the pair is also deemed to be highly versatile. You can wear these for casual settings, workout sessions, and even during your running schedule. It's soft, lightweight, and perfect for hot, humid days.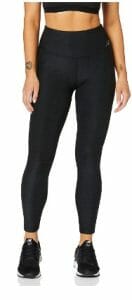 Get yourself looking at your best and performing hard to the core with New Balance Sport Spacedye 7/8 Leggings. No matter how intense your running session is or how long your running routine is going to be for the day, these pairs will stay at their best quality. They're perfectly gorgeous with a high waistband, so you won't have to deal with rolling over leggings. Take notice as well of how they stitch the material. They're not loose but rather tightly detailed. You'll have the best snug fit that won't quickly wear out as long as you properly take care of them.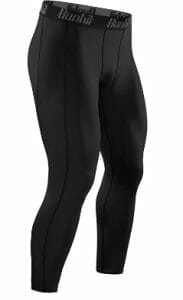 Of course, we won't forget about men. If you need the best durable leggings for your strenuous exercise, consider going for the Runhit brand. Your glutes, hamstrings, and quads will be properly supported without giving you a tight feeling on the spots. It has an elastic waistband, too, with an overall moisture-wicking property for a dry surface all day. Plus, these leggings are designed for all sorts of sports, from basketball, cycling, and running. Take a chance on these compression pants and be in for a pleasant surprise.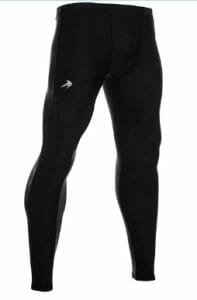 Get your wife to understand your obsession with leggings. These compression pants are far from the typical ones. Primarily made for high-performance activities, this garment supports men's muscles thanks to its features that include the 4-way stretch property, secure waistband, anti-odor feature, and moisture-wicking characteristic. It's a highly recommended running gear that will give you back your money's worth.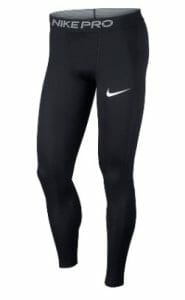 Nike just doesn't fail to impress. Their pro tights are basically what every man needs when it's scorching hot outside. It's moisture and heat wicking, and the fabric quality is structured to support your legs properly as you jog. It's great sportswear with the superb quality offered at a reasonable price of $27.99 to $94.11. It comes from small to large with various colors that might click to your taste, such as white, gray, obsidian, and black.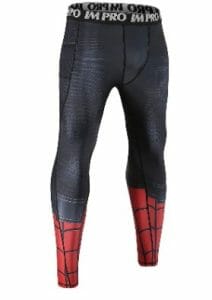 Run in style with these unique compression leggings from Coolmax. The design is fit for any Spiderman lovers out there, especially those who love to keep themselves in shape. The aesthetic is cool, and it doesn't lose the essential qualities found in excellent running leggings. It's super lightweight, soft, and sweat-wicking. Make no mistake; these leggings can be used both during the summer and the winter.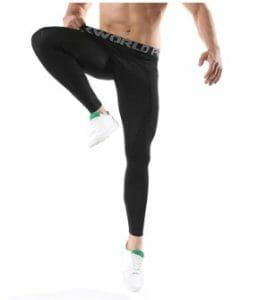 Be in for a surprise for this absolute must-have for men. SILKWORLD leggings fit all seasons for any sport, including running. The fit is perfectly tight to relieve you from muscle soreness by increasing your blood flow. Without a doubt, you'll stay dry despite the sun rising up and remain warm when the snow begins to fall. During winter, these leggings are better off for layering, though. Get yourself a quality pair at the most outstanding value that starts at $23.99.
Reading tip: Best Leggings for Winter Running: 14 Quintessential Toasty Pairs