Best Leggings for Exercise [The 17 Trusted Workout Leggings]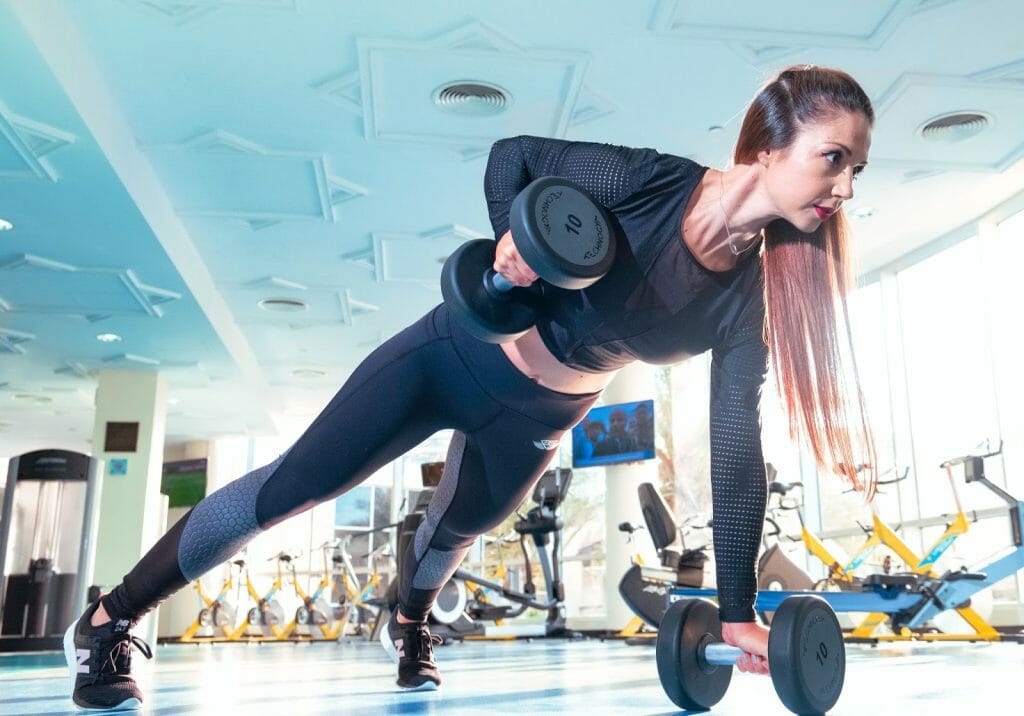 As a lover of leggings myself, I can tell you that the quality of a pair can make or break your fitness regimen. 
Other gym enthusiasts have been searching deeply for the best leggings for exercise. They've tried the "recommended" ones only to find out that they fall down from the waist, they don't wick away the sweat, or they get easily worn down after a wash.
The best leggings to use for exercise should be versatile enough for some action yet stylish for lounging. Their properties should include the use of high-quality breathable materials, pockets for essential items, and a skin-hugging feature.
They also have to stay in place, withstand the test of time, and be comfortable.
So, in our search for the best exercise leggings, we have concluded that there are 17 trusted pairs every gym junky should have in their arsenal.
17 Best Leggings for Exercise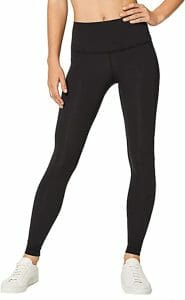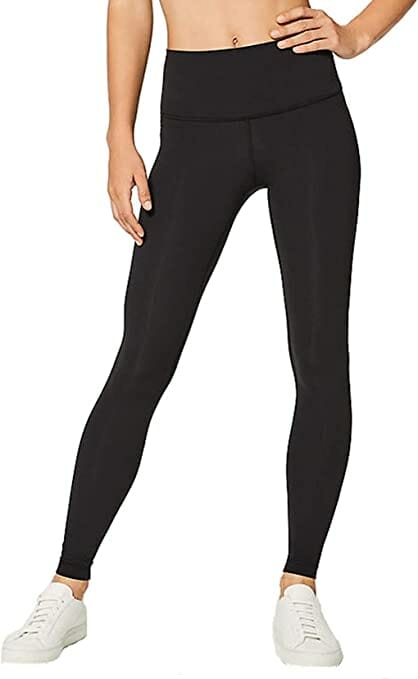 There's a strong reason why Lululemon leggings are considered one of the best pants in the market today. Lululemon Wunder Under Yoga Pants High-Rise can keep up with your workout routine, even if you go beyond the limits. The full coverage it provides keeps you from unwanted exposure and effectively stays in place no matter what rigorous movements you make. The Luon and Lycra fabric are two of the primary components of its fabric, giving you a flattering shape and making it feel like a second skin. A waistband pocket is added for your gym membership card and keys for your convenience.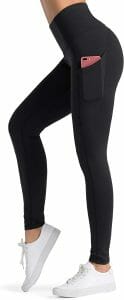 When you need some support on your tummy, the Dragon Fit High Waist Yoga Leggings are exactly what you need. Its wide, high waistband covers your navel with moderate tightness, so you won't have to pull it up constantly. Not to mention its soft and skin-friendly material and the gusset crotch made to ease your movements during exercise. Say goodbye as well to chaffing and rubbing as it's been interlocked and seamed. You're getting high-quality leggings that are absolutely affordable and dependable when it comes to working out.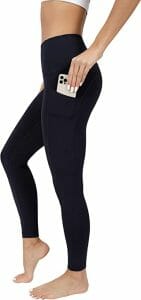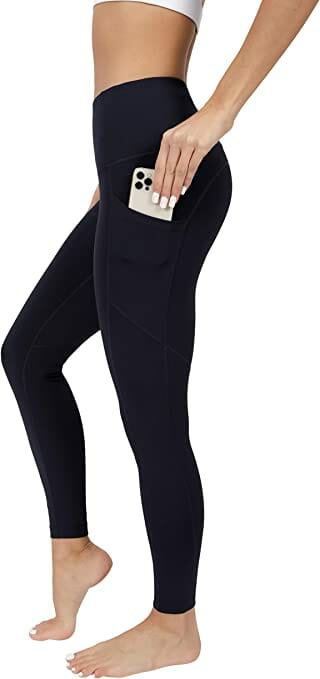 People are so obsessed with 90 Degree Flex Yoga Pants, aka one of the most well-loved brands in the market. By wearing these, you'll no longer have to deal with muffin tops thanks to the wide 4 & 1/2-inch band that hugs your waist perfectly. The leggings will give you a toned look, especially since it provides compression on your midsection. What also makes these pants great as  workout leggings is their phone compartment. You can easily slide it into the side pocket when you're done taking a snap of your after results. 

CompressionZ High-Waisted Leggings are a top-notch choice when you are in the mood for a morning run. Why? It's made for that activity. It offers a compression feature, which is evident in areas like the calves, quads, and hamstrings. Meanwhile, the fabric allows you to use it in warm and cold climates, so there's no stopping you from sweating, no matter the season. The premium fabric will keep you covered even when you bend or do intense yoga positions. Plus, it retains fit even after many washes. 


Style, comfort, and performance. That's what the IUGA High Waist Yoga Pants live by. It's your ultimate choice of athleisure wear with an ultra-stretch fit that keeps up whatever your everyday lifestyle is. The leggings contour your body and stay in the right places for the entire duration of your exercise. An inner pocket is also an added character that completes this pair. It can hold your phone, keys, or cards without compromising your comfort. While they can be used for strenuous exercise, these exercise leggings are more ideal for yoga sessions.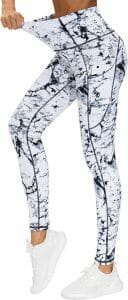 Made for daily wear, The Gym People High Waist Yoga Pants will keep your expectations met. The first thing to notice is its seams, which help in keeping you from the undesirable chafs and rubs. Its full-length quality allows you full coverage, perfect for morning runs or any outdoor exercise. The waistband is set high, and it's super stretchy and fit without constrictions. You can have free movements all day long with convenient inner pockets for your small essentials.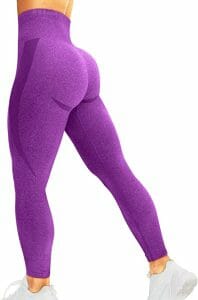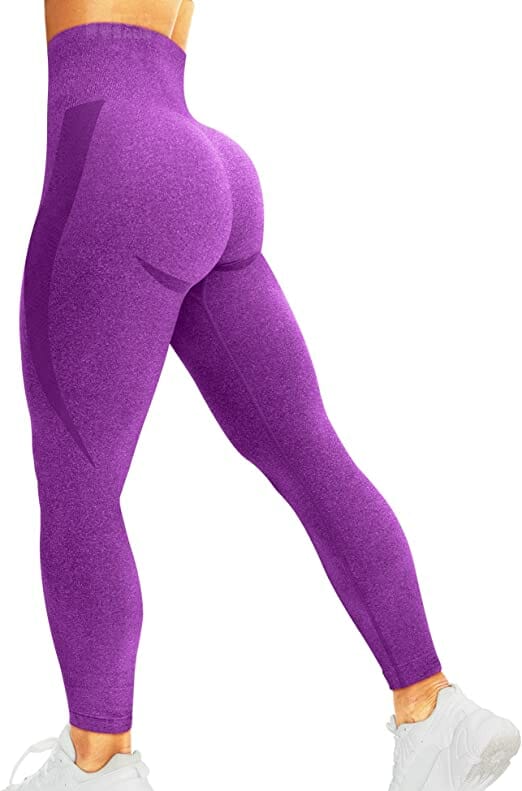 In an article reviewed by Dr. Poonam Sachdev, squats can help burn calories. This type of exercise also lessens any chance of ankle or knee injuries. So, for those reasons or going for the peach bum, when you include squats in your routine, the Higorun Seamless Leggings are the way to go. The quality and how it makes you feel will bring you back the confidence, more so with its skin-tight feeling that improves your figure. The DRY technology included keeps it lightweight, comfortable, breathable, and quick-drying. No more sweat-drenching moments with these!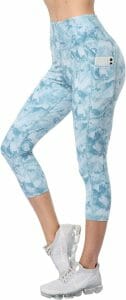 Raypose Workout Running Capris Leggings are expected to be soft and stretchy and made from polyester and spandex. With its fabric's soft, buttery feeling, these exercise leggings can be used for meditation and yoga poses. Included is a 4-way stretch that keeps you from embarrassing moments, especially when you do very low squats in the gym. Feel free also to hit the treadmill and worry not about the waistband. It's persistently in place and doesn't roll down at all. To add, anyone, even plus-size women, can enjoy the great qualities of these leggings with equal experience.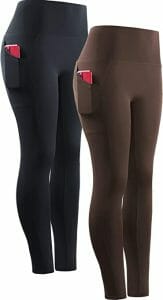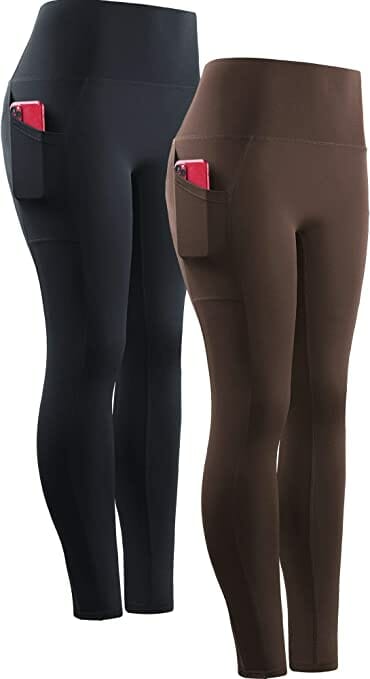 Are you tired of your old leggings that don't keep up with your lifestyle? Another go-to pair are the Neleus High Waist Running Leggings. Guaranteed, you'll no longer drench in your own sweat. It's designed to remove moisture from your skin quickly and consistently provide you with the comfort you deserve. Feel motivated to move more with its 4-way stretch feature that also effectively conceals every inch of your skin. Not only is it great for your workouts, but Neleus running leggings are also ideal for lounging.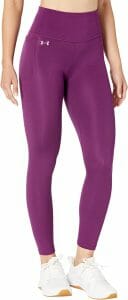 You can't expect anything less when the leggings you got are from Under Armour. Their Motion Ankle Leggings are thin enough for breathability and thick enough so you can't see through the fabric. It is capable of adding compression on the right parts of your legs, so your blood is equally distributed in your body, regardless of how long you run on the track. What's more, is that an article has shown that compression clothing delays the onset of muscle fatigue. With that, you'd find no better mate than these Under Armour exercise leggings. What to expect is that it can be pricier than others, but it's certainly worth it.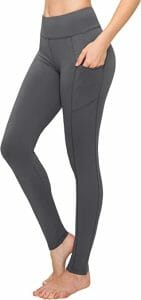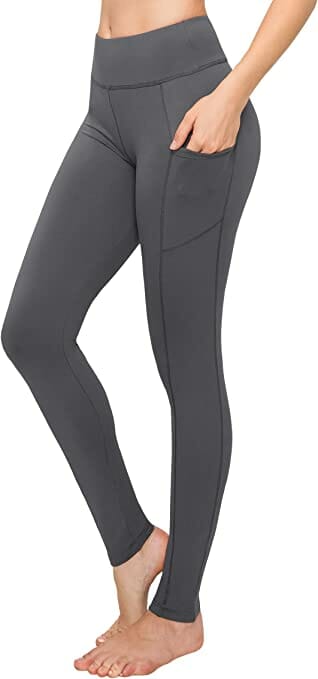 Made from 92% polyester and 8% spandex, you are in for a stretchy, comfy feeling during your drills. Satina High-Waisted Leggings are undoubtedly flattering for any figure, especially since it fits just right based on how stretchy they can be. The waistband hugs your skin around seamlessly to achieve that hourglass figure without compromising the consistency of its quality on your legs. It's low on maintenance, too. Just wash it and let it tumble-dry on a low setting, and it's ready for another session. On top of that, you'll certainly want to wear these over and over; hence, quality is made to last no matter how many times you use them.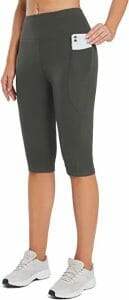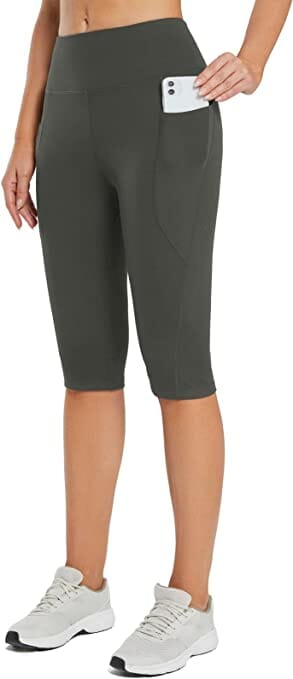 Baleaf is a well-known brand and often a bestseller on Amazon. It's what you need for sports, training, and other activities requiring movement. If you like to feel the breeze on your knees down as you jog around the field, then you will not go wrong with Baleaf Capri Exercise Leggings. Though these do well on their own, you can also wear a tunic shirt or a skirt. With its design, the waistband stays in place consistently. Over time, the leggings, especially in the ankle part, won't sag or go loose. With proper care and maintenance, these Capri leggings are set to last for several years.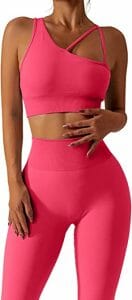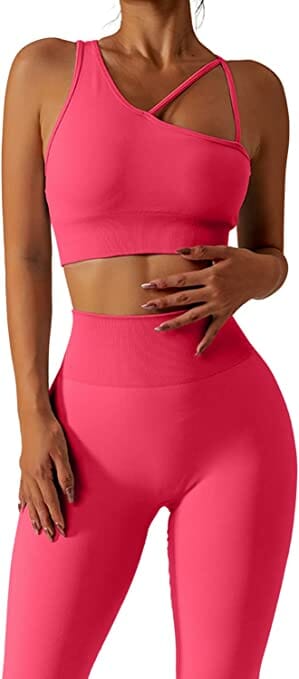 Work out in style. The Qinsen Workout Sets offer you their activewear in similar designs and different vibrant colors. The top is obviously stylish and alluring, while the high-waisted leggings perfectly complement its crop top. The set is moisture-wicking, so worry not about sweat showing through the fabric. The premium nylon increases sweat absorption speed by up to 50%, allowing you to stay longer in the gym. Aside from that, the seamlessness of the set makes it friendly to the skin. Give up your worries about garments that roll down, either. The thick waistband is supportive, and it sits on the skin throughout the session.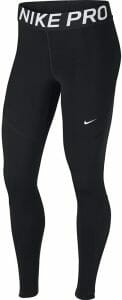 Nike is a giant when it comes to sportswear. With its years of leading the industry, you certainly can't go wrong if you go for its classically designed Nike Women's Pro. The standard black color makes it versatile for gym wear or loungewear. As we all know, celebrities like Hailey Bieber and Kendall Jenner occasionally strut the streets in casual clothing, including their most prized leggings. You get more than a bang for your buck with Nike Women's pro leggings. Once worn, you'll experience a locked-in feeling, and it's cool on the skin. There are also mesh panels to ensure breathability. You can't also ignore the authentic Nike logo, subtly placed on the upper left leg.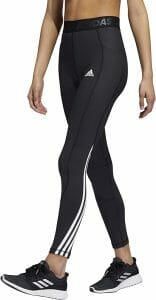 According to Statista, the Adidas brand is considered the largest sportswear manufacturer in the entire Europe and deemed the second largest in the world. It's just right behind Nike. Its widespread reputation keeps it one of the consumer's top choices when it comes to sports clothing. Hence, the Adidas Women's Techfit 3-Stripes Long Gym Leggings are included on the list of the best leggings for exercise. These tights are specially designed for sports training and workouts. Its Aeroready feature also keeps you feeling dry as you move, while the materials used are water-absorbent, so moisture doesn't stay on your skin.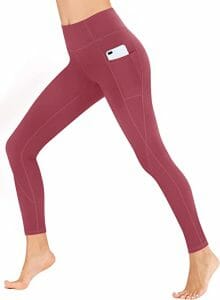 Made primarily of polyester and spandex, you'd experience world-class comfort whenever you do yoga or any indoor exercise using the Heathyoga Yoga Pants with Pockets. The 4-way stretch technology keeps you worry-free from unwanted exposure on top of its buttery soft feeling that's not irritating to the skin. Simply put, it feels just like second-layer skin. Two side pockets are ready to contain your important items, and they don't affect your leggings in any way, no matter their weight. With that, it's time to go wallet-free when you head your way to the gym. Thanks to its tummy control and support feature, the high waist is also worth mentioning, perfect for those with lovely flabs.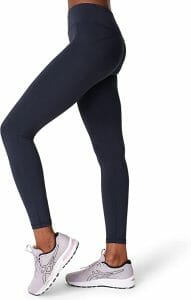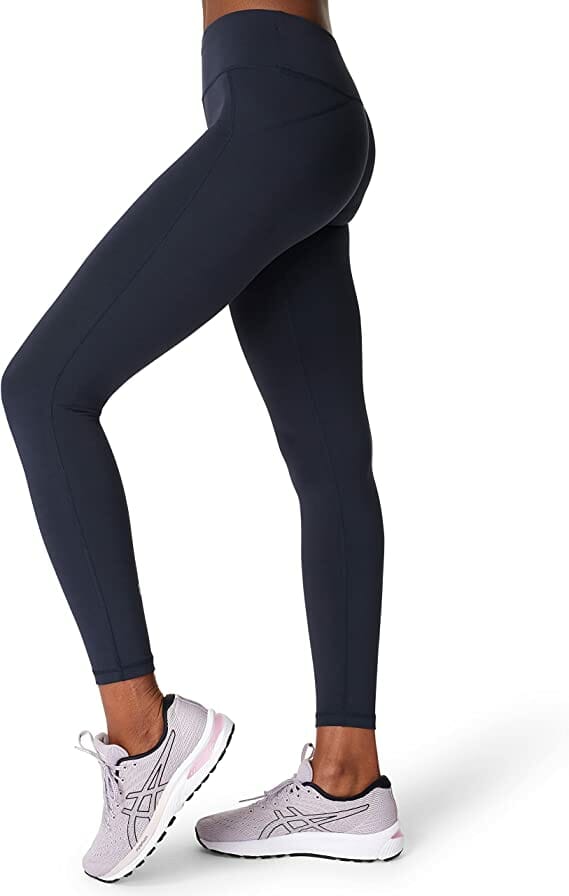 Hailed to be one of the perfect workout leggings, Sweaty Betty is not here to disappoint. Their slim-fit leggings are luxurious to the touch, and their visual appearance is sleek. These high-performance leggings can keep up with the day. The sweat-wicking and quick-drying properties help in keeping you away from getting soaked in your own sweat. It's guaranteed to be lightweight, soft, and squat-proof, thanks to the premium fabric used for this pair. Mainly, these are suitable for pilates, yoga, workouts, and spins.