Best Leggings for Plus-Size Women [15 Top Leggings]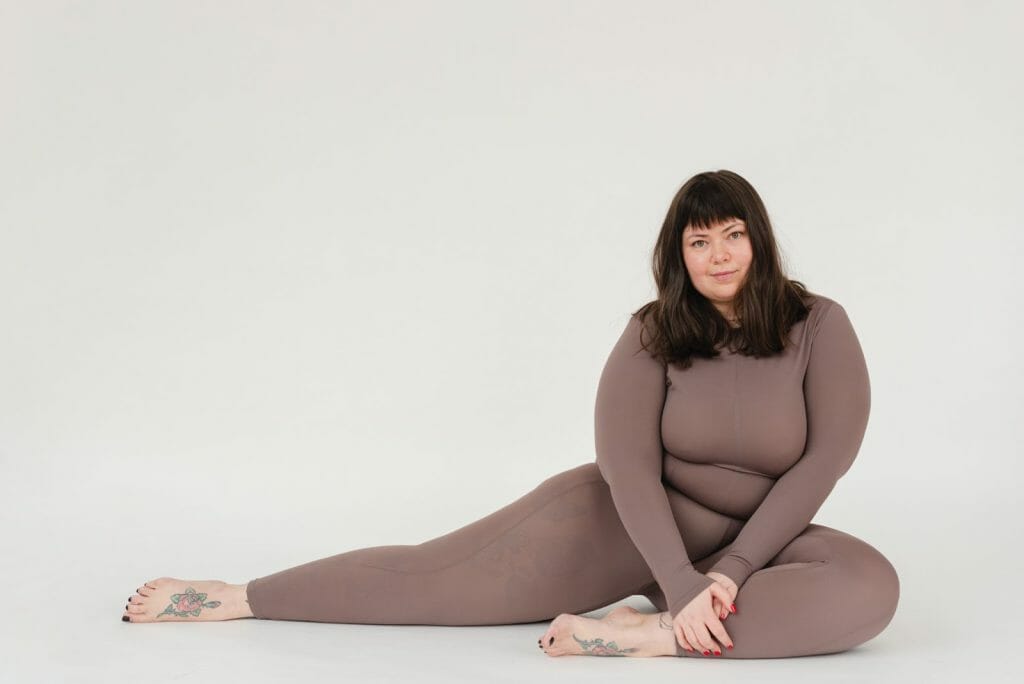 Curvy women can look great wearing leggings. Though a pair sure is daunting, choosing the right stretchy pants will flatter your body shape, and the next thing you know, leggings transition into your everyday wear. 
To achieve that, you have to carefully choose your exact fit, the ideal quality, and the thickness of the material used. By considering some extra specifications on your body shape and size, pulling off this wardrobe staple is what's likely to happen.
If you're a plus-size woman, clear yourself from the doubts that haunt several other curvy women. Your search for the best leggings is made easy as we gather the 15 latest leggings that top the market.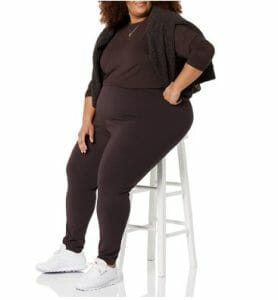 Amazon Aware leggings are eco-conscious clothing that's made up of 68% viscose, otherwise known as rayon fabric that's been derived from wood. It's worth noting that the product is certified carbon neutral by none other than ClimatePartner. The overall quality of the material is, by far, excellent as it's not thin nor sheer when worn. It's comfortable and non-itchy, as well as a perfect fit for any curvaceous lady. This pair is ideal for winter or even when it's not cold. Attend any recreational events with a more stunning you without going through the hassle of constantly pulling them up when the waistband rolls down.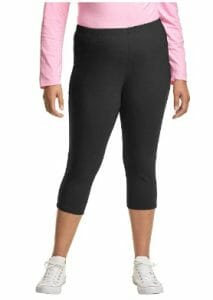 There are several concerns for plus-size women when it comes to choosing the right pair of leggings. However, the Just My Size leggings will impress you incredibly with the features their pants have to offer. First, these are not sheer pants that will expose your bum if you squat. The stretchiness of the fabric is also reliably strong. Does the waist fall down? The good news is that it doesn't. Of course, the most critical question is, "Do these leggings last"? Considering that the pants are made from polyester and cotton, the blended fabric promises durability like no other.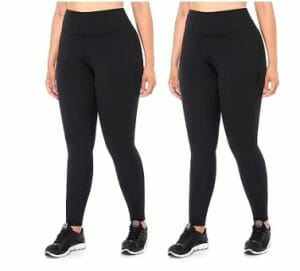 The combination of polyester and spandex helps make any plus-size wearer experience a lightweight feeling from these leggings. These are impressively stretchy, too, so you won't have to worry about ending up with a sheer pair of pants once worn. As long as you know your body's measurements and you grab the right size, these leggings will work to retain your figure without too much tightness, especially around the waist. As these pants are soft and breathable, comfortability is not excluded from the features. These are the perfect go-to choice as well if you want to look slimmer at every angle without losing your fabulous curves.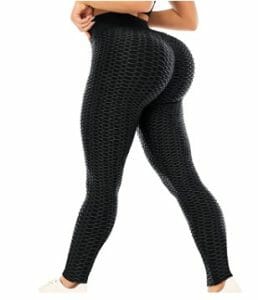 Confidence is when you're proud to show off your curves, and the pair of leggings that can help you with that is no other than those from ViCherub. You'll look gorgeous even from behind, thanks to their butt-lifting feature. No doubt, you'll feel the right amount of tightness as the fabric clings to your figure, but they're in no way uncomfortable. The product is made from high-tech knitted fabric that won't cause irritation. It's moderate in thickness, breathable, and has a 4-way stretch feature. It also comes in various colors, such as gray, red, and sky blue, among others.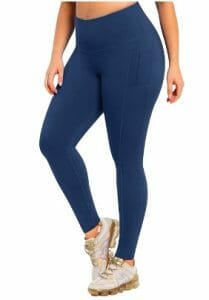 The leggings every curvy woman needs are those that cover the waist down to the ankles. MOREFEELS offers you that along with several characteristics; you'll find pleasure in a pair. Users describe these leggings to be far from super-thin, nor are they too thick. Experience their softness too, and you'll agree that these would be the comfiest leggings you'll ever have. To mention, the fabric is made up of polyester and fabric for a quality stretchy, and durable feeling that would last for several years.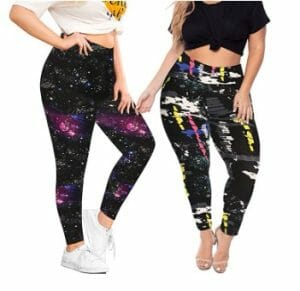 Another option you can consider is the YOLI leggings, whose stretchy pants are specially made for women of your size. Clearly, the designs are creative, and you can also purchase two styles: Capri or ankle length. Doubting if the waist would fit? This brand promises that their product will also cater to pregnant women and their sizes are not at all limited. Indeed, you'll be saved from unnecessary exposures as these aren't see-through. And for more ease in movements, the 4-way stretch will bring you more delight as you go about in your daytime lounging moment.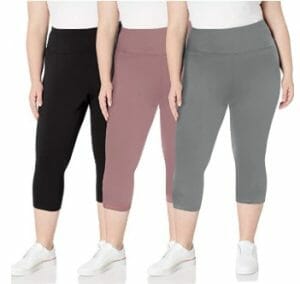 For all the curvy women out there, the cropped leggings will surely do you some favor. Not only would the style make your legs slimmer but as well as longer. What's more is that if you choose the suitable leggings to go for, such as these from TNNZEET, you'll feel sexier and more confident than ever. The polyester and spandex combination guarantees a soft and stretchy feeling, yet it's super supportive but, at the same time, non-restrictive. You can move, groove, and dance all you want without the constant roll downs of these pants.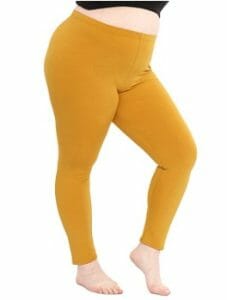 Have you ever experienced love at first wear? Perhaps you'll have that moment once you purchase Stretch's cotton leggings. Well, aside from the attractive colors and prints they've come up with, the quality is also a talked-about feature. The comfort, stretch, fit, and size are all included in one pair of pants. What wearer wouldn't want these things? This garment will complement your figure. For any season, the Stretch leggings will easily blend with whatever outfit you choose to wear. This is an absolute must-buy at a value of only $19.99.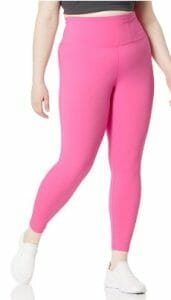 Are you a fitness enthusiast? The leggings you need should be able to keep up with your activities. And for curvy women, finding the perfect ones wouldn't be that easy. Thankfully, Amazon launches full-length leggings in black, bright pink, olive, and other more eye-candy colors. Putting aside the aesthetics, whatever sport you love doing, you can perform far better if you wear these Amazon leggings, as every detail ensures fit, comfort, and quality.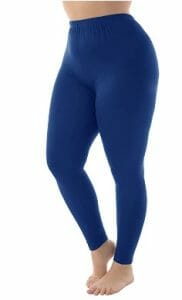 Made from stretchy modal fabric, these Zerdocean leggings will be easily put on by any plus-size enchantress like you. Get to know more about this brand– Zerdocean is an eight-year-old brand that's into producing ideal loungewear that provides the comfort everybody needs. The size shouldn't be an obstacle in achieving that. To give you your money's worth, the fabric doesn't feel cheap at all. It's silky to the touch and flexible enough to cater to your movements. With tank tops and sneakers, your simplest outfit will turn out cooler with these figure-hugging leggings.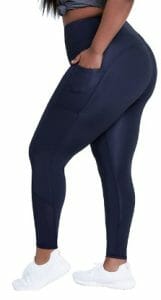 Get the streamlined look that you want in black or dark blue colors. These yoga leggings are incredibly soft and stretchy enough to be worn with a wide elastic waistband for tummy control. This feature also helps contour your body shape and make you look slimmer around the waist. Another thing is that these pants have side pockets. From your car keys to other essential items, you won't have to carry your purse whenever you do your quick workout or even if you're just out for an errand. The product is absolutely non-see-through and squat-proof– just about what every fitness fanatic needs.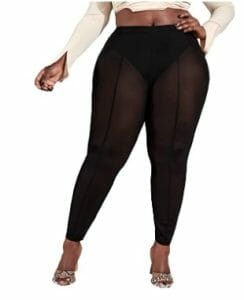 If you're feeling a little bit adventurous, these high-waisted mesh leggings will give you the effortless limelight you deserve. Show off a bit of your skin without exposing too much. These pants will leave some to everyone's imagination as they are complete in length, only that they're somehow sheer. The panty-line area is thoroughly concealed but nonetheless sultry. No doubt, these are the best go-to pair for a night out, festival, or holiday with your friends.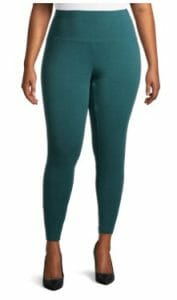 Looking for the ultimate leggings for your size? Terra & Sky got you on this. They run slightly oversized, so you may want to consider upping your measurements, but keep it as is if you like your leggings with a bit of allowance inside. Let's talk about the leggings' best quality features. The gusset is thick to avoid your lady bits from forming through. These are high-waisted as well for a firmer fit that won't make you adjust your pants every now and then. Also, the garment is made from modal, spandex, and cotton, so you're assured of durable and robust material. No matter what your size is, its stretch won't wear down quickly, and you'll get to enjoy its beauty and practicality for a long time.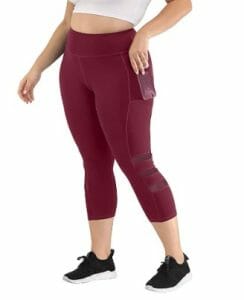 Looking for the best workout leggings that come in your shape and size? Well, you don't have to look anywhere but here. These Capri leggings are meticulously designed to offer comfort and ease in movement. The flat seams are not there just for decorative purposes but rather to prevent you from chaffing. You can even sport these for your yoga sesh and guarantee that the garment will stay in place. It's moisture-wicking and has a sweat-absorption property, so you can last longer in your drills without feeling too hot and soaked. One buyer says that it's the best pair she's ever bought. Put that to the test yourself!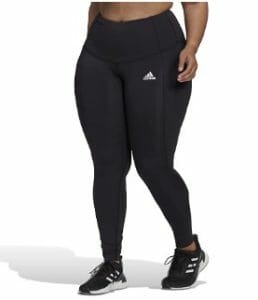 These classic tights from Adidas are made from recycled materials like polyester. As expected, Adidas aims to give its loyal wearers quality garments that are excellent and worth every penny. It's undoubtedly breathable, so you'd stay dry all day long no matter what activity you do under the sun. The sizes run from small to 4X-large, so everybody can experience Adidas. Just got home from your workout? Simply throw this on your washing machine and call it a day.
You might also be interested to read: Best Lululemon Leggings for Running: 12 Styles You Can Choose From