Best Running Leggings With Pockets [19 Recommended Leggings]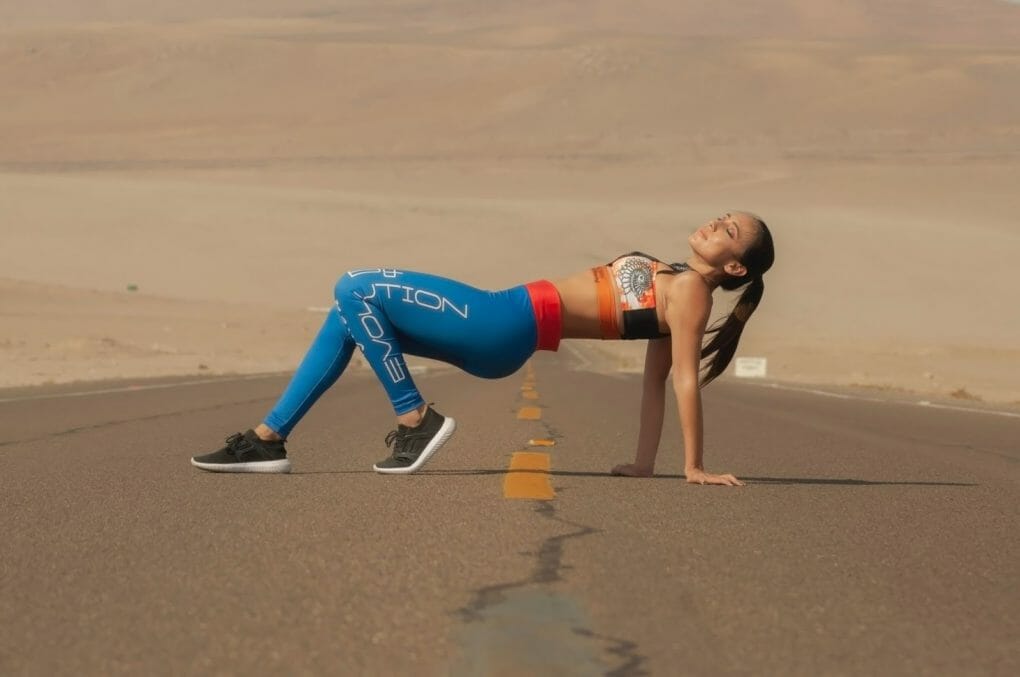 Won't everybody agree that the best running leggings should come with pockets? Gone are the days when you always have to carry a pouch or a gym bag with you to store your essentials. 
Pocketed running leggings keep everything convenient, especially when turning your workout into a shopping spree. Pockets make any clothing practical and functional, making it a desirable feature, more so when it comes to running leggings.
Skip the hassle of going through your bag for your keys, cash, or phone. Here are the best running leggings with pockets that are highly recommended.
Review: 19 Best Running Leggings With Pockets
In choosing the best running leggings, it's not just the pockets that you should go after. It would help if you also considered the quality, characteristics, materials used, and overall comfortability. 
Price can also be a factor. Fortunately, a quality pair of leggings don't always come with insane price tags. You can have all the desirable features in leggings while getting the most value for your money.
Need a new pair or two to add to your leggings collection? Here are the 19 best running leggings with pockets that you need to try:

Dragon Fit yoga leggings feature stylish side pockets that can accommodate your phone. The depth is intended to prevent your phone and other essential items from slipping out while you do your regular running laps around the park or on a treadmill. The comfortable high-waisted band hugs your figure without digging deep into your skin. This also allows your leggings to stay in place regardless of how heavy your pockets are. On top of that, these leggings are moisture-wicking and skin-friendly, have a four-way feature to allow free movements, and a gusset crotch to avoid chafing and cameltoe.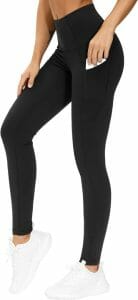 The Gym People yoga pants have an ultra-stretch fit and are breathable. It's made from quality and durable materials making the garment thick enough to prevent unwanted exposures. The side pockets have enough depth to secure your items. An inner pocket is also added to safely store important items such as your credit cards, keys, and cash for any spontaneous spending activity. When worn, it acts as a comfy shapewear that makes you look slim, boosting your confidence even more during your running workouts. It's perfect for everyday runs or random errands.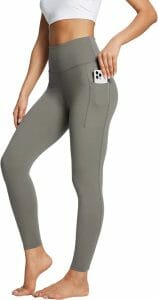 The seamless side pocket design on these running leggings adds a subtle aesthetic yet minimalistic look. The pockets lie flat on the side, guaranteeing they won't look bulky. Inside the seamless waistband, you can also use another pocket to secure your other smaller items. What makes these leggings suitable for running is their slightly compressive structure. This aids you in keeping on with your workouts with interruptions or discomfort whenever you move.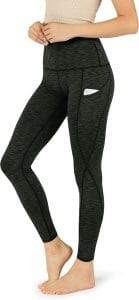 The Ododos running yoga pants come in full and ⅞ lengths. These have a 4-way stretch brushed fabric that is comfortable. It also protects you from unwanted exposure as you make your every movement. During your runs, regardless of how hot it is, the Ododos running yoga pants will keep you dry all day thanks to their moisture-wicking fabric. Most of all, two side pockets can accommodate the size and weight of essential items. They won't move or keep you from doing your drills. The wide elastic waistband also keeps your leggings from falling down.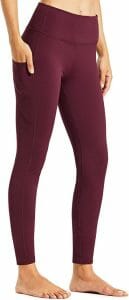 Libin's fleece-lined leggings are what you need for winter running. It's a pair of thermal pants that will keep you warm even when you brave the cold outside. It's breathable, moisture-wicking, and quick-drying, allowing you to keep going with your workouts no matter how drastic the temperature change. There are also stylish side pockets for your phone, keys, and cards. If you need more room for your AirPods, you can use the hidden pocket on the waistband. Overall, these leggings are warm, skin-friendly, and soft. You get more than a bang for your buck once you add this to your leggings collection.

If you're into subtle prints on your leggings, these Amazon essentials yoga leggings are to go for. There are big side pockets for practicality. You can ditch your gym bags and other carry-ons when using your pockets for your phone and cards. On top of that, these have sweat-wicking fabric and allow the breeze to go through the material to keep you cool. The high-waist design also features tummy control to prevent muffin tops from forming.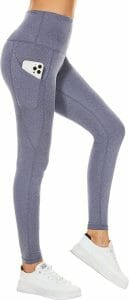 The perfect running leggings should be able to keep up with the demands of the activity, and Taydey is what most runners go after when it comes to leggings. It's particularly made for athletic workouts as it's a pair of shaping sports tights. It allows you to experience enough compression, making you perform better and have a curvier shape. These leggings can be used for hiking, yoga, spinning classes, running, and lounging. It also has a distinct side pocket, big enough for your phone.

With over 56,000 reviews on amazon, it shouldn't be a wonder why IUGA yoga pants are in demand for leggings lovers. These leggings are cut to be a few inches above the ankles. This will allow you to have a quicker time to cool down since your ankles are exposed. The interlock seams are guaranteed to keep your skin from rubbing or experiencing chafing. More features, such as the 4-way stretch and high waistband, positively elevate your experience with these leggings. Of course, these leggings also have side pockets and an inner waistband made for your convenience.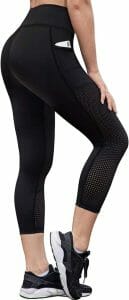 Raypose yoga pants are manufactured to be durable and elastic and provide users with a comfortable naked feeling. You can run easily, especially since these are non-see-through, have moisture-wicking properties, and are breathable, squat-proof, and skin-friendly. It comes in multiple colors, which you can add to your collection. In addition, these leggings have flat seam crafts and side pockets for cell phones and keys. These tights are also available for plus-size women.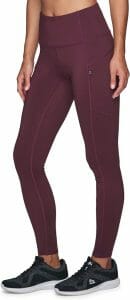 Keep doing your drills as you wear the RBX training leggings. These are made for cold-weather activities, ensuring added warmth no matter the drop in temperature. This offers ultra-soft, quick-drying fabric with a 4-way stretch feature to ease your movements and secure your comfort. The fitted waistband hugs and improves your silhouette; there are pockets to hold anything to keep your hands free.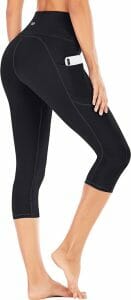 Have the style, comfort, and performance all in one pair of IUGA leggings. This lifestyle brand has made high-quality yoga leggings made by yoga enthusiasts. Make no mistake, these leggings can also be worn by runners. Aside from the buttery-soft texture, these leggings are guaranteed to be squat-proof, have 4-way stretch fabric for ease of movement, and have a high-waisted tummy control property for a smooth waist. These leggings are supreme in comfort and excellent in fit. There are pockets on the sides, too, if you need a place to store your keys, phones, and cards.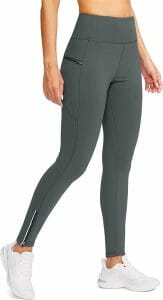 If you're looking for water-resistant leggings made for the cold, the Santiny warm pants are the way to go. The inner area is made from soft fleece, guaranteeing you stay warm when you do your jogs outside in frosty temperatures. And when the rain starts to fall, these leggings effectively prevent your legs from getting soaked. The water-resistant property repels any liquid it comes in contact with. The sides of the ankles are zippered for added aesthetics. The pockets are also zippered to ensure your items don't accidentally slip out.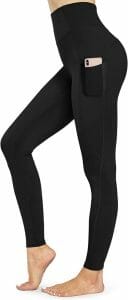 Whether you need camo leggings for your outfit ideas or classic plain-colored stretchy pants for your running session, Styleword has the right pair of leggings for you. This offers enough compression on your body to keep your blood flow going while you sweat out. It's also high-waisted and contours your body for a more flattering figure. Runners can keep on with their drills or use Styleword workout leggings for HIIT, cardio, kickboxing, or lounging.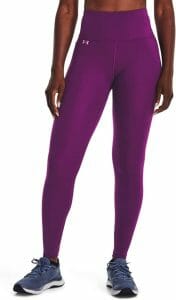 Under Armour is producing the best running leggings to make you better. This brand is known for its quality production of stretchy pants that are durable, functional, plus it comes in style. Thanks to the leggings' 4-way stretch fabric, you can move better in every direction. The material used is ultra-soft and double-knit, and it allows breathability. There are drop-in pockets on the side, too, just right below the flat, elastic waistband for your everyday workout essentials.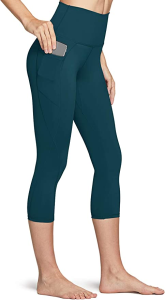 Enjoy the enthusiastic and vibrant colors of TSLA leggings. These yoga pants feature high-waisted bands, sleek-designed seams, and deep pockets for your items. A crotch gusset is granted to prevent the camel toe from showing. When it comes to quality, the material is reviewed to be buttery-soft, durable, and ultra-stretchy. You can do your movements without feeling any restrictions. You can use these leggings for cycling, running, pilates, and yoga.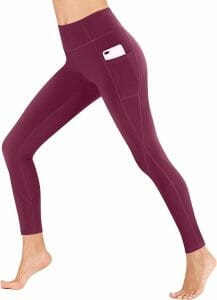 Heathyoga yoga pants can be comfortably worn every day. These are made from polyester and spandex, so you get entirely the best of both worlds in one pair of leggings. Heathyoga leggings feel like a second skin, allowing breathability, comfort, and moisture-wicking properties to take place during your running sessions, regardless of how many laps you target to reach. Featured is a tummy control characteristic to keep your flabs smooth. There are two side pockets and an inner one for storing your little items.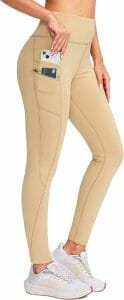 The appealing design of G Gradual fleece-lined leggings draws runners to actually try these out. The flatlock seam from the ankle up to the waist is interconnected with dual pockets on the sides. You can carry more than just your phone and cards. Although these leggings feature more storage areas, these leggings won't fall down. As these are high-waisted, the whole band holds the leggings together. Moreover, these leggings are warm, water-resistant, have tummy control, are highly elastic, and comfortable. These are exactly what you need to beat the cold.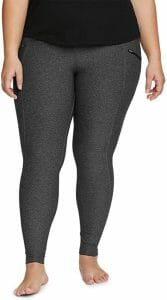 Worried about your size? Continue your regimen as there are plus-size running leggings specifically made just for you. Check out Eddie Bauer's trail-tight leggings. At first glance, you can tell how stretchy these pants are, yet not to the point that the fabric starts digging into your skin. There are also two drop-in, vertical cargo pockets for your belongings. Store your AirPods or phone without worrying about losing them while you're on the run. More features are included, such as the FreeShade UPF 50+ sun protection, FreeDry moisture wicking, chemical-free cool core crotch gusset, and polygiene odor control.

It can be hard work running while wearing leggings that are stiff, non-stretchy, or itchy on the skin. Why not try these buttery-soft yoga leggings from Yunoga? These may come in tie-dye patterns or solid colors, depending on your preferences. What's more appealing beyond these leggings' appearance are their flatlock seams designed to reduce friction. This way, you'll be able to finish your lap without restraints or distractions. These are also made to be moisture-wicking, quick-drying, breathable, skin-friendly, and durable. Expectedly, these leggings won't easily sag after several uses. As these are made from polyester and spandex, these leggings are made to last. On top of that, the pull-on closure grants you a secure fit around the waistband.