The Most Popular Hermes Scarves (Easy Styling Ideas)
Luxury on your daily clothes? Of course! We never slash the festive-looking scarves of Hermes off those eventful days. But not to mention that they also do justice to uplifting your mood on regular occasions. In all fairness, these could be just a few reasons why sophisticated women would at least invest in one magnificent length of Hermes scarf!  
As we all probably know, an Hermes scarf is worth more than any other branded ones on the shelves. And sure, we take it that the masterpieces from retail are outspoken when it comes to representing themes of vintage, culture, and iconic designs to evolving fashion. It is indeed a treasure to have one, so why not start styling with a coveted trademark now?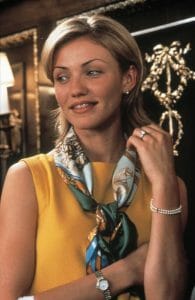 Looking grandeur in sleeveless can define a stellar side in you! It is like sliding into some celebrity rank casual outfit on any given day, and all because you are wearing this green-gold Hermes!
Taking inspiration from the relic Ispahan scarf of Maurice Tranchant, you can never go wrong with an almost alike make of svelte stole, not that the original creation is not mass-produced at all! Talk about wearing something that is inspired by the affluent!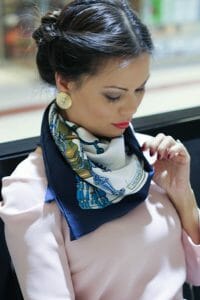 An excellent novelty scarf could have also come from Hermes' very own, Hugo Grygkar! Plenty of the masterpieces made by the artist is nonetheless always a part of the brand's legacy towards vintage accessories.
Needless to say, any scarf that has at face value having that Grygkar theme can make any wearer royal-looking, too! If you are looking for a modest title-deserving style then sure you should get something like this inspiration from "Combats de Coqs".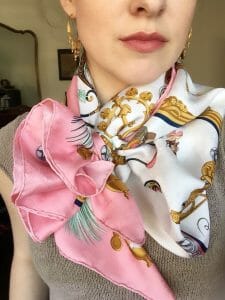 Aesthetically taken from one of Philippe Ledoux's signature scarf designs, is this sleek pink youthful accent. The near resemblance of this one to the famous "Groenland" makes you feel like wearing an auction-worthy design on all those special occasions!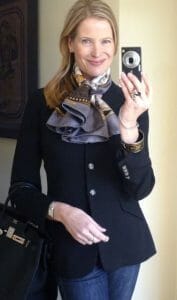 Consider wearing those gray silk scarves, too! Gray can suit well on your semi to formal coats and can add that dash of socialite poise to a simple affair kind of overalls. With this in mind, something from Henri d' Origny's collection can be worth taking space in your wardrobe! Not because of his use of romantic colors but because of his sultry designs, which even made it into the British royal fashion!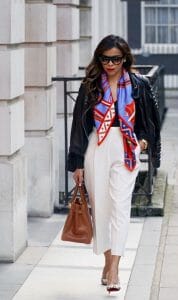 Enthuse some eyes, and get some classy talk around you! The colors here, for example, have a bit of homage to Apache culture. Apparently, scarves can speak stories on their own, and while they do justice to many wearable paintings of renowned artists, one quality of Hermes scarves is the urbanity of heritage that is not usual in the sight! So why not go with this red, blue, black on your next uptown stroll?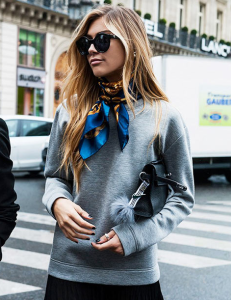 Some Hermes scarves may be only available in small production and undeniably are the ones we consider of most coveted rate, therefore could also be a stellar price. Artist collaborations such as those with Vladimir Rybaltchenko, has a perpetuating vein of art in some of these prestigious scarves. Take here a bleu "Les Cavaliers D'Or' inspiration, and tell me how it is to walk like you are in a Paris fashion crusade!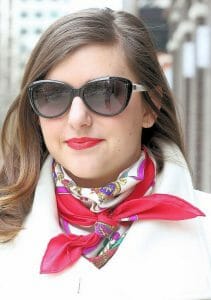 Because we can't help but include rosy-colored items too as part of our options on clothing and accessories, how about a silk twill from Henri d'Origny like the Eperon d'Or? Inspired by its art, you may get your hands into one of its replicas today by just scrolling in any online store now. We have here one to give you a bird's eye view.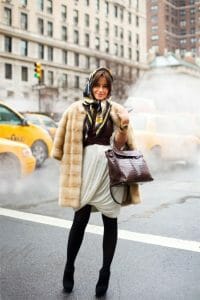 As scarves can also thrive in telling a story, cultural themes are sewn into them, too. Something carried out from Kermit Oliver's studio, for example, has that old but gold vibe on color symbolism used for Native American culture or lifestyle. Well, what could we say but, wearing one in this generation could make you feel a little nostalgic and aristocratic at the same time.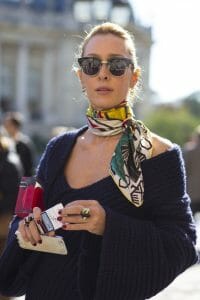 Something from Kermit Oliver's masterpieces, called "Kachinas", still looks elegant even if folded to a tie in your neck. We have here inspired by the almost similar complementing colors that are not at all disruptive to the overall accent to your OOTD! With that in mind, we could say that the artist's brainchild takes the concept of scarf presentation seriously!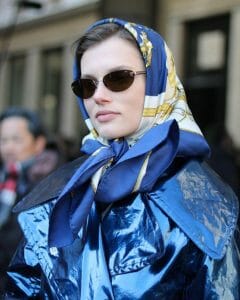 You may also have heard how the brand also loves applying equestrian, cosmos-like, or jewel designs to their craft from time to time. The vintage style of Hermes scarves has nevertheless made an exclusive mark on their makes with intricate designs. The scarves can subtly match tops varying from women's blazers to suits. Opting for something like Gianpaolo Pagni's crafts such as Liste en Chaines might be the kind of class you are looking for.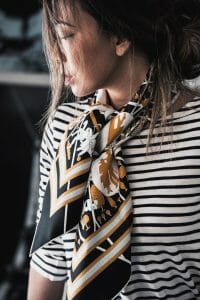 A Hermes scarf consisting of black, gold, and white remains one of those items that are exquisitely lavish in defining the magnificence of youth and high standards. So if you are to don one along with your casual tops, then get ready to get that socialite aura in a third-degree! For you to get the artistic design for this choice of colors, the famous Brides de Gala by Hugo Grygkar can give you that!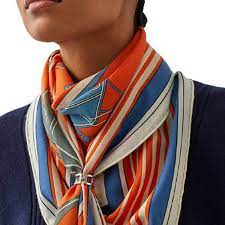 If you have already seen a Châle 140 cashmere scarf, then you might fancy having it in orange and blue color design. The palette can be worn in any season and never fails to give off a glimmer of sophisticated styling. If you are down for some lively mood then match it up with a similar scarf right here!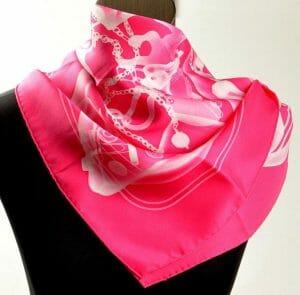 A fun color of pink only shows your love for that vivacious aura! Have something like the style here in "Check In" by Dimitri Rybaltchenk, that has a simplistic modern design that suits well on a tie. The scarf design gives a witty style to display the wearer's personality by priding the contents of a Kelly bag.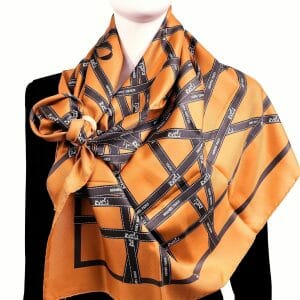 Orange is a strong color that represents warmth and enthusiasm that including it in your day's apparel adds grandeur to your overall outlook! Scarves coming from the handiwork of Claudia Stuhlhofer-Mayr on Tohu Bohu designs, for example, is a total celebration of this stimulating color. Deciding on your first Hermes scarf to purchase? Wearing the hue is not that bad of an idea, too! You have to see it for yourself, how it goes well with blacks, white, reds, or blues!