16 Plus Size Bralette Outfit Ideas: Braving Boundaries of Bralettes
Women x Fashion
Facing a sudden shift of lifestyle due to the upshots of the pandemic, individuals are confronted with choices to live with throughout the day at home. Striving to function naturally, one has a fair share of anxiously deciding on an outfit that is both comfortable and stylish. Online meetings, jobs, classes, and other occurrences that require people to dress appropriately had taught each to switch from one trend to another. 
Unfortunately, women's clothing is challenged with cultural differences and inner existential doubts on their physical bodies. Average-shaped women do not normally get rejected by fashion; thus, extends the undying issue of the invisible labor of above size 12 curvy women in hunting down clothing combinations trying to be labeled fashionable. For most plus-size women, finding clothing and lingerie that is both comfortable and trendy is considered a difficult task already. Let alone how hard it is for the remaining women who lost to body-shaming and succumbed to the idea of plus size fashion being a problem in the vogue platform.  
Bralettes Are for Plus Size Women, Too
Diggin' into the core, plus-size breasts are difficult to flatter and style. For a long period of time, fashion industries have taught women how breasts must look a certain way – framing shapes and sizes that mostly marketed the brand more than the celebration of femininity. 
As fashion enthusiasts continue to weave style with trends, culture, and the arts, women are far more empowered and strongly enabled to dress for nobody but themselves and other women out there.  Hence, comfortable undergarments rose again to serve various purposes for women with braver style and blooming self-love.
Bralettes: Let Be Known
Despite the growing population that parallels the vast majority of fashion consumers, fashion industries are gradually getting in line with sustainable developments in production costs, materials, and eco-friendly processes. Thus, bralettes, being less expensive than traditional bras, are just one of the many fashion creations that also pave the ways to create a stand-in environmental sustainability.
A comfortable garment would best define a bralette. Even by stripping off underwires, pads, strings, and clasps from the fully-structured bras, bralettes can still support women's breasts with added trendy fashion sense. 
This lightweight and newest must-have undergarment are so stylish that it can be paired with clothing and accessories that are meant to be peaking almost everywhere. Charmed to this sense, bralettes, being chic and on-brand, can either work as an undergarment and the actual top itself.
Most importantly, bralettes can genuinely attract a woman's positive self, authenticity, independence, and power.
Bralettes: Let Be Dressed
Boldly showing off your fashionable and comfy outfit, you can beat all seasons while daringly pairing it with garments you might go crazy about. Here are shared ideas on how you can creatively match your other accessories with your recently bought bralettes or those that had sat in your drawer (for crying out loud) for almost forever! You might also get inspiration on getting your new items with the lists of shopping suggestions below. Go check it out: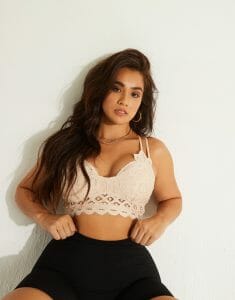 Let your curves flow naturally with your charming bralette and have the confidence to rock your day with this cute outfit. Pair it with your favorite bottoms and be on the go with this cool and chic outfit that is easy to style. These fitted bike shorts perfectly complements and matches your mid-rib bralette which both elegantly and gracefully flaunt your curves without being awkward. This is a comfortable outfit that will make you feel ultimately secure in every movement that you make. So, smile, pretty one, it's a beautiful day in front of you just like you!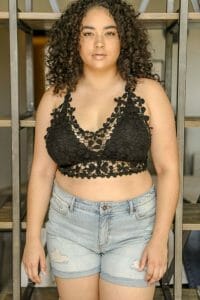 This is a very cute look that will get heads turning as soon as you step out of your front door. No more shying away from showing some skin because it's high time that you be bold and confident in the skin that you're in. This bralette very well complements your body with the lacey patterns that beautifully sit on top of your skin, around your breasts, and mid-rib. This elegantly creates some coverage and serves as a beautiful accent that is stylish and trendy. Pair it with your favorite shorts, your beautiful smile, some good energy, and kindness, and the world will surely look a little bit brighter for you.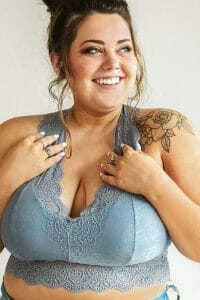 This bralette is an adorable sweet-looking one, just like you. Show some personality with this top and spread some love, because when you look good, you feel good – and we assure you that this outfit inspo will get you smiling because of how good it looks. It makes for the perfect cut for slightly larger breasts and provides ample support, which is very important. We know you value function over style like we do, that is why we are proud that this top doesn't just give you that but more. So style this piece with your favorite blue jeans and get on to those sweetheart sugar glitz.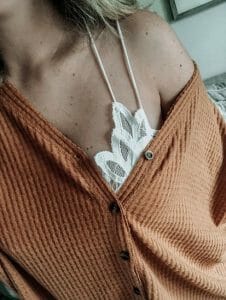 Cardigans are meant to flow around the shoulders without minding how it falls off from either of your blades. Since strapless bras are not for everybody, a cute bralette can save your cardigan's mischief! A double-strapped bralette adds more personality to your off-shoulder drama all day!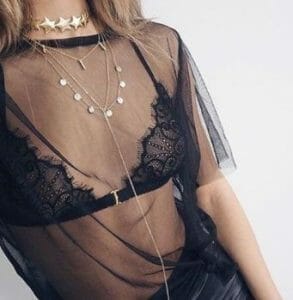 Your sheer tops can either make you or break you! Fighting the dramatic and confident look on the streets with your sweet darling bralette under your plain sheer top. Topping off with your favorite layered accessories will bring your playful but empowered vibe. Nah, wearing cupped and overly-structured bras underneath a sheer is an utter disappointment to your natural breast!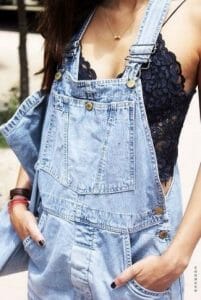 Adulting is necessary for the coming of age. But who said we are completely ditching off our inner child exuberance? Yes, your favorite denim overall is a great accessory to your fancy bralette! We all know that denim's are ageless fashion material. Though it can be paired with bralettes with different color palettes of the rainbow but staying loyal with hues of black and white is a staple stylish look across generations!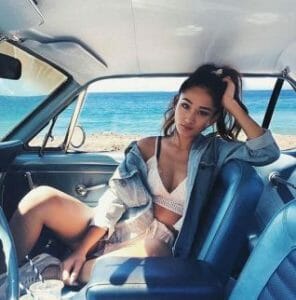 Rocking the crocheted or lace bralettes under your denim jackets are perfect for all seasons. Swinging the mix in the summer or doping it under the fall, your cute bralette will surely create the right amount of pop. Get ready with your natural waves or grab a ponytail and show off your stylish bralette under the sun or beneath the wind. It is now the time to inject this edge into your wardrobe!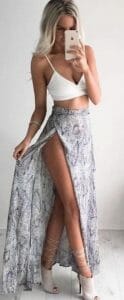 Your maxi skirts will never betray your cheeky but flashy sense of style. A good pair of fine bralette and side-slit maxi skirts will balance the lengths of your fashion look. Your short-length bralette creates dramatic balance with your floor-kissing maxi skirt. It might cover much of your skin, but hooray! You can still slay your usual runway at the beach with your flowing skirt and cute little top. On the side, this basic bralette can work your way as your go-to choice for leisure days.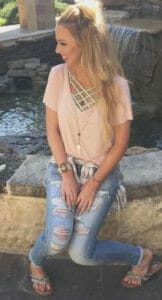 Dressing for a lunch out with friends and wondering for a redo of your classic ripped jeans and light-weight top? A flashy bralette can get you covered! Your triple criss-cross strapped bralette will transform your look from old to bold fashion. Its stylish front appearance is a smart match with your low-cut shirt, dress, or tank. This style is perfect for all casual dress-up events or crib hang out with your best buddies.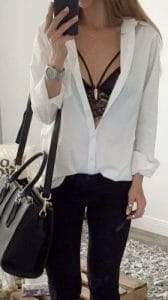 We cannot agree more with button-down outfits as the most comfortable fashion style ever! With looks being sported by the vast majority of fashion enthusiasts, an on-fleek bralette under your button-down polo or long sleeves can do the make-over for you. This look can save your professional office attire and your sassy streetwear vibe in one shot.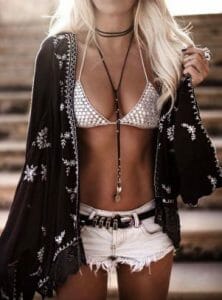 Let's admit it! Most of the time, we crave beach waves and sea breeze but we definitely do not want to bathe and get wet. Going out for a summer vibe to look cool and refreshed is an essential check on your bucket list. With that, your bralette can relive your flirty and cheeky vibe when paired with your favorite kimono. Who says you reveal too much skin with this upright sexy style? Worry no more, you can rock your kimono and bralette as a summer expression when you expose much and cover a bunch.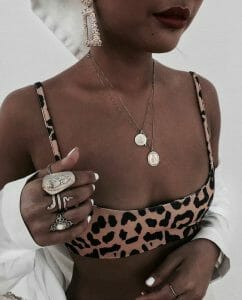 Growl loud and proud with your animal print bralette under your white shirt, tank, or long sleeves. This ultra-modern bralette has a sharp vibe that will undeniably put you higher on the fashion pedestal! This look is meant to bring out your dramatic and sassy workhorse fashion vogue. So, make sure to pair it with your plain clothing to put a premium on the roaring print of your bralette. Walk on your favorite runway with confidence and pride! Rawr!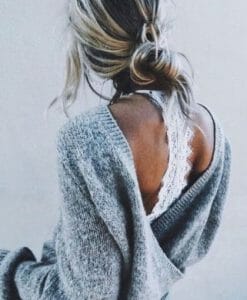 No question! A lacy racerback is definitely a must-try rather than your old bra strap to be exposed on your open-back top. This bralette is perfect to be under your knitted low-back sweater, combining your high-spirited self-esteem and the graceful break from your weekday work. Make sure to pull up your hair either on a chic updo or just work your way with your lazy and messy bun to create enough room for your unexpectedly trendy outfit.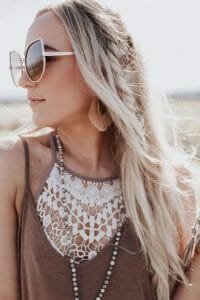 Women are empowered enough to choose between revealing precious skin and covering it up at the same time. Struggling to find an outfit that will best showcase your naughty vibe and your conservative aura? Your lacy and stylish high-neck bralette can cover your unavoidable cleavage while you sport it under your loose spaghetti strap top. Leave off your hair and channel your inner Coachella vibe with your favorite boho accessories. Dress light, shine bright!
Your typical casual attire with jeans can still crack out some dashing fashion style. Your much-loved high-waisted jeans that are perfectly matched with your floral lace bralette can stretch your fearless fashion style. Similar to the comfort and balance that your favorite maxi skirt can pull through, pairing your short-length bralette with your high-waisted jeans will surely bring balance and uncover more of your body shape while popping a more casual aura around. You can never go wrong with staying sexy and cool at the same time.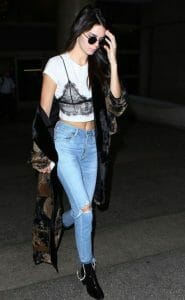 Without a doubt, the bralette is considered a fashion icon itself. Do not be fooled by its "undergarment" and "independent-top" definition! This gorgeous lacy eyelash in floral sheer bralette is the talk of the town as it made its way to layering a plain white tank top and your infamous cardigan. Your streetwear had just been reborn with the layering action that caught us off of our guards! Its tiny and thin lash-like material protrudes a little bit and it brings more drama to an already mind-blowing aura. It might challenge the norms but who cares? Just as Rihanna had said, "You can beat me, but you cannot beat my outfit!"
No matter what your size, keep in mind and always remember that you can rock those bralettes. Don't let those numbers limit you because they are just what they are – numbers. Carry on and carry out these stylish and comfortable outfit ideas because just like what Dr. Seuss says, "Those who mind don't matter, and those who matter don't mind." Hold your head up high and dress comfortably. It's important that you learn to love every inch of you so you'll be more glowing than you already are. No matter what your size, color, or race, we got you and we are here for you!