What Shoes To Wear With Jogger Pants? (You Can't Get Wrong with These Genderless Shoes)
What makes jogger pants a great wear is their tapered ankles, which means you can flaunt your shoes effortlessly. From flats to chunky shoes, there are a wide variety of shoes that look good with joggers. 
In this article, we'll discover some of the best unisex shoes that'll go with your style from Amazon:
17 Shoes that Look Good with Joggers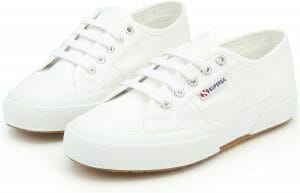 The ever-versatile old-school sneakers seem to go along very well with different pants for different occasions. Nonetheless, this Superga Unisex Classic Sneaker is a perfect addition to men's and women's smart-casual sportswear. It comes in a plethora of colors, from white to black, gray sage, pink, and ivory —name it.
Whether you're going to have fun with friends or date night with a significant other, these sneakers got your back. The cotton classics are best paired with a neutral-colored jogger, denim jacket, and a relaxed shirt. You can also opt for a monochrome look by matching black joggers with black sneakers and tops.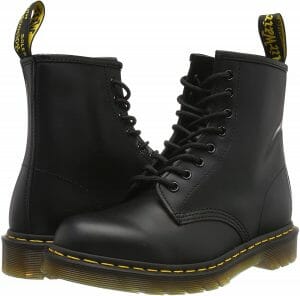 Aside from sneakers, boots are adaptable to any kind of pants worn. They offer a more stylish look when paired with jogger pants, especially when you want to give off a rugged vibe. Combat boots, work boots, and ankle boots make a superb team with heavy-duty fabrics. For instance, you can go for a denim or leather jacket on top of your t-shirt.
If you aren't a fan of blacks, a white-washed pair of boots will do the trick. They're fresher and sleeker when worn with patterned or camo joggers. After all, they provide comfort while giving you a casual and semi-formal ensemble.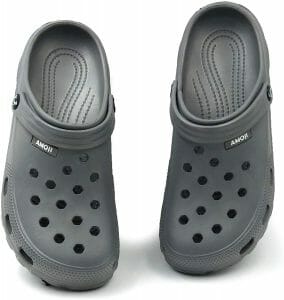 Crocs are making a big comeback, and this means you should have at least a pair of them in your wardrobe. They are known for their quirky but comfy features, offering more protection than your traditional slippers (since the latter are open-toed). Yet, they could only look great when paired with slim-cut pants or trousers that aren't baggy.
Having this said, we're pretty sure that crocs make a good outfit when matched with jogger pants. Since joggers have cuffed ankles, you can easily make the shoe contours visible. Solid black, white, or gray crocs are the best colors that create a comprehensive outfit. Wearing a hat helps balance out the crocs' bulkiness in your OOTD.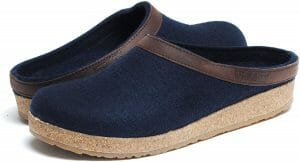 Who says wool clogs can't rock your day outfit for loungewear? Well, these trimmed wool clogs got your back when wearing plain simple jogger pants. Since joggers have tight ankles, wearing something bulky (or baggy) makes a great proportion to your overall look. Just think about proper balance, and you're good to go.
Take note that these clogs can still be worn casually with the help of bling-bling and accessories. You can play up your look by adding adornments, pairing a blazer, or wearing neutral hues from head to toe. Most of these clogs are made for outdoor use, thanks to their slip- and water-resistant features that keep water at bay.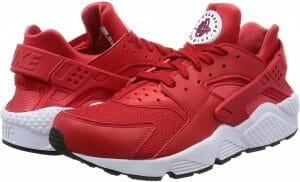 Huaraches are considered leisure footwear, making it easier for men and women to dress up their jogger pants with style. They are chic-type of shoes that can be paired with tight-fitting joggers and groovy tops. And in fact, huaraches really set off a "sexy" vibe in athletic footwear.
Just think of stretchy or spandex joggers when marrying them with huaraches. Throw in some lightweight blazer or jacket on top of a sleeveless t-shirt. Another comfy ensemble is by pairing your huaraches with a loose-fitting shirt, laidback pants, and a hat. OOTDs paired with huaraches can be a great scene-stealer!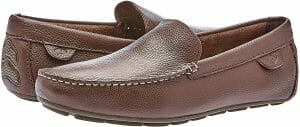 It isn't a surprise loafers made it on the list of shoes that make a great pair with jogger pants. They're one of the best pairs that amp up your look, especially if you're after a bright casual look. As a matter of fact, more and more influencers are jumping into the loafer-style joggers look. Although this combo might seem awkward at first, they're actually a fashionable pair to dress up your office or workwear.
To avoid the mistake of getting odd attention, make sure to pair your loafers with looser (or somewhat) baggy jogger pants. Style your joggers with an all-black hoodie, a patterned blazer, and a pair of loafers. This mix-match fashion serves you best for a casual or elaborate look.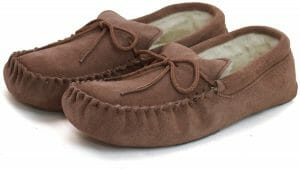 Moccasins are a type of footwear that doesn't feature heels. Instead, they're known for a distinct u-shaped seam and a loose fit. Moccasins have a solid nub grip that's flexible enough when curled around the heel (especially when you're driving). With their comfy style, moccasins create an excellent pair with jogger pants in the summer season.
Moccasins will also go nicely with patterned joggers matched with a leather blazer or a button-up collared shirt. Marrying your neutral-colored moccasins with chino joggers is a no-brainer. And since joggers have tapered ends, skip wearing visible socks so your OOTD wouldn't look odd or queer.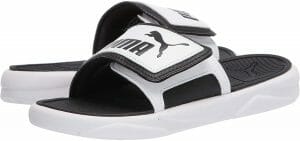 Perhaps the *perfect* loungewear outfit encompasses baggy joggers and slide sandals. They provide much more comfort when paired with your go-to joggers pants. Although slides were initially created for athletes' commuting purposes, top companies consider manufacturing luxurious slides that would go along well with other athletic pants, like joggers and sweats.
For instance, black or white slides will look nice when matched with gray joggers. Regardless of whether you're wearing socks or not, this style elevates your look in no time. In fact, you can effortlessly create an "athletic" impression with this OOTD alone. Pairing your joggers and slides with a hoodie works best too!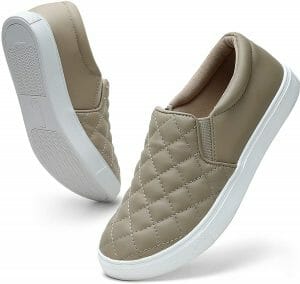 Slip-on sneakers are best for on-the-go people, especially those who've got little to no time lacing up their shoes (LOL). They also add a staple piece to your overall look. And if you don't like making any fashion mistake, this pair of slip-on sneakers are a fool-proof way to make your OOTD on fleek.
You can create an iconic look by pairing taupe slip-on sneakers with khaki green jogger pants topped with a white graphic shirt. In case you want to pair them with patterned joggers, consider wearing a top tank that's plain and simple. You have to keep your outfit balanced in this way.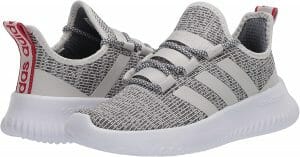 Celebrities usually opt for running shoes because they look amazing when paired with jogger pants. Besides, running shoes are an absolute pair to amp up your athleisure look while maintaining a casual but cute look. Since many people are jumping into this trend, consider pairing them with an unordinary style that would separate you from the crowd.
To rock a sporty appearance, marry your black running shoes with a black shirt and grayish joggers. Another way to make your OTTD more appealing is to wear bling and accessories that match your theme or style. This also makes a superb outfit when your day demands rigorous running or walking activities.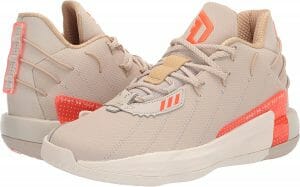 Since jogger pants are primarily designed for athletic activities, pairing them with shoes with the same purpose would be a breeze. Though you might confuse running shoes with basketball shoes, you can distinguish the two by observing their overall appearance. As such, the latter has a bulkier look and encompasses shock-absorbent features to help wearers move with much ease and flexibility.
This pair of shoes makes a good combination with jogger pants. Since joggers provide flexibility, athletics aren't constricted and limited with their moves. Aside from function, joggers paired with basketball shoes deliver fashion.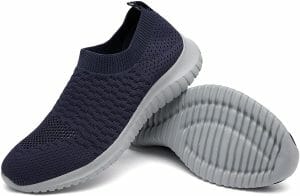 Knitted sneakers are another pair of slip-on on-point shoes on the list made with more lightweight and flexible features. When matched with jogger pants, knitted sneakers create a superb OOTD for a casual date, strolling or shopping activity, and running a quick errand in the market. Just how amazing your next outfit will look by pairing blue sneakers with white or black joggers.
To add, they're easy to pair with any pants. So, pairing them with other pants aside from joggers lets you have a good shoe investment. They usually come with quality and comfort, making you feel that you're barefooted. Further, throwing in some leather or fur jacket gives your style a sleeker and polished look.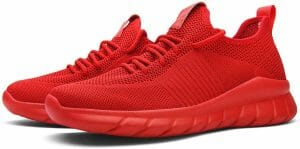 While tennis shoes are intended explicitly for tennis court use, influencers wear them on casual occasions. In fact, they offer more cushioning features than your regular running shoes. They also come in a variety of styles and colors, which means you won't be left out when pairing them with jogger pants.
To sport an edgy vibe, you can wear classic, all-red tennis shoes, and you'll be the coolest person in the crowd. Wearing a t-shirt and tossing a cropped leather jacket (these clothes must come in monochromatic color) would give you a moto vibe. You can finish the look by wearing black shades and a good watch.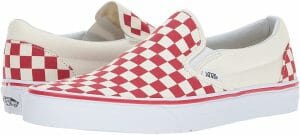 Go for a racer-style look with a pair of low-top trainers that's definitely visible when worn with jogger pants. No matter what season or time of the year you're in, chances are these trainers would still be in fashion and style. They're best matched for sportswear, streetwear, or biker wear as they provide the comfort your feet deserve.
Matching low-top trainers with the OOTD you want to achieve isn't that difficult. Hence, you need to make sure that your overall look is balanced. For instance, wearing these checkered trainers calls for simple or plain tees and joggers. Although sporting a blazer is a good choice, ensure that it comes in a neutral shade of nude or black. Matching these trainers' style and patterned joggers is a big no-no.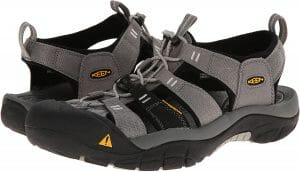 Off-road sport sandals are meant to be used for hiking purposes. But nowadays, wearing them for lounging in the neighborhood or running a quick errand is the ideal choice for most men and women. Moreover, sports sandals add to your style's laid-back weekend look. Perhaps nothing is more straightforward than wearing this pair of shoes with jogger pants or sweats.
You can go for a unicolor theme by pairing black sandals with baggy black joggers and a black t-shirt. If you think this wouldn't work out, try to mix and match different colors for the top (as long as your joggers are in the neutral shade). Toss in some body bag and a shade to complete your edgy but sophisticated look.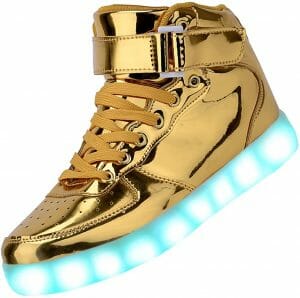 Maybe you want to try a little bit more different to amp up your style, huh? Then consider these unisex high-top sneakers that come in gold color with LED light at the outsole. We're pretty much sure that you'll end up wearing a pair of joggers to lowkey flex what you're wearing at your feet.
Gold-colored high-top sneakers might be your next *favorite* shoes that best matched your baggy joggers and sweatpants at home. To rock a city hip-hop style, marry these sneakers with jet black attire and a leather jacket. You can go all-black as well by wearing a black shirt or tank top underneath and black joggers. Just imagine how the gold sneakers would attract second looks!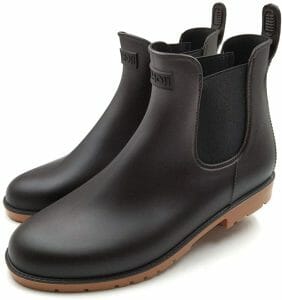 Joggers' tapered ankles made it possible to provide more room to flex your boots. And yes, we're not finished. These ankle rain boots are waterproof and easy to clean. This feature makes them an ideal choice when wearing joggers on a rainy day or night or when your activity involves muddy trails and all.
Aside from function, these boots offer fashion. Pairing these ankle rain boots with a structured jogger and sweatshirt makes a tremendous difference to your OOTD. They make one of the most preferred casual occasions, such as getting coffee or doing simple work.