How to wear jogger pants to work (10 Outfit Ideas this 2021)
It's not that you disregard the rules of proper office attire, but sometimes you wonder if you can sneak wearing that pair of joggers to work, too. You probably have asked yourself what's wrong with wearing something comfortable when it could help you work more comfortably? 
The good thing is that with the consistent revolution of today's clothing, fashion has also leveled up even in the business world!
With these things in mind, we have come up with a few pointers on how the usual frumpy and casual-looking joggers are so trendsetting even if you are in the office.
Joggers for the office
Joggers have become a fad, and having them around will never cease to impress the fashion line. Anyone would attribute their popularity from the trending athleisure wear and sports luxe.
But some people would still disagree with the appearance joggers would make in the workplace. Others would even say that they are just styled sweatpants and are hideous to wear in the office. This is understandable as the connotation of looking like a slob in the office may still be the comment of some fashion terrorists. 
Yet, all of this does not always stand true to everyone. Most duty areas are now becoming more accepting with changes in work outfits and so jogger pants can actually level up your fashion statements in the office setting!
10 Fabulous Office Outfits With Your Joggers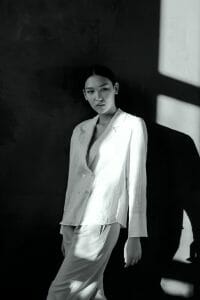 In any event or occasion, white never fails to be a part of any classic wardrobe. Of course, in a business environment, this staple color never fails to be an essential part of daily clothing. 
Getting this natural color would also work well on joggers. It will work wonders, like your usual pants!
You can pair the white joggers with a light-colored top. Women can choose soft colors of peach or beige ones. Contrasting colors that are dark and hued are still perfect in matching style, too.
Black and slate colors are bold and manly with men. Putting a complementary blazer on, and that completes the look!
The pretty pocketed pants from Esstive are exemplary for a white pair of work joggers. Primarily used as active apparel, these midweight fleece joggers are very much suitable for your chosen tank top, sweaters, or office shirts. It also comes with two-seam pockets for added functionality.
White may mean more dressy and elegant, but it also displays the importance of a simple look. Along with black, the white color is office-appropriate for clothing, and your sporty joggers may make it through your work unspotted by your management!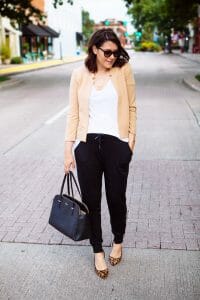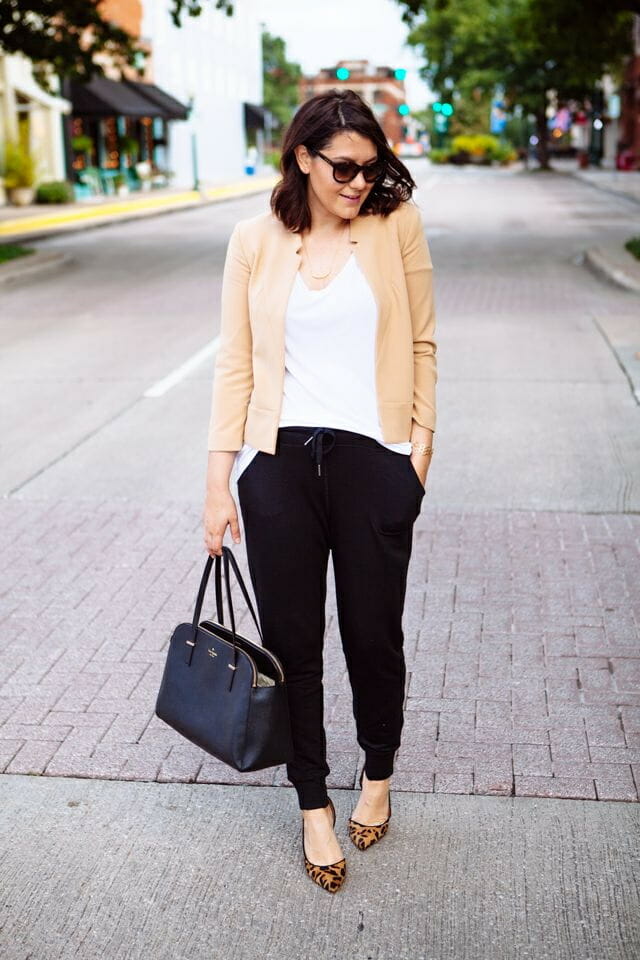 Black must never be missing in any business attire you own. This seems to be always a cardinal rule, especially that black means power in the professional setting.
Black poses the impression of being presentable and formal. If you are choosing jogger pants for your office get-go, you need not worry much! A well-designed one can still exude the beauty of black apparel in your overall look.
If you are looking forward to buying a new pair of joggers to include in your office wardrobe, deciding to go for black ones should be your priority!
Opting for black joggers made of luxe materials is a real standoff for the usual pants you have always worn.
The black jogger pants from LEINIDINA have the structure to make the wearer slender and svelte. Tapered cut at the ankle, the length makes it versatile even for activities outside the office.  Do you love your pants having pockets? The pants can also hold your keys and phone! 
This kind of jogger pants is perfect for people with shorter heights, plus it can help look slimmer the figure of those that have medium to large body sizes.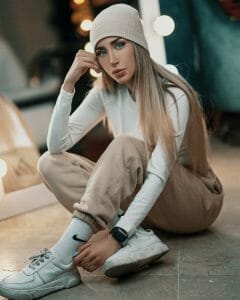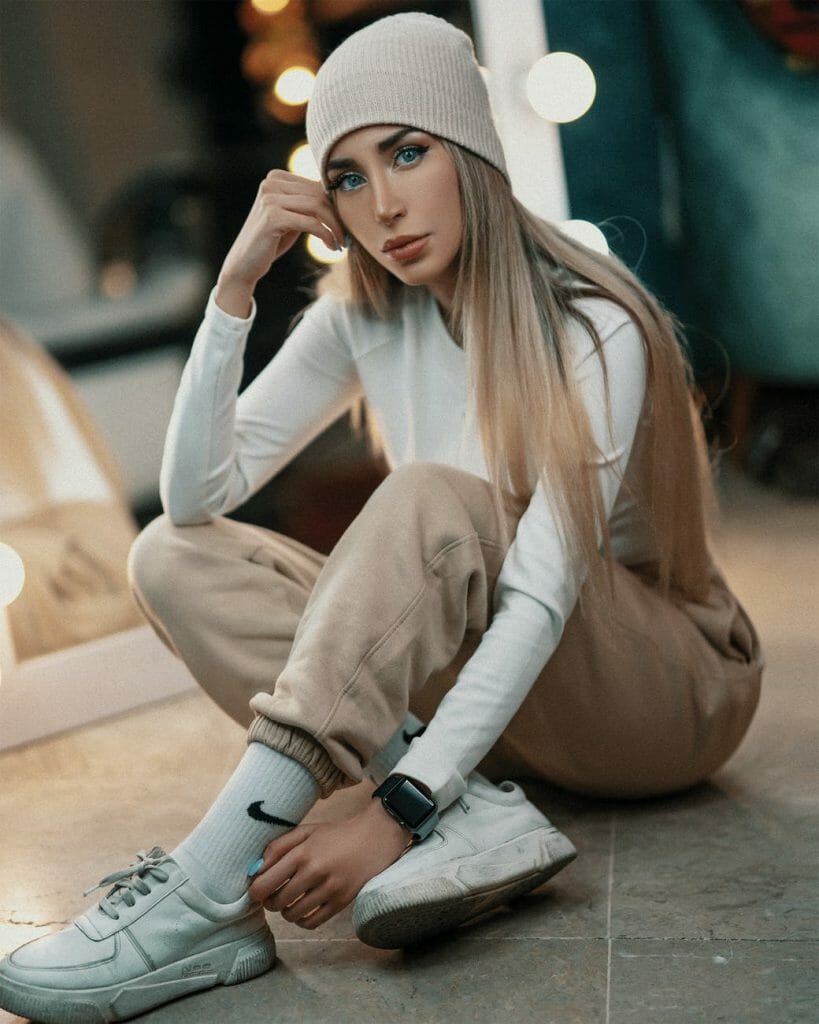 Most of the time, you may get to see more fleeced material of beige or gray jogger pants. The fabric can easily be discerned, like sweatpants. It is not surprising that wearing it for bottom pants does make the wearer look at home, even athletic. 
The sandy fawn shade takes the impression of comfort and tranquility that many would even agree that it would not spell the same grind as what office is.
Shopping for beige-colored joggers, pick the material that is more polyester or nylon-made. Choosing these textures gives that slim-fit aura and makes the pants look more field-appropriate.
Remember that opting for joggers with lesser fleece is better in matching up a good top for your bodice!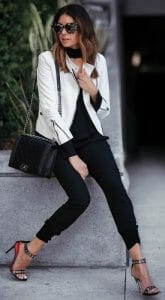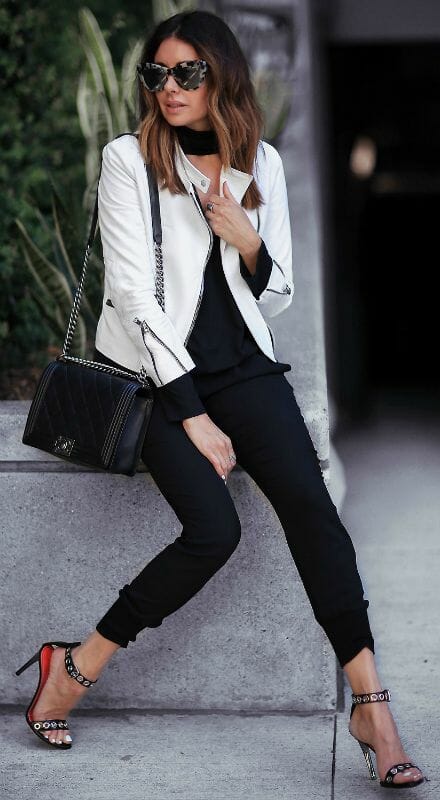 Joggers can be pulled off with a good set of pumps or heels. The pants look great in this kind of footwear! But it is best to mind the color of both pants and shoes you are to wear. 
The strappy heels will take more attention from the not-so classy-looking joggers, and with that, create a more vibrant style for the wearer! Something from Dragon Fit can be an impressive partner for your chic heels. Wearing a pretty blouse is also perfect for that extra vibe of appeal! Tuck in a staple blouse and that makes your joggers look more refined than casual.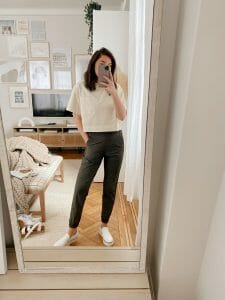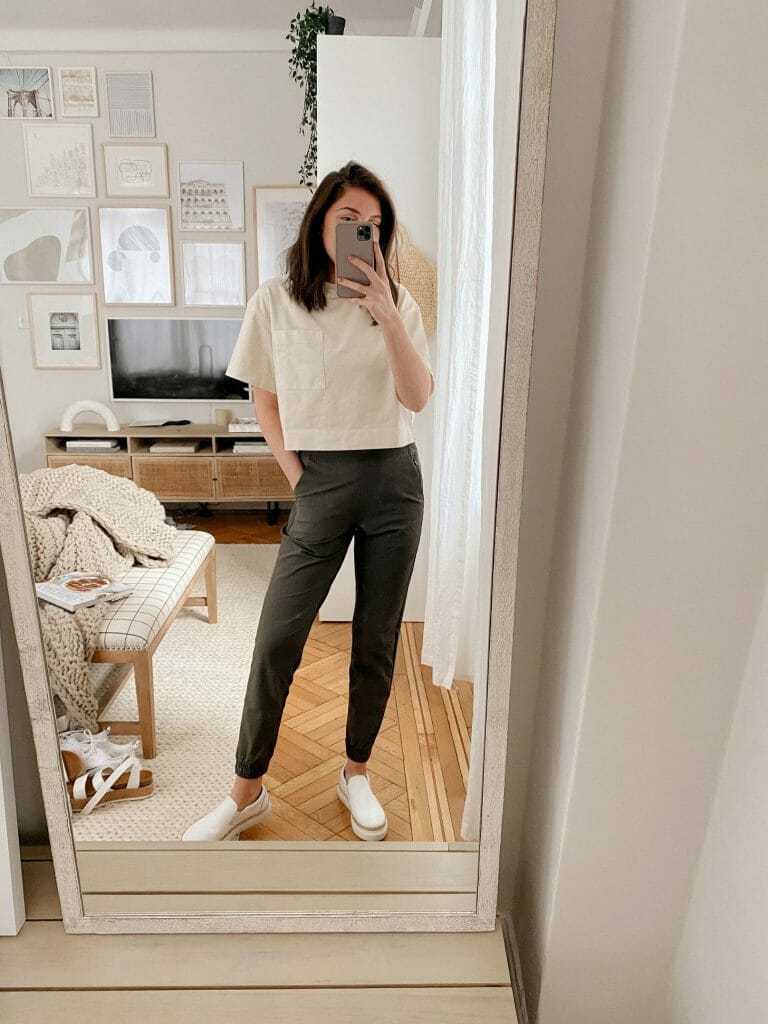 Leaden hues such as gray and other drab colors emit the vibe of sophistication from the wearer when worn. You might favor this color on your gym clothes but might also be amazed to know that on joggers for work, the color works too!
Gray clothing emanates that power of conservativeness, making the color acceptable for the workplace. If you are game to wear some grey joggers, try to pair them with a darker top. 
Men can take navy blue button-down shirts or long sleeves that are black or dark blues. Women can also put on a dressy top or blouse with a complementing color to the gray bottom. 
The latest style of tapered joggers from Amazon is a slim-fit one. It is fitted from the hip and thigh and looks seamlessly like normal pants! Zipper closure makes these bottom pants look less casual at work, and so you can still deliver your presentations without worrying about how you look.   
We've been talking about less-fleece joggers; we should as well know that the material used could seem lackluster, too. How about leveling up your pants with silky-to-touch joggers? Take, for example, the ones made in polyester or nylon. 
Joggers made on this finish are undeniably giving a nice shine to the clothing!  Anyone can deem you are wearing something that stresses formal style in a quality-like manner when you are just aiming to look less casual.  
Something like in the drawstring jogger pants of BLANKNYC can give you an idea of how sheen of jogger pants you must get. Technically, you should not choose something too flashy, as if you are more prepared for clubbing later than for work. 
Keeping more eye on satin-finish pants is better because wearing such are more sophisticated to look at. No doubt why buying them may cost a bit of fortune.   
On the other hand, hanging on to some shiny joggers for your clothes rack is a definite take-off from your usual and bland-colored office clothes!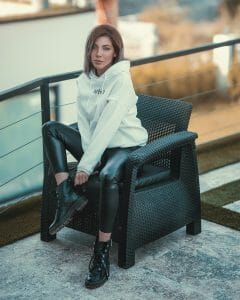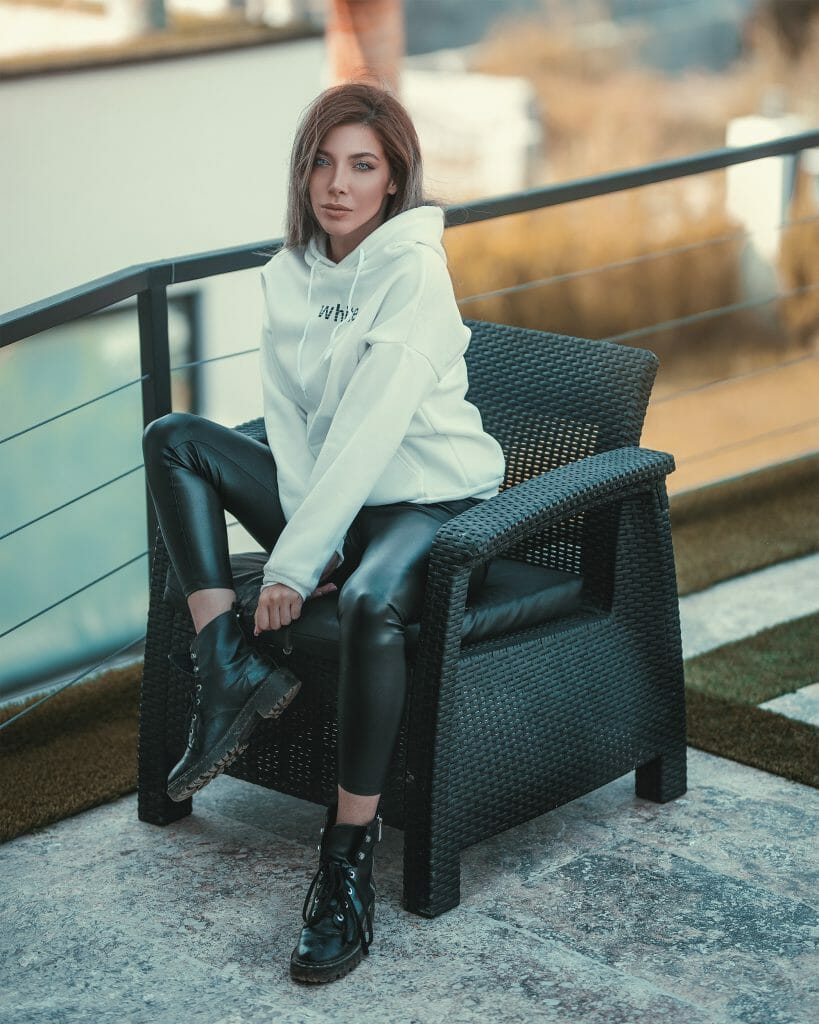 The workforce also acknowledges leg-style trousers with pockets! Cargo pants may be classified as only for work environments that require carrying hand tools. 
But that is not always the case with the new wave of cargo pants today. Some joggers with the large-pockets structure are becoming a trend in recent years. It does not only look functional but also gives the air of being workplace-ready!
Cargo-style joggers are a good catch for your modern blazers, particularly with fitted or draped ones. Got more conventional blazers?  No worries! If you got classic or shapeless blazers, a pair of cargo joggers can give some attitude to the whole look if put together.
The style by Libin Women's Cargo Joggers has the knack for multi-pockets. It has five functional pockets, two of which are cargo-like. The fabric used is so lightweight, making it comfy to wear. It is sewn in spandex material too, that is why it is a bit elastic and sporty-looking. Indeed, buying this is like getting two pairs of pants in one go!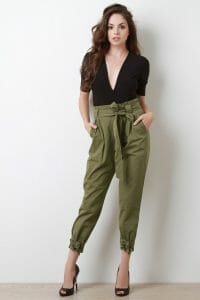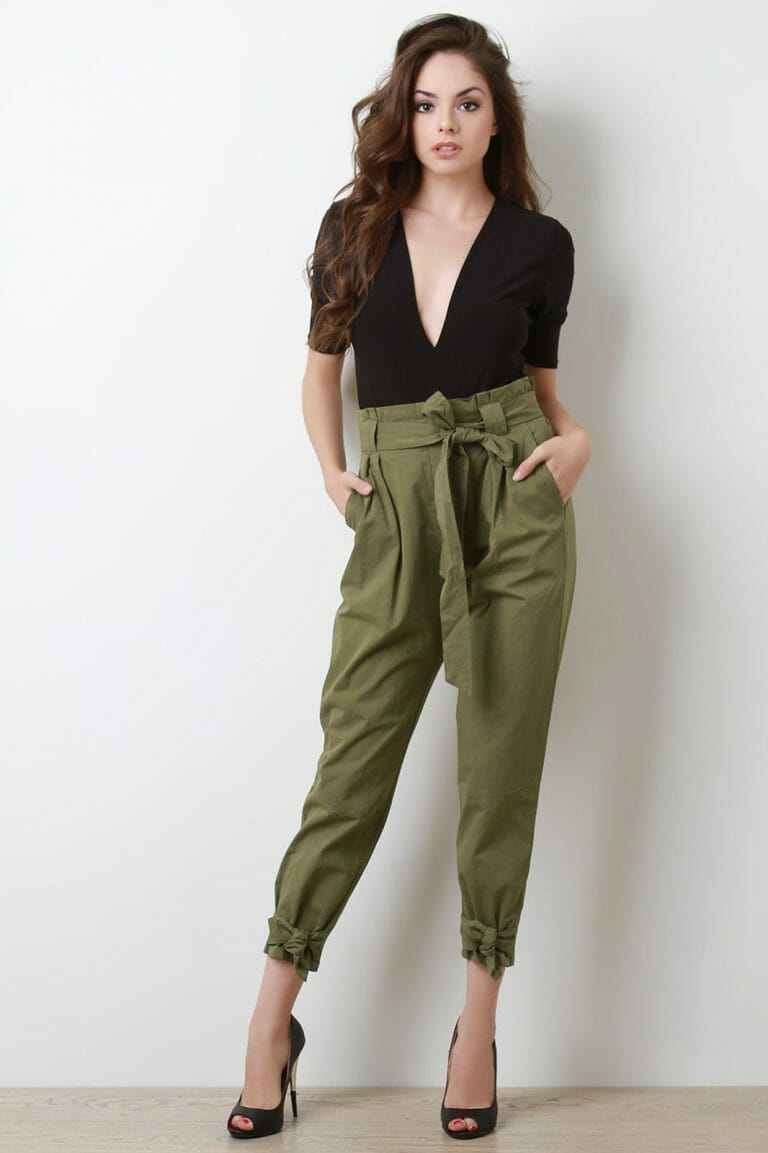 Some jogger pants for women are made to flatter the waistline and so are designed in beautiful styles. You may have seen those ribboned ones in your shopping and thought to include them in for your next fashion entree to the office. Of course, you can!
The front bow ties have been long adapted for pencil and harem pants. Today, the retailed jogger pants are elevating their styles with this fancy detail, too. The tapered pants with this style will give that extra casual effect on you while doing your 9 to 5!   
Take inspiration from the paper bag waist (Amazon) as stylish joggers for your wardrobe. It has belt-fitted loops that you can create into a knot however you like. The tie waist pants would always look current whatever season you are in!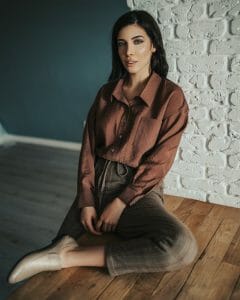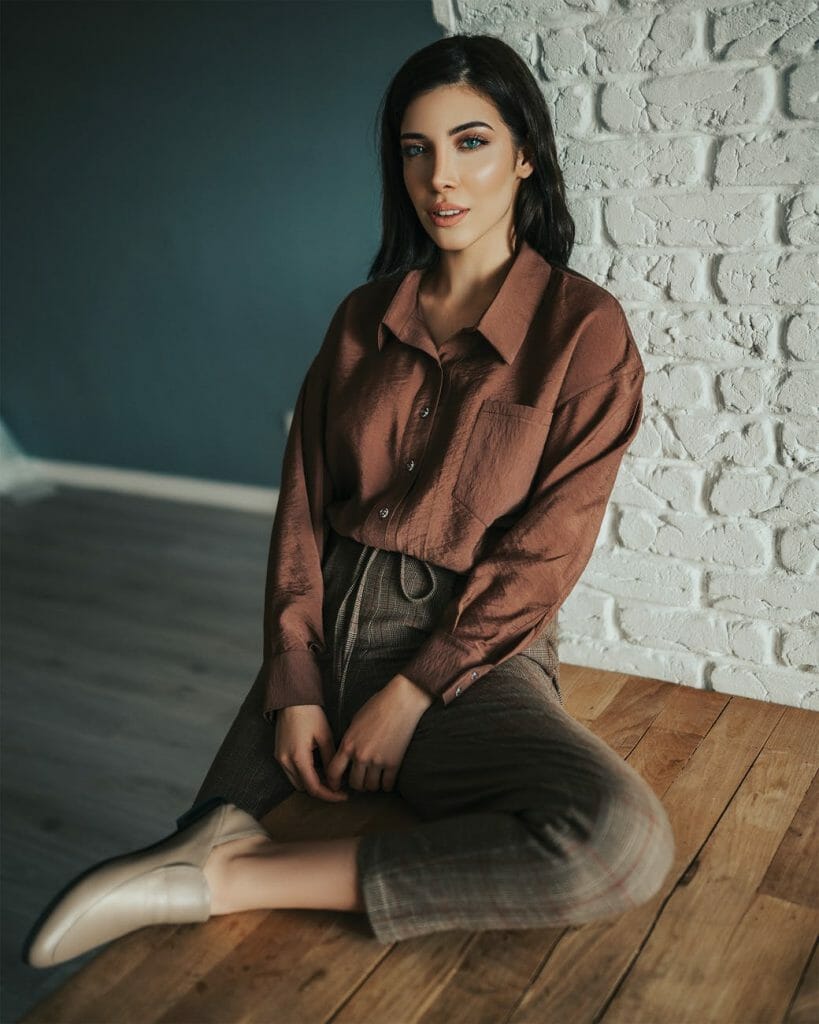 A drawstring feature for pants doesn't have to be only applicable at the home, gym, or even on the street.
A style tip in wearing joggers is to make your fashion draw the eye more into your shirt or blouse.  That may seem less significant to an office of unrestricted casual clothing.
But, in case you had some more conservative office attire rules,  lookout for a pair of good sneakers and similar footwear to walk on! Drawstring joggers will never go out of style as it flatters the wearer's body and is comfy to wear for any body size. 
For the professional setting, donning this pair doesn't always look like you haven't spent a great deal of thought on what to wear for the day. Instead, trying it on a button-up top or a shirt partially tucked in front will ensemble a good casual Friday outfit! 
You may take a look at the Ankle Length Jogger from Nirovien. The lightweight pants have a tapered hem and two side pockets that are even functional for your work phone or wallet. Drawstring pants are mostly made of soft and breathable fabric, and that goes with these cropped trousers, too.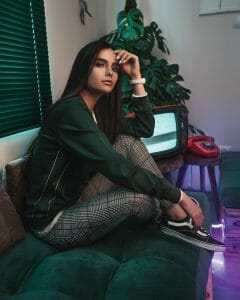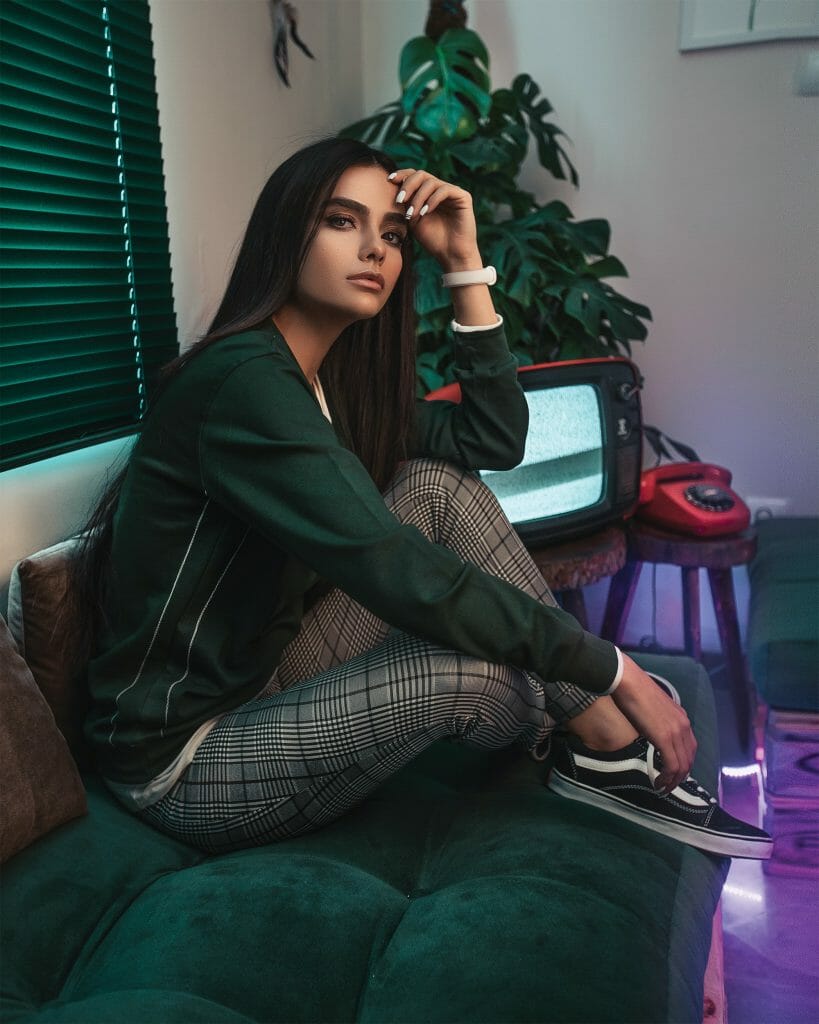 Are you shopping for joggers that are a little bold with structure but can still be preppy for work? Or maybe you are going out shortly after work and want to dress ready for the event without overdoing it? 
Well, you can take the patterned joggers with you for this purpose! Not only that it suits more casual workplaces, but with some modish planning of clothes for the day, you can actually pull an outfit that doesn't look off during working hours.    
Take, for example, the Rib Knit Fit Pants by ALWAYS. It is an impressive jogger made of both Polyester and Spandex. The ribbed tie-dye joggers are flexible and have a drawstring design. The greyish pattern is not even obtrusive to your office mates but, and at the same time, is not too formal for your night outs. 
You may try to pick an ensemble of a sweater and heels that are so on flick even outside the workplace! Men, on the other hand, can also do Oxford shirts to take on that smart casual getup.
Joggers as your new office getup
If you are beginning to stick some jogger pants to your daily office clothes, you might as well start with the slate, navy, and neutral-colored ones. These classic hues are still largely acceptable for the professional vibe they present. 
Being presentable through clothes doesn't have to be limited like those who are old-fashioned. With the right knowledge of which clothes suit together, you soon can also achieve a fabulous get-up with your joggers!