Best Shoes to Wear With Leggings: 12 Shoes That Go With Leggings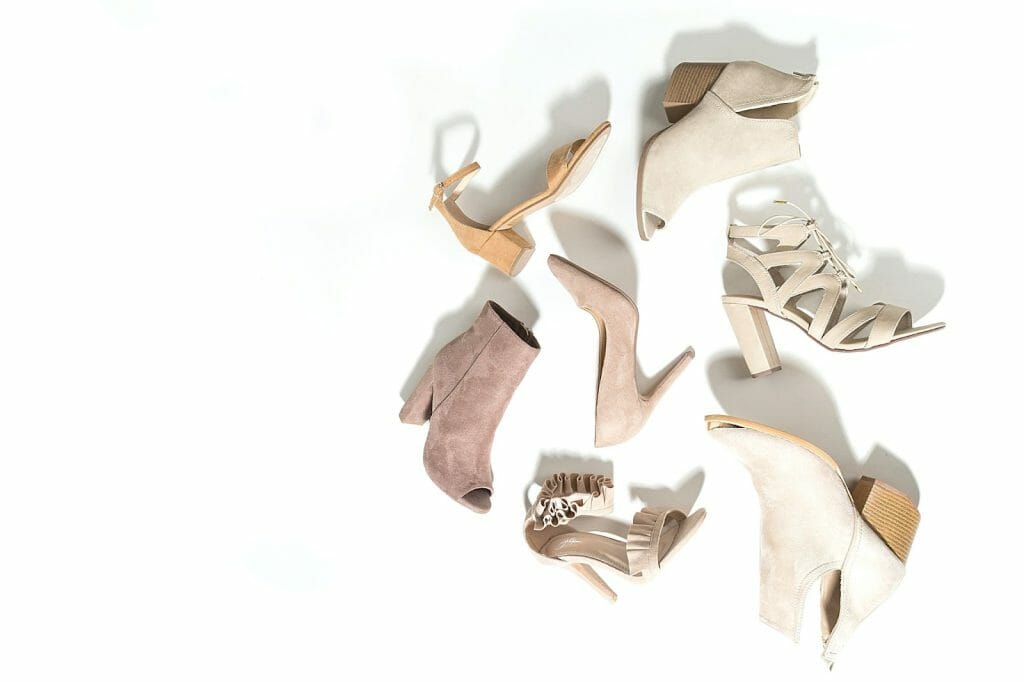 The love for leggings isn't waning just yet. This 2022, the WFH set-up continues, and the most used items from the wardrobe are no other than those priced stretchy pants. While most of your clothes and accessories can perfect any look with a pair of leggings, the same can be said about shoes. 
Tory Burch finds leggings as wardrobe essentials, and with these matched with any ready-to-wear clothes, your shoe game has to keep up. Here, we're listing all 12 types of footwear that can elevate your lounging, formal, or casual leggings outfits. From sneakers down to loafers and sandals, we've covered everything for you.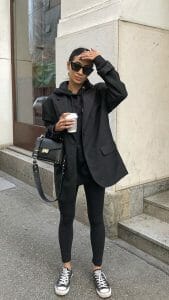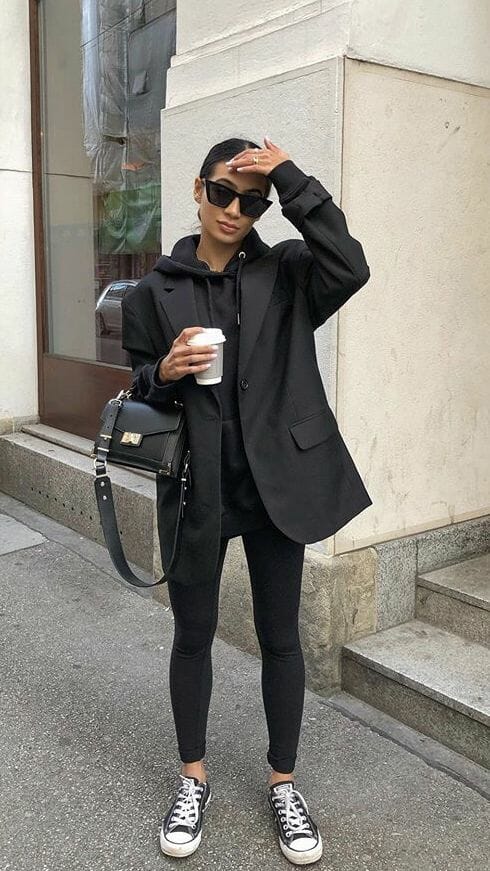 Converse shoes are immortal, and there seems to be no possibility of them fading away from the fashion world. These are always found on the shoe rack, ready to be worn for a casual outing with friends or for quick errands. The low or high-cut shoes are equally serving perfect visuals when matched with a pair of black leggings. It's mostly an athletic look you can convey with these Converse shoes. Meanwhile, there's no limit as to what top you can wear. Oversized blazers, crop tops, sweatshirts, you name it; try on anything that suits your mood.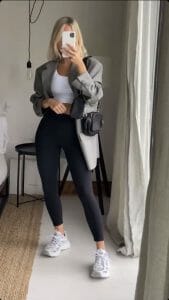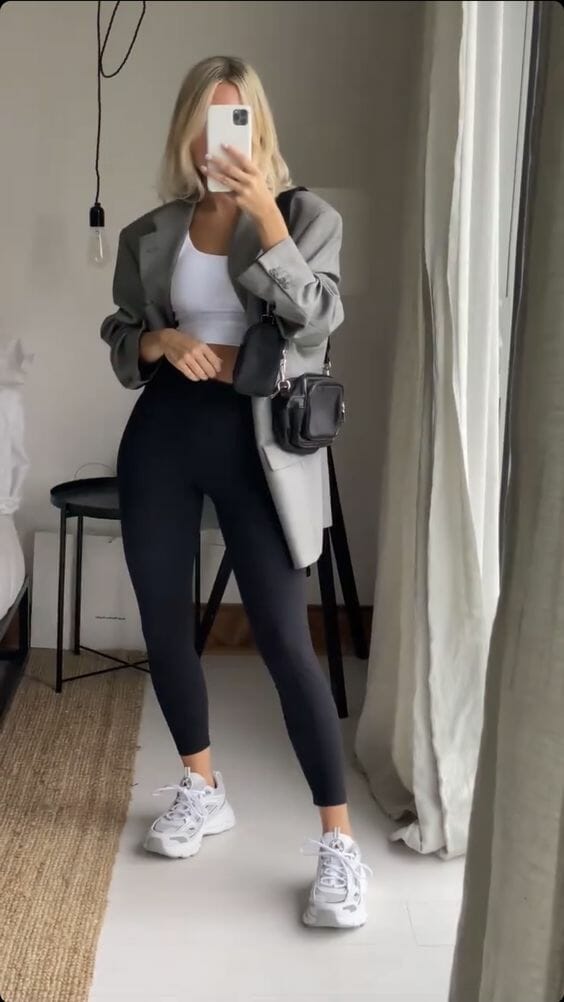 Most ladies I know have at least a pair of white sneakers in their arsenal. They're the versatile equivalent of the classic black leggings. Chunky ones are today's popular items, as Balenciaga's Triple S shape and Louis Vuitton's Archlight style took off way back in 2017. When worn with leggings, the chunky shoes exhibit an oddly satisfying image and shape as your slender legs on fitted leggings get contrasted by your massive over-the-top shoes. While white is my favorite, another all-around option you can go for is nude or any pastel colors.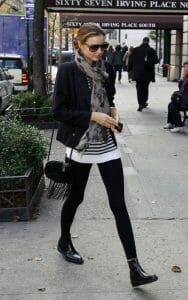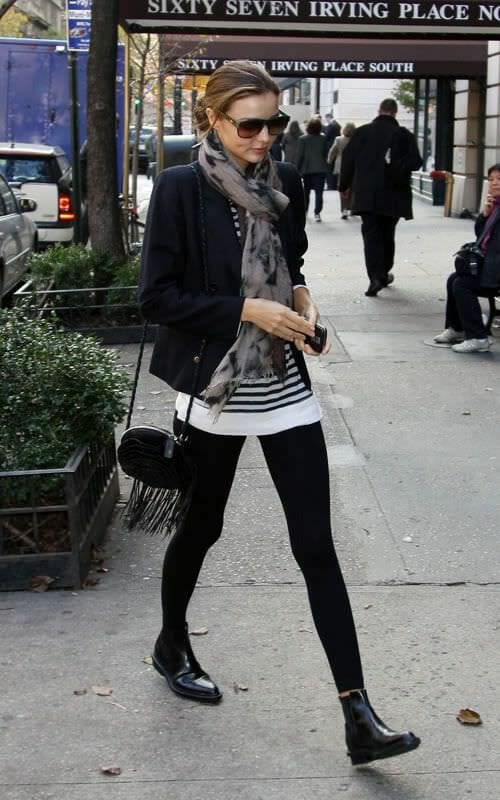 Rock it like Miranda Kerr. You can't ever go wrong with a quality pair of ankle flat boots during autumn or if you're out to attend your favorite band's concert. Going black with your shoes can elongate even more your legs, making them look sexier, more slender, and just pretty much stylish. It's your go-to shoes when you want to look well dressed without going overboard; these are definitely much more comfortable than high-heeled shoes. Nail the leggings and black ankle boots ensemble with an edgy black coat of your choice, a clashing undershirt, and a scarf to make you on the go.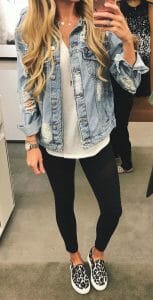 Though espadrilles have been around for, well, thousands of years, as many of this kind were worn in Spain about 2000 BCE, the famed shoes only received their iconic status when Yves Saint Laurent collaborated with a Spanish manufacturer Castañer to create an espadrille with a wedged heel. Even today, this year, 2022, espadrilles are still in style. They come in plain, in prints, and in various colors, catering to almost anybody's taste in fashionable footwear. Espadrilles are casual shoes which means your top may have to complement the vibe you got from waist to foot.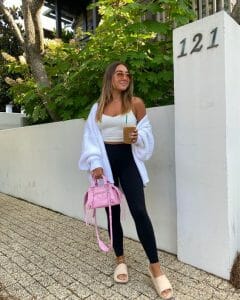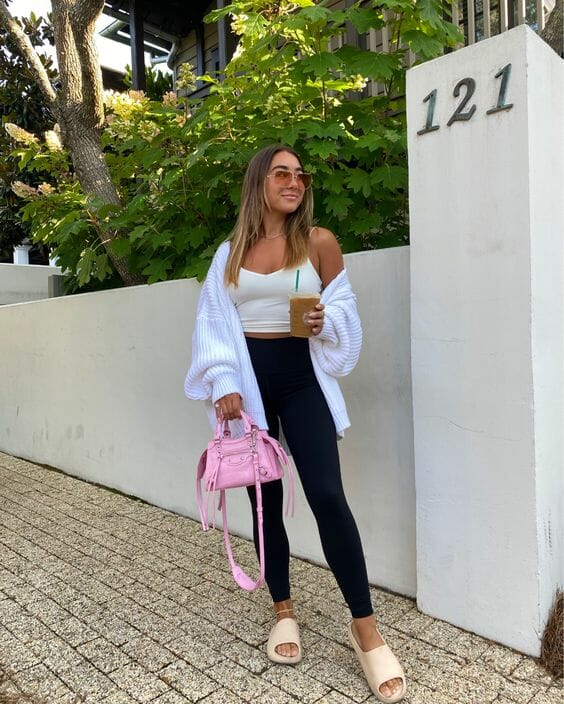 If you want to look effortless, chic, yet trendy in looks, a pair of Yeezy slides will satisfy that goal. Seriously, they're known, worn, and loved by everybody. It's a must-have for any Starbucks or cafe lovers, avid readers, campers, casual wearers; the list goes on. As the footwear's name suggests, you just have to slide your foot in and travel wherever you want. Keep it simple with a fitted tank top, or cover up a bit with a baggy sweater jacket. Take a snap as you hold your favorite drink, and get on with your day!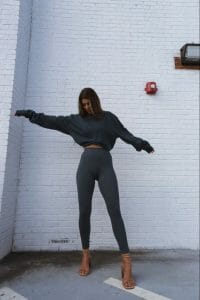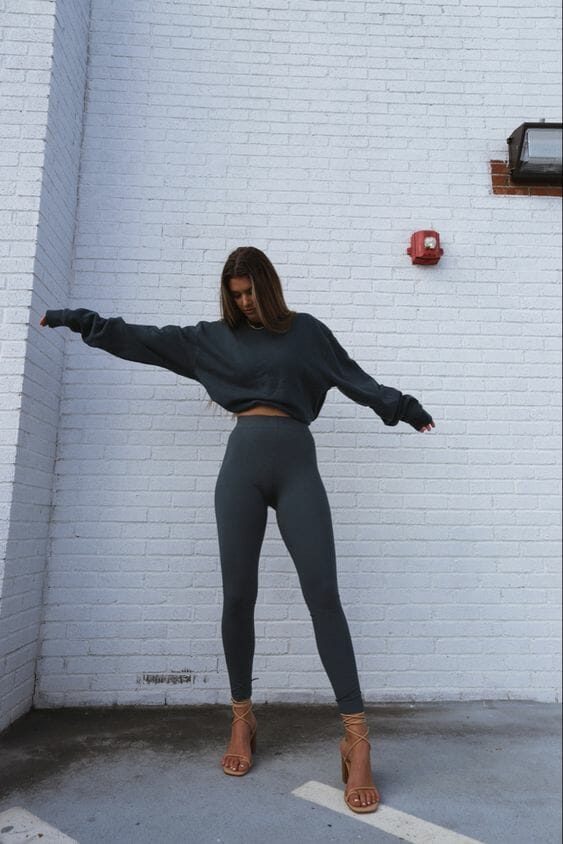 Activewear outfits can certainly be matched with high heels. Really, you only need confidence and a good taste in mixing and matching your clothes. Going monochrome makes your look easy in the eyes of everyone, but it's even better if your strappy heels come close to your skin tone. It adds a certain effect, making you look like you're not even wearing any footwear from afar. Strut the streets or wherever you go with this ensemble, and you'll be turning heads in no time. Wear your highlighted hair down, and add a diamond neck chain for your accessory.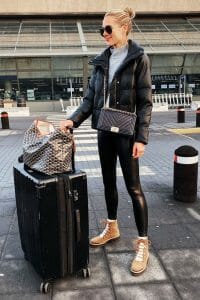 Traveling in leggings isn't new to us. Comfort is a priority, especially if you have to sit on the bus or plane for hours! Of course, although leggings are kind of common as a garment, you can still ace it in a visually satisfying look by going for an all-black attire with a contrasting pair of combat shoes; brown is a personal favorite. For reference, a puffy leather jacket, black leggings, and gray turtleneck shirt can be pulled off. Tie your long, wavy hair in a bun, and don't forget your chicest sunglasses!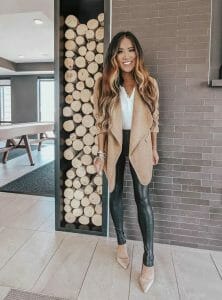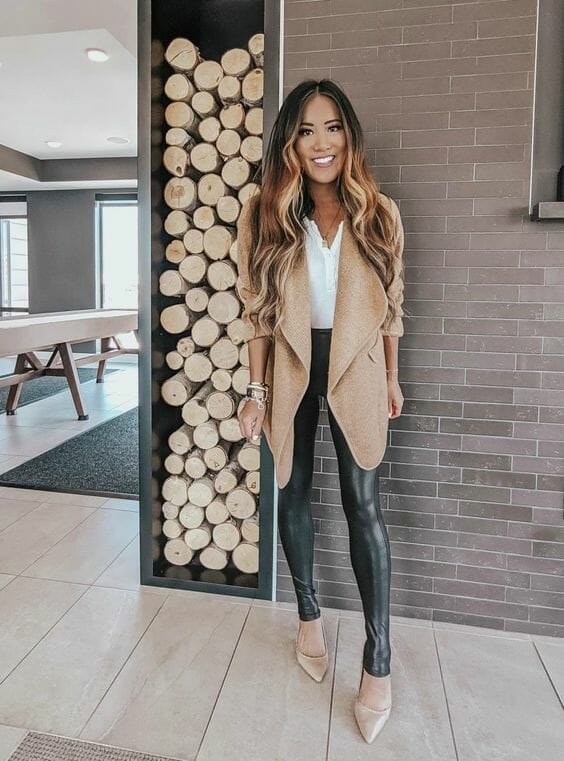 Do you know that leggings can now be worn at the office? You just have to choose the more appropriate ones like the leather and anything that screams more upgraded than the standard ones. Of course, ditch those that are solely meant for workouts. Play it safe with black leather leggings, put on a formal white top, and layer it with a nude coat. Your footwear has to match the coat, leggings, or top unless you go for a one-shade outfit. Kitten heels are an excellent choice as they're neither too high nor too low when worn.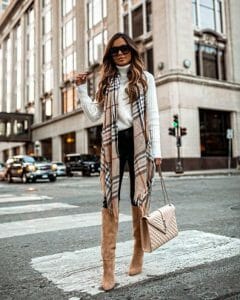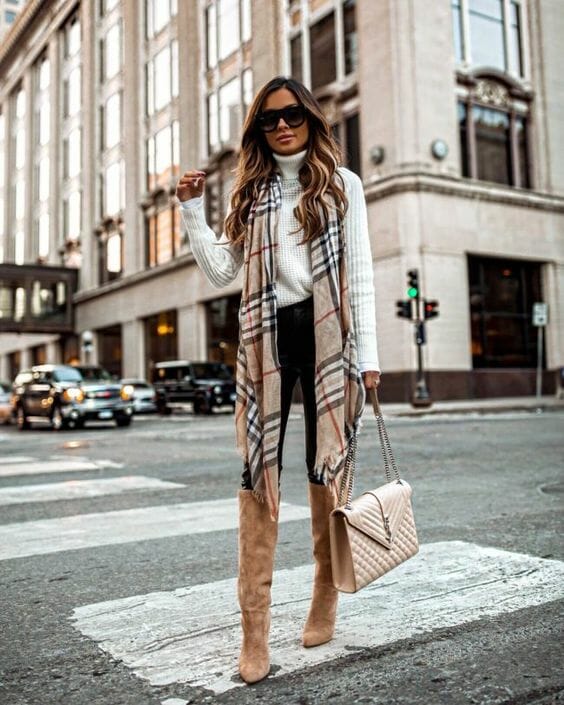 A pair of knee-high boots of whatever color you love makes an autumn or winter outfit immaculate. If you want to go casual, suede or brown leather will keep on with the category but expect a different, more formal vibe if you rock black leather knee-high boots. Choose your colors well. At least 2 to 3 tones are enough to keep you vibrant among the crowd. To complete this look, top your head with a hat, a sweater around your neck, and your favorite luxury purse in your hand. Dress for the season, or defy the norms. Go for it whenever you want to wear this outfit!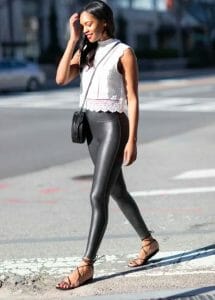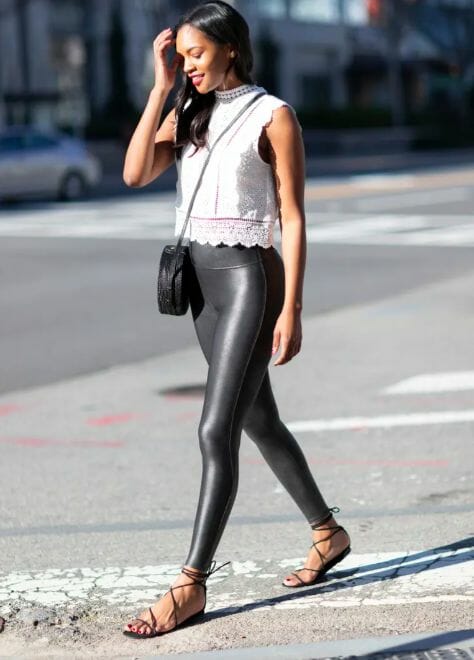 Gladiator sandals are minimalistic, sultry, and timeless. People would often refer to these as the Roman sandals, but in a more modern style, color, and look. The pair will expose your feet; a good chance to show off your newly painted toes. They also serve a different look, something like a girl next door would wear. In your meetup with friends, give up the uncomfortable jeans and switch them up with shimmering leather leggings. Put on the strappy gladiator flats and a lace top; that's it. Style your hair or wear them down in curls to make yourself look prettier.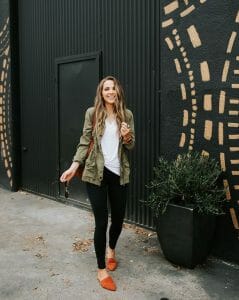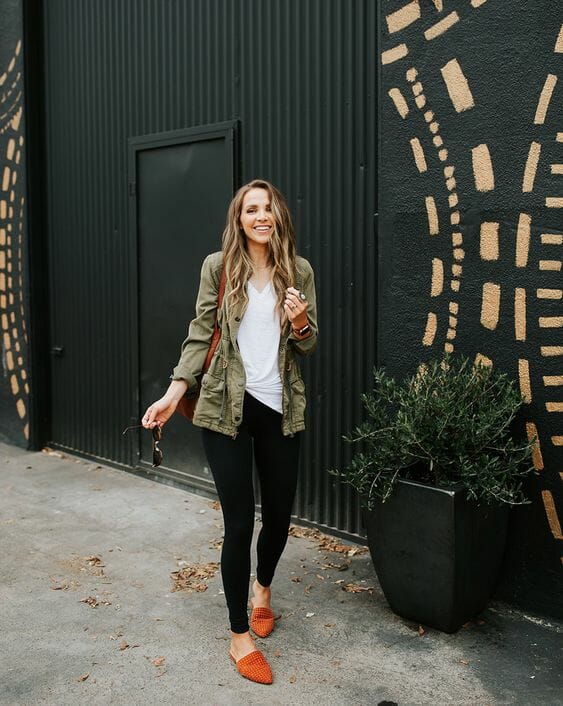 Mules surprisingly look good with leggings too! They offer a formal and more refined appearance that can match any smart-looking outfit. It's definitely tricky to make yourself look good with mules, though, especially since they're not more common than white sneakers or other types of flat footwear. As a piece of advice, ready a long coat or blazer and your inner shirt of choice to achieve that polished look. The result will be undeniably sophisticated yet, at the same time, laid-back and carefree.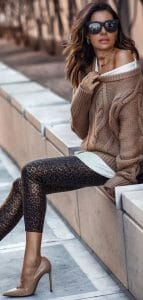 Leggings can be worn for parties or any formal events. Take advantage of the situation and choose your comfiest pair, but you also have to consider how well they'll match the dress code. The next big fashion thing to decide on is what pair of shoes to wear. Your pumps will be an ideal choice as they add formality to your look or a sexy vibe if you're heading for a night out with the girls. Always consider balancing all the elements you add to your fashion style. Since pumps matched with leggings make you look slimmer, going a bit loose on top will prevent you from looking too slender. If the weather's cold, ditch the loose top and replace it with a fit one, then throw on a chunky jacket.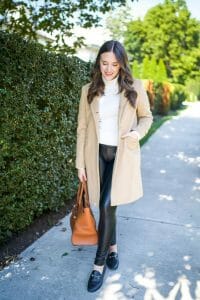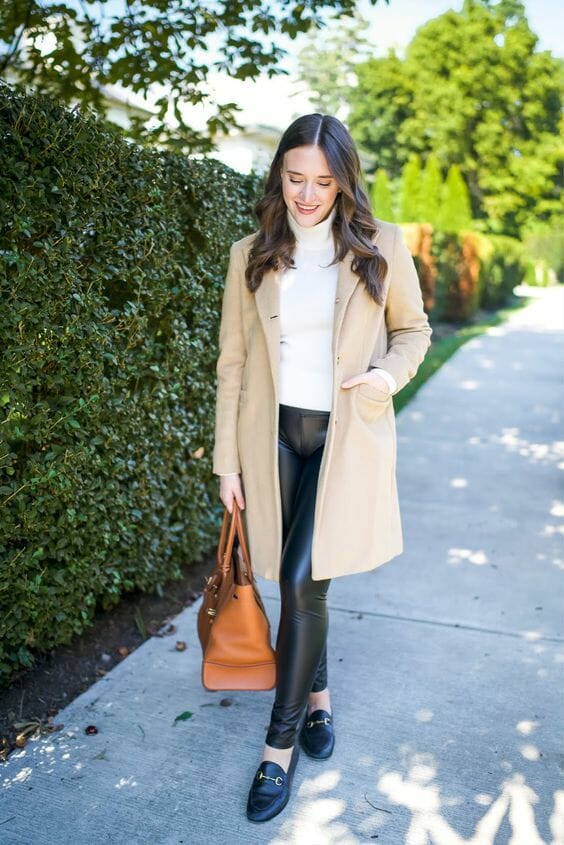 Loafers also give off a brilliant, posh look even if you pair them with leggings. Flaunt this on your way to work or if you're heading out for a date with your beau. There's so much sophistication behind this type of shoe, and they're not dated just yet. There are various designs you can choose from, but I'd personally go for a classic black pair to match with the same shaded leggings. A white top and a cream coat complete a work outfit. Add more pop to your appearance by using a purse that comes in a different color but isn't from another palette.