Slacks vs. Khakis: 8 Pants That Suit You Best
The Difference Between Slacks, Khakis, Pants, and Trousers
Let's get things straight; all these terms keep us confused, that is why we're here to keep things simple and to make life a little easier for you. To make things less complicated here is an easy guide to get you shopping for the right pants. To get you started, "pants" is the term generally used for these types of outerwear clothing for the lower part of the body. It covers each leg separately and extends from the waist to the ankle. It is then further divided into various kinds, like slacks and khakis, depending on the fabric and cut. They are also sometimes referred to as trousers, depending on where you are situated. People in the UK often refer to this garment as trousers, while people in America use the term "pants". So regardless, trousers and pants refer to the same garment. Now that we got that out there, let's get more into detail.
Slacks: Loose and Comfy
Slacks are often made from luxurious wool or synthetic fiber, which are typically lightweight. It comes from an old Saxon term that means "loose". So you can take note that this type of trousers for men isn't tight or snug when worn. Their defining characteristic is that they fit loosely and aren't elastic. Slacks naturally have a casual appearance, perfect for a normal day in the office. Though you can also wear them for semi-formal outfits like when you have an important meeting with your boss or colleagues.
Its loose-fitted construction makes them very comfortable to wear. Unlike tight-fitted trousers, you can move or bend more freely in these. You also don't have to worry about when you are going to wear them because they are perfect for any season. When the weather is cool, its woolen material provides warmth, while its loose fit makes it cool and breathable – perfect for the summer. If you've been contemplating about your outfit and what you are going to wear, this type of pants is usually a more comfortable option.
Khakis: Think Military
Khaki is usually known as a color that looks light yellow-brownish. It comes from a Hindi word meaning "dust" or "dusty".  It is easy to remember because of how it is used in the camouflage uniform of the military troops – from where khakis are deeply rooted. Sometime in the past, soldiers intentionally messed up their uniforms with dust, mud, coffee, or even curry, in attempts of blending well in their surroundings or effectively camouflaging themselves. Now that you have a better understanding of where it originated, your first cue in easily remembering these pants is their color. 
The commercialization of khakis was encouraged by the massive surplus available after wartime, and when different brands started offering non-denim alternatives. The crowd easily adapted because of its durability, comfort, and simple style. Its neutral color makes it very suitable for everyday life because of how easy it is to be worn and matched with almost anything. Soon enough, it became a wardrobe staple in every man's closet, and today, they are commonly known to be worn with suits for that business casual attire. But of course, you can still dress them down with a denim jacket or a simple white tee. The versatility of this type of pants is what makes it a crowd-favorite as well.
Take Your Pick
Your outerwear can tell a lot about us. That is why it is very fitting to dress according to the occasion, whether that be smart casual or business casual. Since we are on the topic of pants, explore with us which pants suit you best in order to reach your full potential of manliness. Here are 8 pants that suit you best: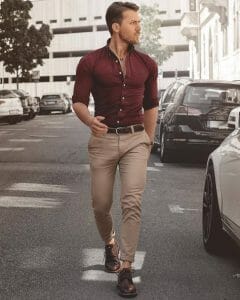 Get ready for a hunk get-up with your favorite khakis that appear to be both handsome and functional, you can easily dress up for anything. Its versatility makes it very easy to match with almost any top, whether for dressing up or dressing down. Having this pair in your wardrobe is useful and convenient because you can easily pop it on with your button-down long-sleeved shirt or just any casual top. This is a simple guide to looking fresh and presentable, like the fine young man that you are.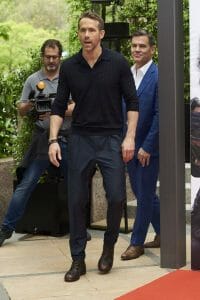 For that smart-looking outfit, here are the pants that will easily get you sporting that look – slacks. Those comfy-looking pants will flawlessly look good on you without even trying. Paired with your casual top, you have yourself an easy ensemble that you don't have to stress about in the morning before going to work. The loose-fit of it that falls and flaunts itself looks elegantly pleasing to the eyes and will definitely gain lots of compliments around the office. Look dashing in this pair without sacrificing comfort. You will thank yourself after a long day at work filled with countless meetings and deadlines.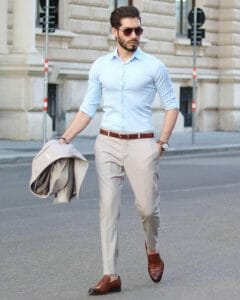 If you need to suit up for an important event, these khaki pants would suit you best. The way it perfectly hugs around each leg makes it easy on the eyes and flattering to look at. Its light tan shade will easily complement any light or dark shaded top you'll wear with it with its matching coat. This is another great look which will boost your confidence for your next important meeting. Attend your events and wow your peers by looking your best and suiting up the best way possible. These khakis won't let you down for sure.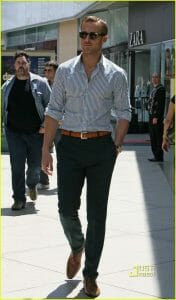 If you're the type who is always out and about, always engaging people, and entertaining friends, these slim tapered slacks will probably suit you best. While it perfectly matches your outspoken personality, it also keeps everything well-put and clean. Channel your inner Ryan Gosling and show some personality by going out there, beaming with your best candid self at all times. Hang tight and have everything tucked in, hair pulled up, and belt tight. These pants will keep you comfortable as you push through your day with appointments here and there.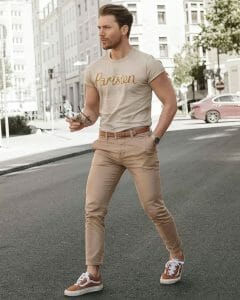 Have a more casual look for your everyday get-up in your comfy khakis that will suit you best. If you're more of a shirt kind of guy, these classic-looking pants can transform you from a boring plain guy to someone who is simply remarkable. So show some character in the way you dress and choose the right type of pants for you that will prevent you from looking sloppy. This pair will be a good addition to your wardrobe, and will surely be part of many of your memorable events.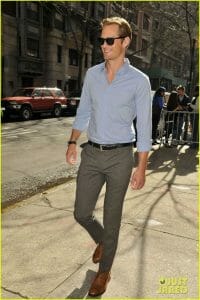 Be "that guy" and get head's turning with these good-looking pants. Get dressed in these slacks and face the day with confidence. It all begins with the way we dress and how well-fitting our pieces are. Do it like Alexander Skarsgard and have these pants that can suit you best. Paired with your favorite button-down shirt, you're ready to come face-to-face with the public or some important people. These pants won't fail you and will surely make you appear like the most important person in the room. Own it, embrace it, wear it.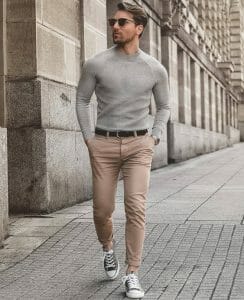 If you want to make more of a fashion statement rather than a business casual attire because you're just cool like that, these pants are for you. It will give you an easier time for that daily mixing and matching to land you the right outfit of the day. This pair of pants will suit you best if you're the type who wants to work with a flexible piece that can serve as your base point in creating an outfit. These are wardrobe essentials you must keep, for they are comfy and beautifully sleek – which are details about it that you will absolutely love. Grow fond of these plain neutral-colored pants and explore the possibilities of what you could actually pair them with.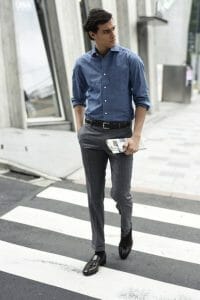 If you're a meek person and a quiet type, you're probably an introvert and it is most likely that you just want to stay at home 95% of the time. You're only concern might simply be how to look decent for the world out there. Fret no more and instead pick up your slacks because this will be the answer to your prayers. Hop on in these and instantly dress up properly with this outerwear that will suit you best. You can easily work around this pair to get you through the workweek by simply throwing on some of your favorite tops.
Among the different types of pants, which one was your favorite? Don't be afraid to take  your pick and experiment with which one suits you best. Comfort is of high priority so take into consideration the fabric material used in the following outerwear just as we have discussed above. We all have different body structures, so make sure you get the right cut and fit for yourself. It's all about personal preference and which one you're most comfortable to be in. You'll be spending a lot of your time in these, so let it not be something that constricts your movement and makes you uneasy on the inside. It doesn't matter how good it looks on the outside, if you're not truly, and a hundred percent comfortable in them, it's not good fashion, only a waste of money and time.