21 Types of Jogger Pants and Their Names (And the Features that Makes Them Different)
Jogger pants are so versatile that they make a staple item in your wardrobe. Today, joggers are still a trend in the world of fashion. This is because you can style and wear them in countless ways and events.
While joggers don't normally fall under professional or business look, there are different jogger types that you can wear to sport the vibe. And in this article, we'll be dealing with the kinds of jogger pants existing in the market today. Do you know them all?
Types of Joggers for Men and Women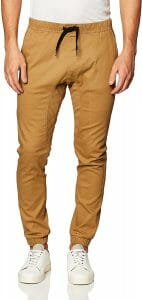 The twill joggers are popular for a reason; they are known for their weave and high thread count, making them durable and thick. They're easier to wash as well. In addition, you'll see twill jogger pants to have fewer wrinkles, making them a nice outfit for any occasion in mind.
Most shops offer twill joggers that come with an elasticized drawstring belt and side pockets. Because of the clothing used, you'll have a skinnier fit than a baggy silhouette when wearing one. You can instantly pair any twill jogger with a pair of loafers and a blank shirt for a casual look.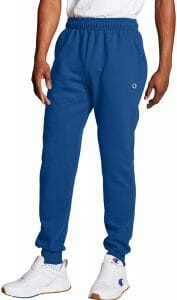 As the name suggests, fleece joggers are polyester woven from fine fibers into a fleece cloth. Joggers that fall under this category are usually water-repellent and lighter than wool, providing you with better insulation. As such, fleece joggers are an excellent way to keep your legs warm even when it's wet.
You can distinguish a fleece jogger from other types by spotting the waistband's parallel style from the legs but gets narrower (or tapered) at the bottom. Upgrading this jogger would be a no-brainer. You can add some chunky shoes topped with a polo shirt and denim jacket to rock the look.

If you're not a fan of those boring, neutral-shade joggers, color block jogger pants would be an excellent choice. Shade block joggers typically have only one design, yet, they are offered in different colors. In this way, you still have plenty of options to choose from!
Besides, you can wear them at events that sport colorful or contrasting themes. These joggers would earn you second looks for its set off that strikingly hits the attention even when you're in a crowd. Since it's already colorful enough, pair them with a basic top and sneakers.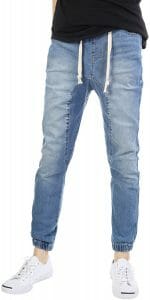 Denim joggers are a type of pants that somewhat combine the aesthetics of a jogger but with a rough texture. They usually come in a stretch fabric, a drawstring waistband, and tapered cuffs. Additionally, you'll find them creating a skinny-fit look when worn. This type of jogger is stylish, perfect for street-style wear.
Since the bottom part is cuffed, you can easily flaunt your shoes. But for a jean jogger, pairing it with a pair of flats (or sneakers) and a graphic tee would do to show off your style in the crowd.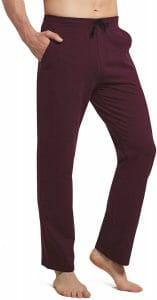 You might be surprised how a jogger may come non-cuffed. But in reality, they exist. In fact, non-cuffed joggers have become a trend these days because they're actually more comfortable to wear. They come in a straight figure, lack any crunch design, and are slightly loose when worn.
This outfit is less demanding but cozier. It consistently pulls an entire ensemble together. For instance, you can throw in some fitted shirts, a shade, and trendy shoes for a polished look. Men in their 40s would definitely rock the look in no time!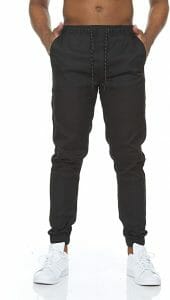 Sporting an edgier look would be a breeze with moto knit joggers. This style has the legs tapered and ankles cuffed, giving you a slim-fit look. The best part is those fashion companies create moto knit jogger pants in different hues and shades. So, there's a slight chance you won't find a design that will suit your clothing preference and taste.
Moto knit joggers are sure to last a lifetime, thanks to their durable and versatile fabric. If you're wondering if moto knit joggers come with side pockets, the answer is a yes.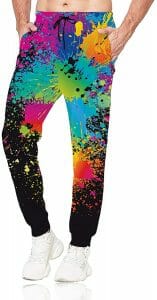 Another type of jogger pants that's worthy of your attention (especially those who love colors) is the splash-color joggers. You get it right; it highlights a jogger that's filled with splattered-like hues and shades that definitely sets off a unique vibe.
Splash-color joggers are a surefire way to impress the crowd in an event where artistic styles are incorporated. Besides, it's a solid option when you want your inner creativity to be expressed with a pair of pants. Not sure what to pair with this jogger? We recommend a neutral shirt and shoe color. In that way, you can easily accent your splash-color joggers.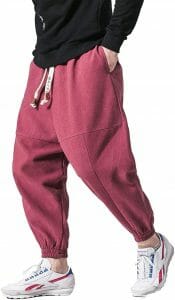 Most men would find the drop crotch jogger pants not only a fashion statement but also a comfortable jogger. Unlike other types mentioned in the list, the drop crotch joggers feature a loose part around the groin area but fit the legs.
Thus, it's safe to say that drop crotch jogger pants are somewhat baggy due to their loosened groin region. Nevertheless, these pants are made with a breathable fabric, which adds to your OOTD's coziness. They're ideal for activities requiring extensive legs and feet movements, like running or doing wellness exercises.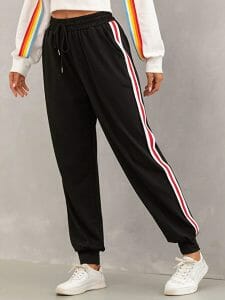 You can easily distinguish contrast tape joggers from any other designs mentioned in the list by their side piping aesthetics. Though simple and basic, the contrasting color of the joggers and the side piping actually do the job of making your style more unique and stylish.
Nonetheless, most of those contrast tape joggers have an elasticized waistband to let you adjust the fit according to your preference. If you still want to accent your OOTD, consider pairing this jogger with a hoodie or denim jacket, shades, and chunky sneakers.
While a hip-hop jogger might be confused with the drop crotch, the former is baggier and broader. This vibe lets you sport a cool but relaxed OOTD, especially those that need comfortable pants when dancing.
As such, hip-hop joggers have been considered a street fashion style for artists. Regardless of the design, this kind of jogger typically incorporates a drawstring and side pockets. Women can marry their hip-hop joggers with a cropped tops, whereas men can partner their joggers with a plain shirt.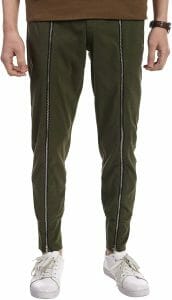 Instead of a side piping design, this kind of jogger incorporates a vertical zipped line in the right place. In case you're missing it: the zipper can be zipped unzipped for your style and fit preference. Feeling a little cheeky or cool? Then slide the zipper mid-calf (this calls for a somewhat bootcut jeans style).
Other zipper joggers incorporate horizontal zips (these don't serve as pockets, mind you). You'll have a more sophisticated, grunge vibe when marrying these joggers with a bobble hat, a heavy jacket, and a pair of high-cut sneakers in the winter season.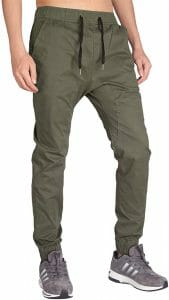 Combining comfort and style with a chino jogger is effortless. Chino joggers use a steep twill construction, giving your joggers a slight sheen but light and clean line fabric that's perfect for casual to formal events.
In fact, you'll find chino jogger pants a perfect pair for your neutral-colored polo collared shirt. You can throw in a couple of loafers to amp your look or if you're after a bright casual look.
The name baggy pocket joggers say it all. It accents side pockets that aren't your standard size, providing you with a roomier pocket for your personal belongings (almost anything you could imagine, LOL).
While some might see it as not that sleek, many celebrities are actually loving and wearing it. It's considered a staple piece for street style wear for its slouchy appearance. You can also wear these baggy pocket joggers when climbing mountains or hiking. Just make sure to wear appropriate shoes (like off-road sport sandals) for comfort.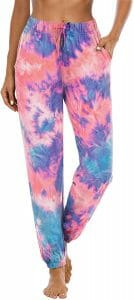 Tie dye joggers can be compared entirely with color-splash jogger pants. Yet, the former highlights a dying process that results in an abstract design. Firms that offer tie dye joggers make sure each design is uniquely processed, which means getting one would guarantee yours is matchless.
Just a word of caution. Avoid pairing tie dye joggers with a shirt or shoes that are similarly colorful, or else you'll find your OOTD a colossal setback. As such, try to incorporate a plain shirt and footwear that sports one hue. This way, your colorful joggers can speak for your overalls.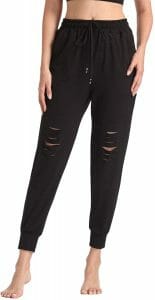 Also referred to as distressed or torn joggers, ripped ones feature the trendy "destroyed" aesthetics on the pants. Ripped joggers are known to be a fashion statement because of their shabby and crisp look.
You don't have to be bothered wearing torn joggers because they would elevate your outfit instantly. You can pair this kind of jogger pants with a cotton top and chunky shoes or low-cut sneakers. For women, they can pair these ripped joggers with a denim bralette for a spot-on look. Meanwhile, men can marry their distressed joggers with a hoodie to sport a cool-grungy vibe.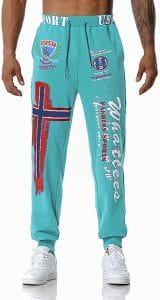 Rather than incorporating ripped parts, this jogger has patches and designs. And mind you, this is surprisingly a good jogger because it adds a fun element to your overalls. You can opt to inject a casual-smart look with a patch jogger by adding a formal blazer with a white tank top.
Besides, you can keep a neat outfit by wearing a button-down shirt and tucking it in. In this way, you'll give way to the patch elements embedded in your joggers. It's an impressive outfit for a quick lunch out or coffee with friends.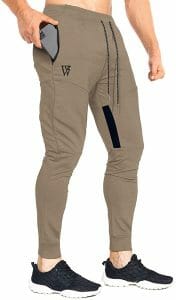 Tapered joggers have wide uppers and narrow-fitted bottoms. They're best to be worn when working out in a gym or doing some exercises. Tapered joggers usually have a drawstring and elastic waistband guaranteed to fit all wearers.
It would also look excellent to pair your neutral-colored moccasins with tapered joggers. Because this jogger has the ends cuffed, avoid wearing exposed socks to keep your OOTD from seeming strange or weird.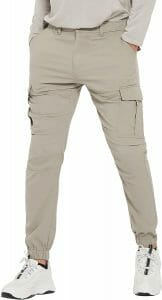 The difference between a tapered and cuffed jogger mainly lies behind the style of the jogger ends. For instance, tapered ones have smooth but fitting ends, whereas cuffed jogger pants add a scrunched (have crunches at the end) look in the outfit. This way, you can pull off a quirky look to your overall outfit.
Wear a quilted double-layer trench coat in a neutral color to complement your fashion style for a more beautiful and intriguing look with a cuffed jogger. As for men, you can go for a racer-style appearance with a pair of low-top trainers that are clearly visible when worn with cuffed joggers.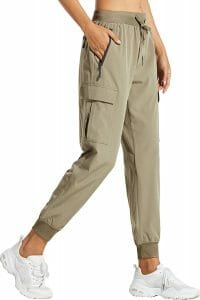 Cargo jogger pants are inspired by the army cargo shorts, and you'll see them almost everywhere. Cargo joggers are worn similarly to their pants version; yet, they're more cozy and cool to wear. Influencers don't want to tell you that cargo joggers are a staple wardrobe since they can elevate a simple look instantly.
You can pair cargo joggers with a bland (pure black, white, or gray) top, as too many elements on your OOTD can throw off your fashion vibe right away. Another way to style your look with a cargo jogger is to wear old-school white sneakers.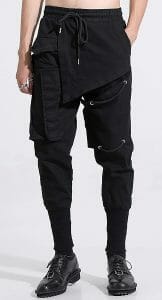 Another roomy jogger pants style in the list is the layered type. Nonetheless, layered joggers combine a relaxed fit and a skinny ensemble. It could be styled the same as drop crotch and baggy pockets style if you got the appropriate match for your OOTD.
Wear traditional tennis shoes to give off an edgy feel, and you'll be the most remarkable person in the room. A moto feel may be achieved by wearing a t-shirt and a leather monotone jacket.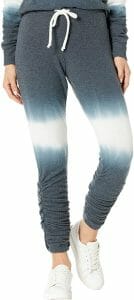 And finally, the shirred jogger pants aren't your regular pants. Although you might confuse cuffed with shirred leg joggers, the latter accents more crunches. These crunches typically run below the knee towards the end, creating a "shivering" effect.
You won't need to second-guess a top to partner with a shirred leg jogger. In fact, you can show off your style by teaming casual tees and a pair of black leather shoes.