What Is a Hobo Bag? A True Handbag Reference
With its signature crescent shape, a hobo bag is designed to rest on your shoulders in style. This is sometimes referred to as slouch bags, a literal description of this women's staple accessory due to its lack of firm construction.
Undeniably, the hobo bag is deemed an everyday essential for a lady who's always on the go, busy, and got her schedule fully loaded. This is a true life-saver in situations where you have to be prepared.
Since this oddly-shaped bag is becoming an increasingly popular trendy item, it's a must to have a few in your handbag collection. But why are these bags a big deal? We'll find out everything about it.
The Origin of Hobo Bags
The term was coined around the 1890s by the term hoe-boy which basically means "farmhand" or the typical old greeting like "Ho, boy!"
When the Great Economic Depression initially struck American land in the 1930s, a great number of people spent the day with nothing to do. Finding a job seemed like one of America's greatest challenges in history and people were set to travel anywhere and everywhere in search of work.
They tried their luck elsewhere by traveling in freight trains and they carried their belongings in a piece of durable cloth that was used as a sack or bag and a stick or pole was inserted down the knot and was carried over the shoulders.
This eventually became the primal influencer, reference, and inspiration of today's modern hobo bags.
Are Hobo Bags Bohemian?
Hobo bags do entice people who are into bohemian fashion and culture, but no, they're not necessarily bohemian in the first place knowing how it all started.
However, when these bags became a fashion bandwagon in the 1950s, they started to eventually become synonymous with the hippie movement during the 1970s, therefore, the common unconventional aesthetic.
How Is a Hobo Bag Different From Totes and Satchels?
What sets hobo bags apart from their other counterparts like totes and satchels is mainly the shape. It's its huge identifying trait, but of course, it can be also worn like a crossbody bag like your typical satchel or a shoulder bag like your tote, hence the confusion.
Generally, hobo bags have a large room inside for random things with convenient compartments to divide your essentials by categories. It's slouchy– has no build or form, making it look different compared to a tote.
The strap is longer so you can carry it comfortably on your shoulders or arm, giving your hands more room to hold on to several other things.
How Big Is a Hobo Bag?
Hobo bags speak about practicality, which is why most of them are manufactured to be large to extra large. Many ladies prefer hobo bags over anything else since they can carry almost everything and there's still some space left to carry more items. 
Since fashion is an ever-dynamic system, people are starting to eye smaller bags, but with the hobo bag's versatility and persistence, we shouldn't expect it to fade away so suddenly from the fashion mainstream.
In several brands and stores, the slouch bags are now available in compact sizes. 
Ways You Can Strut With a Hobo Bag
With how most hobo bags look, they can be used for casual and formal events. Pick carefully what aesthetic suits an event more. 
Meanwhile, here are the occasions wherein you can freely use a hobo bag as one of your main fashion accessories.
When you are touring a city. If you are a tourist, you may want to make sure you bring everything you need with you like your polaroid camera, your diary, notes, extra top, and more. All those things can fit inside your hobo bag.
When you go to work. A semi-formal to a formal type of hobo bag can surely complete any dress code required by your company. It's attractive and classy.
When you are out shopping. Some hobo bags can function more than just aesthetic pieces. They have adequate rooms for your goods. You can practically ditch the plastic bags by then.
When you're going on a date. With a stylish and alluring hobo bag, you are set to create a positively strong impression with your beau.  
Are Hobo Bags Still Fashionable?
The beauty in hobo bags is that they are chic and timeless. They are worth adding to your curated handbag collection and we don't see them vanishing in several more years to come.
These are highly useful for women who need a go-to handbag that serves both aesthetics and functionality. These days, a lot of us are getting into unconventional beauty and fashion, so, definitely, hobo bags are still in style, especially for all those who are into the bohemian look.
Are Hobo Bags Worth It?
Absolutely. They're not here for display but rather to be used. As mentioned, you can use a hobo bag mostly anywhere and everywhere you go. They're not out of style nor are they made for a specific group only.
Even Mary Kate and Ashley Olsen are jumping on this trend. The twins truly acknowledge its bohemian chic vibes that can't be matched by several other bags out there. 
However, its worth can be relative. In the past, the first hobo bag retailed for only 35 cents. These days, luxury brands like Gucci and Louis Vuitton are charging more due to their reputation and status. It depends if you see them as worth buying or not as it all depends on preferences and resources.
What Hobo Bags Are Trendy This Year?
Hobo bags that have a classic or chic look are typically what's trendy this year. We are transitioning from large hobos to mini-ones, but the traditional size remains to have a reasonable demand in the industry. To help you out in finding the right hobo bag that clicks, here are our top picks: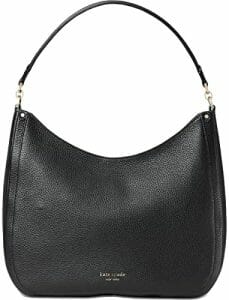 To add something to your collection of luxury handbags, go for this Kate Spade hobo accessory. Its design is a classic– a truly timeless piece you can wear on almost every occasion. With its practical look, any outfit you wear with this bag won't be a match made in hell. This is why if you think hobo, you think Kate Spade brand. Many people would agree that this is one perfect bag you have to own.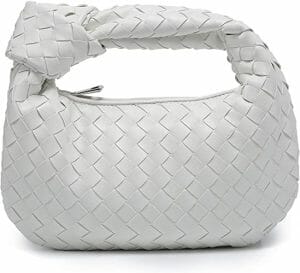 For a handbag that has a dual purpose, you might want to consider getting yourself a Xiangniu knotted hobo bag that can also serve as a clutch accessory. Its intricate pattern and texture are eye-catching and sure aren't a monotonous sight. This compact shoulder bag won't easily get worn out and it's made from quality PU leather. The subtle knot on the side of the handle is attractive enough, it can't be understated. Gift this to your mom or sister and they certainly will love this.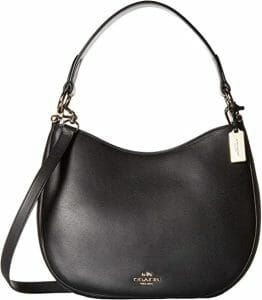 This is a treat for all Coach lovers out there! Just like the Kate Spade hobo bag, this one is going to rock and elevate your entire appearance. To put it simply, you will never go wrong by choosing this as your everyday handbag. As this is a designer accessory, you can always expect that it's made from love and quality. This leather purse is a real must-buy item.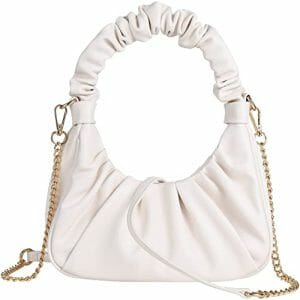 Update your fashion with this cloud hobo bag! The scrunchie handle look of this hobo is a delight for any woman who loves to sport a chic and girly fashion. In fact, we see this as a fad that's already starting, so make sure you're not late to the party. Its whiteness is celestial and let's not forget the dramatic effect the gold long strap adds in.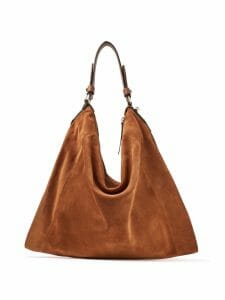 They say money can't buy you happiness, but it sure would put a smile on your face and butterflies in your stomach once you get this Jimmy Choo hobo bag in your hands! This leather-made accessory comes in dark tan and has the signature brand's logo on the side. It has all the essential elements you're looking for. It's low-key the best you'll ever have as this is one of the most coveted handbags there is.