Find That Perfect Pair: What Shoes To Wear With Sweatpants for Women (22 Outfit Ideas )
Being a woman alone is not always an easy task. We know you already have a lot on your plate, so here is a gentle reminder not to sweat the small stuff—including what to wear! We are here to show you that you can dress smart easily and comfortably with some sweatpants and shoes that you can put together in style effortlessly.
The question is: What shoes do I wear? Fret no more because we are going to show you perfect ways to pair your overall apparel with your very own comfy sweatpants! Catch some celebrities and style icons like Gigi Hadid and Jeniffer Aniston wing it, and be inspired to show up in style, too!
Sneakerhead or Basic Bae, we'll shoe you (I meant show!)… outfit ideas you can rock in your sweatpants, whether in your sneakers, sandals, classic heels, or loafers. Make sure to take note of these fashion staples you can't miss out on: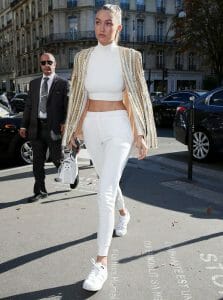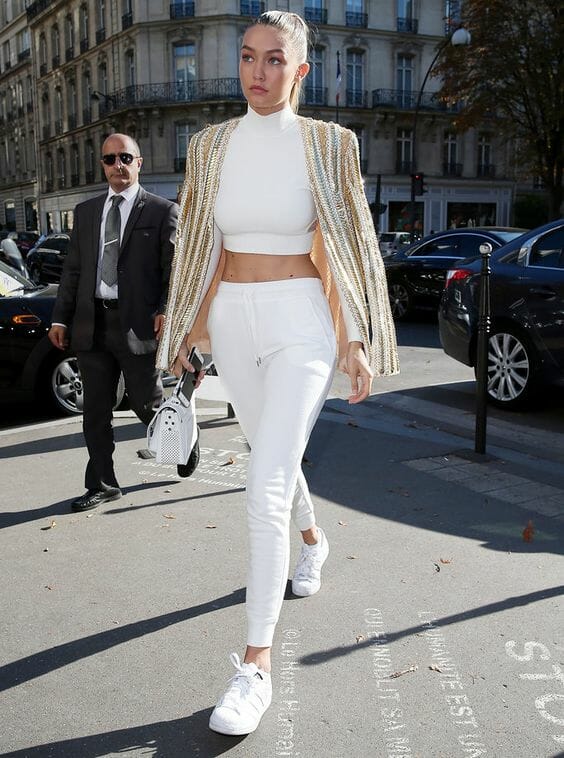 Here is Gigi Hadid who is very classy in her sweatpants and white adidas Originals Junior Superstar Trainer. Who would have thought sweatpants could look this spruce? Her white sneakers make for a distinctive feature that lets her standout from the crowd – despite the fact that she's Gigi Hadid, of course. Using the right elements, you can look neat and fresh, and balance a laidback look to still look smart and appealing. It is essential that you keep those white sneakers in your shoe cabinet because it is sure to match any of your outfits on any given day.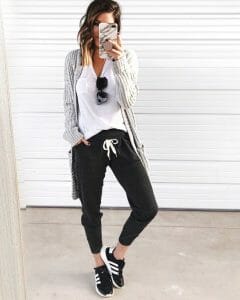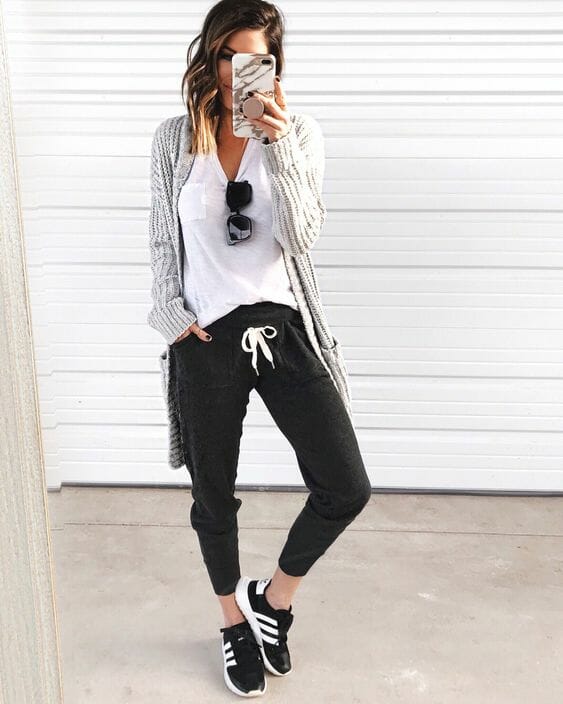 We go from classy to a little bold and rebel with these well-defined comfy black kicks. Your little black shoe is a go-to! Add a little bit of character with these bad boys matched, yet again, with your trusty sweatpants. You'll never go wrong with these wardrobe essentials. So, lace up and get ready to get your stuff done in style.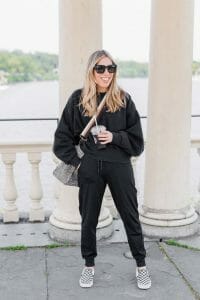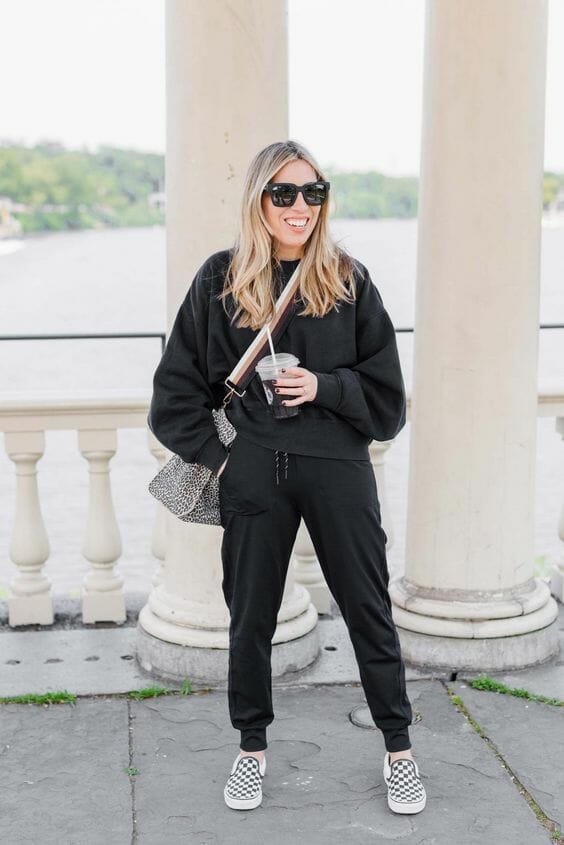 Get a little funky and slip on these checkered wonder shoes that go well with your sweatpants. A casual look that is easy to bring. Grab yourself a pair and have fun with your outfits. Sometimes, life is not meant to be taken seriously. To be more creative, try being a little silly. Enjoy yourself and your beauty will radiate from the inside-out. Don't be afraid to play with patterns and create a whole new look with a different attitude in it.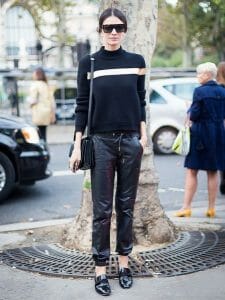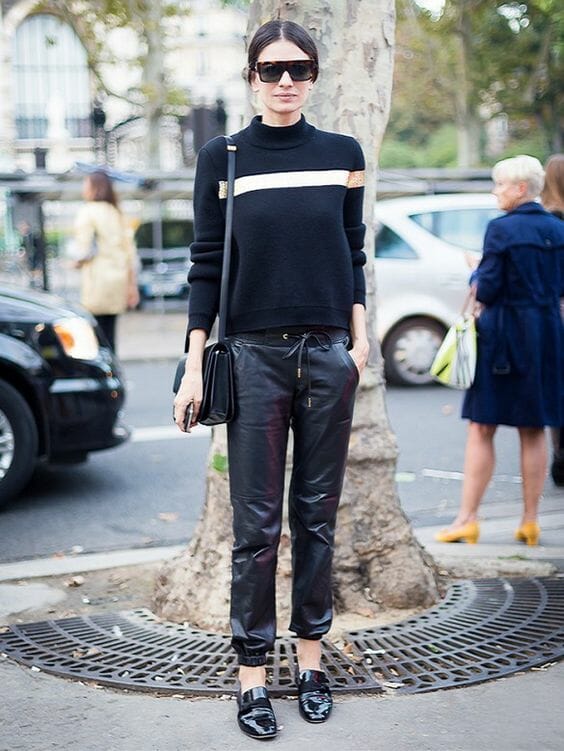 Take out your classy slip-ons and aim for a sophisticated look. These shiny black shoes give an elegant touch to your sweatpants outfit. Make sure to own a pair of these stylish gems and get going whenever you need to look more decent than usual. Being a little extra with your comfy pants and loafers won't hurt! You can easily leave a good impression that you are successful, happy, and that you make great decisions – just like owning a pair of these!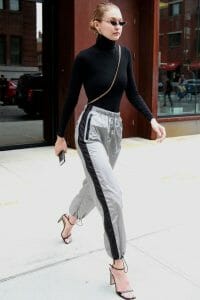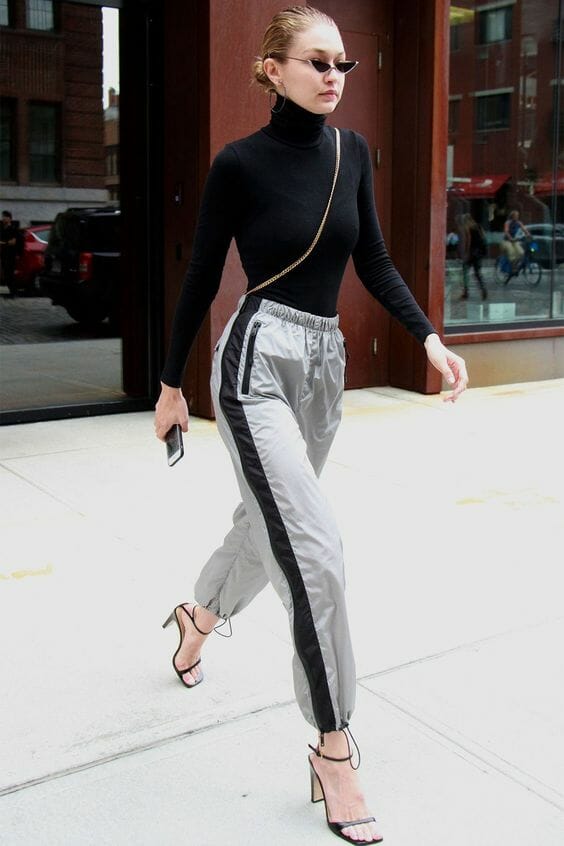 Sexy, sleek, and slender – is there anything left to be said about this 'fit? Another Gigi Hadid inspired look to amp up your outfit using these gorgeous ankle strap sandals. Bring the sexy back to your feet, because the only time you will ever let your head down is when you will be admiring your shoes. It's not hard to fall in love with these fashioned with your sweatpants. They are very admirable, cute, yet sophisticated.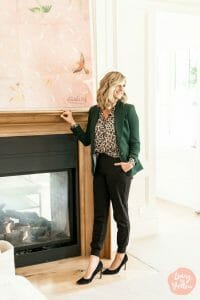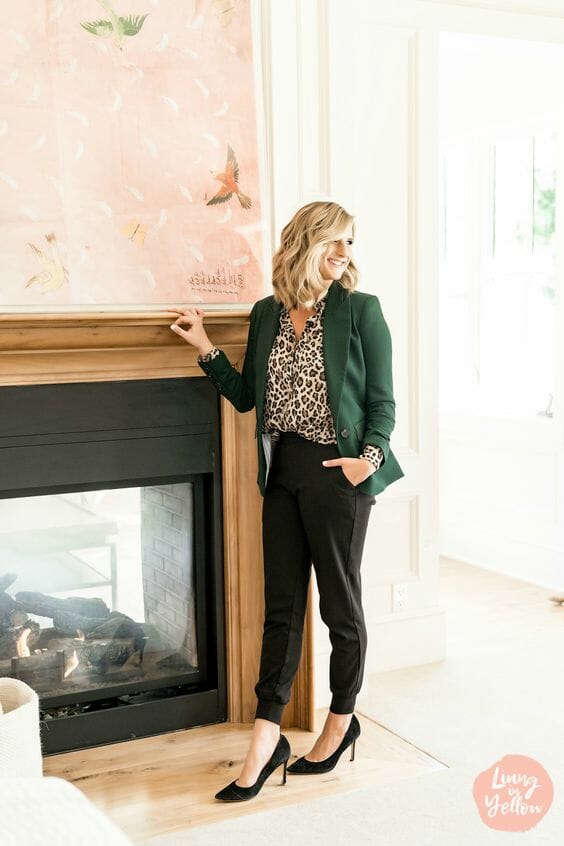 High heels, high standards. Never underestimate the power of a pair of stilettos for that bright, charming and vibrant look. Go all-out girl boss once you enter the door in those shoes. Who would have imagined you were wearing sweatpants in those stilettos? Rock the look and be surprised at how well-dressed you can get with these pieces.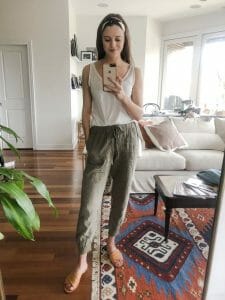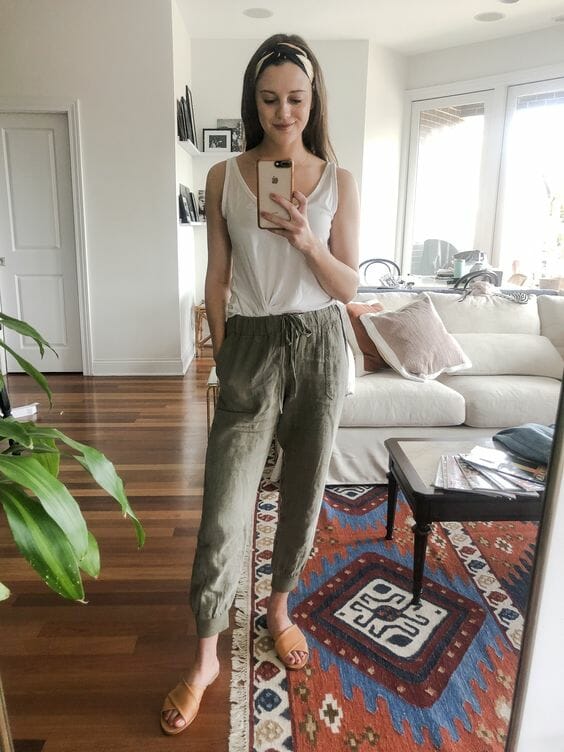 Now, these go along with everything. These leather crossover sandals are very lovely and easy to style. They are a must-have in every shoe cabinet, another fashion staple you must keep. Its nude color is soft to the eye while its crossover pattern is very flattering on the feet. This is a more laidback look you will enjoy having on your errands day or any casual trip to the mall for a brunch with friends.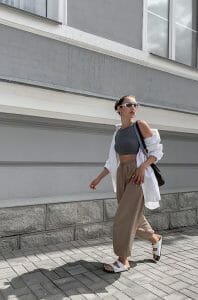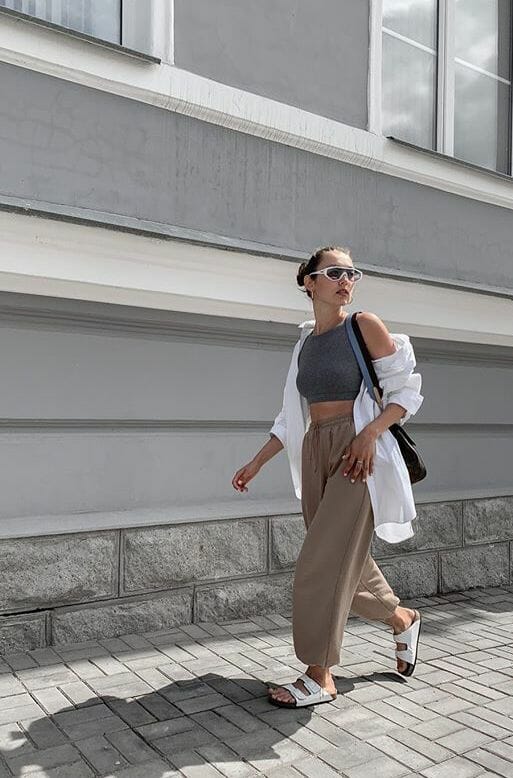 For that casual trip to the grocery store, here is a little bit of a dapper look in your sweatpants and Birkentock's. Still comfy, stylish, and snappy for when you might run into your boss or someone important. Have the impression that you go well all the time by dressing up no matter what the occasion, even if it's just going out to shop for your food! The secret lies in the details of how you mix and match your apparel with your shoe. Cinderella is proof that a new pair of shoes can change your life, so make sure you get yourself a pair of this legendary sandal!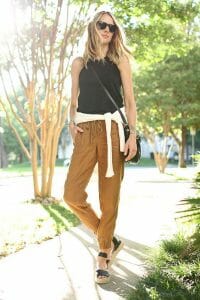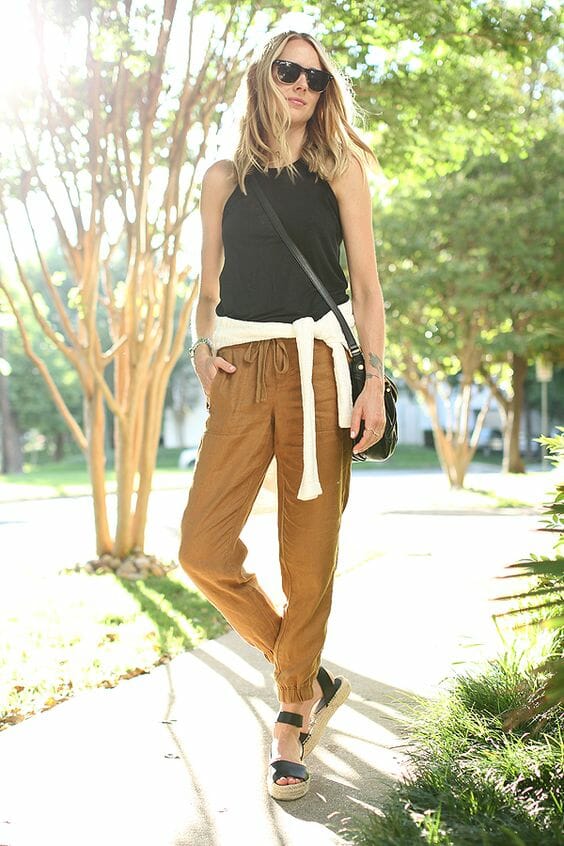 These trendy shoes are one of the most fashionable sandals for the summer. Its platform gives a flattering look on you as it gives a little lift to the entire body. It adds definition to your height and makes you stand out – looking instantly taller and slimmer. Pretty and quaint, it makes for that modest look with your sweatpants. This kind will easily slip into your wardrobe and find its way to being used as often as you can.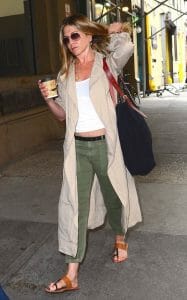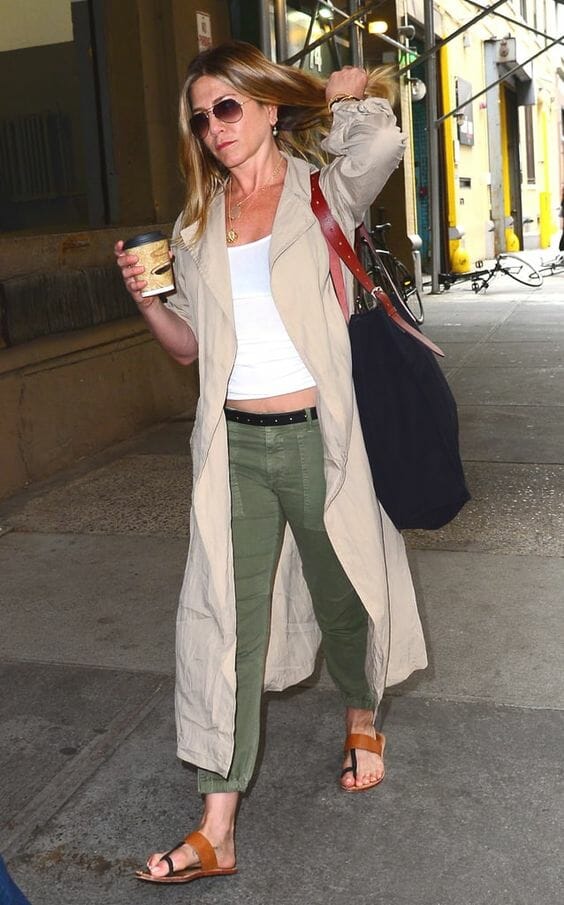 Let's go Retro with these Toe Strap Sandals. Replace your flip flops and be more posh instead with these sandals. Next thing you know, your outfit is on fleek and that your sweatpants couldn't be any lovelier than it is. Sexy and stylish, this is another summer-ready look you can carry on your next day off. Dress in a flash and enjoy a day trip with your girlfriends in these comfy clothes.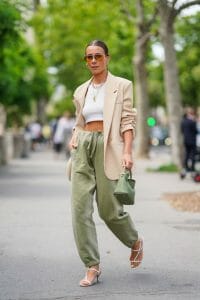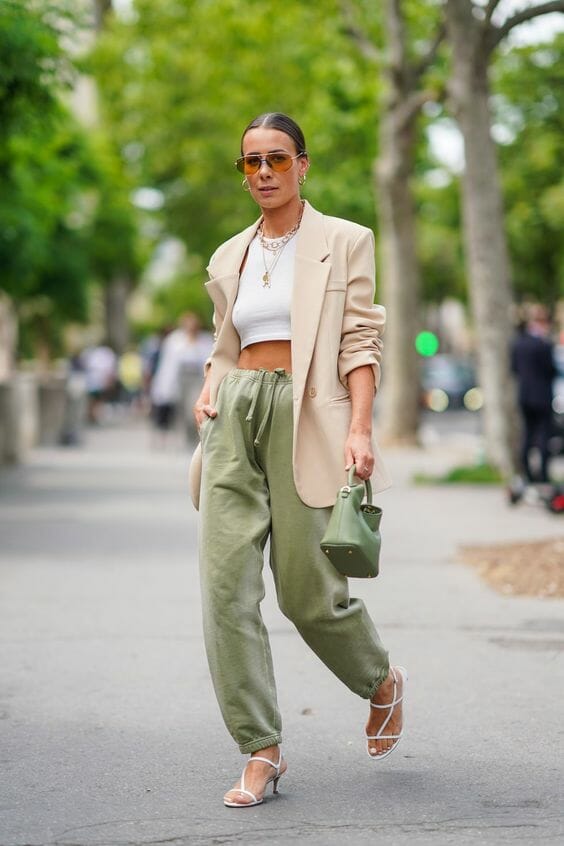 There is a rising trend of these sexy, strappy sandals and you totally get why. We've gone from sexy feet, to toe strap sandals, and now this. If you need a little boost in confidence for the day, here is a little secret: wear heels. These strappy sandals form an asymmetrical balance that makes the feet appear sassy and sexy. It creates a beautiful contrast between the bagginess of the sweatpants and sleekness of the shoe. Perfect for your meetings outside of the office straight to a date night – these will get you feeling ready for anything. So chin up, darling, you're looking very sharp and snappy in those.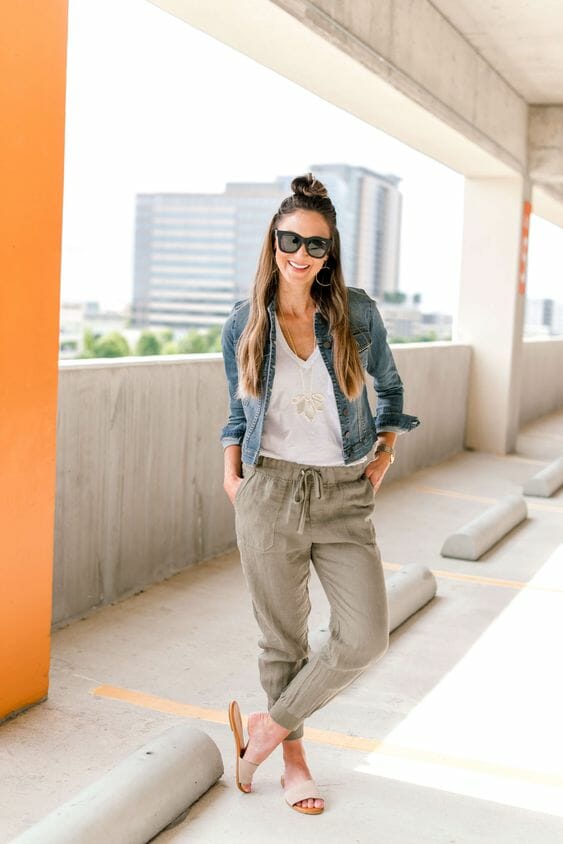 The simplest outfit doesn't mean the least, and it sure doesn't seem like the least. For a perfect day off from the office, here is a casual look that is easy to get into. Sweatpants plus this simple slide sandals, these are combinations you already have in your wardrobe. Take a stroll outside in this lazy-girl outfit that is still stunning. So, the next time you'll be thinking you have nothing to wear, pull out those sweatpants and simply slip on in your sandals. What a way to instantly look more fashionable!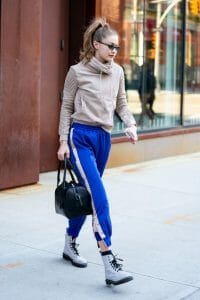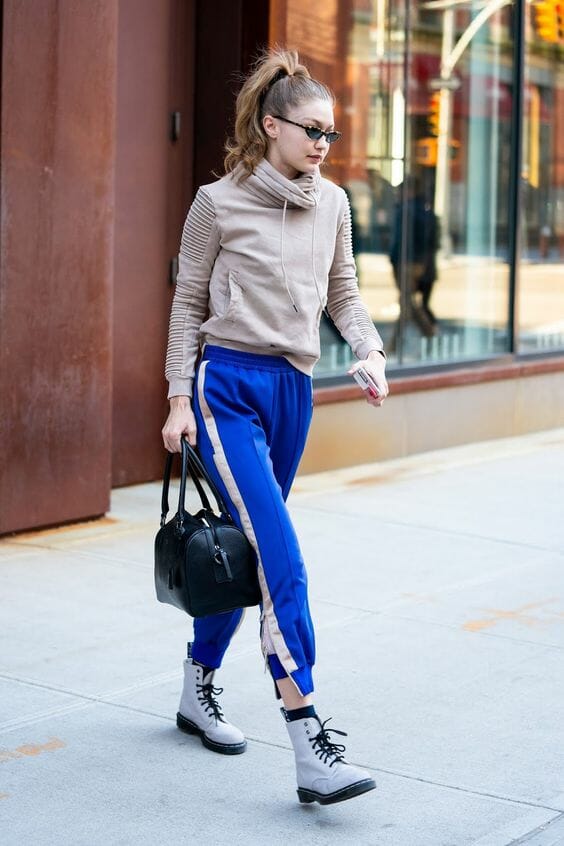 Break out of your style rut today and take it up to another level by taking out those boots and pairing them up with your sweatpants. We'll never get tired of Gigi Hadid. Here is another style inspo from her because she just rocks! Learn from the queen that you can easily whip up an outfit from your wardrobe from boots, sandals, sneakers and even your heels, you can create a look unique to you if you just pick up these style recommendations we have for you.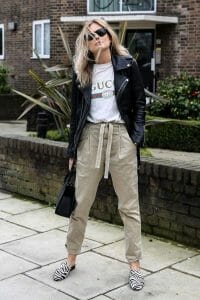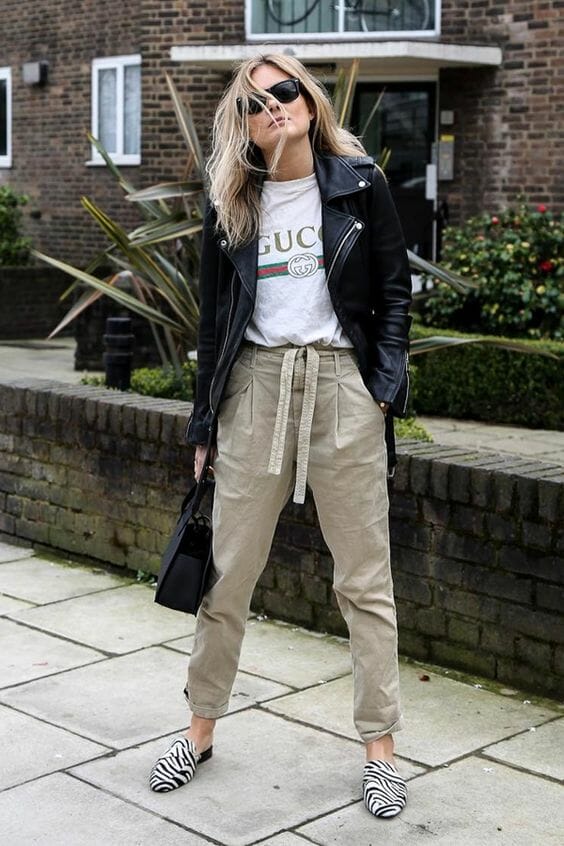 Another comfy look that will get you going are these slip-on loafers with zebra print. It creates an instant look for you without the effort. From our classy slip-ons, these daring animal print craze will instantly make you stand out from the crowd when you go outside. Spice up your wardrobe because these will be one of the best pieces you will own. We promise that it will grow on you. Albeit bold with its pattern, animal prints are a neutral, so you're still close to staying natural and authentic.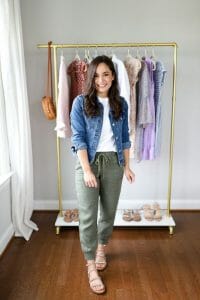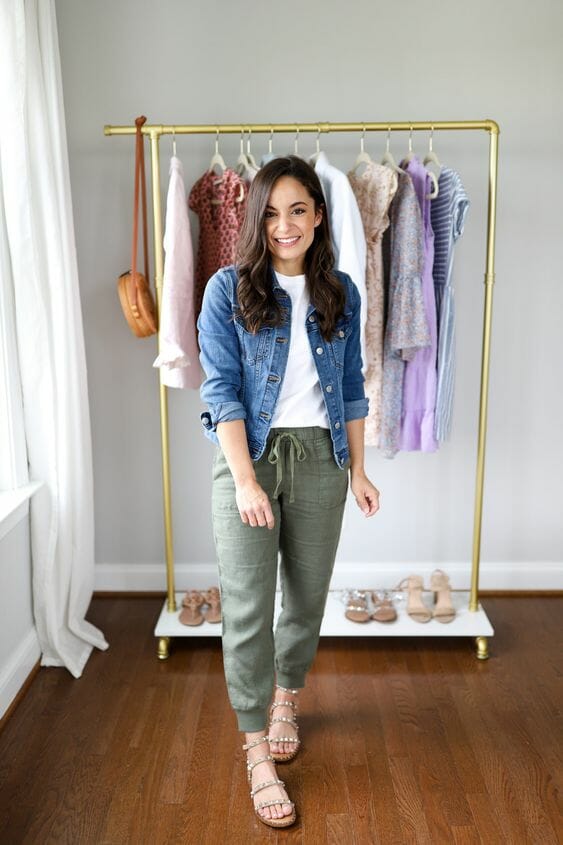 Talk about being a little extra, here are some gorgeous shoes that will make you feel star-studded. A little something to rock your sweatpants outfit! These square spikes give instant character on you. If this outfit were a flavor, we would call it Sweet and Spicy! Spruce up and get going with this sassy look of the day.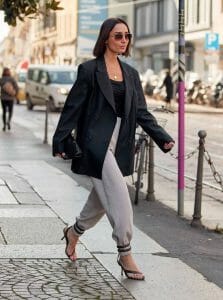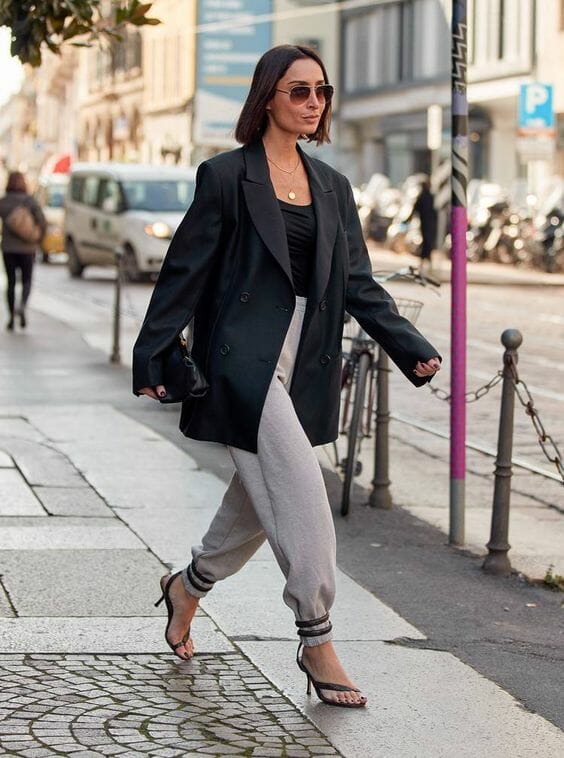 Jumping right back to our straps n' heels, here is another dazzling look you can't miss. Asymmetrical equals sexy, look at how these shoes define the feet. Its diagonal lines create an illusion of slimmer feet and a taller stature. Who doesn't want that? The art of fashion is one of the most beautiful things. Make sure to make the most of it and be wise in choosing pieces that will make you feel nice.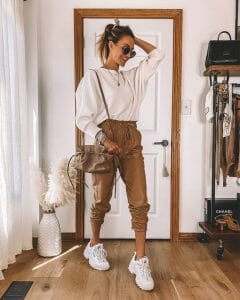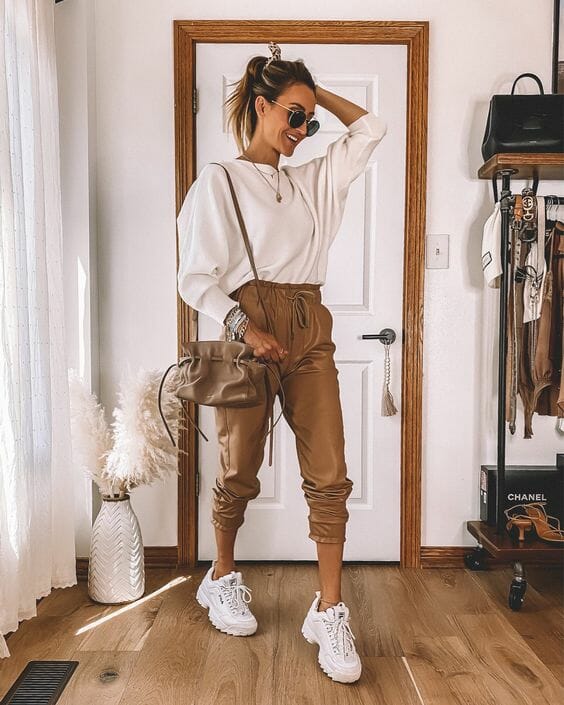 Chunky shoes or these "Dad Shoes" may not be your first choice of preference but we promise you it's a look to consider. Sturdy and muscular, it may seem, but gives a semblance of chic and cool. Give this outfit that womanly look you can definitely sport. Give it a try and we have no doubt that you will eventually feel comfortable in them.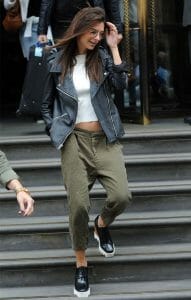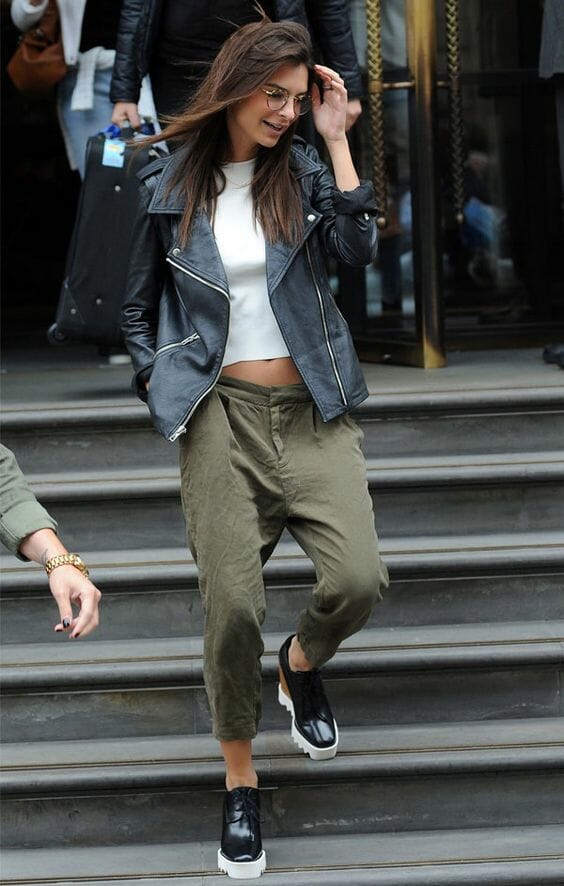 Definitely a character, these chunky black platform shoes give off a sense of stability. A tough look that makes you seem a little badass. Sport this look on a special day or on a day that you want to make special. Either way, you really are to make an impact and a lasting impression with these choices of clothing. Sweatpants and platform shoes can definitely go well together and give a bit of an attitude. Sometimes, you just gotta let your style speak for yourself.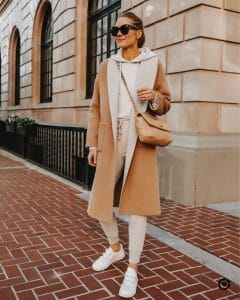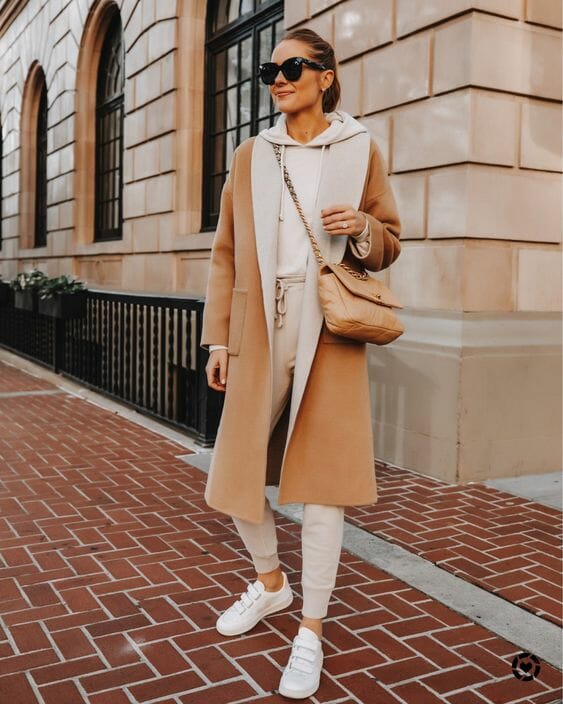 They aren't just any sneakers, they're the Velcro sneakers. This fad has gone on trend in the world of shoes and not only is it nice, they're also comfortable. Easy to wear like your sweatpants, they perfectly match together. These on-the-go sneakers are a lazy girl's dream. No more tying shoe laces with these sneakers!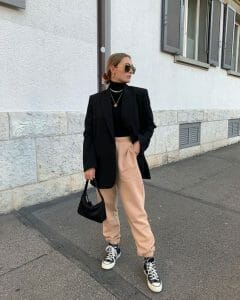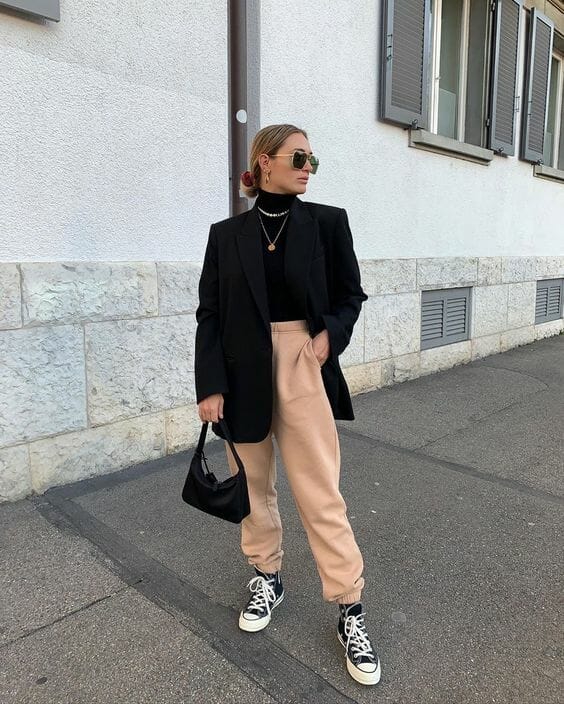 Here is another dapper look you can rock with high top sneakers and your sweatpants. This outfit will make you feel youthful and cool without trying so hard. Embrace and attract good vibes with this style inspiration that you can easily whip up in your own wardrobe. Express a little versatility in this look and get ready to conquer your daunting tasks. A woman that feels good in what she's wearing does great in what she's doing.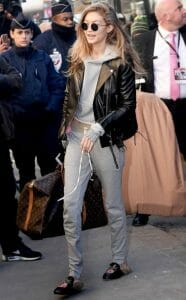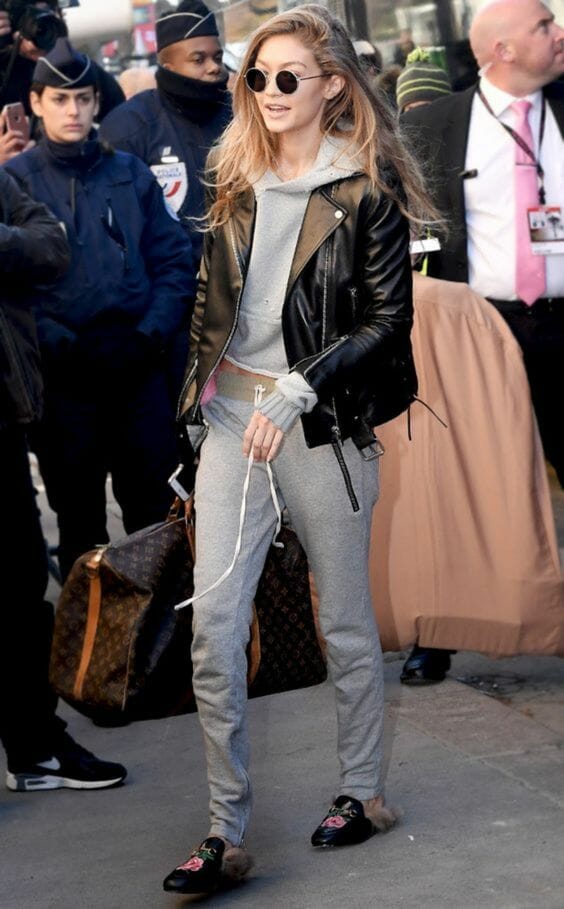 This is the bomb! These loafers with the fur are so classy that it won't matter how sloppy you think you look like in your sweatpants. It easily elevates your entire look by just slipping on in these babies. Not to mention how comfy they are to walk around in, it's the complete style guide to looking completely chill in your sweatpants. That is the magic of individual pieces, pop it on, and you instantly got yourself a fashion statement. Easy!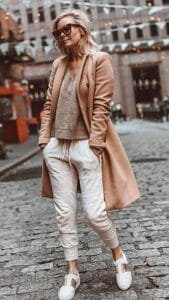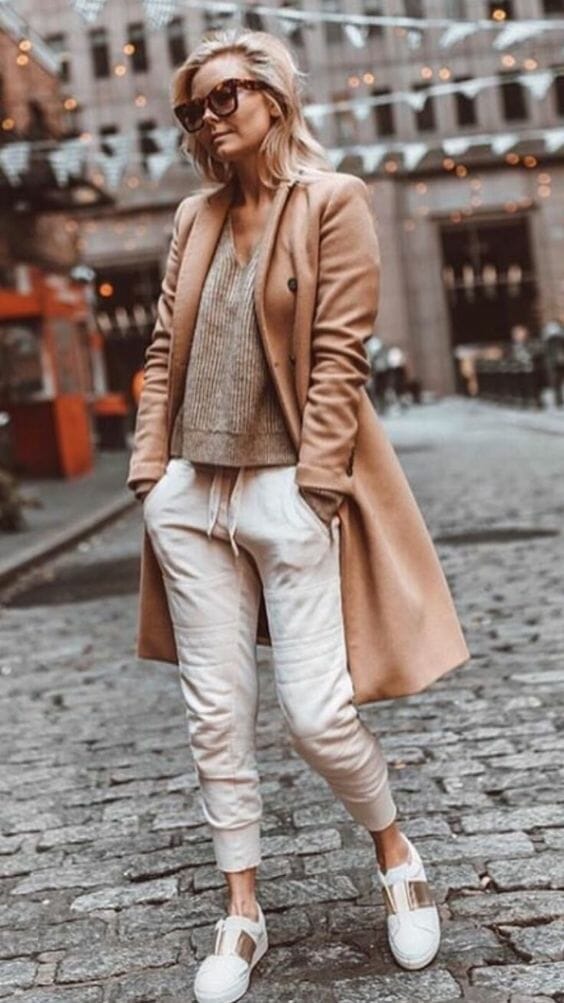 You will never go wrong with gold accents. Here is another way to make your look instantly classy – even in your sweatpants! Be keen with such details, like this gold accent on the sneakers and use it to amplify your fashion statement. It creates an instant glow in your look and makes everything seem beautiful. Accent pieces give definition to a look and improve the whole attire. So use them to your advantage and look golden today!
How you show up in the world matters, and in today's fast-paced world, it can be a bit of a struggle to keep up. A pair of shoes makes a huge difference in your style. It may give you a lot of character and definition depending on your choice of preference. Once you find your perfect pair or two, let us know how you fair!