23 Shoes Women Can Pair With Joggers (Your Next Outfit Inspirations)
Joggers are a great staple piece you can wear when strolling with friends outdoors, aside from lounging around your house. They keep you warm and comfortable all day long without feeling too wrapped.
What makes joggers a great wardrobe essential is that they feature cuffed ankles. This means you can effortlessly flex your shoes no matter what you do. What is more, jogger pants show your ankles, which are best worn if you have high-cut, chunky, or strappy footwear.
Now that we mentioned it, here are the best shoes you can pair with any jogger pants that would save your future OOTDs.
Shoes that Look Good on Women's Jogger Pants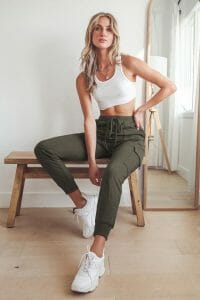 There is no other way you can make your jogger OOTD from 1 to 10 than these chunky white sneakers. In fact, this pair of shoes go with any jogger of your favorite color. You can amp the look by wearing a white cropped tank top to create an athleisure but cozy look. If you opt for a more casual style, you can elevate the look by wearing a trench coat and a white bodysuit. Regardless of your choice, white sneakers work wonders with your jogger pants.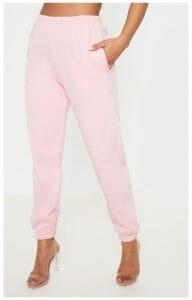 Perhaps no one would tell you, but this pair of glass heels will slay every outfit you have in your wardrobe. And since jogger pants have cuffed or tapered ankles, you can low-key brag about these one-of-a-kind heels that only a few can flex. The glass slipper-transparent heels would be your next go-to shoes when dining out or shopping at a mall with your friends. You can finish the look with a blouse or a tank top topped with a denim jacket.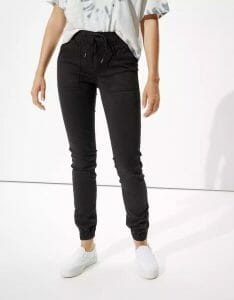 If you are not a fan of chunky shoes, slip-on sneakers work best with your outfit (especially when you have no time lacing your shoes, LOL). White is a neutral color, which means no matter what your jogger pants' colors are, these white shoes will save your OOTD. For a more bright, neat-looking outfit, you can marry a white graphic tee shirt and black joggers to create a silhouette. In this way, you can grab others' attention without trying too hard!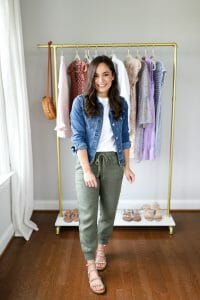 They say those who wear greens are fierce. But what makes a tremendous difference is that olive and khaki green joggers can almost be considered another neutral color in the fashion field. They are essential wardrobe pants with a rich color that go well with natural colors, such as black, nude, and white. Then, with a sparky and shimmering pair of sandals, you can effortlessly amp your look. Top it off with a white shirt and a denim jacket, and you are good to go!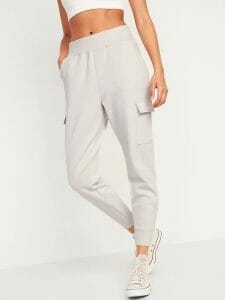 It seems like white shoes are undeniably the best option when wearing any type of pants, whether joggers or sweats. If you want to create an all-white OOTD look, there is nothing better than wearing cargo-type jogger pants (with bonus pockets), a white cropped tank top, and a low-cut pair of white converse shoes. Moreover, other shoe colors would still amp your look by maintaining the top and bottom clothing the same hue.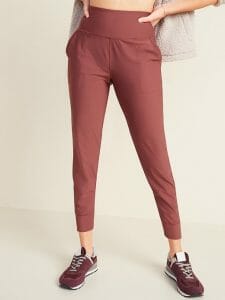 Another *edgy* way to dress up your sporty look is by matching your joggers' and shoes' colors. This would look good in any style, especially if you want to focus on the tops. Since these joggers are high-waisted, marrying your bottoms with a cropped top would be an excellent choice. This gives your body the shape and silhouette effortlessly. Be brave and bold to amp your look by throwing on a fur or denim jacket.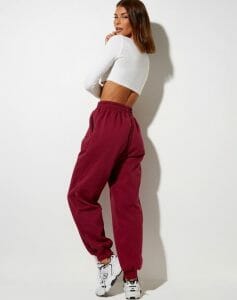 If you do not think you will look good in an all-white *or black* outfit, consider a different color for your joggers. Since a white top and white rubber shoes help balance your outfit, you can opt for a rich, solid color for your joggers. For example, marrying your oversized burgundy joggers with a long-sleeve crop top and chunky shoes. Wearing a white sports bra also looks good because it would give you a cooler and more edgy look. So go on and try one!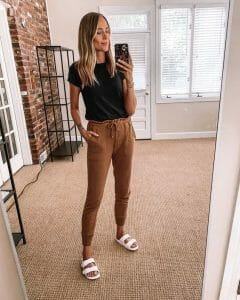 In case you are wondering, do flats and sandals go along with joggers? Well, the answer is a yes! Go for an all-neutral look by wearing a black tee or blouse, camel joggers, and white beach sandals. This will be your go-to look if you want to hang out with friends or walk in the city. Not only will this pair of beach sandals be cozy, but it also gives the comfort your feet deserve when walking for hours.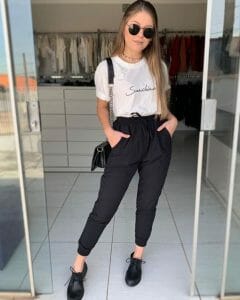 Leather black shoes are trendy footwear that upgrades your look in no time. Aside from wearing these shoes in the office, you can wear them casually by pairing them with a white tee shirt and black drawstring joggers. You can accent this outfit by wearing shades and a crossbody bag for a more fashionable look.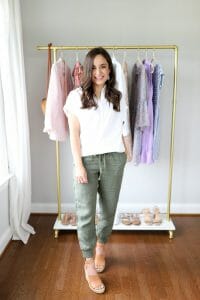 Remember the khaki green joggers before? Well, you can wear them on formal events and occasions by wearing a button-up shirt. As for the footwear, this nude strap wedge balances your overall outfit. If you cannot decide on the top, you can also pair your khaki green pants with a black or camel color blouse. After all, wedge heels are considered staple footwear when it comes to business or casual meetings.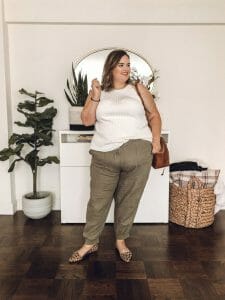 Just like polka dots, animal prints are a timeless fashion. Although there is a distinct season where this trend truly revolutionizes, styling them with the right outfit is the key to keep the profile sleek. If you have animal print sandals, flats, or heels, you can effortlessly pair them with any tops and joggers that come in a neutral color. Adding in a khaki shoulder bag or crossbody bag will surely elevate your overall look in no time!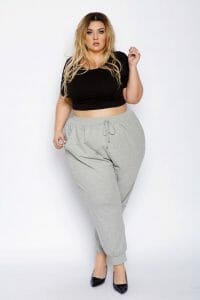 If you opt for an edgy but chic look, you can pair your gray joggers with a black cropped top and a pair of black pointed flats. What you will love about this style combination is that it accents your body's silhouette. This is perfect for attributing your empowerment, like well-known celebrities Britney Spears and Clueless's Cher. Matching your black tops and flats with khaki brown and white jogger pants also works too!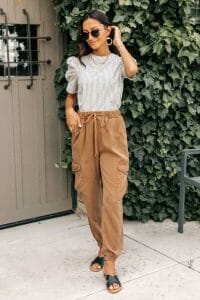 We all know for a fact that you own a pair of black-strapped slides in your closet. So go on and try this aesthetic look by pairing your footwear with a striped blouse and camel Tencel jogger pants. Throw in some shades and statement accessories that amp your outfit smoothly. And oh, did we mention that this OOTD is best worn on casual events? Yes, it is!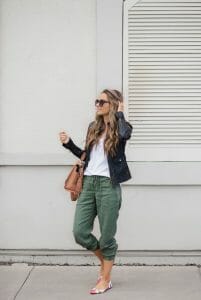 These colorful sandals with pink accents would level up your look in an instant. The fact that these joggers run in calf-length effortlessly emphasizes your shoes, even at a distance. If you want to play along with different colors, make sure to top your outfit with a neutral color. Nonetheless, vivid shoes best marry a white tank top and a leather jacket. Feeling more stylish? Then wear some animal print shades and a handbag to finish the look.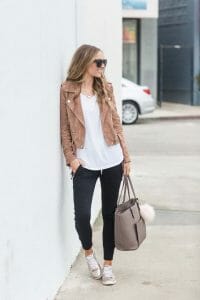 If you want a more daytime look, these metallic tennis shoes would instantly pull off your OOTD.  You can pair these shoes with black jogger pants, a loose-fit tank top, and a neutral beige jacket to complete your look. Now that you have it, grab a handbag and shades for a more gorgeous but edgy look. We guarantee that this would be your *next* favorite outfit in the summer season!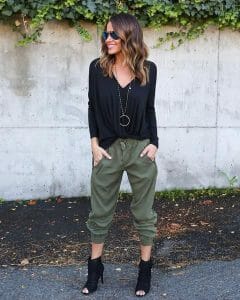 Seems like green joggers are in the fashion trend, huh? Then these black bondage boots and a loose-fit long sleeve top will amp your style. Just imagine yourself in these boots that definitely give your outfit a "WOW" factor! Adding to this fashion statement, add some accessories you can incorporate into your overall look. A shade and a vintage necklace will do the work.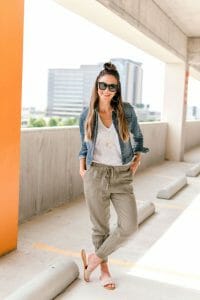 Jogger pants (of any color) paired with nude slide sandals are definitely magic! Just look how good you will look at this style that highlights your body's silhouette. You can easily pair these slide sandals with any graphic tees or loose-fit blouse and add some bun hairstyle. In either way, you can wear a denim jacket to amp up your overall style. This is a perfect OOTD when strolling around the neighborhood or a city.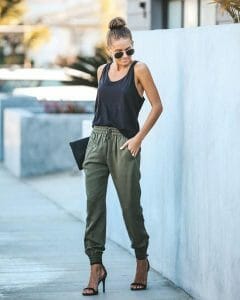 If you are feeling a little chic and sleek, wear a pair of black ankle-strap heels together with your joggers. This OOTD would make your style more casual (but appropriate) when married with a sleeveless top tank. Come on! Throw in some shades and a hair bun to emphasize your shoulders and collar bones. Grab some purse or wallet to complete the look.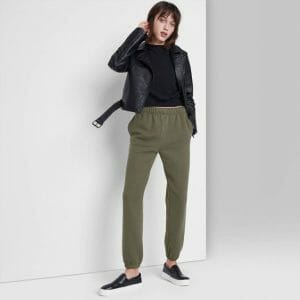 Who said black loafers won't look good on any outfit? In fact, they are one of the most popular footwear you can pair with high-waist jogger pants. Since joggers have cuffed ankles, you can easily flex your loafers without overplaying. Now, add some leather jacket and black top to give others an impression of an "edgy vibe." Adding to a club-like ambiance, these black loafers work perfectly with any neutral shade joggers or sweats.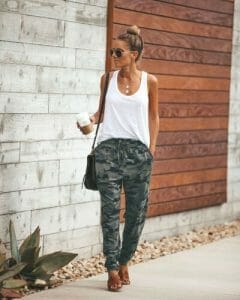 Hop into the camo craze and trend by pairing your camouflage joggers with brown flats. Since the footwear comes in a natural color, any tops will elevate your look. Mind that this wouldn't be any ordinary outfit since you can stand out from the crowd who wears everyday pants. Adding some accessories and a black crossbody bag can complete your coffee-now-talk-later mood.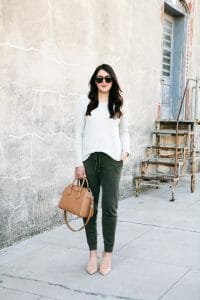 Pairing your closed-toe black mules and jogger pants is a no-brainer. In fact, this style goes handy, especially when you want to spend your day strolling or shopping with friends. In addition, you can wear a white sweater for the winter season to keep yourself insulated and warm from the cold climate. Finally, if you feel elegant, a nude or khaki brown purse (or handbag) accents your overall OOTD.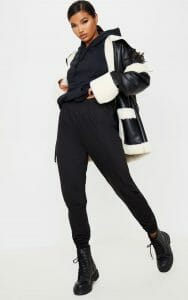 Your joggers' color doesn't really matter when pairing them with a pair of black combat boots. Moreover, they are best paired with skinny pants and joggers that highlight a trans-seasonal dressing. What is more, topping it with a leather-fur jacket gives others an impression of a "bold and brave" look. As such, combat boots are designed to help you look good and offer a feeling of a solid and empowered personality.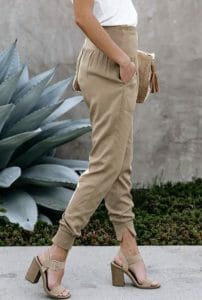 Finally, cotton joggers would look best on you when married with a nude block heel. After all, these come in neutral shades of brown, which means that any colored tees or tops would work wonders. Nonetheless, this OOTD lets you experience a soft and sweet style, effortlessly accenting your femininity and classiness.