What To Wear With Sweatpants Women? (13 Outfit Ideas for 2021)
Are you looking forward to revving up your clothes at home? Or maybe you have more tasks to be done at the studio, and sweatpants are your favorite go-to for work? 
With the fashion trends developed for the modern office, don't you think it's time to give more attention to those comfortable clothes you always wear? Those sweatpants can still hold you
confident for work!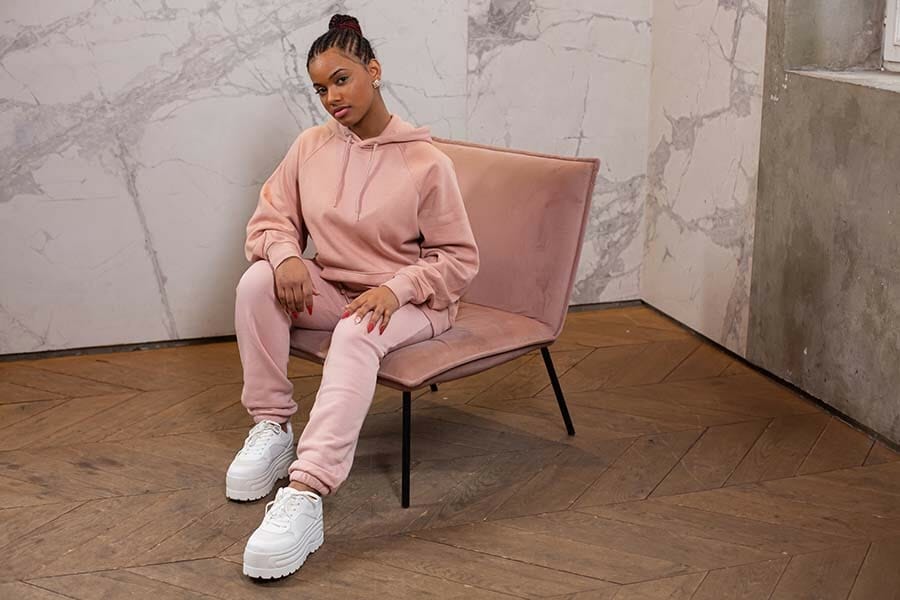 Wearing fashionable clothes does uplift one's daily mood, and needless to say, they can even put some more load of confidence on those challenging days!  But the question is, how could you make yourself look trendy while wearing your sweatpants?
We have in here a few nuggets of advice on what other items might look best together with yourthose lowly trousers. Take note that those sweatpants are no longer for your sweating activities now. Instead, know that you can utilize them even in unusual settings too!
Sweatpants On Your Daily Wardrobe
Sweatpants are spot-on made with fabric that is sewn with comfort in mind. These types of trousers are either produced in cotton, spandex, or polyester.  Materials that are known to be efficient in handling skin moisture and sweat. Making these statement pieces worn more at home and exercise activities! 
Sweatpants are widely perceived to be loose and baggy, with some coming in different pocket designs or waistband styles for the wearer's needs.
Nowadays, women can choose from a variety of sweatpants overalls. Depending on the look you want to achieve, you do not have to settle with floppy or bulging ones, as you can buy sweatpants that are more firm and more body-defining, too!
Sweatpants In The Fashion Trend
The rise of sweatpants in the fashion industry has undeniably impacted 2020. Today, more and more people are fascinated to wear the pair as either a staple for the gym or streetwear.  In some cases, others would even try to sneak them into modern offices!
Provided you had some idea on good fashion sense you can still be a winner wearing those trousers even when traveling!  Whether it'd be a cardigan, blazer, or grandma's knit clothes, your sweatpants level up from being ordinary to a complete eye-turner! 
13 Outfit Ideas For Women's Sweatpants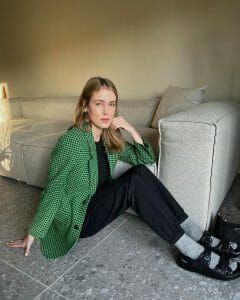 The blazers you always have for your office can match up very well with your sweatpants, too! Business on top, while casual on the bottom, your sweatpants can level up from your usual home wardrobe essential to those city-appropriate vibe pants. 
Whether you have a sudden get-go of transactions outside the home or you want to sneak your sweatpants to work, a good pairing of blazers and sweatpants can solve your outfit for the day!
Blazers add up to the cool and classy look when combined with the pants. So why not include this as one of your upcoming getups this season?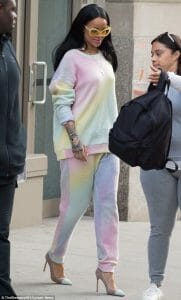 Wear your sweatpants over some heels, and you'll know how far your confidence can bring you!
The heels and sweatpants combo is so feminine and casual that you can go and eat dinner with your friends comfortably but with posh.
Try to get a slip-on that is eye-catchy and is high-styled. The best are those that can either be with straps or buckles.
Say you have a pair of strapped boots or bright pumps for the evening, getting slim-fit sweatpants along with it flavors up your night on a different level!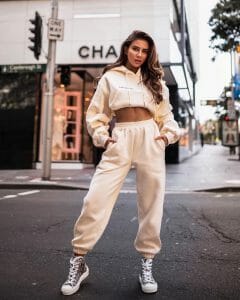 No need to try hard to come up with what suits your pants best than a matching top! Go all-in comfortable with a sweatshirt that makes you look more athletic and active, too!
You might already be heading to the gym in this pair, but placing diverse-styled vibrant tops in your closet are always handy in pairing your pants!
Choosing a top that has the same color as your pants is still an everyday staple. Go with some nice white or black canvas sneakers, and that completes the look!
Of course, colors that complement the whole outfit are still welcome. Why not experiment on more color combinations?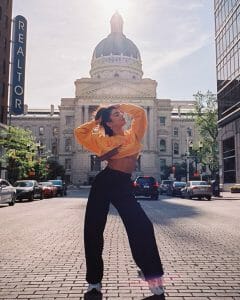 Trendy and fashionable. You must never miss cropped tops as a part of your line of basics! They are so easy to be worn over everything else that comes with sweatpants outfits.  
The contrasting sizes of long-legged pants with those petite tops give that image of a taller and slimmer you. The overall look will be an instant favorite for women of different sizes!
Choose also those tops that enhance the feminine side in you! From plains to prints, learn to mix and match bold colors! For example, dark-colored cropped tops are for a more slender style!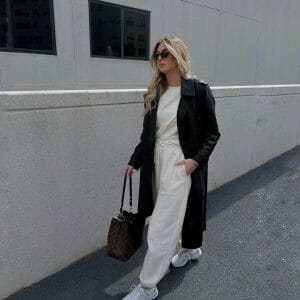 Are you running errands downtown or meeting somebody along the street? Well, grabbing a trench coat over your sweatpants is not much of a bad idea! You can grab this style if you are sporting out in a rainy season or wanting to be more practical with enhancing your low-key clothes.
A regular choice during the spring season, pairing sweatpants with trench coats are popular because they go well with each other, both even cozy-looking!
Beige-colored trench coats are so suitable for the get-go. Combined with the sweatpants, the trench coat can surely provide more attention to your thigh and mid-waist!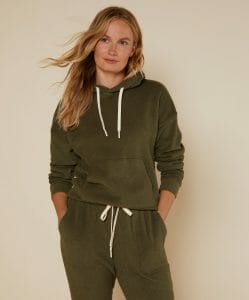 The loose-fitting hoodies are so in trend with the modern offices! Picking them under your heavy overcoat and sweatpants are still high fashion and yield iconic features for both athletic and streetwear, too! 
The collarless pullover is as practical and comfortable when layered with soft trousers or jeans. No doubt that they are popular even to celebrities that are running errands on the street!
As a mainstay in trendy fashion, hoodies must be considered as one of your favorite staples. Buying a sweatshirt such as a hoodie does not even cost you a lot of fortune. Break into some white sneakers and hit the outside with this street-style option!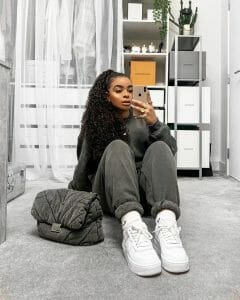 Couple up your favorite pants with varied choices of ornaments or jewelry to pop up your vibrant attitude! You may shake to some monochromatic palette or even take matching but complementing colors in your overalls to give that more thoughtful look. Why not put on some standout aviator sunglasses? Or rather, take a simple and sexy look with a necklace or earrings with minimal design?
Show off more of your creative side while bringing in that feminine touch to that jersey overalls! Do you get some old accessories? Might you, those gold necklaces that you always kept in your closet can still set fire even on a not-so-eventful day!
Off to a bit of jogging or workout? Then don't forget those sporty watches, too! Only remember that in wearing accessories, keeping it simple is better than overdoing the getup.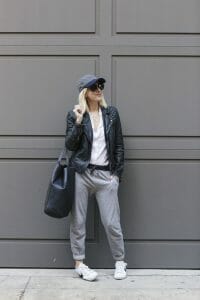 Leather jackets are a holy grail for both men and women. The outerwear is even considered de rigueur in the Hollywood lifestyle. So why not bring in some action to your whole sweatpants outfit with some genuine leather!
They are classic items that can be worn all year round, on any occasion! Not only does the jacket provide warmth in cold weather, but the outerwear is a definite winner in providing an extra active vibe during any day.
When paired with the regular sweatpants, the clothing also enhances the doer attitude in you, perhaps no matter how loose-fitting the look of your sweatpants is!
Are you trying a biker look, too? Or maybe you are looking forward to a more intimidating one? Then the jacket is meant for the part!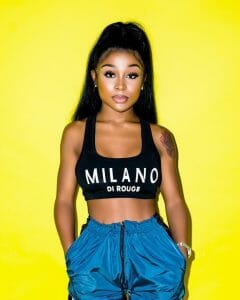 You don't have to think hard about what will suit you best for the next gym visit when you always have your sports bra! Many would prefer calling it a mid-length cut of a tank top that is indeed fitting for some loose pants. 
Because getting your body in comfortable clothing eases your exercise and even reduces sore muscles and all, sports bras are popular for women who love the gym and outdoors! Sports bras are best for your drills or yoga sessions, especially if you want your chest to be less bouncy during movement.
If you are going for that extraneous activity, having this top on will make you less exhausted!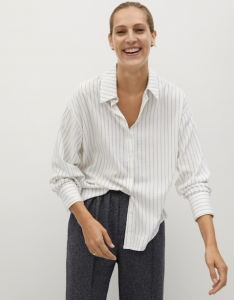 Button- down shirts are basic items you must always be keeping at the back of your wardrobe. They are those ones that you most likely consider as a favorite when it comes to any sudden occasion you got to attend. Because why not? The shirt makes you look prepared to face anything for the day! No wonder they are almost used as a uniform in the professional setting.
The big news is that this crisp dress-up is also fancy to look at in sleek sweatpants! Take that oversized shirt to a more spirited vibe with a crossbody bag that flatters your ladylike features. Add a pair of neutral-colored penny loafers and it will blend in the style effortlessly!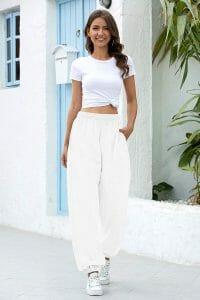 If you don't have much flair on crossbody bags, maybe it's time to get them on board! Your day-to-day fashion with sweatpants can get much better with the classy style of a hand or shoulder bag! 
Are you planning to go to the gym the next day? Then you don't always have to stay put with the backpack or duffel bag. Why not try on the body-flattering sizes of crossbody bags!
The latest designs of women's bags are versatile for any errands you got outside the house. So if you are to get your hands to something that can complement your outfit, it is a gem indeed!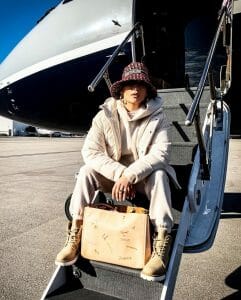 Play with colors using monochromatic hues too. You can stay in style by having an interesting color of your choosing. Of course, doing your whole look in a single color does not always mean plain, solid ones.
Dress up some patterned clothing such as those that are plaid or striped. Remember that the key here is to make you look taller or leaner!
Mastering this art of matching colors enables the wearer to achieve balance in their themed outfit.
You may start with a relaxed look by doing this on your light-colored sweatpants, partnered with a white or gray graphic print shirt.
Black arranged with gray or silvery tones are a favorite in the fashion trend. Also, there are those that are mood-changers, such as the reds, blues, and greens that are perfect still.
To avoid looking so one-dimensional, keep up with your accessories. That extra necklace or hat, for example, diffuses more of an aura (or charm) for you!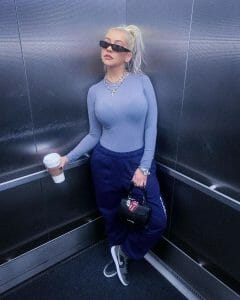 You do not have to toss away your sneakers if you are calling out for a fashionable day. There are brands now that consider glam and beautiful design of sneakers to match the feminine vibe!
Sweatpants plus sneakers is an instant outfit for the gym so keeping spare shoes on your shelves will be very handy.
If you are looking for nice sneakers these days, you can still opt for those bright-colored ones to make you look popping on a dreary day.
Do you get white or black ones? Perfect! The idea is an absolute no-brainer as these colors fit for matching any sweatpants you have!
A chunky-soled shoe that does not have a height of (2) two inches above the ankle is always best. The recently modeled sweats have emphasized the feature of ankles, and no doubt exposing a bit of skin with the cropped pants is better!
Clunky types of sneakers can do more of the job than flat loafers. But if you got slimmer shoes, choosing slim-cut sweatpants would be a better fit.