What To Wear With Grey Slacks [26 Outfit Styles]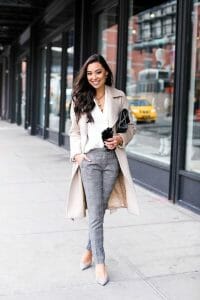 First up on our list is sure to be a get-up for office attire! Gray slacks to go with your other work clothes are simply business vibes through and through! Have your top clothing on the lighter edge of the color spectrum, too. See here an example of a simple mix-up of a white V-neck blouse and a cream-colored cardigan. Easy colors, but considerably a high rating for elegance!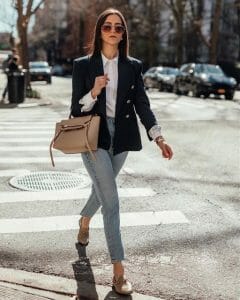 Take the day as yours by wearing an executive black blazer and gray slacks! Black and gray are absolute sleek colors for that boundless confidence you need ahead. Now that's some clothes that help boost esteem!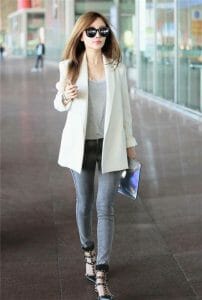 Make your walks to the office like a runway by crowing a classic ivory blazer with your gray pants! The combination perfectly transcends your usual office attire. You can grace this OOTD by wearing a one-button modern blazer and stride on those cone heel shoes!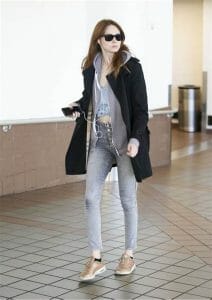 Gray is also a practical color for your long-hour travels. The color is fashionable enough on its own and sure is a neutral hue that will match well for all the valuables you'll bring along the way. Fit into some smart-looking hoodie and jacket, and you'll be fine throughout your flight!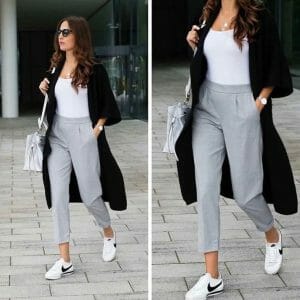 Add these overalls to your wardrobe, too! Made of a long black pullover, white-fit camisole, and gray jogger-style slacks, we are very much sure that you are going to make this set one of your favorites, too. We take that your white shoes will be even more thankful for this wardrobe choice of yours!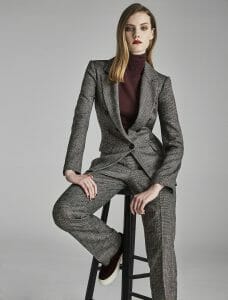 Classy is the word for your overall gray suit choice! You could choose to wear this on special business occasions or even on days that you are just feeling a bit special, you know? The turtleneck effect for a blouse gives that subtle conventional style.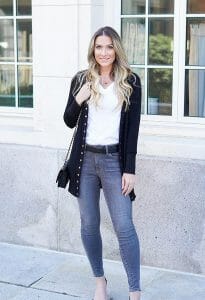 Wear ashen slacks for those times that you are to take over a meeting or a social venture. The color is practical for convincing people you have a reliable personality. A dope choice to wear if you are an influencer! Also, striped cardigan is what you could pair here.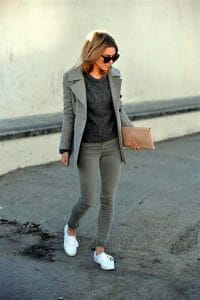 Yes, for different shades of gray in a single outfit! Some might find it odd to layer clothes based on a single color, but the key is to get all the focal points impeccable. Like in our model here, The lightest gray comes in the wearer's blazer while wearing a dark gray shirt as the core of the overall impression.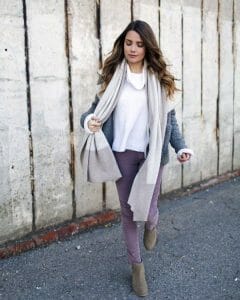 Winter colors from top to bottom! Get your gray slacks on together with scarves and mittens as you ramp yourself on the holiday season! Gray gives that weather-apt vibe, so having it for your pants is like having half of your fashion checklist ticked!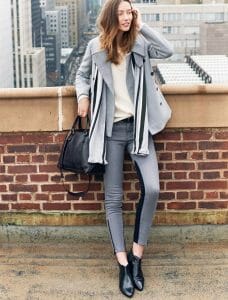 Gray is usually seen side by side with colors such as black and white. This triad creates a nice monochromatic color that gives off significant statements for the wearer. For example, try your gray slacks with this pair of black bags (and shoes). Then add a white-accented scarf to have that tinge of authority wherever you go.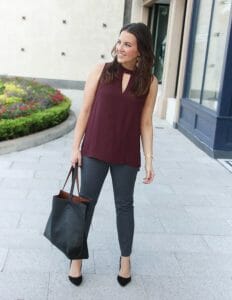 Using a different palette displays another side of your creativity towards a mix n' match of colors! Mauve, fuchsia, and raspberry tints look exquisite and fresh together with your gray slacks. Plus, the gray would only amplify the focus to that beautifully hued blouse you wear!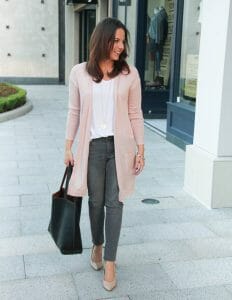 Get some sheer pink into the scene! A light to rose pink cardigan matched to the leaden color of pants is very much eye candy to see from time to time. For this blossom-like fashion, wear a white blouse and beige slip-on, too!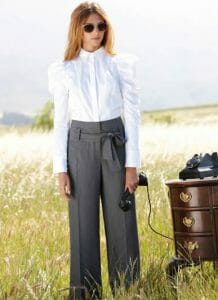 The fashion of white sleeves to gray slacks may seem trivial to some! But for that air of dashing classiness, maybe your wardrobe is looking for this regal style of outfit— a tab-collared suit shirt (with puffed sleeves) to match your pants!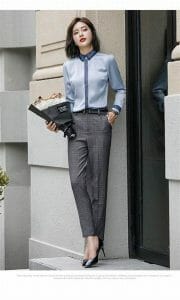 Cuffed long-sleeves in sky blue color jive well with your gray slacks, too. If you are more inclined to wear more blue hues than reds, then maybe this set will get you into career mode! Don't forget to sweep your walks in shiny black stilettos!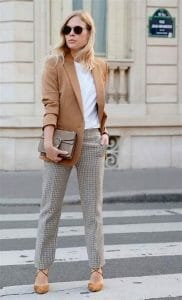 Brown and gray are still a desirable combination for fashion! Brown gives that edge of a natural look, and when paired with the gray slacks, it would be a pure recreation for your usual jab on office outfits! We suggest you put on a white blouse underneath that suit, to give off that modern look.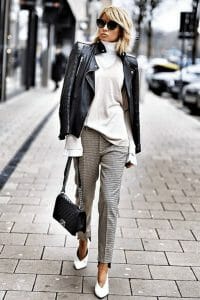 Coz' we can't leave out the grayscale tones in this list! A black leather jacket, white turtleneck blouse, and gray plaid slacks are your winning pieces here. Plus, look more entitled with white pumps on!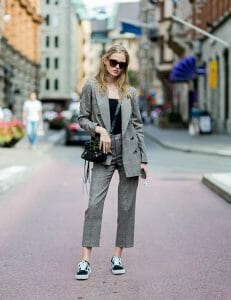 So you want to keep the slacks but still like to do sneakers? Very well! You are going for a sleek urban style here that resembles some youth spirit down the road! Take on black or white high tops or trainers here to achieve the look!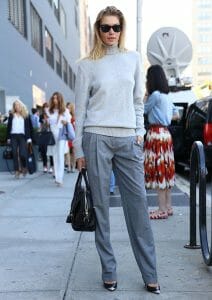 A refined image is what you are aiming for, right? Then groom to this light gray sweatshirt and plain, gray slacks! The turtleneck style you are wearing is princely enough for those business talks that you are to encounter all day!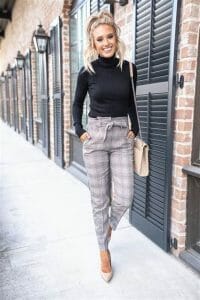 Got some gray patterned slacks? Well, you can give it more attention by using a solid color blouse or shirt over it! For example, we liked this fit black-colored top for that gray structured slacks you might have. Note: front-tie pegged pants as inspiration.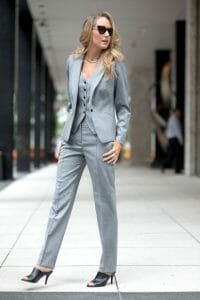 Be bold, and do grey all over! Unlike other neutral colors, gray can be considered a versatile shade for any occasion or venue. Even if you are only wearing this single color from head to feet, you look sultry and appealing!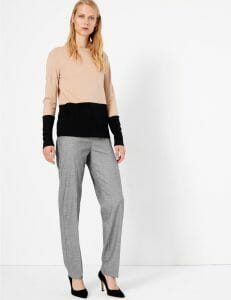 Take palette pieces such as nude, black, and gray here. Gray comes in the slacks, while the other two colors in your top shirt depict the rest of your attitude. Black stilettos are your best ally for that tinge of sophistication, too.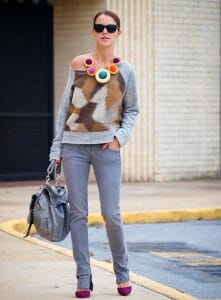 If you love abstract style dressing, you might also want to try it with a gray range of outfits. The gray slacks would very much be similar to a vellum canvass underlying the abstract-design top. So for all those unwinding moments down the street, this set can be all that you need!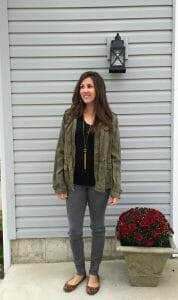 We got here an olive green jacket and black shirt, too. These dark colors complement the gray pants as they'll make you think of hiking, mountains, and outdoor camping! So who says that dark colors look dreary all the time?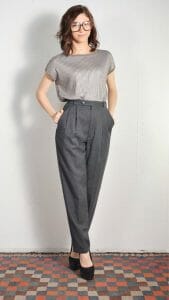 Tuck in a shell-style sleeve blouse to those straight gray slacks, and you instantly look like you are all-business throughout the day! And yes, not only are we to look dedicated to that idyllic professional look, but a modest fashion mood should be our thing here!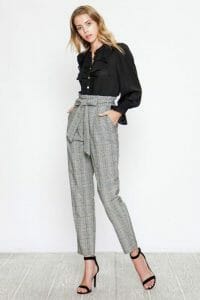 A black cuffed blouse can also be your winning statement piece to go with those gray pants. They are such a pair that diffuses that aura of 'serious business'! For the next time you deal with a demanding task ahead, why not just prep with this conqueror set?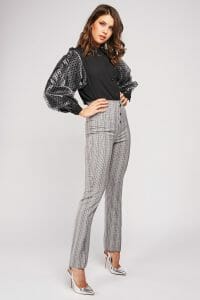 We can't help but also associate gray together with other shiny accessories and clothing items! We are turning here into more obsidian-looking to silvery splices of outfit pieces that sure emanate the argent value of the gray slacks. Get the look by whipping out a black bolero onto your shoulder and stealing the spotlight with pewter-inspired pump shoes.