Why Do My Leggings Fall Down? Reasons and Strategies to Avoid It
Picture this, you are at the gym or in a public place, and then all of a sudden, your leggings fall from your waist. It can be really frustrating and a bit embarrassing fixing it in the midst of the crowd! Pulling it up immediately and ignoring the prying eyes might seem like a good idea, but you shouldn't forget it happened and address this problem to avoid its recurrence in the future. This wardrobe malfunction should be seen as a big deal.
Details such as fabric quality and durability, waistband, and length are essential to inspect glitches. Besides, you should be aware that your body figure is also one of the factors. Additionally, you can take note of the type of exercise drill you're doing and see if it is too vigorous and perspiring. Considering all these will lead you to understand why your leggings fall down.
Reasons Why Your Leggings Fall Down
Factors were set out for you to identify the problem of why your leggings fall. I know you have thought about discarding them, so do so without any hesitation! There are more leggings in the store for you to choose from and there are better options you deserve to know about. 
As a start, here are the reasons that would explain why leggings don't stay in place.
You Got the Wrong Size.
When choosing a pair of leggings, we tend to look for easy comfort, skin-tight,
and body-con feels. However, there are times when we choose a size too big for
use. It might look comfortable at first, but it creeps down from your torso and
bunches up around your knees when you move a lot or do strenuous activities.
On the other hand, choosing a size too small is a common mistake when
deciding what to wear. When we tend to do this, our love handles protrude and
the mismatch between leggings size and body size will show how unsuitable
they are to each other.
They Are Already Shabby. 
Though it is not that bad to reuse clothes, they are prone to damage due to
continued use or too much exposure to detergents. Also, with its elastic quality, it
might have stretched too much.
With this, when you frequently use your pair of leggings, its fabrics will start
thinning which will cause it to loosen. And because it is no longer tight, it will
creep down and not stay in place no matter how you try to pull it up. Other than
this, you might have lost weight over time.
The Quality Is Poor. 
Considering how often you would like to use your pair of leggings and whether
they are of high quality or not is essential. But because some would consider
similar products with a lower price, it is inevitable to encounter problems such
as loose leggings. That is why it is vital to inquire about a product from different
stores and try to look for the one with good reviews saying they're worth it and
excellent in condition.
You Are Using It the Wrong Way.
Leggings are of different styles and with a variety of qualities. Some leggings are
for fashion and some for yoga and exercise. With this, fabrics are taken into
consideration to achieve the purpose of a particular pair of leggings. And
materials for leggings, including polyester, nylon, and spandex, have qualities
that will give out the need to make suitable leggings appropriate in an activity.
It is pretty evident that when you wear leggings for workouts, you need a pair
made of spandex, polyester, or nylon. These synthetic performance fibers wick
moisture away from the skin and stretch better. In short, you need fabrics with good quality and lasting durability for any strenuous movements.
Strategies to Keep Your Leggings from Falling Down
In a wardrobe malfunction, you should know what to do if it happens, or consider how to avoid it. So, now that you have checked all the possible reasons, let's go with the techniques that you can apply to keep your leggings from falling. 
Explore Different Lengths
Do you have issues with leggings clumping around your knees? It would be best
if you explore the different lengths. Above-the-knee and mid-calf length
leggings, also known as capris leggings, are the best options for you to avoid the
trouble of your leggings from falling.
Opt for Different Types 
Throughout the years, different legging brands have evolved their styles and
types of their product. To ensure their customers' demands, they try to give more
choices to suit their needs. With this opportunity, you can examine what is best
for you. You can try high-waisted leggings with stirrups, yoga pants, or workout
leggings. These offer qualities that will stay above your waist to avoid sagging
and rolling down.
Use Suspenders
Looking for an edgier, sexier way to keep leggings in their rightful place? Try
wearing suspenders to achieve these goals. Suspenders are popular among men,
but if you are one of those who are after a unisex look, then you should try this
out.
One Size Smaller
As mentioned, one of the main reasons your leggings are falling is that you got
the wrong size. Leggings are skin-tight garments, so they should ideally fit on
your body. If you keep buying bigger sizes, it is time to say goodbye to them. Try
one size smaller than your standard size. Through this, you will avoid the
sagging of your leggings.
Also, you can try the technique of pulling the waistband away from your body. By
releasing it, you will hear a snap of the fabric against your skin if it is tight
enough for your size. Just listen carefully!
Leggings with Waistband Drawstring
Waistband drawstrings will help your leggings stay in place. If you do not have
drawstring leggings, you can try do-it-yourself hacks. You can do this by cutting
a hole in the inner front of the waistband of your leggings and running a string
through it.
Over the Leggings
It may sound absurd or awkward for those new to the gym but wearing
underwear or shorts help keep the leggings from falling. Some zumba
instructors or trainers use this technique to have a continuous session without
interrupting their legwear from rolling down or sagging.
Enjoy Compression Fabrics
Most popular brands recommend compression fabrics such as nylon and
spandex for strenuous sessions. Its body-hugging sensation puts pressure on the
muscles to minimize delayed onset muscle soreness. This pair prevents your
leggings from falling down easily.
Try Top Seam in the Waistband
Leggings with a top seam offer the best fit and do not need a high waist look. So,
if you are looking for a new pair of leggings, examine your leggings if they have a
top seam.
Be Spiderman
Wearing a onesie will surely keep everything in place when you do your daily
exercise routine. And this does not only save you unbothered by a waistband
that's sliding down or riding up; it is also comfortable and a legit trend. However,
you might have trouble when you're in the bathroom. But don't worry! You can
take your time.
10. Use a Belt
A belt is not only used to keep our jeans or slacks in place, but it can also serve
its purpose which is to keep your leggings from falling.
Popular Brands that Offer a Good Fit
I have laid out the reasons to convince you that poor quality leggings and several factors will affect how you carry yourself in public. So, are you ready to start anew? Since that is a big YES, let me show you best-selling high-quality leggings that will not bring you down.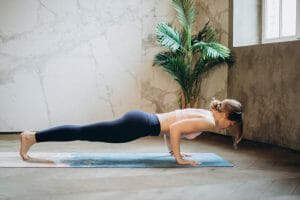 High-waisted leggings should be first on your list, and Lululemon can give you
that. The body of this high rise tight is made of 82% nylon and 18% lycra elastane.
And you don't have to worry about it not staying in place because its waistband is 89% nylon and 11% elastane. This pair designed for running can withstand cold
weather because of its warm and technical fabrics.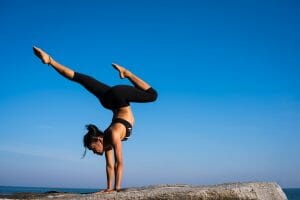 Flexible and durable! Try these high-waisted capris leggings in your daily routine workout or hikes. This pair of leggings is 84% polyester and 16% spandex. "I love how they hold you in.", one of the satisfied customers said. With its second-skin fit feature and an extra-wide waistband, you can enjoy this in your sports bras and crop tops.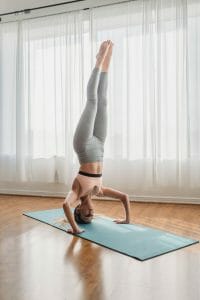 This comfortable high-waist legging has a wide waist elastic waistband to cover the navel. It also provides tummy control and does not fall easily. Made with 85% nylon and 15% spandex, it is a pull-on closure and promotes compression and support. It is best for yoga or workouts because of its breathable design.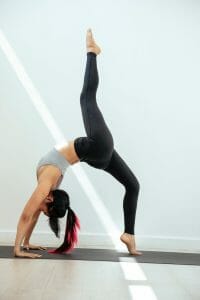 It is perfect for active women who like to engage in various strenuous exercises.
Made with elastane and nylon, this Ultra High-Rise tight is rated UPF 50+ for
excellent protection. Aside from its quick-dry and breathable features, the
customer-favorite second skin, Powervita fabric, is buttery-soft with the support
that feels like a gentle hug. That would mean not worrying about disturbances
anymore since this has a three-layer tight waistband. You can enjoy your
distraction-free sessions.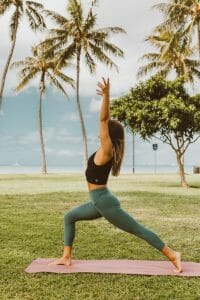 Crafted from highly technical fabrics, 81% polyester, and 19% elastane, this pair of leggings allow women to perform multiple sports from yoga to running,
swimming to snow. It is with an adjustable drawstring closure that gives support in or out of the gym. With its 100% squat proof, super soft, and lightweight with 4-way stretch features, it can support you throughout the day.