Most Expensive Headbands: Top 14 Lavish Hair Accessories
If money grew on trees, all headband lovers would be splurging a lot on luxury headbands. It can be quite a shocker how ridiculously expensive these hair accessories may get, more so if they are designer products!
In truth, these pieces can be likened to designer shoes and clothes as well. A good number of people don't squint after seeing triple digits on their tags, but it seems quite different when it comes to headbands.
These ornaments are headache-inducing, but are they worth ogling for? No doubt, they are. Have fun getting to know each opulent headband made for the rich. Don't hold back from giving your opinion.
Are they worth buying? Are their prices reasonable? Would you agree that they are eye candy? There's only one way to know. Let's dive into it!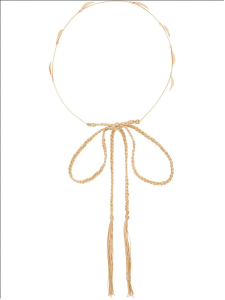 Aside from sporting your individuality through your taste in clothes, a unique and expensive headband would add more to your distinct character. I would love to see Princess Leonor of Asturias flaunting Jennifer Behr's Cecily Circlet Headband on her youthful and luscious hair. The glitz and glamorous lifestyle she has truly fits the features of this 14-karat gold headband that goes around the entire head. It is simple yet extravagant no matter what angle you see it from. It's not too attention-seeking, nonetheless, it easily attracts attention. Now, talking about the price, this piece has a whopping $4,725 tag on it.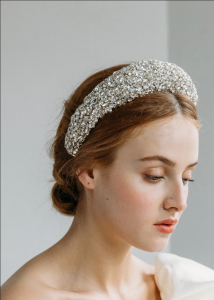 Exude the medieval royal vibes in its artwork through a Medici headband. Unmistakably, this ornament dashes a quick impression out of everyone due to its exaggerated padded form with embellishments that are noticeably abundant. For a full royal experience, Jennifer Behr ensures all of its outer surface is well-covered with sparkly crystals that would heavily, but not overpoweringly reflect the shine around the wearer. Have a throwback vintage feel with its romantic aura. The price? It is available for $695.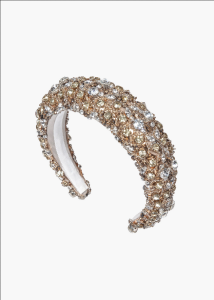 Once again, Jennifer Behr is applauded for her contemporary yet pricey headbands. The trend is driven by the sophistication shown on each accessory and they're highly polished in looks when actually worn on the head. This Asturias piece is designed to replicate a fully adorned crown. From one end to another, crystals fill each space and they're there to stick persistently unlike the commonly made cheap headpieces you'd see from the market. Its padded form adds more height, making it stand out even better. A true show-stealing accessory that can be bought for a price of $725.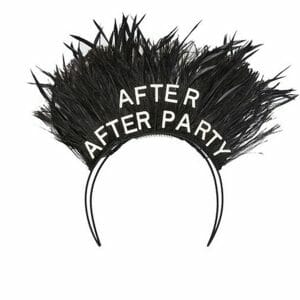 Alexander Wang is renowned for his grandiloquent parties so it is just right that any attendees should wear something quaint as an addition to their already stylish ensemble. The After After Party headband goes a little steeper when it comes to the price point. It would definitely drain a purse that carries $6,000. Yes, you have read that right—Six and triple zeros with a dollar sign before them. If you are out looking for a bargain, other options would satisfy your expensive taste. The Party Animal headband, which Bella Hadid wore, is only $3,900 which is a steal. Got a little extra on the budget? The Wang Over headband costs $5,100. Kendall Jenner walked on the runway with a Wang Over headband, so go for it if you have to!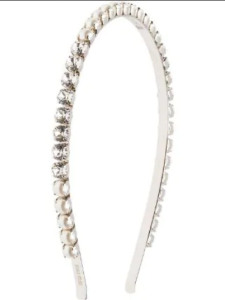 It's time to take a quick break from the staggering prices we are seeing here so far, thanks, Alexander Wang. With your exquisite pieces, we need a breath of fresh air before we continue. Going down a bit in cost, this pearl and crystal-embellished headband is a timeless decorative piece a woman of any age can wear. There is nothing crazy or edgy about it, but the way it's constructed including the luxury materials used are undeniably worth a second look. It's definitely high-quality as it is designed in Italy from silver-tone hardware. Glow with charm with Miuccia Prada's embellished headband priced at $460.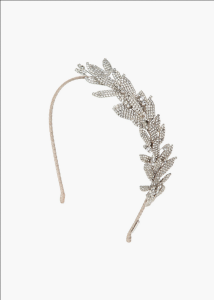 The Arielle headband was produced in the fall of 2010. Just by its pure look alone, it's absolutely going to be every girl's favorite hair accessory. Swarovski crystals engulf all the leaves that are tightly attached to the silver ribbon-wrapped headband. The side design is clear cut, attractive for those who like it subtle but not so subtle. For sure, this would be a great bridal accessory that provides a whole different look from what you'd typically see from the other brides. Level up your wedding semblance by investing in this $1,250 headband. It's like purchasing a ring but in a different form.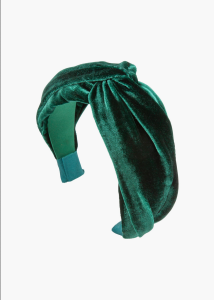 I think we are a bit overfed with images and details about headbands that are furnished with expensive stones. This time, we are showing you one that is made from velvet for another classic, formal, and expensive style. For real, you don't have to be covered with crystals all the time just so you'd feel like a respectable royal like Kate Middleton. Have a softer experience around the head with this headband that excellently mimics the turban style. When placed, the velvet headband flawlessly matches any hairdo, color, or style without losing its significant purpose—hold your hair in place. For only $225, you will have on your hand this special headwear which is now an all-time favorite of countless women out there!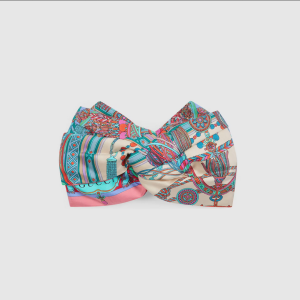 This silk headband from Gucci is a perfect representation of the past and the present. The print is the product of creative minds that would portray a kaleidoscope design to complete the Bohemian look or any other vibes that best fit this piece. The front twist on the middle puts on a significant effect to stay away from showing off a plain construction. It would be a waste not to take advantage of the well-executed chain print on the fabric. Now for the price, anyone who wants to get their hands on this must ready $490 once at the store.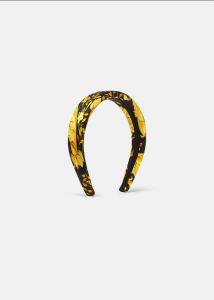 Do you have a thing for Versace? This Italian luxury fashion brand needs no introduction. It is well known in Hollywood and all over the world. The thing is, you don't have to wear this padded headband with its popular name displayed extravagantly on it. The design and colors exhibited are enough to let everyone know you're sporting an exorbitant couture piece. Unlike most on the list here, this can only be bought for $225.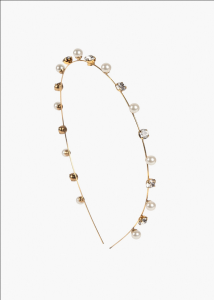 Torn between pearls and Swarovski crystals? Why not have them both displayed on your head like coveted jewels? The Ines headband is a versatile piece with a super-thin metal band. The trick is it gets buried beneath the luscious, fine hair and only the stones appear on the head, allowing it to stand out even more. Add a few slender headbands to create a more dimensional look if you have other more resting in your accessory box. Talking about the price, this only retails for about $225.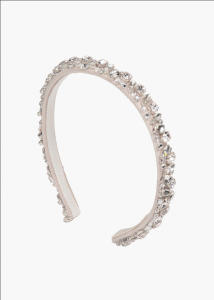 If you have been flooding yourself with embellished headbands, the Essen hair accessory would be a great addition to your collection. It is once again covered in stones that would make you look glittery the entire night at a party. The variety in their sizes and shapes do not hinder the whole item from delivering its beautiful overall look. With its high-quality materials, the stones would definitely not be causing you any undesirable itch. They are just there on top of the band so rest assured they won't end up causing friction on your skin. Now, with the price, it is considerably cheaper than other designer accessories for it's available for only $295.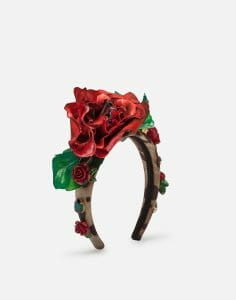 Flowers are far from cheap. Though they won't last for long, they remain to be worth buying. And, looking at Dolce and Gabbana's masterpiece, this rose headband would make your heart flutter with happiness as the designs include a huge red rose with mini ones purposely scattered on the rest of the band. Green leaves are added as ornaments to fully make it a headpiece version of the garden. Are you into it? Well, not so fast as the price reaches $1,275.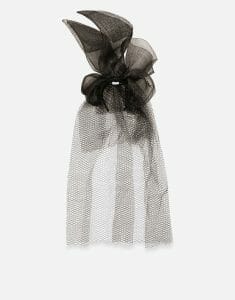 Own one of the most glamorous pieces out there with Dolce and Gabbana's headband with mesh bow and veil. The black shade chosen to be represented by this intricately-designed hair accessory is sure to emanate a sense of mystery, more so if you wear this at a funeral. At parties, this would make you even more interesting for men, so prepare yourself and your conversational skills. It is made in Italy, so you have the guarantee that this item would last with you for a long time. This is a perfect choice for those who are looking at under $1,000 items. The mesh bow headband is sold for only $995.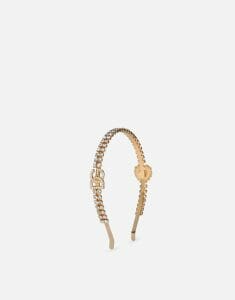 Add more elegance to your outfit by placing this gold-plated brass and metal headband that is designed with a Dolce and Gabbana logo and a sacred heart on the other side. It is moderately embellished, nickel-free, and hypoallergenic. Never forget to bring this with you on your trip to Paris or Rome with your special beau. With its material, this DC headband is going to last for several years. Of course, store it neatly in a spacious box so it won't get bent by your other stuff. Now, if you are ready for the price, well, you don't have a choice but you have to know its worth, this item sells for only $1,355.