Bonnet or Scarf: Which Is Preferred?
Both the bonnet and the scarf appeal to many young ladies out there, but what makes one better than the other would be the fabric as they may come in different materials. 
Ever wondered why your hair is stuck on more or less the same length despite having the haircut several months ago? How about seeing breakages even though you have invested in tons of expensive hair products? It could be that you're sleeping on the wrong material all this time.
Having a nice pillowcase for a good night's rest is not enough. You also have to wake up with no unruly or damaged hairs and this can only be achieved by using the right night hair accessory. 
Let's weigh the differences between two of the most debated items when it comes to hair care. 
What Is a Bonnet?
Bonnet caps, hair turban, or hair bonnets, whatever they call it, are accessories most didn't know they needed. These are a girl with an afro, curly, or textured hair's best friend. A bonnet's primary purpose is to lock in moisture and prevent the dreaded frizz.
I know, I know. The vibe this gives off would make one feel as if she's part of The Handmaid's Tale, but if it gives off a ridiculous impression to you, you better try it first before judging its essence.
Once you start seeing the difference between wearing one and not even bothering to put it on at night, you'll certainly be heading to bed with a bonnet.
Let's acknowledge the fact that most of us drift to bed like sleeping beauty and wake up like a witch. You can totally prevent this and start the morning looking like a queen who embodies the "hair goals" thing.
The ideal fabric for this headwear is satin and silk or mesh for hot weather. Their quality doesn't cause much tension against the hair making them a match made in heaven.
Pros and Cons of Wearing a Bonnet
Don't be surprised why we are tackling the pros and cons of wearing a bonnet. After all, we are comparing this with the scarf so you'd know in the end which one would suit your lifestyle more.
Just like other accessories, a bonnet has its own pros and cons which can either be a thumbs up or a deal-breaker for some.
Pros
If you have locks, a silk bonnet would protect it from acquiring lint from other fabrics.
Keeps the hair from feeling frizzy which makes it prone to undesirable breakage and split ends.
Encourages the hair to stay moisturized the whole night.
Helps protect hairstyles like braids and curls, saving you from spending more time tending your hair in the morning.
Cons 
The elastic on the hair bonnet may sometimes rub uncomfortably on the edges which may trigger acne breakouts.
If you have gone with the wrong size, a bonnet may feel too tight around the head. This can cause hair loss or the dreaded breakage.
Some people would complain about feeling hot during their sleep and would prefer going for a satin or silk pillowcase.
When Can a Bonnet Be Used?
As mentioned, a bonnet is often used at nighttime to protect the hair while you buzz to sleep. Aside from that, there are other uses for this essential headwear such as during your shower time when you don't want to wet your hair after a treatment.
There are also casual bonnets which you can use every time you go out if it's inevitable like going to the grocery store or doing some errands. Having no cap at your arsenal to cushion the harsh sun rays that would strike the head can be remedied by using a bonnet.
Best Bonnets to Buy
Having known what bonnets are, let's take a look at some of the must-have items that would aid you in having lusciously thick and healthy hair during the night.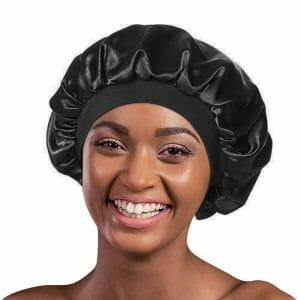 Specially designed for women who are religious about taking care of their hair, this product sure is a lifesaver. It is satin-lined to guarantee comfort and keep away the tension and unnecessary friction the wrong fabric may cause. The good news, this is also reversible and double-layered. The elastic around it is made from bamboo fibers— it is certainly much higher in quality than cotton. Of course, this bonnet remains to provide protection so your locks, braids, or whatever hairstyle would stay neat and intact with no frizz.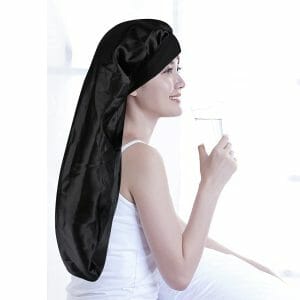 If you are sporting long braids or you just had your hair straightened from the salon, the last thing you would want is to wake up with results that would throw away the money and effort you spent in trying to achieve a certain look. In response, we have here a bonnet cap that caters to long hair. There is so much space to accommodate a large volume of it. It is soft and comfortable to the touch and it is made from high-quality satin, so guaranteed you are getting your money's worth.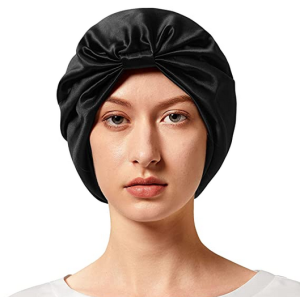 Another silk hair wrap you might want to invest in is this from Mommesilk. The quality is top-notch and aside from the fact that it serves a great purpose in maintaining the healthy condition of your hair, this wrap comes in a turban design so you'd look pretty even with a bonnet on. The item is handmade by experienced workers and is free from chemicals that might disrupt the pH balance on your scalp. I mean, who would want that?
What Is a Scarf?
A scarf is usually lengthy or square and it is considered an accessory—also an essential piece in the fashion world. It comes in a variety of prints, muted shades or bold colors, designs, and fabric. 
It is what most people use to upgrade their looks. Ditching the common accessories like jewelry, one would remain classy in someone's eyes with a luxurious piece of scarf.
It can be worn at any part of the body depending on how big it is. People would often be seen sporting it as a belt, a neck scarf, a wrist scarf, or a head wrap. Others would also tie one on their bags to show off a more appealing and opulent handbag that's worth strutting anywhere.
Pros and Cons of Wearing a Scarf
A scarf's benefits and disadvantages show on certain occasions. We are generally listing those for your awareness.
Pros
Serves as a better replacement for a bonnet. Remember, we all have different volumes and types of hair. A scarf may come in different sizes and can be styled in different ways, so that gives you a variety of options compared to a bonnet.
Perfect for completing an outfit. Plain attires will pop among the crowd with the right type of scarf placed on a prominent feature.
It comes in different materials, so surely, there is at least a good number of scarves that can be used for your hair during your peaceful sleep.
Cons 
Unlike a bonnet, a scarf needs to be manually placed around your head. If it's done too loosely, chances are that it would get taken off your head while you change from one sleeping position to another. 
Scarves can be too bulky and they would look crowded especially around your neck.
When Can a Scarf Be Used?
With its versatility, a scarf can be used either for casual or formal ensembles, keep the neck warm during winter, or function as a headwrap like a bonnet.
Focusing on the hair growth and care topic, the scarf functions the same as a bonnet, but its usage is not limited as explained. Should you use this fabric for frizz-free hair every morning, make sure you are using one that comes in the right material. Again, silk and satin are the top choices.
You can style your scarf into a headwrap in different techniques, unlike a bonnet that would show a standard design. 
Best Scarves to Buy
Since not all scarves are meant to be used during your sleep, we have listed the top three items you can consider buying in your journey to growing the best and most coveted hair in town!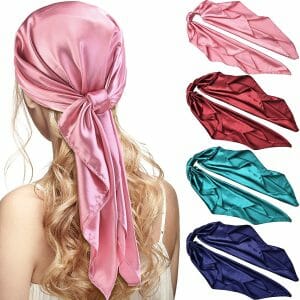 This vintage scarf is available in four colors. They all feel soft to the touch and they have enough dimension to cover the whole head and hair. The scarf is made from satin polyester fabric that would bring you a breathable experience throughout the night. Another great thing about going for a scarf as an alternative hair bonnet is that you can use this for casual purposes.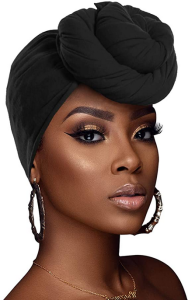 Have the stretchy, form-fitting experience by going for this turban scarf! This offers full coverage on your head and you can end the night with a stylish knot or twist on the forehead. It is breathable so you won't feel hot while wearing it and it has countless trendy colors like green, red, and black. This design helps tuck all the hair up without causing too much stress on the scalp.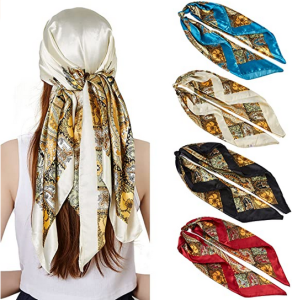 You're not the only one who is into designs and patterns. A headscarf would not look plain at all if you choose those in colorful prints! Sleep with the confidence that you won't be drifting to sleep looking basic and all that, especially if you have someone sleeping beside you. On top of that, since this is made up of satin, your hair's comfort is guaranteed. Just make sure the scarf is installed properly and not too tight.