Can You Wear a Scarf With a Hoodie? Must-haves and Tips 
On particular occasions, yes! A scarf with a hoodie does not deserve to be locked up in your wardrobe. Since this combination is perfect for all women, men, and children of all ages, comfort is what it can give to anyone. 
Some would say this combo is unnecessary and an absurd choice since the hoodie alone can give you enough warmth. However, this pair is not only about keeping your body temperature at a normal level. Incorporating these two garments also speaks about the person's style and practicality.
Reasons for Pairing up a Scarf and a Hoodie
In a fashion sense, a scarf and a hoodie are a questionable pair indeed. But in case you need to ensure you don't feel the chilly breeze, these two are a perfect duo for the coldest climate. 
Fight the Cold Weather
As you all know, a hoodie is a warm apparel with long sleeves and a hood at the back. Adding a scarf with it adds more protection during the winter or rainy season. 
The warmth of the scarf and a hoodie will depend on the quality and thickness of the fabric used. Nonetheless, this pair can surely give a significant difference in keeping your normal body temperature. 
An Exercise Buddy
In an early morning jog, you need a hoodie and a scarf to protect you against the cold. If you are toning your body and you are up to achieving your desired weight, wearing this combo will help you sweat a lot! 
But if you are into strength training, discard the scarf because this will more likely be a distraction.
Cure Self-Consciousness
When you are anxious to face strangers in unfamiliar places, wearing a scarf and a hoodie gives out a sense of security and comfort. You do not have to worry or feel insecure anymore as these two will be your haven. See? That's how influential fashion can be when it comes to how we feel!
Keep Up With the Fashion Trend
Fashion is unpredictable. With the increasing number of styles and standards in dressing up, no one can anticipate what trends will replace the old ones. Whatever fads break the internet, one thing that remains a classic is the hoodie and scarf combo. 
Outfit Ideas for Hoodie and Scarf Combos
Are you still not convinced that a scarf and a hoodie are a match made in heaven? Check out these outfit inspirations to give you a closer look as to how both pieces of clothing can match so well: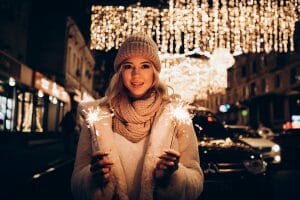 Nothing goes wrong with nude colors. This first must-have is an infinity scarf with a matching beanie of the same color. It is adorned with a faux fur hooded coat in a lighter shade that is best paired with dark or neutral-colored skinny jeans. This look is perfect in casual meet-ups and hanging out with friends on a day off.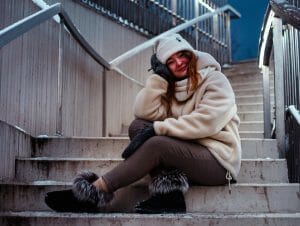 Try this next look! It may seem ordinary at first glance, but this acrylic scarf matches well with a hooded sweater made of velvet fabric. This duo also coincides with a pair of your favorite fur shoes and knitted gloves. It is perfect when you plan to have tea with friends or cozy enough to make you stay at home.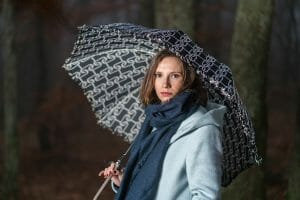 The next one is a special fabric that is warm, soft, and delicate–It is a pashmina scarf! It comes in various colors and designs to match your other hoodies. With a pashmina scarf, your favorite hoodie, and joggers, you can go out the day without worrying about the cold breeze in your morning walk and quick errands. Just finish this look with your comfortable pair of sneakers for a non-awkward, casual vibe.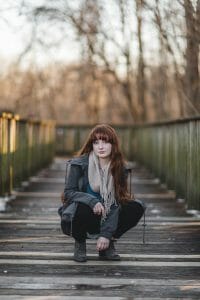 Are you wondering what looks good in your old hooded jacket? Try out an infinity loop scarf! You can pull this off with a scarf in a cowl, a pair of dark-colored skinny jeans, and comfy Chelsea boots. This infinity scarf will make you look presentable and pleasing to the eyes in an instant.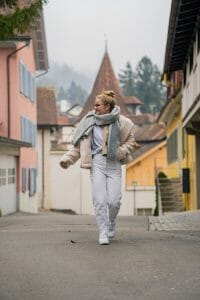 Neutral color combinations always save the day. So, a light gray cashmere winter scarf is suited in a hooded sweater to ensure a fun and chic look. With your white shoes and pants, you can have confident strides as you stroll your favorite spot. And for the accessory, there is no need to wear too much because a semi-rimless sunglass is enough for the look.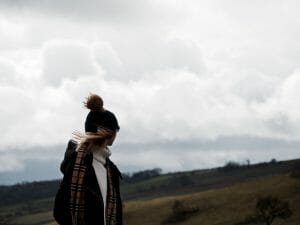 Ready for a school trip? A white turtleneck shirt topped with a dark hooded parka is what you need. Do not miss to accessorize this outfit with a checkered cashmere scarf. It may not be the most distinctive look, but this cashmere scarf is a showstopper as it polishes the overall outfit.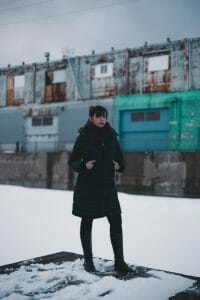 A dark-shaded scarf always complements an all-black outfit. Picture yourself in a black peacoat and a pair of black high-cut boots. Just don't let your scarf hang loose but rather loop it around your neck and tuck it in your coat. This gives out an intimidating aura and, at the same time, a chic persona.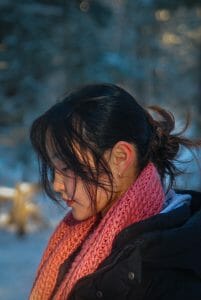 You might be ready for a camping adventure. So, pack your favorite pink scarf and hooded jacket to warm yourself up. You can just let the scarf hang loose or loop it around your neck. A pair of skinny jeans and winter boots should be of the same color or have a contrasting look, whatever you think looks better on you!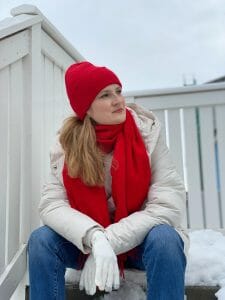 In this cold weather, you can fire it up by choosing complementing colors such as red and white. So, another must-have scarf is the red one with a white hoodie to match the accessory. You can select any pair of jeans as long as it does not overpower the colors you would like to stand out. Keep your gloves in the same shade as your jacket. The goal here is to give the red scarf the emphasis it deserves!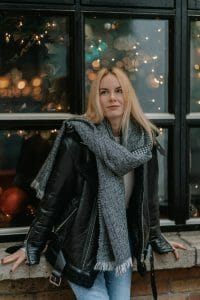 A leather jacket does not disappoint when partnered with a gray cashmere scarf. In this outfit, a pair of skinny or leather jeans will indeed look incredible as well as any comfortable winter boots that are to your liking. Let your hair down and put one end of your scarf upon your shoulder to give out a cool but cozy feeling.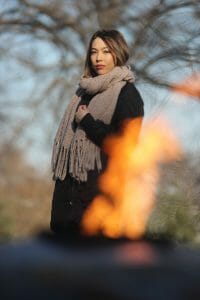 Are you after a mysterious look? A plain scarf always looks better with a plain hoodie as long as their colors don't match. It does not matter what shades you flaunt as long as the ensemble is basic-looking and free of any prints. The look we are trying to achieve is that which only involves two colors. So, from the head down, you can go all black and add a statement hue through your scarf.
Tips in Adding a Scarf to Your Ensemble
It has been said above that a scarf and a hoodie can only be worn on particular occasions. This time, let us know the importance of knowing when to wear a scarf and the points to contemplate before wearing it. You don't want to look silly, do you? So, here are the things you should bear in mind:
Mix and Match It With Your Dress Code
Make sure that before you wear a scarf, you have weighed the circumstances such as the weather, location, and occasion. If it's flurry out there, a thicker accessory is ideal. Also, ask yourself if it fits and complements the outfit you are wearing or if it just makes you look bulkier than ever with your hooded jacket. 
Go For Striking Combos
Picking up what scarf to wear is not enough. You have to match your clothing's palettes too. For instance, white and neutral colors will make you look neat and pleasant to the eyes while black and gray can exude a mystifying atmosphere. 
How You Tie It Matters
Aside from the color combination, how you loop and tie your scarf says something about you. The classic loop equates to casual style, while the french knot brings off sophistication. It also depends on what coat you wear, so bear that in mind as well.
Not Too Little and Too much
When you dress up, ensure your scarf isn't too long or too inadequate for your build. Find a rectangular scarf enough to be easily thrown around your neck without sacrificing your comfort. If you want to feature your hoodie more, an eternal scarf is ideal.
Know When to Skip It
Some clothes may need a scarf to look striking, while some don't. Always take time to scrutinize your whole attire before you go out or end up realizing too late that you don't need one.