Training Bra vs. Bralette: How To Spot the Difference and Which One Is Better?
The brassiere marketplace can be very overwhelming and confusing.  This little piece of undergarment has gone through years and years of product development in bra science. As young girls, Mom always introduced us to training bras but with the latest craze on the bralettes, which one would you choose for your teens now? Getting your young teen ready to wear her very first bra should be a pleasant experience for both of you. It is a surprising fun fact to learn that training bras are basically standard bras that don't provide any support and do absolutely nothing to "train the breast". What they're really meant to be is provide another layer of coverage between a young girl's breast buds (tender bumps below the nipples) and her top which can be very stressful if she's wearing a light colored uniform. Before you even have a panic attack, make sure to have a light yet educational conversation with your teen so you can explain clearly what's going on with her physical development.
When gearing up and preparing for that talk with your princess, you should consider peer pressure and the young girl's sensitivity to matters concerning her body. Not everyone welcomes the transition and some girls may even feel embarrassed wearing a bra. It is important to let your teens know the pros and cons of wearing this basic undergarment until she can reach a point when she'll be able to decide whether a training bra or a bralette is suitable for her. Making them understand full well these changes in the body will equip them, so that these natural occurrences will not rob them of their confidence and security. It is always best to guide them through these changes, and to assure them that they can talk to you about these things.
Bralettes Paving the Way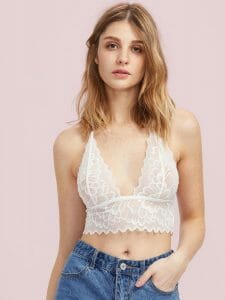 One of the many advantages of the bralette is the comfort they provide which according to most women who have tried it, way transcends that of the traditional bra.  The major differences lie in the structure of the training bra vs. the bralette. While the former typically leverages on structure with padded or lined cups, the latter relies instead on soft cups for coverage and the incorporation of lightweight material used to shape and support the breasts.
The bralettes may remind us of our own training bras worn in the early stages of puberty but it is good to note that the style of the bralette has wonderfully evolved to deliver the desired comfort and aesthetics while supporting any cup size especially larger breasts.
Bralettes can, in fact, be worn casually over several formal or informal mix and matches as shown below or even as the loungewear itself.  Most women nowadays are fashion forward, and since it is no longer taboo to show off what's underneath, many prefer style and comfort which is why the bralette has evolved dramatically from just being a plain piece of lingerie category to the center of attention as the perfect choice for a visible top.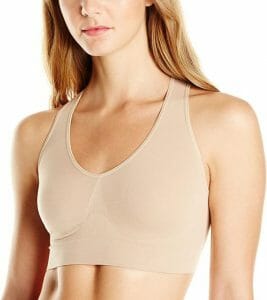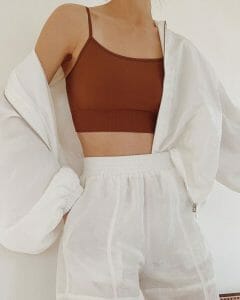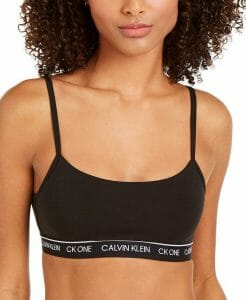 All About Training Bras
It is important to point out however that there are two types of training bras: one which is designed specifically for bra beginners with lightweight material catering to young girls who have begun to develop breasts and is intended to be worn all throughout the puberty stage when the breasts are not yet large enough to fit a standard-size bra. While the second type is worn by active women usually engaged in sports and all forms of exercise.
The go-to training bra is commonly used for physical activities such as jogging, yoga, aerobics, boxing and the like since these types of activities make breasts bounce up and down. Frequent repetitive movements may result in soreness, sagging and unnecessary pain which is why training bras are made to reduce such movement. They give more support to your breasts from jiggling, protects your breasts from soreness caused by active movements, and keep the moisture away from your skin which is why many women prefer to wear a training bra when engaging in these kinds of activities. 
Additionally, the training bra is made specifically to prevent your breasts from any injury, minimize continuous bouncing movements and keep the breasts firmly in place. It also brings confidence especially to on-the-go women who are too self-conscious since training bras are made with fabric materials which draw the moisture away from the body while maintaining the needed coverage. 
Training Bras and the Physically Active
Athletes and fitness junkies who wear training bras will definitely feel less irritation due to a boob sweat. These training bras also have a wide selection of styles which you can choose from depending on the intensity level of your physical activities. There are several variations for low-impact, medium-impact, and high-impact training bras. For the low-impact training bras, this will be the type of bra that you can use while doing light activities such as yoga, cycling, and pilates. As for medium-impact training bras, this type will be appropriate to use while jogging or sweating it out in Aerobics and Zumba classes. Finally, high-impact training bras are recommended for activities like jumping rope, jumping jacks, gymnastics, boxing and other contact sports.
The challenge with training bras is not in their design but in the possible complications of getting the right fit. Medical experts say that wearing the wrong size will be very uncomfortable on the sensitive breast tissue and can cause a range of problems.  An ill-fitting bra has also been associated with neck, back and shoulder problems. According to Dr. Seth Rankin, Founder & Chief Executive Officer of the London Doctors Clinic – one of the fastest growing private General Practitioners at all major transport hubs, that a tight bra may restrict the flow of lymph to the many important lymph nodes around the breast and armpit. He also says that this may hinder the system's vital function of flushing toxic waste-products from the body. 
It may get a bit confusing because there is a wide range of training bras available in the market and there are several varieties from the fancy to the athletic type. Another  possible complication would be training bras and bralettes that may look quite similar while both serving the same purpose. However, the outside appearance may be the same, these lingeries actually have different purposes. A distinct feature of a training bra is that it is being used mainly for support especially while engaging in strenuous activities while a bralette's construction which is often unlined and mostly seamless can be worn everyday for the much desired ultimate comfort.
Relatedly, bralettes are also made of soft lightweight material that is less restrictive and often made of a more stretchy material so they feel gentle on the upper body while still providing the needed structure to shape one's breasts. The lack of breast support and the reality in finding a well-fitting bra will obviously have long term consequences. 
Training Bra vs. Bralette
Go through this simple checklist that could help you assess the differences and allow you to navigate what to wear in order to avoid this common pitfall:
TRAINING BRA
Provide chafe-free bust support to developing breasts worn either by bra beginners or active women 
May comes in broad straps made from cotton blended with lycra or other elastane fabrics for stretchability and comfort to protect wearer from stretching and sagging of sensitive breast tissues
Concealment of nipple prominence to give a smooth finish beneath any clothing especially uniforms
Padded, Unpadded or with removable padding in breathable fabric as options 
Wirefree finish to help first time bra wearers and active women use it with ease especially during workout sessions 
BRALETTE
Maximized comfort but less support as compared to a regular training bra worn by both teens and adults 
Often with stay put straps in lightweight material made of lace, mesh and other slender fabrics to simply hold the bra in place while providing the needed comfort 
Crafted in triangular cups offering the much needed coverage which can be great for layering or mix and match with more revealing necklines 
Mostly designed with intricate removable padding using high tech soft fabrics for an easy transition from Loungewear to Outwear and as the foundation of an outfit rather than simply an undergarment 
Now made available in wired and wire-free styles worn for casual comfort or fashion forward styling 
To sum it up, training bras are often recommended for beginners or first time bra wearers while the hybrid training bras are worn primarily as support for women with an active lifestyle. Unlike training bras, which compress the breasts to minimize movements, bralettes are a more comfortable version and can be worn by anyone irrespective of age and bust size. Bralettes are also less structured and offer a more natural shape with different styles and designs, that's why most women nowadays also use this as a fashion statement especially if you love strutting it out in crop tops.
Bra construction need not be complex and whether you would like to focus on shape, support or comfort, bear in mind that a good combination of materials and design features to achieve a particular look, provide the needed level of support and serve its purpose should be your deciding factor in zeroing in to the right type for you.  Regardless of the latest fashion trend or the rising popularity of this piece of lingerie, always make a wise choice when choosing your training bra or your bralette preference and only buy the type that suits you best.