Joggers vs. Sweatpants: What's The Difference?
While some wearers use joggers and sweatpants synonymously, they are not the same thing. The main difference is the material used for the pants. Joggers are made out of thin, lightweight fabric, whereas sweatpants use thicker and warmer material. Moreover, it is safe to say that joggers are suitable for warm and cold seasons, while sweatpants are ideal for cold climates.
In this article, we will dive into the differences between joggers and sweatpants. We will also note some key considerations when looking for one and some styling tips so you can roc ak these pants on any event.
What Are Joggers?
As mentioned, joggers are generally made with thin and lightweight fabric materials that offer a more breathable room for your legs. Fabrics used in joggers include a cotton-polyester blend and fleece, which give the comfort you need for your athletic needs.
Jogger pants can be characterized by a garterized waist, loose-fitting legs, and cuffed ankles. As such, joggers are meant to be short and run long enough to show off some of your ankles. The tapered ankles allow you to show off your favorite shoe low-key. 
In the fashion world, jogger pants are generally referred to as the "upgraded sweatpants" because it offers the convenience and flexibility you need that the sweatpants could not provide. Joggers are less constricting than other pants because they are neither too tight nor too loose when worn.
Nonetheless, joggers are called "joggers" because their sole purpose (before) is to make you comfortable while performing physical activities. As such, these pants are suitable for exercises, like a morning run or playing sports. However, the mainstream contributed to the rise of athleisure, letting joggers be styled on a number of occasions, activities, or events.
Joggers are sometimes attributed to track pants, but these two pants are far different from one another. Unlike jogger pants, track pants are usually made with shinier, smoother, and wrinkle-free fabrics with either a slim fit or straight, wide legs.
What to Look For in a Jogger?
Here are some key considerations when buying your first-ever (or maybe not) jogger pants:
Fabric or material used. As a general rule, joggers should be comfortable and convenient enough to wear. Do not settle for cheaply-made jogger pants that would make you feel you are wearing stiff pants. Opt for joggers made with fleece or cotton-polyester type of fabric.
Tapered ankles. Are joggers even called joggers if they do not have a tapered ankle? Further, choose a jogger pant with a cuffed, close fit around your ankle that lies above your shoes instead of covering the latter. If the cuffed ankles do not sit close to your skin, it is not the right fit for you.
Loose-fitting. In addition to the tapered ankles, joggers are recognized for their loose-fit ensemble, making them more convenient to wear regardless of the occasion. Loose-fitting joggers allow free air circulation and offer the flexibility you need for different movements. If the pants are constricting, chances are you have bought leggings rather than a jogger.
Waistband. Your joggers' waistband must be elasticized and fit perfectly around your hips. Currently, athleisure revolutionizes fashion by creating high-waisted joggers. Consider the style that fits your preference and style.
Colors. Finally, opt for a color that would match any type of top you have in your wardrobe. A safe start would be neutral colors, like black, white, gray, brown, beige, and khaki.
What Are Sweatpants?
Meanwhile, sweatpants can be characterized by an elastic or drawstring waist. The cut or fit usually ends with a flared or bootcut style and sometimes with wide-leg ends. Sweatpants are made with thicker, heavier, and warmer fabric (such as wool), making them the ideal pants for cold or winter seasons.
Tracing back on its long history, sweatpants were initially dedicated to athletes or sportspeople. According to an article, sweatpants were originated in the 1920s by Le Coq Sportif founder Emile Camuset. As the name implies, sweatpants were intended to be sweat-absorbent, unlike tight-fitting pants.
As such, sweatpants can be used for physical activities. Their thick fabric provides a warmer room for your legs, which helps increase the amount you sweat and bring health benefits. Like joggers, sweatpants can wick moisture away, keeping your legs warm, cool, and dry.
Nevertheless, sweatpants are great when combined with sweatshirts and hoodies in cold climates.
What to Look For in a Sweatpant?
Furthermore, here are the criteria you should look at before buying your sweatpant:
Fabric or material used. Opting for comfy and cozy sweatpants would be a little tricky, especially when the materials used are different. In this case, choose a sweatpant made with a high-quality fabric that does not compromise your flexibility and convenience to move.
Features. After considering the fabric used, look for a sweatpant that provides good features. As a matter of fact, most customers appreciate sweatpants with a *hidden* drawstring. Other fantastic attributes include pockets, belt loops, and design.
Appearance or style. Perhaps choosing the sweatpants to buy is influenced mainly by your reasons. If you want to wear pants while at the comfort of your home, select the ones that offer more breathable features. Otherwise, wearing sweatpants to a gym or strolling the city is far more different when slouching on the couch.
Durable seams. This consideration works in different pants. After all, you do not want to invest your money in pants that are not durable, sturdy, and comfortable in the long run.
Colors. Lastly, the colors of the sweatpants primarily depend on your preferences. Nevertheless, a two-tone color or striped waistbands are the most common style in this criteria.
Styling Guide for Joggers (Inspirations for Men and Women)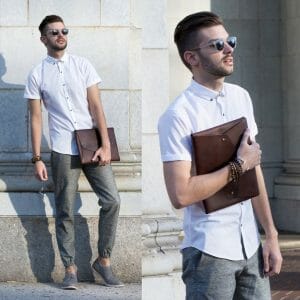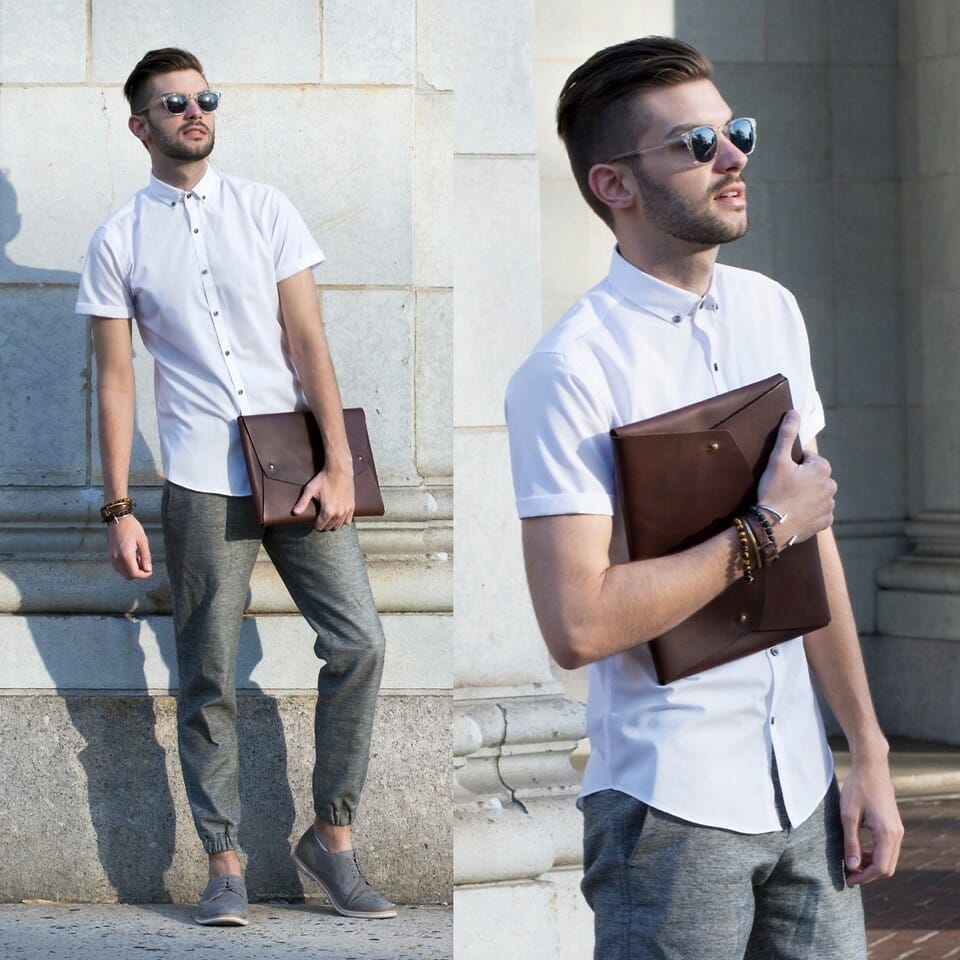 Opt for a casual and smart look this season by pairing your jogger pants (preferably with a neutral color) with a collared t-shirt. Moreover, you can aim for a polished but relaxed look by choosing jogger pants for your bottom and button-up shirts for a stylish bright look. Nevertheless, just make sure to pick a polo shirt that appears "light" and "soft."
If your joggers have pattern designs, consider pairing them with a top that is plain in color (and vice versa). This way, you can create a balance that supports your OOTD. Finish off the look by wearing matching shoes, bracelets, and sunglasses.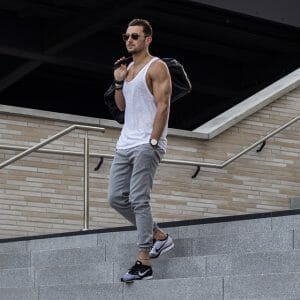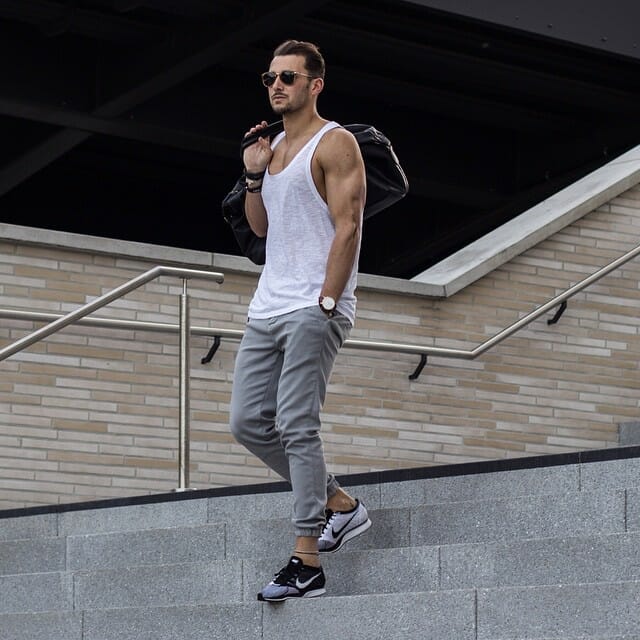 Who said men cannot rock joggers? By pairing joggers with a white top tank (and nothing else), you will definitely get a cozy but relaxed look in no time. Not to mention, you would feel incredibly comfortable, especially in warmer seasons. When using a tank top, make sure that it is slightly fitted on your body since joggers are a bit loose when worn. Wear sneakers and a watch to create a more clean and casual silhouette.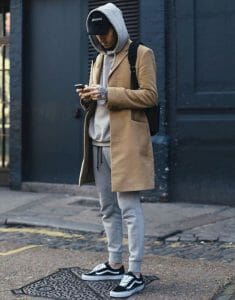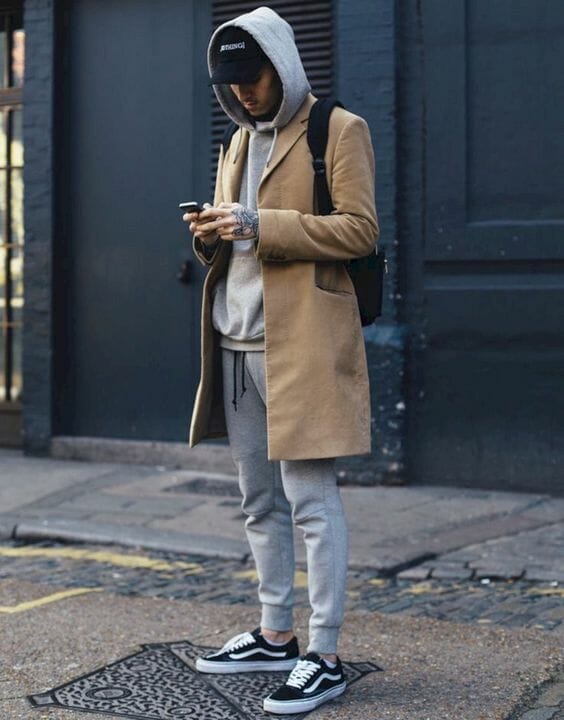 The classic hoodie plus joggers are also a great way to start. Subsequently, this mix and match is an appropriate street style or casual option. You can do simple errands with this OOTD. To make your essential joggers and hoodie more appealing, top it off with a cardigan that comes in a neutral color but different from your overall outfit. To keep your style edgy and stylish, throw in a cap and wear your favorite sneakers. You would definitely turn heads in no time.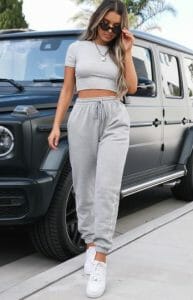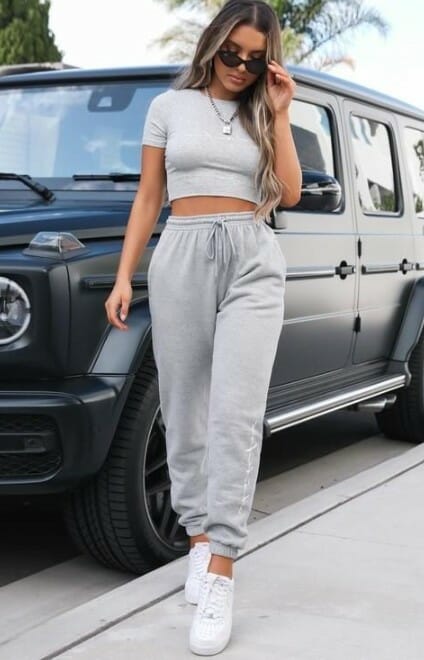 Most jogger pants come with a cropped top, which is definitely the most common but excellent way to style your outfit of the day. These pair are ideal for a street style and off-duty athleisure look that is way more convenient and cozy to wear than any outfit. You can also match your OOTD with a graphic tee shirt, white sneakers, and a clutch bag with the same joggers.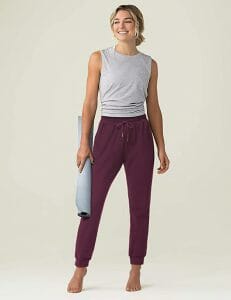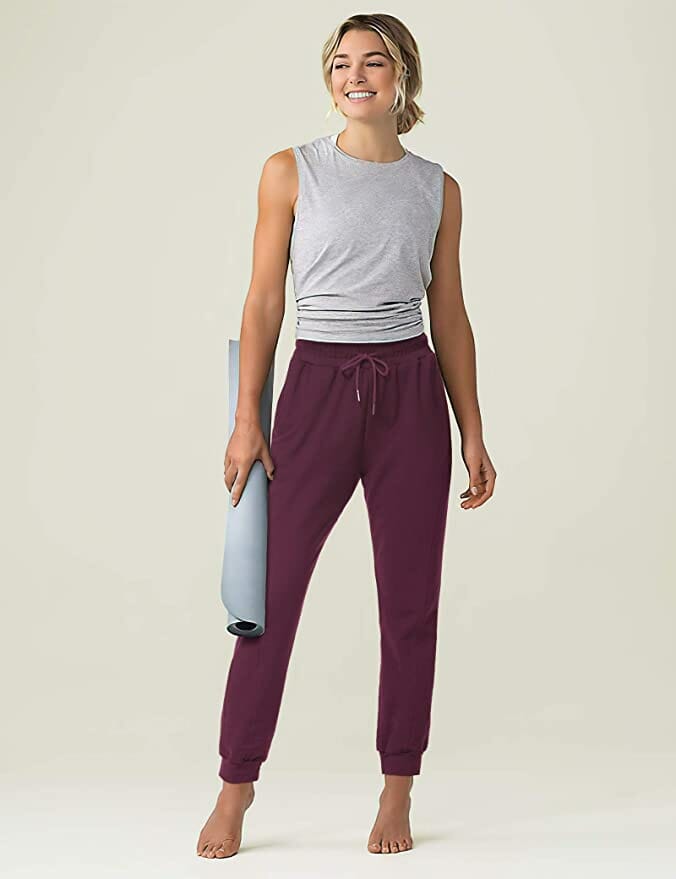 Aside from a cropped shirt, you can pair your joggers with a nice and flowy tank top. Yet, you can fold your top to create a layered perspective that would match the minimalist and straightforward joggers. In this way, you are giving a flare, distinctive design that complements any matching outfit. These matching OOTD would also look great when paired with nude high-heels (for a more classy vibe) or white rubber shoes (for a sporty look). Either way, the choice is yours.
Finally, you can pair a flowy, white tank top with your knee-length joggers. Throw in some good old blazer that would "elevate" your style and look. Women can instantly get a chic and sleek vibe with this outfit because this OOTD creates a monochromatic look. To create a more office or night-out look, you can pair this outfit with white pumps or heels. Throw in some necklace or earrings accessories, and you are ready to rock a date night with friends or a significant one.
Styling Guide for Sweatpants (Inspirations for Men and Women)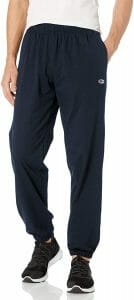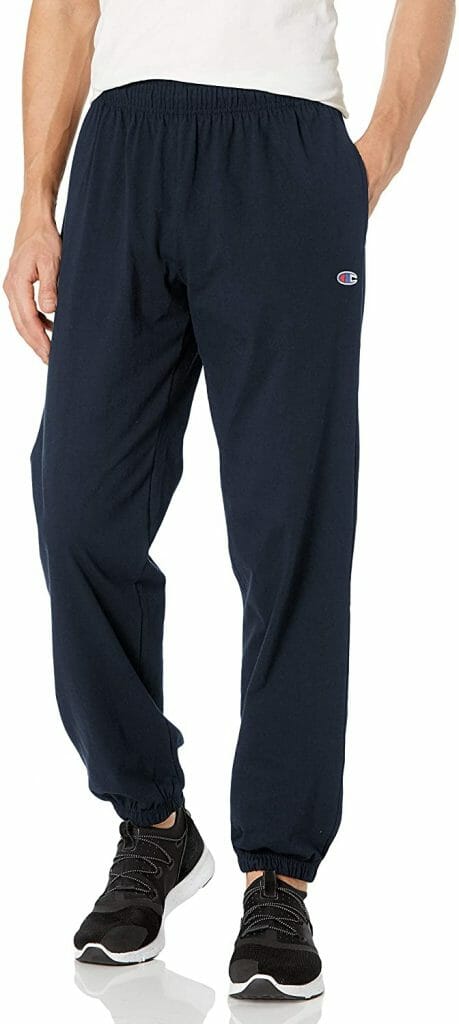 Keep your attire sporty but straightforward by pairing your dark-colored jogger pants with a grayish-white sleeveless top and white rubber shoes. You can accent the look by pitching in a cap on your head. While wearing dark joggers, make sure to complement your OOTD by pairing it with a minimalistic top tank. We tell you, this style works like a charm.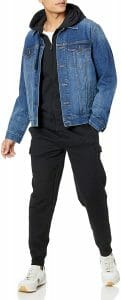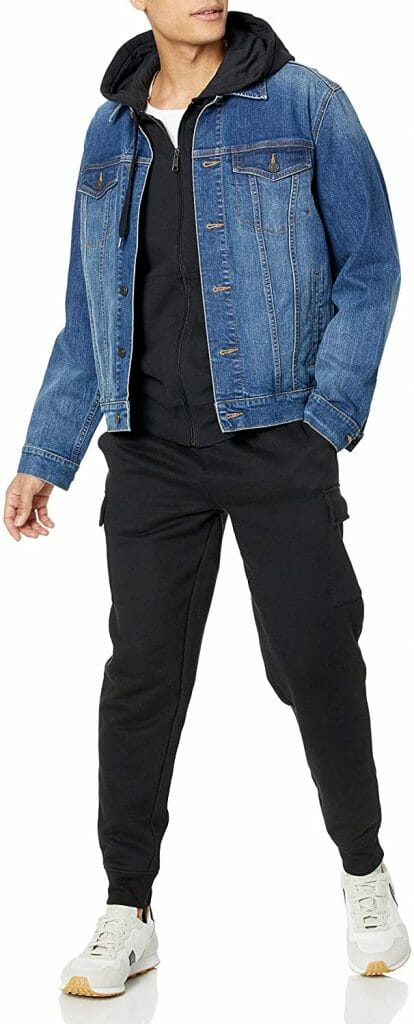 Come on, we know you love denim jackets! After all, denim is a great wardrobe essential that can upgrade your dull lounge look in a beat. Sweatpants are not the ones considered "trendy," but pairing them with a stylish jacket or coat really gives you a cozy but comfortable vibe. Take note that sweatpants are intended to warm your legs; you do not want a coat that could make you sweat, so be mindful when pairing one. Finish off the look by wearing white rubber shoes or sneakers.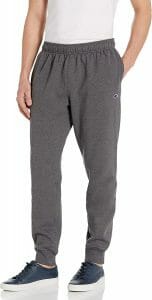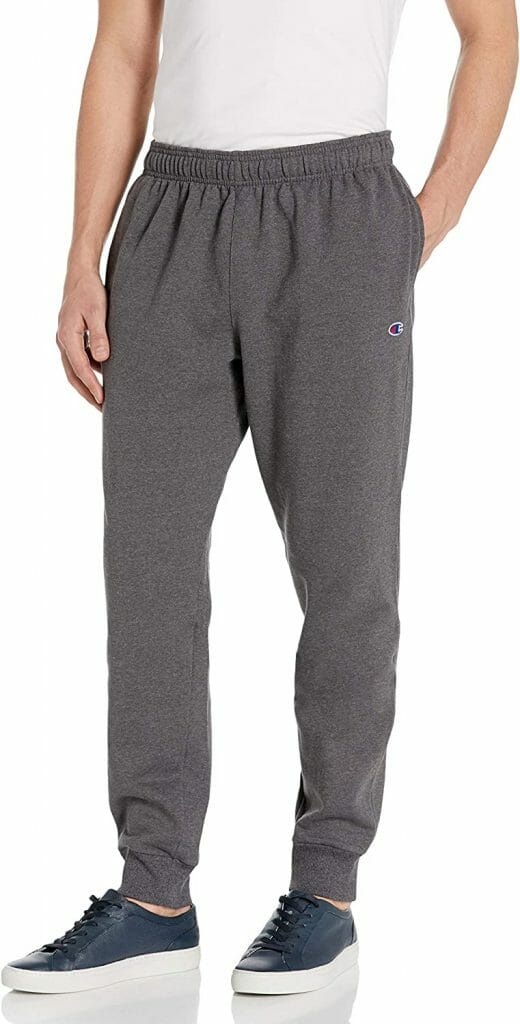 Sweatpants go along with sweatshirts very well, so pairing these two is a no-brainer. Since sweatpants are somewhat baggy in appearance, consider a sweatshirt that perfectly fits your upper body. Otherwise, you might get a sloppy look. Further, opting for a lightweight sweatshirt or long-sleeved shirts would still give you flexible and comfortable movements, especially when strolling around the city.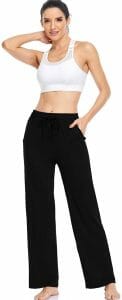 For women, being stylish and cozy should always be complemented. Thus, matching dark-colored sweatpants with a white cropped top would definitely give off the vibe of a sporty and athletic look. This OOTD would be your next go-to outfit when hitting the gym in an extremely stylish manner. Not only will these pair offer an athletic vibe, but it also provides you with the flexibility you need when performing physical activities.

Another way to sport that athletic look is by wearing thick strap tank tops. By pairing a contrasting color for sweatpants and a top, you can definitely be "in" on the athleisure trend. Nevertheless, you can opt for several colors because they can be mixed and matched with ease and style.

Finally, a loose cropped top would be ideal as your next casual or street-style outfit. This would give women a simpler look but is chicer than any other OOTD. Moreover, you can complete the look by putting on a denim jacket or an oversized blazer that would match your preference.