Cute Headbands: 18 Accessories You Can Wear All Year!
For those born in the '90s, we are no longer strangers to headbands. These are the instant concealers for anyone's bad hair day but these days, these accessories have grown into something more, something better! 
While we know these adornments for their practical use of keeping our hair at bay, like the full bangs we used to have in our childhood, this time, headbands emerged as staples for fashion- or add-ons for one's entire aesthetics. 
From red carpets to common settings, headbands have taken a far longer journey that's seemingly unending. Celebrities are in headbands right now so why shouldn't you? Shop the trendiest, chicest pieces of headbands for this season!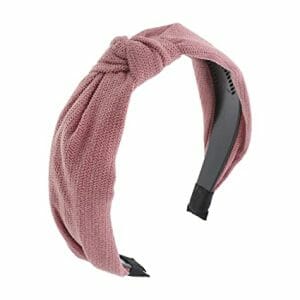 Introducing the classic headband design worn by countless accessory lovers! Its pink textured material showcases the classic turban design in soft cotton. Worry not about the little teeth on the top portion as they're just there to offer a snug fit. Notice how the teeth don't reach down the edges. You'll certainly know this accessory will give you a snag-free experience!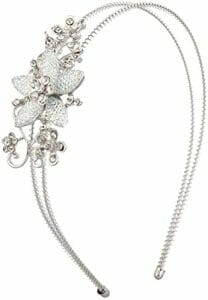 This might be the perfect gift your mom, sister, or girlfriend will ever receive. This is a must-have for formal occasions like weddings, proms, or debuts. Let the sparkles shine in the room with this elegant and luxurious headband that's not going to hurt your wallet. The floral design on the side is cute enough not to be noticed. It's of truly great value that will match any trendy fashion look.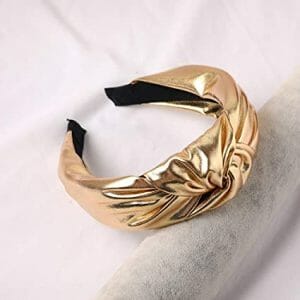 This turban 2.0 is slightly going to blind your mates' eyes, especially if the sun rays hit it, but it's only for a few seconds until their normal visions get back, so don't worry. Made from soft PU leather, this shimmering headband is the elevated version of the one we've shown earlier. Posh, elegant, and excellent for formal occasions! This is preferably worn during a night party or event.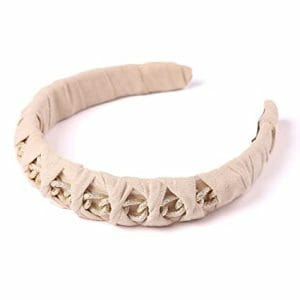 How unique is this knotted metal chain headband from SilentThird? Its hue matches well on a bright day, more so if you have planned on going out for a picnic with your besties. This accessory is made of high-quality velvet combined with a refined, stylish metal chain that crawls across the top. Guaranteed, this fashion add-on is non-slip, breathable, and matchy for short, long, or curly hair. Feel like a royal when you have this on your head!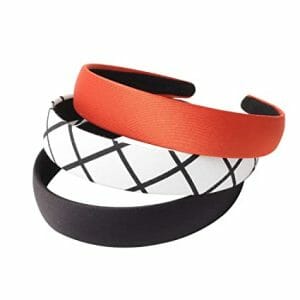 No matter what time of the year it is, these refined plain headbands from N/I are fabulous. You might think they are too simple, but match them with the right ensemble and you'll be surprised as to how much of a difference any of these headbands can make! Look polished in any convention you attend and exude an atmosphere that's worthy of anyone's respect. These headbands are easy to wear, stretchable, and comfortable thanks to their smooth surface. Definitely an IN accessory for office work too.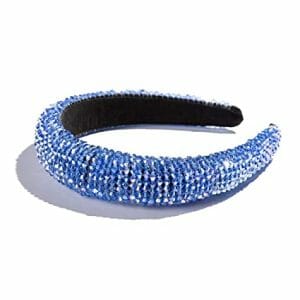 Another cute headband any girl can sport is this beaded padded headband embellished with dazzling glass crystals. It would be a total surprise if your date would fail to notice your glimmering look! You can dress down in your outfit and still stand out from the crowd with this hair accessory. It's the ultimate hair decoration you need that's so easy to wear.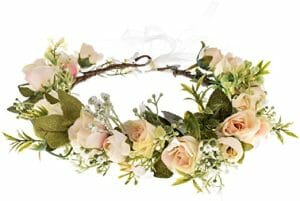 What's cuter than flowers? Adorn your head with lots of all the blossoms you can find in your garden or save yourself from exerting any effort and simply invest in a Funsveta floral headband. You need one-of-a-kind confidence to wear this in public, but hey, you play by your own rules. There is a ribbon on both edges so you can adjust the fit according to your head size. Unmatched, simple, sweet, and eye-catching– go for this one if you're on the beach, attending a wedding, or doing a maternity photoshoot!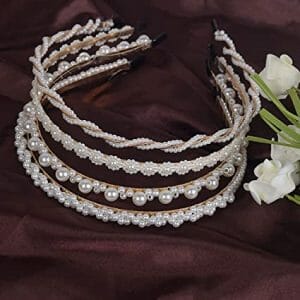 Next up is this impeccable set of Ryorim headbands. Get one for yourself if the pearl is your birthstone! The way each accessory looks makes an impression that they are all the product of a well-thought-out design and planning. The metal they stick on comes in gold color to make it look more elevated. Make yourself look even prettier and elegant using any of these accessories no matter what your outfit is.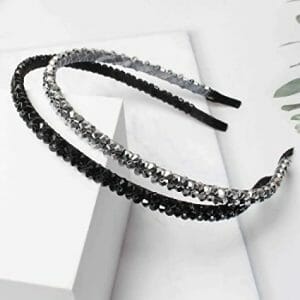 This might not be the type of headband you can wear for your everyday look, but some aren't daunted to do so! Have a two-row rhinestone headband that comes in clear, silvery-gray, black, and champagne. Although it is intricately detailed with gleaming stones, the fact that the headband is thin makes your hairdo far from pompous. From little girls to adult ladies, these headbands can fit anyone's head.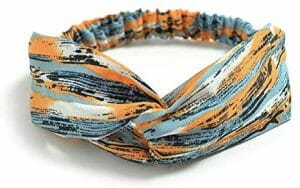 In achieving or completing a bohemian look, you don't just end the outfit planning without considering the use of an unconventionally printed headband. KWHY got exactly what you need before you go to concerts or festivals! Keep your spirits high by bringing out the fashion that matches your soul. It doesn't matter how you wear your hair because this head accessory is more flexible than you think.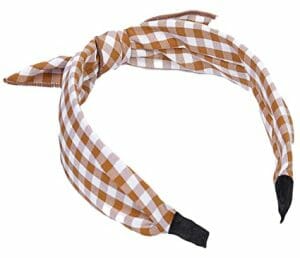 Bring back the old-school headband style should you prefer something plaid! This print is far from boring and there is a reason why it stays in fashion for a very long time. Picture yourself in the kitchen whilst baking your favorite cookies in a 50's dress. That's the fad during those times and people nod in agreement that such a look is cute and trendy! This is made from soft, comfy material, gives off the right fit, and does not slide easily.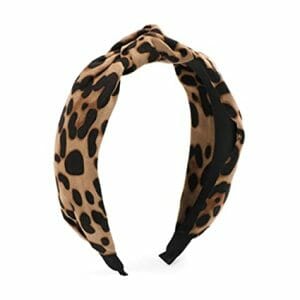 Got a thing for animal prints? This leopard headband might be what you are looking for if you want to achieve an adorable look. Don't worry, no animals were harmed just for the mere production of this cute headwear. Whatever event you attend, this is a total head-turner. The simple turban design adds a subtle touch so your crowning glory doesn't look plain and simple. The edges are wrapped in fabric by the way. This prevents you from hurting the back of your ears even if you wear it longer than 8 hours.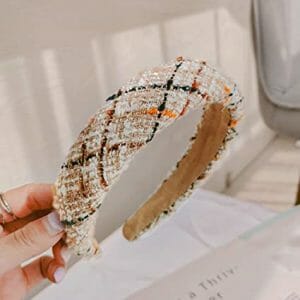 Another padded headband to bring out your Lily Collins vibes is this one from Sarts. It comes in a white, tan, brown, orange combo that is modish enough for any affair. The fabric is soft and plushy for a super comfortable feeling even if you wear it the entire day. With its reliable quality, you are sure this add-on lasts a long period in your closet. It also comes in other stylish colors so choosing would be easier than ever!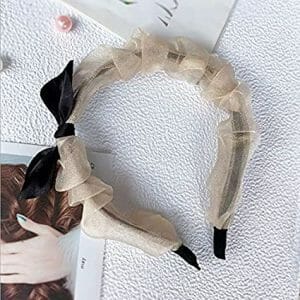 Have a hint of sophistication by wearing a Sluxa headband that's made from seersucker material. If this isn't classy and cute, I don't know what is. The ribbon that's tied on the side adds more statement to it and it helps make the accessory stand out even better! This is undeniably an excellent present for your younger sister. The way it's constructed including the overall design can make anyone feel youthful.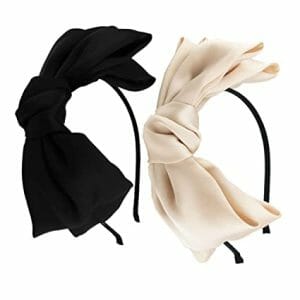 Another flawless hair decoration is anything that comes with a bow– a big one. The thin band can easily hide underneath the hair and give the spotlight to the black or cream ribbon that's flaunted so prominently. Appear fancy while you have dinner with your aunt and other relatives by matching any of these headbands' colors with your dress or top. This isn't just merely a design too, because its purpose of keeping the hair in place is a job done well by these pieces.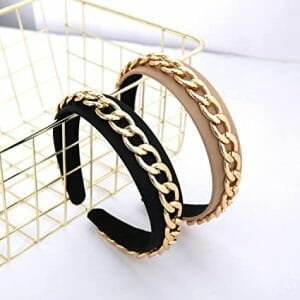 Channel your sassy attitude with this chain headband. It exquisitely looks nice in light brown and black with a golden chain laid over it. You can absolutely wear this in the office and this can match most of your wardrobe outfits. These headbands have been around for quite some time, and it's a trend that might never wane. Although this headband looks like something that's meant to upgrade an attire, anyone can also utilize this for makeup sessions or during a skincare treatment.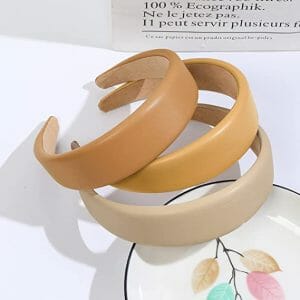 For lovers of plain accessories, you can keep things basic and simple without having your headwear drown on your lusciously thick hair. These plain padded headbands come in trendy and fun colors. The yellow one is a personal favorite as it can match whatever you wear aesthetics-wise. The whole padded area is made from PU leather, it's durable and worth the price if you ask. Gift your little sister this headband to keep her happy and don't forget to spare one for yourself for a jolly mood every day!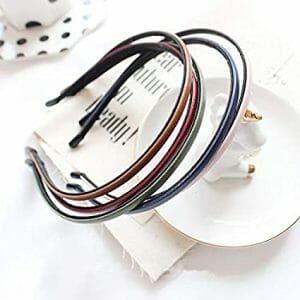 Another unmistakably appealing head accessory comes from no other than Kydely. This brand makes one of the nicest headbands that come at affordable prices. It's made from leather, narrow, and non-irritating when worn. You can certainly wear this all day, every day! It comes in various colors and it's not going to hurt the wallet if you order some more in different shades. Think of it as a new set of collections to add to your plethora of other hair accessories.