Do You Wear Underwear With Leggings? All the Pros and Cons
Without any hesitation, the quick answer is that you can wear your leggings however you want. Experts suggest though, that you show your meticulous and cautious side when it comes to choosing the right pair if you want to go commando or purchasing a match made in heaven underwear if you don't want to go bare. Not only would you want the garment to last long but as well as keep the hygiene excellent.
Leggings come in various forms and they're no longer just for fashion. Its versatility now covers the field of sports and athletics! Now, whether you wear your leggings for a fun day-out or a lengthy early morning workout, it's important that you know how to do things right. 
To Wear or Not to Wear Undies
I know, deciding is not at all easy! Even though you have the liberty to choose, you should go for one that benefits you the most. A good number of people ditch their undies when they wear leggings, while some are still looking for the perfect time to be that daring. 
Doctors and other gynecologists almost have the same response toward ditching the undergarments: "chafing!" As we all know, wearing underwear adds a secondary layer that protects the lady parts from clothing irritation as well as keeps the clothing free from vaginal discharge, sweat, and blood during the period. During an intensive workout, heat and moisture will gather around the private area and this can be a breeding ground for infections. Yikes!
Meanwhile, some brand owners offer leggings that need no undies for you to wear. You just have to be very careful in choosing the right garment. Go for sweat and moisture-wicking fabrics to keep the front bottom dry. This is much more highly preferred than wearing undergarments that are non-breathable and are made up of synthetic fabric. They don't help in letting that sweat evaporate.
Pros and Cons of Wearing Underwear With Your Leggings
Pros
It acts as protection from clothes.
Keeps you from the undesirable irritation that can be caused by your leggings.
Lowering your chance of developing fungal (yeast) infection.
Offers extra comfort while you work out.
Cons
The wrong type of underwear can still increase your risk of yeast infections.
Underpants need to be washed immediately after a workout.
Causes the dreaded visible panty line (VPL).
Uncomfortable undies can cause rubbing and chafing.
Pros and Cons of Going Commando 
Pros
No need to worry about wedgies!
More comfort and freedom in doing your movements.
VPL no more!
No slipping waistbands during your squats.
Cons
Workout leggings need to be washed immediately. 
The wrong type of leggings can expose your private part.
Cotton leggings would do you no favor when you go commando.
Can be uncomfy if it's not what you're into.
Experts on Not Wearing Undies With Leggings
When you ask for advice from the experts, you'd certainly gain varying opinions. The bottom line is, go for what works for you. Some women are fine with ditching their underwear, while others want to keep things "normal".
Dr. Sarah Welsh, a gynecologist and co-founder of HANX, says that going commando is not worth it if it means causing you skin irritations and bacterial or fungal infections. She also added further that it's a topmost priority that women should provide a positive environment for their vulva. On the aesthetics side, undies keep camel toes at bay!
Another OBGYN, Dr. Sheryl Ross gives off free advice. Acknowledging the advancement of leggings these days, it's really worth a try going commando as long as the leggings are up to the task. 
5 Leggings to Wear if You Go Commando
Saying bye to wearing your knickers and going bare with your leggings sounds great on paper and theory, but once you put it into practice, the experience may vary depending on what type you wear and where you wear them. To put it bluntly, not all leggings are great knickerless. Choosing the wrong one might cause you embarrassment while doing your squats!
So, what are the right leggings if you want to go commando? Here are 5 types made out of different fabrics. Let's get into more detail below: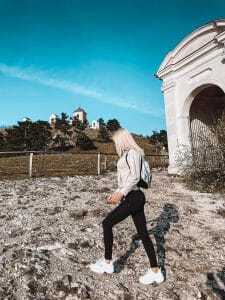 There's no question on whether bamboo leggings are stylish and revolutionary because they are. Aside from that, they're highly breathable and have a non-slip feature, thank goodness! No doubt, the bamboo fabric is one of the softest yarns on Earth- perfect for sports and activewear. Since it's not constricting nor made up of cotton, bamboo leggings definitely pull the sweat off the skin and let it vaporize.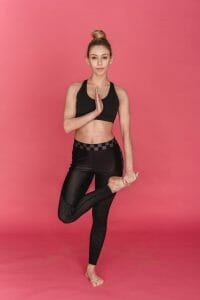 Throw on your nylon leggings if you have them in your wardrobe. Most certainly, you can leave behind your underwear. Nylon is also moisture-wicking and it helps dry the sweat quickly. It's comfy to wear, especially in your most vigorous workout sessions thanks to its light and stretchy features. For this reason, you can easily find manufactured leggings made out of nylon fabric.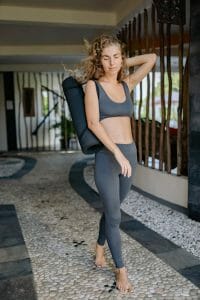 Spandex is one of the most popular fabrics for activewear. It's moderately good at wicking away moisture, but highly unsuitable for lengthy and vigorous gym sessions. In other words, spandex is the best choice when you don't have any other options in your wardrobe. It'll keep you somehow dry, but it's not as great as other fabrics.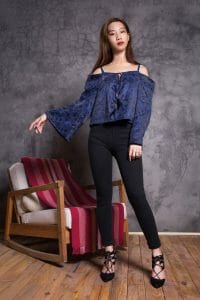 Seamless leggings are worth experimenting with. After all, they are soft, flexible, tag-free, and comfortable. They also help prevent the formation of camel toes and the horrifying chafing. This is one of the best leggings that offer the ultimate pleasant experience that would totally not affect the skin.
If you don't like its feature of being seamless, consider flat-lock seams instead.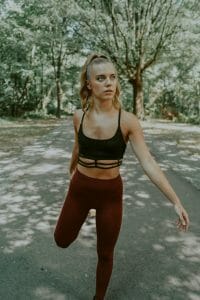 That small and simple fabric in the crotch is what we call gusset and it's there for a reason. It provides breathability, reinforcement, and moisture-wicking features should you go bare with your leggings! The good news is that gussets are not exclusive to undies. Some leggings now carry this feature and are absolutely a must-have for your workout leggings.
5 Things to Look For in Buying Underwear for Your Leggings
If you're not ready to give up wearing your knickers yet, knowing at least which ones go excellently with a pair of leggings is necessary information. As mentioned, cotton fabrics aren't the best, especially when you sweat out a lot as they can make you feel damp. 
To help you out, here are 5 things to look for before you head your way to the counter:
1. Go For Sweat-Wicking Materials
One common mistake we, ladies, make is wearing cotton undies every day no matter what activity we have to involve ourselves in. By far, cotton fabrics are the worst when it comes to dealing with sweat! They absorb it, but they're still there and not evaporating! Instead, choose those that wick off moisture and sweat. If you have a workout partner, he'll definitely appreciate you for that as no natural odor will come out of you.
2. Plus Points if It's Seamless!
Some women no longer wear undies with their leggings due to the panty lines they cause- they're just awkward, aren't they? Get rid of that concern by purchasing seamless knickers! Seriously, if you look in the mirror, you won't see any lines at all.
3. Ditch Those With Tags On
I agree, it's definitely annoying seeing your tags through your leggings or feeling them poke against your skin. Let's admit it when wearing a pair of leggings or skin-tight pants, we want our rear ends smooth, but tags that carry the brand just ruin it for us. Luckily, there are now countless undies without those troublesome tag features! 
4. Does It Fit Or Stretch?
Although elastics were common before, it's no longer recommended. Several lingerie brands use this so it can stretch and fit the body, but the downside is that this causes panty lines- crikey! In lieu, look for undergarments that already fit your body.
5. It Should Be Barely There
It's almost like asking for magical underwear, but this is totally possible! For your workout or fashion leggings, throw on an undie that is seamless, tagless, fitting, and soft, so it'll feel like you're not wearing one at all. The perk though is you won't have to deal with camel toes, visible panty lines, and irksome tags.