Best Leggings for Petite Women [17 Top Leggings to Wear]
Finding the right clothing can be challenging. It's no wonder why women generally take hours shopping. And, when it comes to leggings, petite women would have to spend more time and effort searching for a size that won't look loose on their legs or bunch up on the ankles.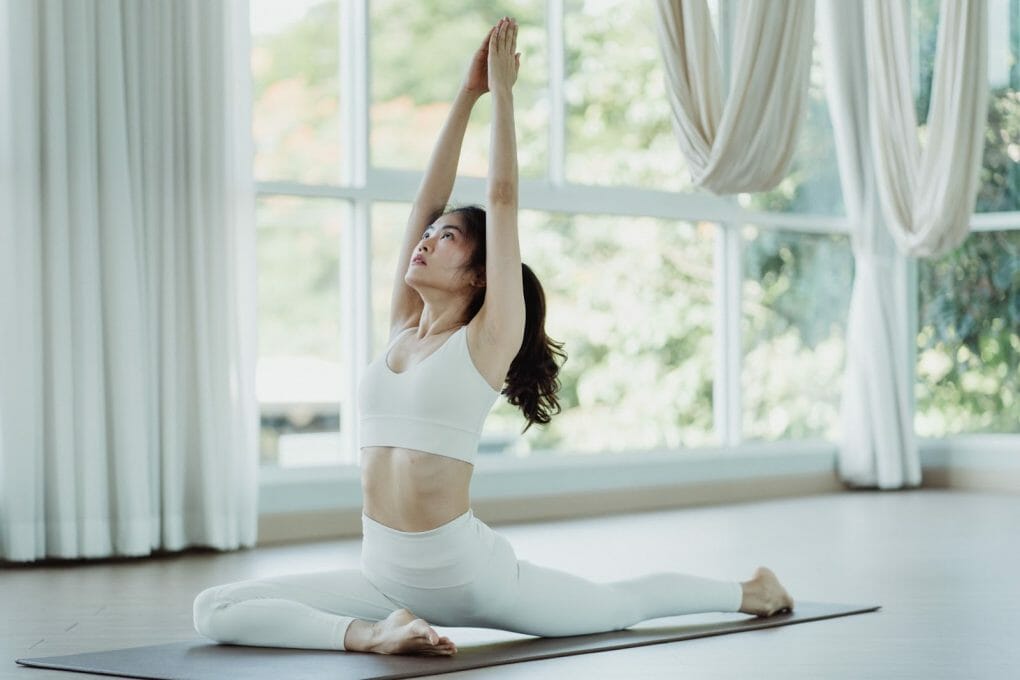 Luckily, online stores such as Amazon have plenty of leggings that cater to different sizes. Moreover, they go with various sweat-wicking, compression, buttery-soft texture, and other features for every petite woman's preferences. 
And while there are indeed several options to choose from, deciding what leggings to buy is still hard work. There's no need to stress over this. This article lists the top 17 best leggings for petite women. Read on to find out which of them ticks the boxes. 
17 Best Leggings for Petite Women
The best leggings for petite women must come in the right length and moderate compression without compromising other essential features. Whether they're high-waisted or not, the stretchy pants have to flatter the figure, especially around the buttocks area. 
They have to look smoothed out, made from quality materials, easy to maintain, and with various characteristics that can provide comfort and support. To start, check out these 17 best leggings for dainty women.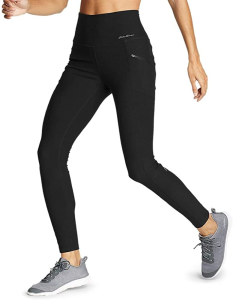 These trail tights guarantee comfort and freedom even during your longest daytime adventures. Made from a combination of quality spandex and polyester, these leggings feature moisture-wicking abilities, UPF sun protection, and odor-control technologies. There are two drop-in cargo pockets and added vertical pockets to securely hold your essential items. The waistband is also made from power mesh to keep your leggings from rolling down. On top of that, these leggings come in many sizes, including petite in their categories.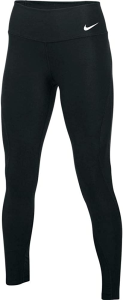 Nike is a brand trusted worldwide. And their Dri-Fit power-tight leggings are some of what people love about it. It has mesh panels in certain areas to promote normal airflow, keeping you cool and dry even during intense workouts or hot, humid days. It's, of course, made from non-sheer quality materials and passes the squat test. You're getting the best of both worlds from their top-grade polyester and spandex, ensuring you're comfortable. The figure-hugging design also flatters even petite women. To guarantee a nice fit around the waist, a pull-on closure is featured around it. Two pockets on the mid-rise waistband and another on the back are also worth noting. They can hold your keys and cards without causing you discomfort.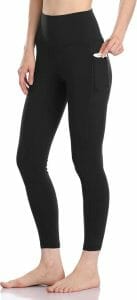 Fall in love with the crafted customer-favorite, Colorfulkoala yoga pants. It has a four-way stretch and a buttery-soft texture on the outside. Stride or do your usual yoga poses without feeling restricted when it comes to your every movement. The seamless waistband keeps your skin from itching and irritations, plus the tummy control feature prevents your waist from forming a muffin top. It has an approximately 25 inches inseam in ⅞ lengths. With its V contour on the back and its silhouette-hugging figure, any petite woman will enjoy seeing themselves in these leggings.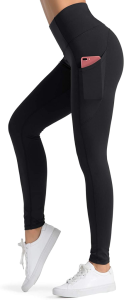 Active, petite women will find pleasure in putting on these elastic high-rise yoga leggings. These have the ultra-stretch fit and breathable properties without being see-through. You can guarantee that the softness will not cause unwanted irritating friction against your skin when touched. Compression and support are also two of its primary features. Petite women will feel even more confident wearing these leggings. Not only are these perfect for daytime travels, but they can also be used for lounging. Side and inner pockets are added, too, for a handbag-free experience for women who regularly have to run errands.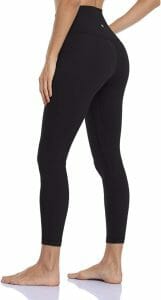 What's loved about this pair of leggings is its compression feature. It hugs your skin without compressing it too tightly. The material also stays in place and provides essential support, especially around the buttocks, waist, and ankles. For petite women, the high-waist band is ideal, so you won't have to keep on adjusting your leggings, plus this highlights your body figure, even more. It has a buttery soft feeling in a matte finish and is certainly non-see-through. These ⅞ leggings have 25 inches inseam. This is a pair of leggings that's perfect for running, training, and lounging.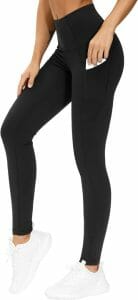 The Gym People leggings are primarily made from polyamide and spandex. This combination ensures you're getting a robust pair that can withstand the test of time and doesn't easily wear out. On top of that, it comes in various prints and colors, but you can never go wrong with black. The classic structure and the high-rise leggings can flatter any body type, especially those that are small and slim. The wide elastic waistband offers supreme tummy control for a seamless body figure. The ultra-stretch fit also passes the squat test, making these leggings ideal for Capri workouts and fitness drills.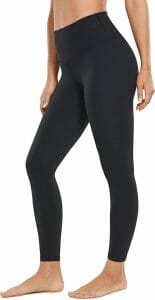 Ultra-soft, stretchy, and lightweight. Those are just some of the factors and reasons why people rave over CRZ YOGA leggings. These stretchy pants are made from lycra, butter-luxe fabric, and polyamide, giving you more than a bang for your buck. This is a high-waisted style, so women who love crop tops or sports bras can sport them without sacrificing the aesthetic look they're going for in contrast to low-rise leggings. You can choose among colors such as black, blue, pink, and several pastel shades or collect them all for an entire week's worth of leggings.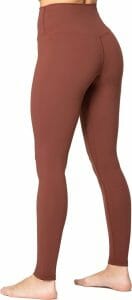 Everything you need from a pair of leggings, the Sunzel workout leggings have them all. Its material is made from polyester and spandex, which means you'll feel it is soft to the touch as well as durable. It also has a 4-way stretch, accommodating any type of movement, and is squat-proof, breathable, sweat-wicking, and buttery. These leggings also have side pockets and 19 inches inseam. Any petite woman can rock this pair in different colors, such as wine red, beige, and hot pink.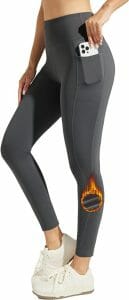 There's no need to ditch your regular leggings when the cold season approaches. Petite women can try out Willit's fleece-lined leggings. This stretchy pair of pants provide warmth and can even be used for layering for intense cold temperatures. It has a fleece interior, perfect for outdoor activities such as hiking, winter sports, morning runs, and more. The 24 inches inseam can also fit women with heights between 5'1 and 5'4. Moreover, these leggings have a 4-way stretch, remain breathable, and effectively wick away moisture.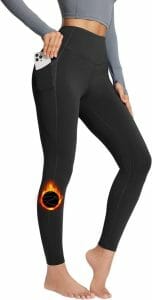 Another go-to option for thermal pants which petite women love is the Baleaf fleece-lined leggings. They're made to be thick enough to keep you warm, especially when you have to deal with the dropping temperature outside. These ⅞ ankle-length fleece-lined leggings for winter are suitable for 5'1 to 5'4 women. With the high waistband, any figure will look even more flattering. There are also two side pockets provided for your mobile phones, keys, cards, and other small essential items. In addition, the materials used are polyester and spandex. With proper care, these will last you a long time.

The Colorfulkoala pull-on closure leggings are soft, making them ideal for yoga or lounging. This is an ultra-lightweight garment, but it's definitely made with high-quality nylon and spandex. It stretches well and hugs the figure well. The seamless waistband stays in place, and the feels it gives would make you think that it's not even there! The flatlock construction is also worth noting. Women who wear this won't experience chafing anymore, especially in their private areas. The V contour behind is another subtle design added to give more shape to your butt.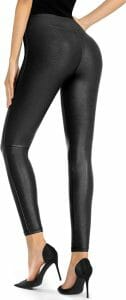 With its luster, the CLIV faux leather leggings are your best bet for the weekend. Party all night with these luxurious leggings. It's not difficult to even make an outfit out of these pants. Just put these on and match them with your favorite high heels and sexy top, and you're on the go. This nylon and spandex fabric provides support in all the right areas. Get them based on your size, and you'll certainly love how they look on you. These won't also form the dreaded camel toe nor look loose and scrunched on the ankles. The tummy control feature also ensures you look sexy throughout the night without the dreaded muffin top.

Petite women will gain an illusion of being tall when they sport the Satina full-length leggings. They come in black and other shades and prints, so secure a good collection for your lounging days. You can get dressy to casual or even use them for your WFH set-up if you're after comfort. It's made from polyester and spandex for a soft touch, and the waistband is durably elastic. By following the care guidelines of this garment, the Satina leggings won't show any signs of wearing out too soon.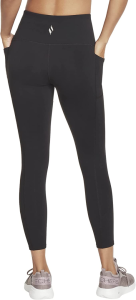 Skechers is a brand known for its quality garments. One of those is their high-waisted leggings. People experience these to be soft and worth every dollar they pay for. There is a pull-on closure to maximize the fit around the waist, which also keeps your leggings from rolling down. The Go-Flex feature is what ensures you're comfortable with this pair. It's not stiff, rough, or itchy to the skin. There are exterior side pockets conveniently added for your basic items and another on the interior located on the waistband for important items like your phone or cards.

Look good and comfortable during your casual day-outs. A pair of Lands' End Starfish leggings are what completes any daytime wardrobe. With a pair of shoes on and a top that matches your vibes, the whole look can get you ready to dash out of your house. The smooth, elastic waistband hugs your silhouette, and regardless of the activities you do, they persistently stay in place. It's primarily made with cotton with the incorporation of spandex, too. So, expect these leggings to be sleek, soft, and breathable. These leggings come mostly in dark colors but are also available in festive prints.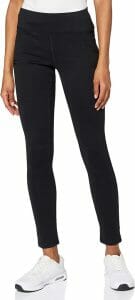 Build your leggings collection, and remember to add a pair or two of the Carhartt Force utility leggings. They're slightly more pricey than the other leggings on this list, but they are worth it. This durable, stretch-knit garment fits close to the body and is made for outdoors. The material also keeps away any bad odor, so you'll stay smelling nice all day. It also has a fast-dry technology, ensuring your sweat is wicked away. No matter how humid, you'll definitely stay dry. Although the ankles don't hug around your skin tightly, petite women will still look good wearing these leggings.

Calvin Klein leggings are also an essential wardrobe addition. The brand will satisfy your expectations by providing stylish straight-leg pants for any casual occasion. It has a pull-on closure if you worry the waistband won't fit. It will. To add, the materials used are cotton, nylon, and spandex. You are guaranteed a supreme experience when you put this on, no matter how long this stays on you. It's also low in maintenance. Toss these leggings in the washing machine, and you're done. Just make sure that it's washed with colors so the vibrance of the shade stays top-notch.