Best Leggings to Wear as Pants [16 Affordable Pairs to Wear]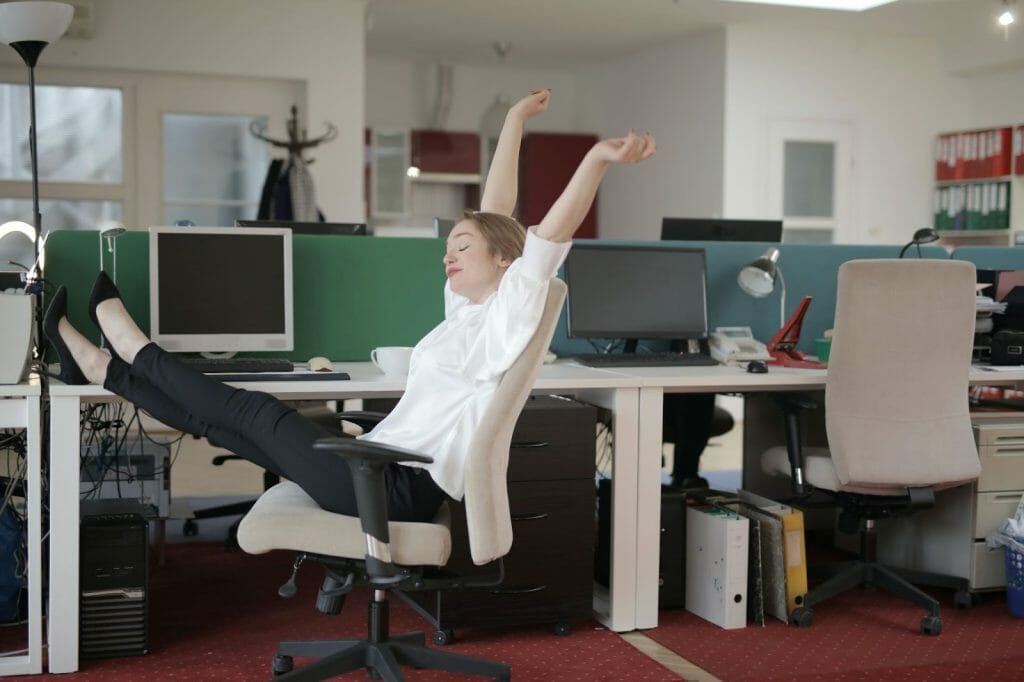 As if leggings aren't versatile enough when it comes to their comfortable and athletic features, some have been made to look like pants. Before, a lot of women were hesitant to wear leggings without putting on a tunic top. The good news is that innovation has taken its place, and your regular leggings have turned thicker and more durable.
As a result, anyone can develop their confidence to strut a pair in style even if they show their bum. The 16 leggings we're about to introduce to you will be your best replacement for your regular jeans and slacks; these are your authentic go-to streetwear that retains comfort and fashion.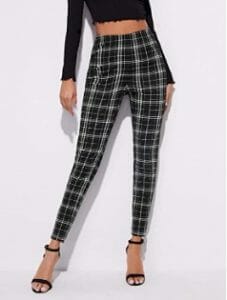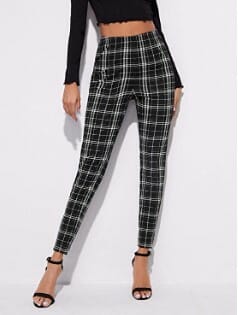 Leggings are not pants, but they can be, according to Elle Canada. With this one, you'll actually take a second glance because, let's be honest; these aren't your typical leggings aesthetic. It's pretty impressive how Wdirara has managed to replicate the real pants while committing to offer the same comfortable feeling and style that are found in a pair of leggings! Fall in love with the plaid print of these pants. Indeed, you might even pass through your company's building without the guard noticing the casualness of your attire at the bottom.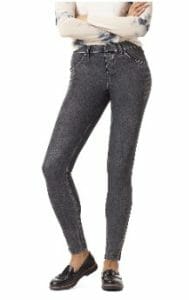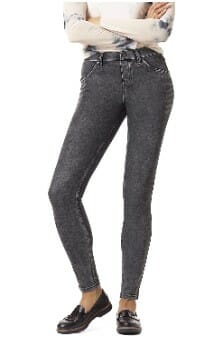 Worry no more if you run out of jeans to wear in your emergency meet-up with your besties. These Hue denim leggings are your fashion savior as all the details look incredibly the same as the real deal. From the seams to the fly and pockets, anyone would think you're actually wearing denim jeans. The tightness is just right, and even the waistband has belt loops, except that you can't actually use a belt for these. Are these durable? Heck yeah! The fabric is a perfect mix of cotton, polyester, and spandex, making these pants ultra-soft yet highly robust.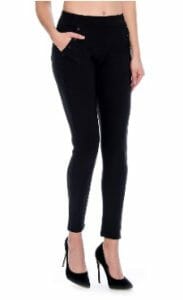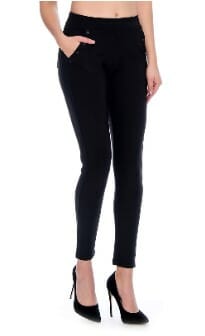 Are you in search of some type of rare leggings? Well, I kid you not, but I've found just the right thing for you. The Indero dress pants leggings are a real game-changer, as these pants feature real pockets! Now anybody in the office would even doubt the realness of these leggings and actually think you're sporting a real pair of pants. Yet with the scuba knit fabric, the comfort these offers make them 100% leggings. Dress to impress without sacrificing all the good benefits from these faux jeans.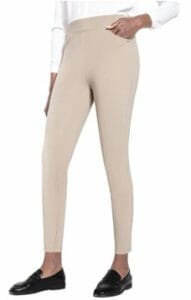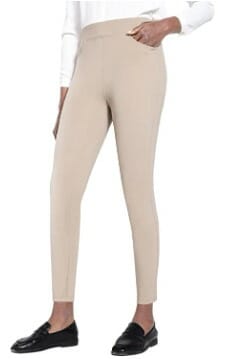 Sport a cleaner and lighter look for your leggings by going for these cream-shaded Baleaf leggings. These pants mean business, except that they feel more casual than the real pants. It's a guarantee that you won't experience pilling, wrinkling, and shrinking right away. The fabrics used are top-grade as they're a blend of rayon, nylon, and spandex ponte fabric. Two real pockets are located on the side for your phone. Of course, your carried items won't form through. Match these with a white office top and a classic pair of black heels to look effortlessly fashionable.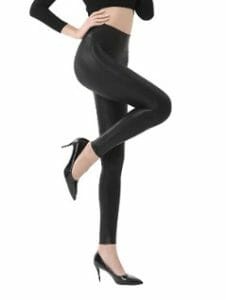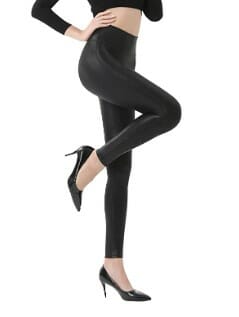 On your weekend night out with the girls, a pair of faux leather leggings will make you the hottest and baddest chic in town. And if you don't have a pair yet, you might as well try these Retro Gong leggings to make into reality your perfect club look. The faux leather is soft and offers gentle compression to add a figure to your whole appearance. It's definitely not see-through, has a matte finish, and is high-waisted, so you can achieve that elongated look. Go all black topped with a leather jacket plus boots or stilettos for a fiery ensemble.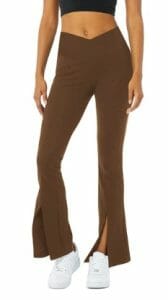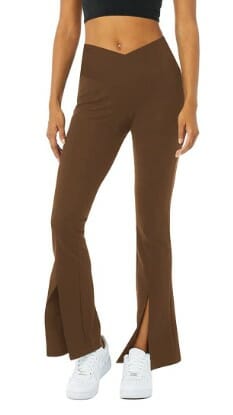 These won't be your typical leggings. These Esobo flutter pants stay stretchy, lightweight, and suitable to be worn as actual pants. You won't be late for any trend if you get a pair, and it's not complex to think of the clothes that would match an outfit that includes these leggings. A personal favorite is those that come in brown. You can add in a crop top of the same shade with an oversized jacket of the same palette. White sneakers would add spice to your whole look.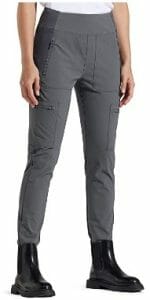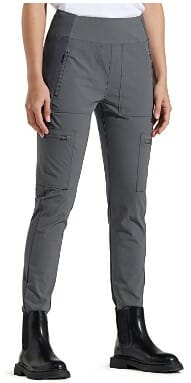 Show these to your friends, and they'll ask where you got these from. The Libin hybrid cargo pants are just what anyone is looking for should they want to pull off that bad girl vibe. There are real pockets on the side as well as two sizable zippered thigh pockets on the sides above the knee. The leggings can be a bit loose than your typical leggings, but that's the beauty in it, especially since we're dealing with a hybrid cargo pair.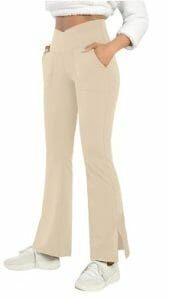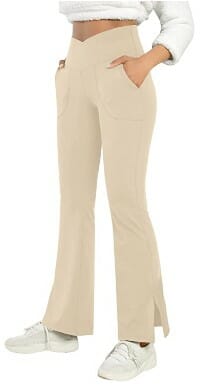 Have another trendy pair of leggings in your collection by adding a bootcut pair that looks close to the real pants. You can wear these as is without having to match them with a tunic top. The fabric is thick enough to offer you the coverage you need. These flare leggings give off a leg-lengthening silhouette with bell bottoms with side slits. Of course, there are real pockets where you can store your phone and money, and I guarantee that the items won't form ridges on these pants. Get these as your added option for loungewear or as a  means to upgrade your wardrobe.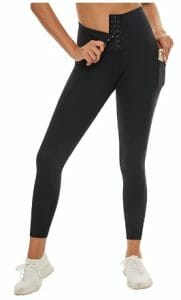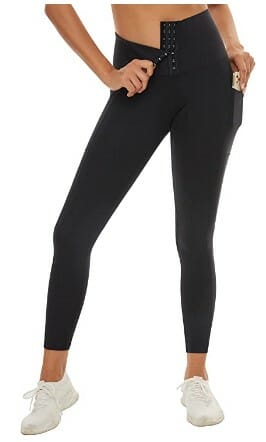 High-waisted leggings are just on a different level. They help cinch your stomach for a sexier hourglass figure. But, if you want to show it off, the fabric has to be thick, durable, and opaque. Seriously, the last thing you need is to get some of your areas exposed due to the garment's sheerness. Fengbay is absolutely supreme when it comes to the fabrics they use, which are polyester and spandex. You get the softness, maximum comfort, and of course, the illusion of wearing actual pants.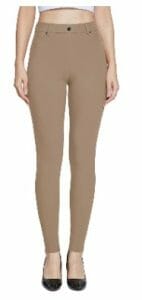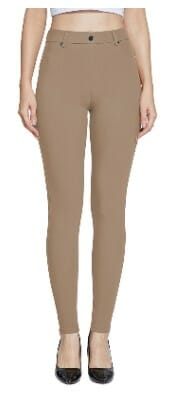 Treat yourself to a new pair of work pants! Being in the office all day long, probably sitting on your desk chair, can be tough to deal with. Your legs may feel sore and restricted if you get to wear tight office pants that don't stretch. Thankfully, these Amoy leggings are made for casual business settings. Just don't tell anyone that you're actually wearing leggings! They wouldn't be able to notice the disguise, and you'd be set to wear them more often in the future!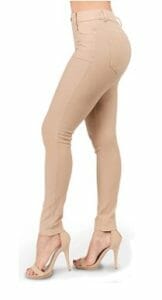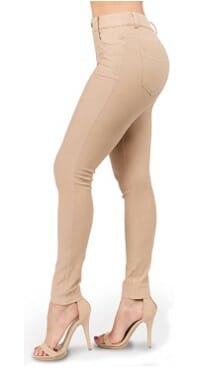 Do you find favor in the look of jeans, but you're more into the comfort of leggings? Why not experience both, then? The Ylluo leggings are made to look like jeans in various colors; you just have to pick the shade that really looks like a pair of jeans. The camel shade is a personal favorite, especially if you want to go for a monochromatic look. There are belt loops, jean-like seams, and actual functional pockets for your everyday essentials.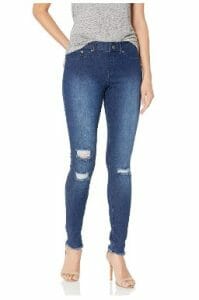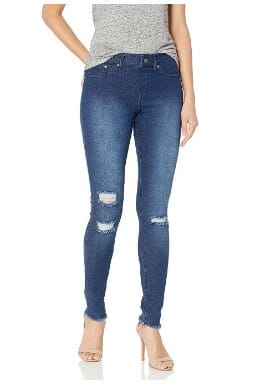 If you're searching for leggings that highly resemble the regular tattered jeans, then this might just be what you're looking for. The details are just incredible, from the rips on the knee to the color of the pants. Of course, the fit is figure-hugging, which is just the same as most jeans these days. With proper care, the color of these stretchy pants will stay vibrant.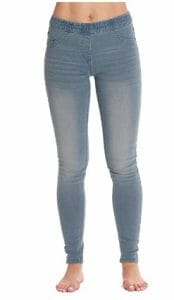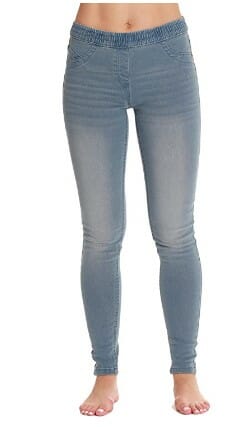 You can definitely pull off the jeans look without losing the comfort you'd only get from a pair of stretchy leggings. These ones from Just Love are made with versatility and structure, so you can easily pair them with just about any tops and blouses you got in the wardrobe. There are 2 real back pockets to carry your stuff as well as a garterized waist for a more snug fit. Pair these with sneakers, heels, or loafers, whatever you feel wearing during the day.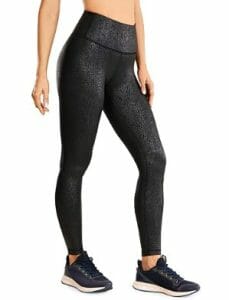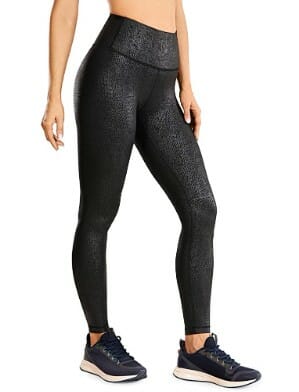 If you feel daring before your evening night-out with your girls, perhaps this pair of crocodile leggings from Crz Yoga will spark the flame in you. These are faux leather stretchy pants in a variety of shades that can be paired with any top. If you want to feel bad and hot, a lace bralette topped with a mesh shirt will make heads turn. These are thick enough to be worn as pants, so let out and show off your well-shaped bum!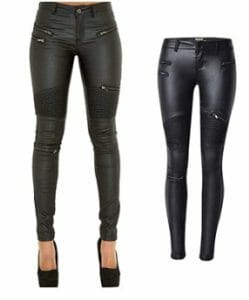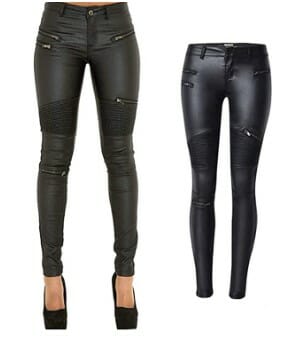 You'd feel the fun even better during your rides if your outfit matches your motorcycle. Sure, you can look hot and all that with your cool helmet and latest vehicle, but it can ruin the vibe if you wear a less cool pair of pants. Lexiart got you if you don't have one in your closet yet. Take note; these aren't your regular leggings. It has loads of side slanted zippers and details around the waist and thighs. You'll surely love the look once you get these in your hands, more so if you put them on.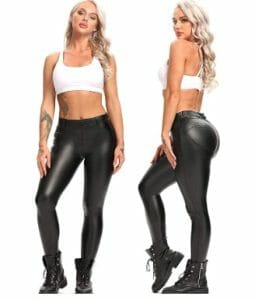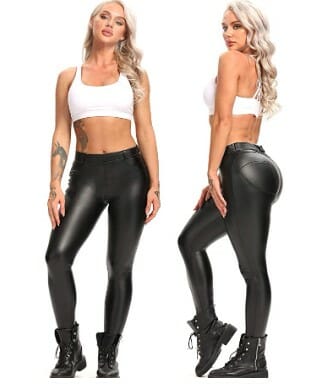 Your leggings shouldn't just look like pants. Instead, you may want to make sure that what you're wearing actually matches the season. If it's cold outside, these fleece-lined Fittoo leggings will give added warmth without compromising on the style aspect. Your butt will be lifted as the area is structured to enhance your bottom's shape. Belt loops are also added, but they're not necessary, really. After all, the waistband will be enough to make the garment stay in place.
You might be interested to read: Best Leggings with Pockets [2022's Most Stylish]