Best Headbands for Cycling: What to Buy for Men and Women
Who doesn't love to workout or play sports? I do and if you are on the same page as me, we would both agree on how annoying it can be if we have to constantly take breaks every once in a while to wipe off our sweat. That's why headbands are made for our rescue. These will keep our long hair at bay from our sight and that would mean continuous drill sessions.
Of course, when we talk about headbands for cycling, countless brands will flood our minds. From Nike and Adidas to others that are more affordable and not yet very well-known by the public, which ones satisfy people the most? Those, we will find out through this article. 
Men's Best Headband for Cycling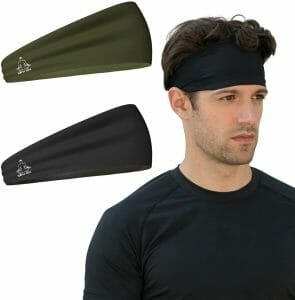 Keep your hair in place while you do lots of laps on your bicycle using this 4-inch wide headband. It's not super thick so it's guaranteed you'll have a lightweight experience. After all, you wouldn't want something on your head that would eventually strain your neck and shoulders. Its fabric wicks away the sweat and moisture, so no matter how long you paddle your bike, you wouldn't get stressed with the continuous production of your forehead sweat. It has quick-dry and no-slip qualities perfect for very hot weather!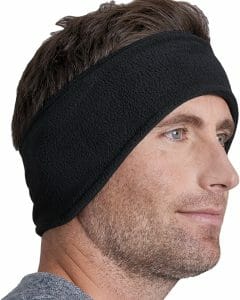 Some cyclists love to do their sport early in the morning to avoid the harsh sun rays, but the thing is, doing it before sunrise would mean dealing with a cold temperature. This shouldn't faze you though, as Tough Headwear has designed a headband that would keep your ears warm throughout your cycling session. It's made from fleece, a perfect defense from the cold and wind. It also stays in place diligently, so you won't have to fix it every now and then.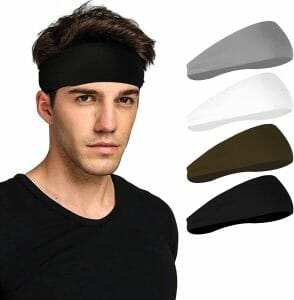 Let's face it, not all cycling headbands are comfortable. Some can be too tight or harmful for the skin, but that's not the case if you go for the Deilin headband. It's made from 95% polyester and 5% spandex which gives off a super lightweight and soft feeling on your head. This has an elastic to secure a tighter fit without causing you any strain or red marks. Another great thing about it is that its fabric is high on water absorption, your sweat drops won't ever fall down your eyelids. Sounds great, right?
You may wear the complete cycling gear and look cool and all, but the vibe you exude would be different the moment you have cycled a few hundred meters. Why? That's when your body heats up and produces sweat uncontrollably. However, with a headband as durable and practical as that of Tough Headwear, you wouldn't find yourself dealing with such an avoidable struggle. It's stretchy, nice to the touch, and it's available in black, gray, and white. This polyester-made sportswear is also a perfect gift for your fitness fanatic mate.
If you are looking for an exceptional cycling headband, then you should try out Vgogfly Sweatbands. It is made from polyester with a special absorbent material that is eight times more effective in dealing with sweat compared to your regular headband. The front band is thicker in width to provide comfort and protection for your head, keeping it cool and dry the entire cycling sesh! With its multifunctional use, this sweatband can be used for any activity in hot climates.
Women's Best Headband for Cycling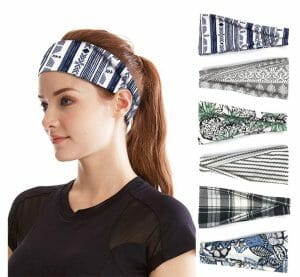 Want a bohemian-inspired headband for your cycling drill? PLOVZ has that just for you! Ride your mountain bike in style whilst flaunting sports headwear in different patterns and colors. This is made from polyester and spandex to give you a soft and comfy feeling on your head, unlike others which can be rough to the feel and too tight to be worn. It's truly a flexible piece you won't have to have second thoughts on whether this is great for yoga and other workout sessions.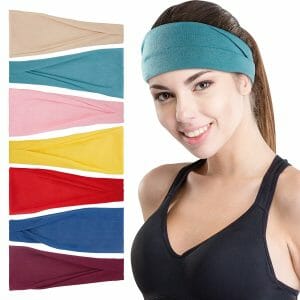 Trying to keep your sportswear simple? Wanap manufactures workout headbands in plain colors! Whether you want green, red, blue, or yellow, this brand got it all for you. The fabric is of high quality and it's definitely skin-friendly, so you won't end up having acne breakouts after a long bike ride. It has great elasticity so it can fit any head size for girls. Whatever you do, may it be recreational sports or intense workouts, this sports headband will stay in place. With proper care, the item would last a long time.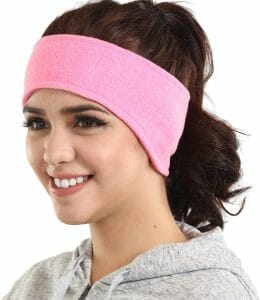 In dealing with the harsh weather conditions during your cycling session, three things you'd need to focus on are warmth, comfort, and excellent performance. Ign1te passes all three standards thanks to their headbands that cover up the ears. Its premium fleece fabric helps retain your heat while the spandex ensures a snug fit over your ears. Grant your head and ears a warm and toasty moment while you roam around the vicinity of your city during the winter!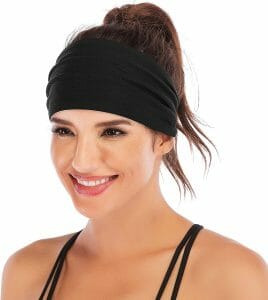 A sweat wicking headband is worth the money and if you want to invest in one, try out that which is made from Heathyoga! It is 80% nylon and 20% spandex so you'd feel at ease while you do your indoor cycling drill. It has silicone bars too so you wouldn't have to constantly fix your headband. We know how annoying that could be, hence why we're recommending this phenomenal headband. It's a one size fits all type, so don't worry about ordering it online and ending up having a product that doesn't fit.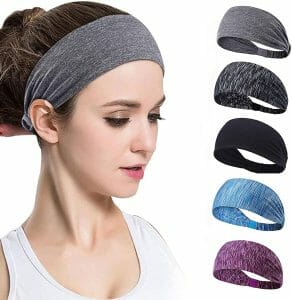 Keep your hair out of your face by using this wide workout headband, so you'll stay focused throughout your cycling moment. It's made from eco-friendly materials and it's very effective in wicking off sweat. Guaranteed, you won't stay wet or end up having your sweat trapped on your forehead. Yikes! It is washable, durable, and stylish, you won't get tired of wearing this headband. If you want, gift one for your cycling mates as well, so you will all have a much more fun time!
Best Features to Look For in a Cycling Headband
With all these ten headbands listed for you to try, choosing one is still hard work. You might be torn between 2 or more sports headwear here, so we'll help you out in deciding which one to purchase. Simply consider a few features in a headband and see if they correspond to your liking and needs.
Material. First and foremost, you need something that would enable your sweat to evaporate quickly. Sweat-wicking fabrics are definitely your top choices. Cotton is a no-no.
Durability. Who wants to buy a new headband every day or week? Well, not me. Choose one that is washable and not too delicate. It has to stand the test of time. Of course, the better its quality is, the more costly it is going to be, but you know what, spending a few more dollars won't make you regret it in the long run.
Size. No matter how promising a headband is, it won't be of good use if it doesn't fit correctly on your head. If it's too tight, you will be left with red marks on your forehead. If it's too loose, how would you be able to keep your hair off your eyes? Stay on the safe side and buy elastic headbands or those that fit all head types and sizes.
Color. Aesthetics-wise, color is also important in decision-making. If you hate wearing a neon green headband, then of course you wouldn't put one on the cart even if its quality is top-notch, right? Know what color suits you better. Pastel, nude, or bold shades are popular choices.
Multi-Purpose. This one's a bonus. Some headbands are limited to sports, but there are others that can be used for casual wear. Also, other headbands offer ear warmers, so you can adjust to the drop in temperature. You just have to be very keen at searching for the right headband, so take time in doing your research!