Best High-Waisted Black Leggings: 13 Pairs You Can Buy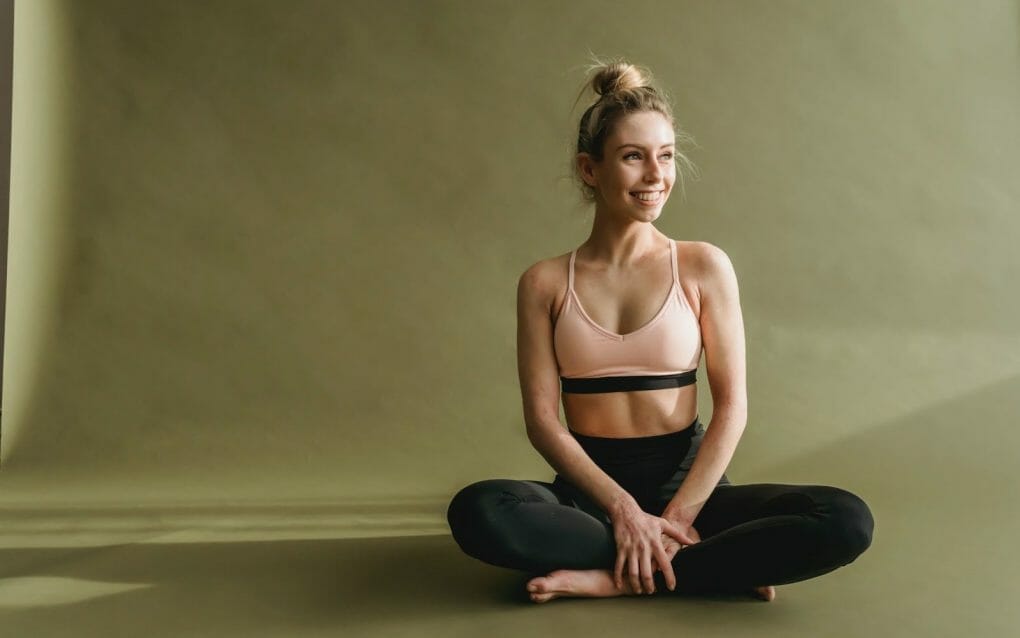 While black leggings themselves are almost everybody's favorite, the high-waisted ones are the top choice by fitness fanatics, loungers, and influencers. They persistently stay hugging the waist, saving you from the hassle of pulling them up every after squats or while doing your regular HIIT training. Imagine how tiring that could be!
Aside from that, high-waisted leggings give you shape, radiating a more flattering figure as well as an enhanced rear end. They can have pockets, broader waistbands, different lengths, and varying fabrics. 
These are your absolute must-have, but choosing the right pair can be quite a headache. Let's narrow down your choices as I highlight the top 13 black leggings that are popular in the market.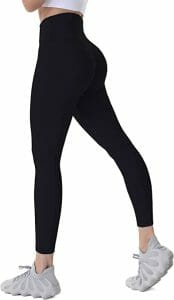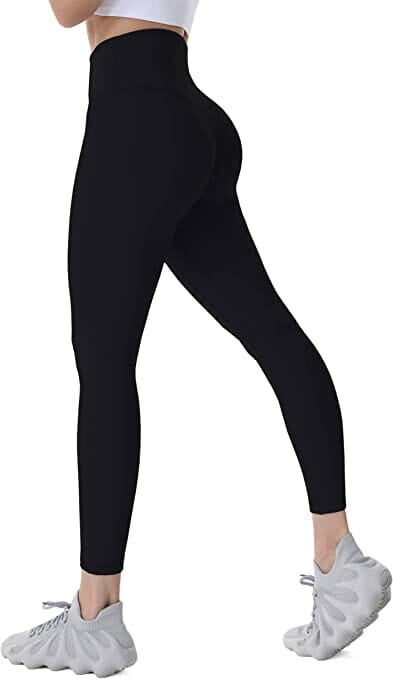 Sometimes, the best leggings don't come from the big brands. If you haven't tried Sunzel's yoga pants yet, then you're missing out! Get to experience their buttery soft yoga leggings that feature the right construction, texture, and fit. You will certainly spend a good hour or two at the gym without the frustrations only a poorly-made pair of leggings will give you. Get ready to experience as well a real 4-way stretch feature, moisture-wicking fabric, and moderate compression; you'll love every single detail. Though it's plainly black, the pants have some "hidden talents" which you'll definitely need for your everyday sesh. The price starts at $9.99 only.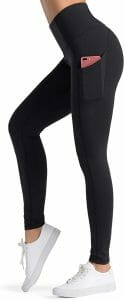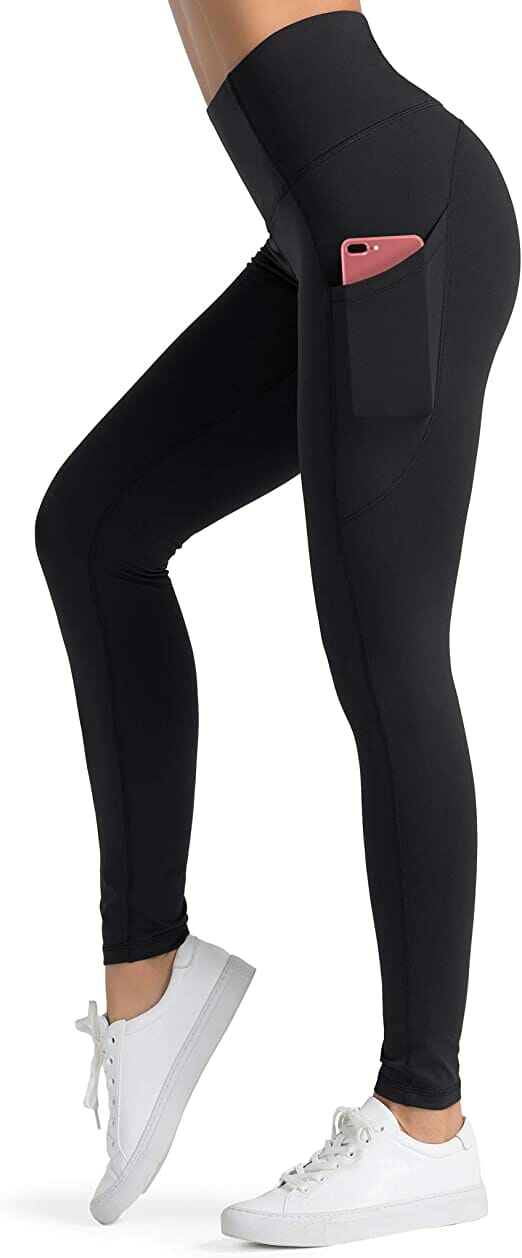 If you're still looking for an ideal pair of go-to leggings, the Dragon Fit high-waisted stretchy pants might just be what you're looking for. As these are high-waisted, you know you're getting the green flag already. Even Laura Ingham, British Vogue's contributor, finds high-waisted black leggings as versatile and worth the investment. By trying the beauty and practicality of the Dragon Fit leggings, you're granted side pockets for your basic items. They're soft, and they are comfy for any yoga position. Get a pair for only $23.98; it's almost a bargain.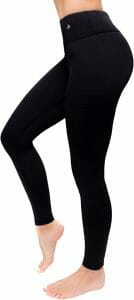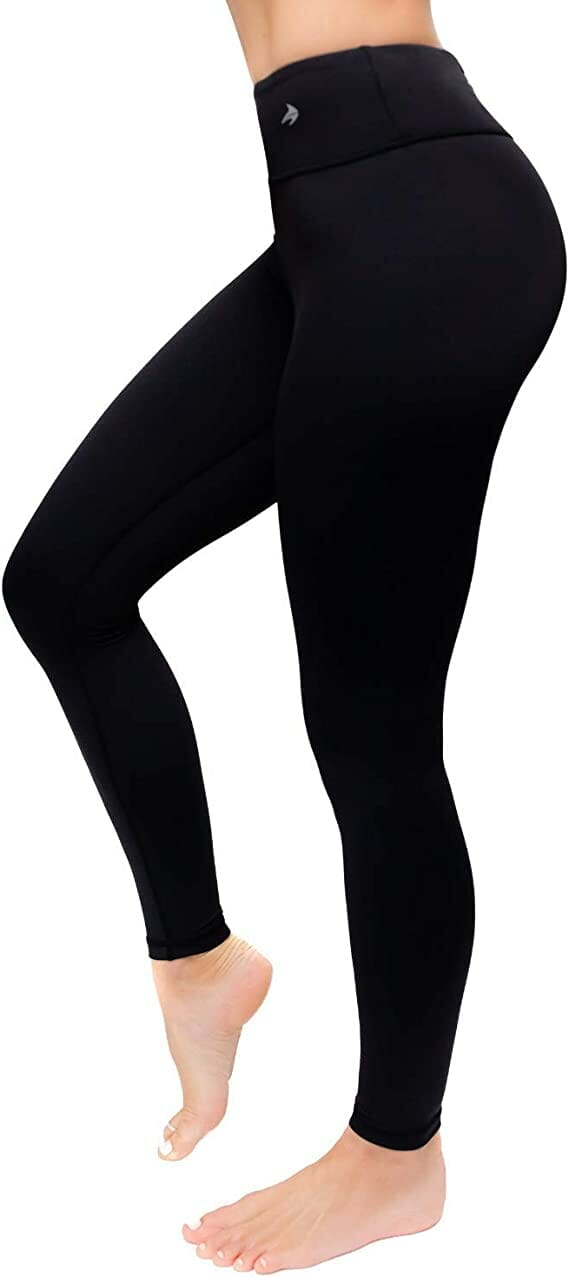 All you need in a pair of black leggings are adequate support and the other features required. You can't compromise, especially with the fabric. This is why CompressionZ will continually earn a spot when it comes to leggings. Feel how they're made to support runners. It's a pair that's guaranteed to be comfortable, and it has a compression feature that'll make you look slimmer, especially around the waist area. The brand promises a clothing product that's only made of premium fabrics that can withstand cold and hot weather. For only $27.99, you're set for your seamless regular workout routine.

If you've never tried out the brilliance of Nike leggings yet, then this might be the time to test them out. There's one strong reason why Nike is a popular brand. They're just timeless, advanced, and a complete package. The New York Times even finds the brand courting the fashion world, albeit in a gradual process. So, what's great about these leggings is that they fit like a glove, are versatile for both lounging and casual outings, and can be worn all day long without soaking in your sweat. The high waistband sits perfectly, disallowing the dreaded rollovers. The athleisure brand sells this for only $50.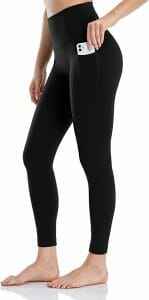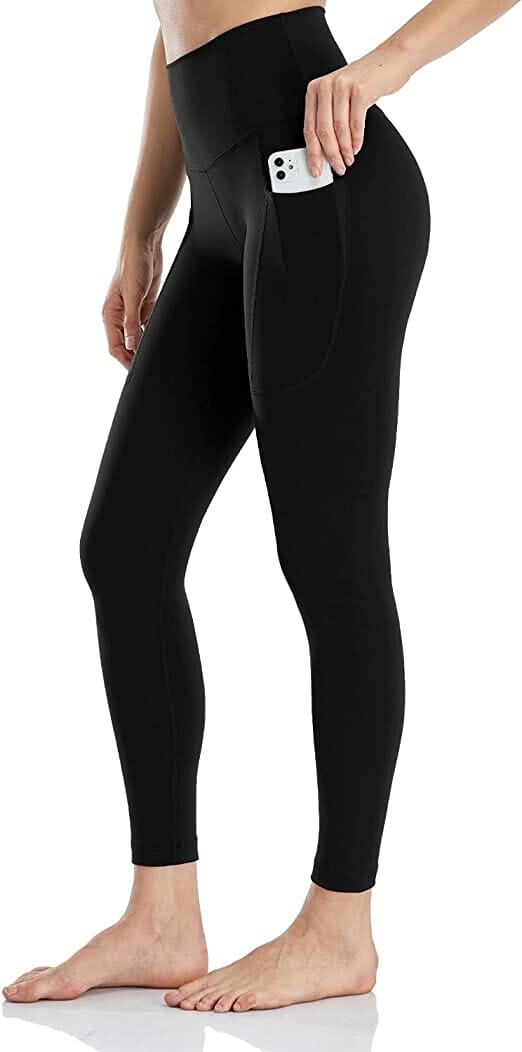 HeyNuts athletic leggings save you a lot of money compared to other expensive brands. Once you put them on, you'll experience an urge to buy more! For only $28.99, you're set to have coveted high-waisted tummy control, a seamless waistband to avoid unwanted irritation from skin friction as you move, 2 side pockets, and a gusseted crotch for more coverage. Really, you're going to experience a whole lot of positive experiences from these leggings. You can match them with crop tops or whatever workout vest you have.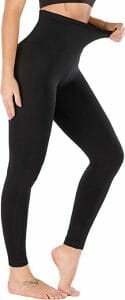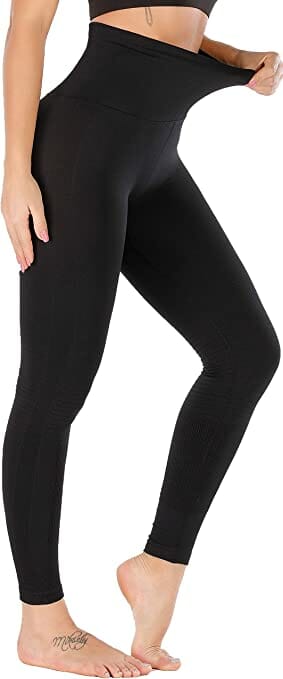 Up close, you'll notice a striking, subtle pattern on these Running Girl seamless leggings; the laser cut-out details allow ventilation on your legs as you work out. The way these stretchy pants are designed also permits sweat-wicking properties and a 4-way stretch feature for the ultimate experience you won't get from other regular leggings. The high-waistband offers support and compression for tummy control: these are your leggings to combat cellulite. It's 5 inches high for added coverage, and that also promotes a beautiful figure without making you look too cinched. It's very affordable as it sells for only $9.51.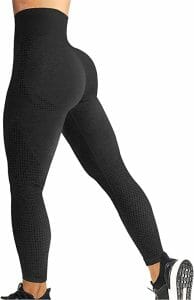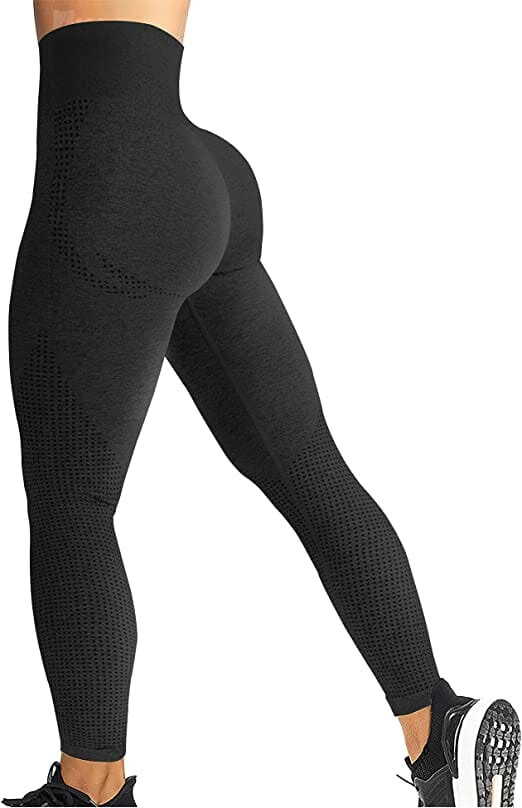 If you practically live in your leggings each day, you have to make sure it keeps up with your standards in clothing. Those that are too loose would constantly make you pull the waistband up, and those that are too tight can make you gasp for some oxygen. Thankfully, it won't be the case with Higorun, as their excellent leggings have flattering contours that hug your body well. They'll make you feel naked as they're lightweight and soft when touched. The dry technology also lifts your skin's moisture and lets them evaporate quickly. Higorun will be your favorite for everything. The waist will earn a better figure, and these pants will make your bum well-accommodated. They retail at $22.25 only.

Working out to get your body back after giving birth sure is a challenge and what you need isn't just a gym place to make this happen. Start things out in front of your wardrobe and choose the right pair of high-waisted leggings. Homma caters to all moms who fight hard to make their tummies get back to looking hotter. You can also use these stretchy pants to slowly improve your cellulite appearance if you have any. The thicker than average waistband allows enough grip, so it doesn't go all over the place during your drills. Get the Homma leggings for only $19.95.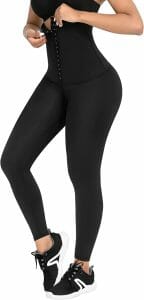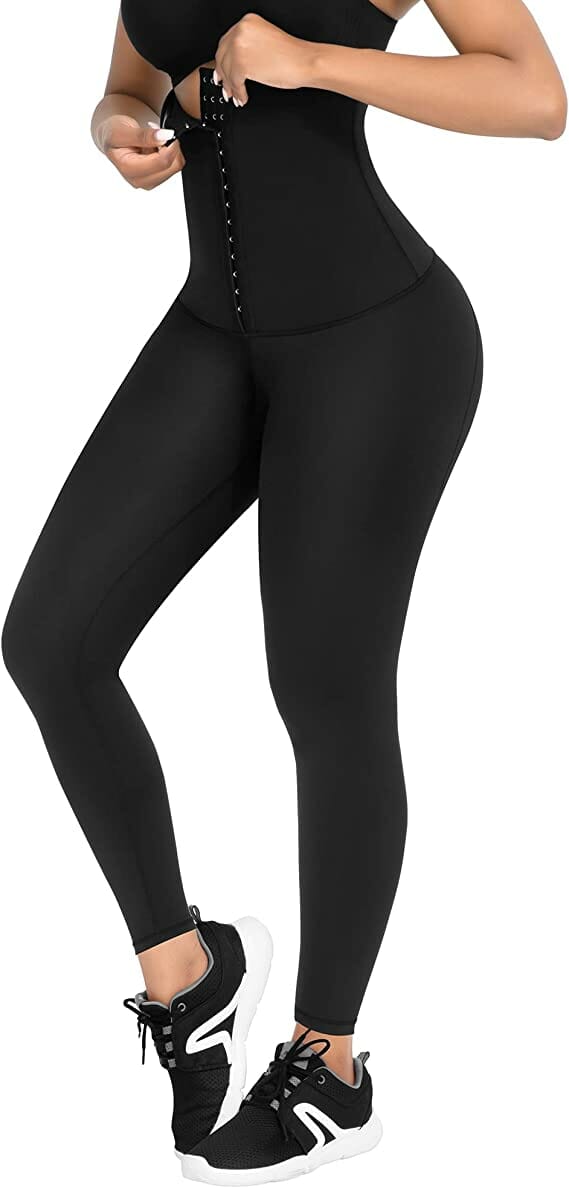 Indeed, the WFH setup can earn you some flabs, but not if you lounge in these FeelinGirl leggings. What's unique about them are their 3 rows of hook-and-eye closures. Adjust them depending on the tightness you want to feel around your waist. These are also perfect if you just gave birth. Compression helps a lot in getting yourself recovered, especially in the tummy area. The seamless design also keeps you chafe-free, and the premium fabric won't make you feel too hot that quickly. Have a pair for only $29.99.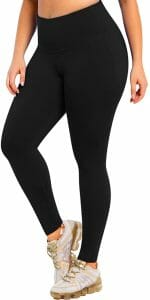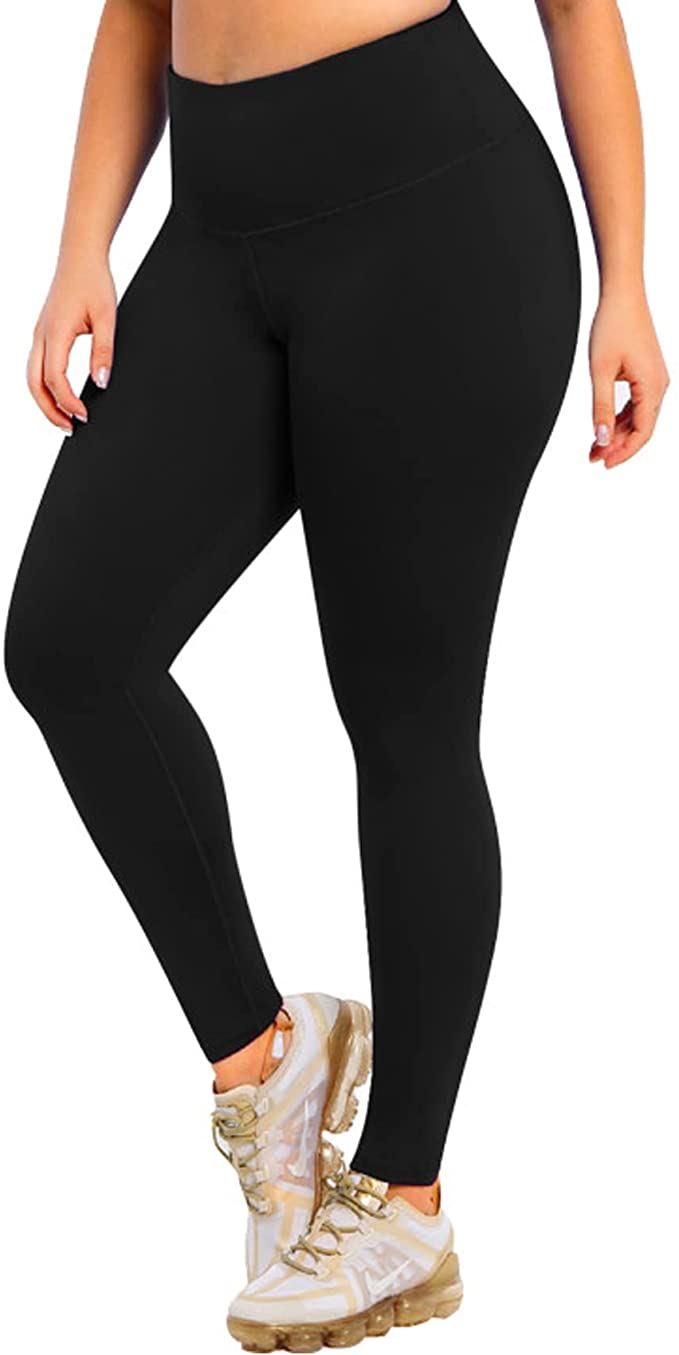 Are you plus-sized and struggling to get yourself a pair of leggings that actually fit? MoreFeel got you. The brand's leggings are specifically made and manufactured for women like you. The fabric's quality ensures that it can hold your stomach and legs without unwanted exposure only thin fabrics are guilty of doing. You'll see a great figure in the mirror, and that'll drive you even better to stick with these leggings as your go-to wear. Some plus-sized women experience a cut in their blood circulation when wearing regular leggings, but not with MoreFeel. Experience it yourself for only $13.99.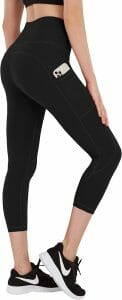 Lifesky has a perfect athleisure pair of workout leggings! They stay in place no matter how many times you bend over for your drills or dance class. Even if you have a furry pet at home, the fur won't stick stubbornly on the fabric due to how premium the texture is. The length is about a few inches above the ankle, so you'd feel cooler while wearing the pair. Move freely without restrictions and experience a lightweight feeling throughout the day. The price starts at $13.98. Among other perks, you'll also have a side pocket for your keys, cash, and phone.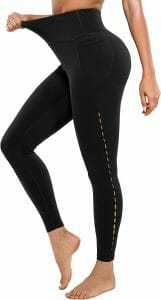 TrainingGirl leggings exhibit cut-out designs that are attractive when worn. Dia & Co.'s Director of Fashion, Rosaliz Jimenez, finds the quality a feminine touch without sacrificing the performance expected from a pair. Going for unique designs adds some type of personality to what you wear, and luckily, there are various leggings designs you can choose from. TrainingGirl shows a minimal pattern on the side, which adds a sexy visual effect while retaining breathability. They're a sort of compression pants, too, and the waistband is broad enough to provide full coverage on your entire tummy. The leggings are worth $21.99 only.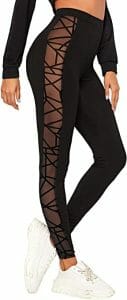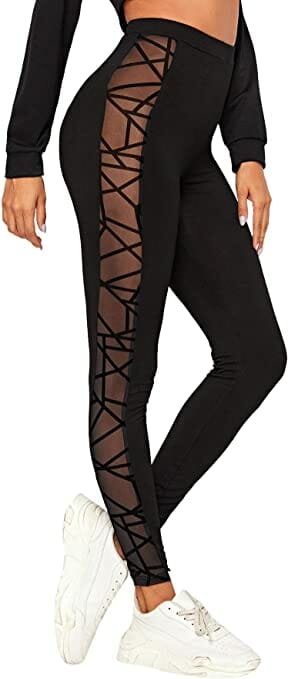 It's even more motivating to commit to your regular workouts when you look good. SweatyRocks offers leggings with mesh panels on the side to make your legs appear more attractive and worth the attention. Guaranteed, you won't feel itchy with this feature. The design goes up to the waist with a less broad band, but don't worry about the rollovers as they won't happen at all. Ready your words as you'll endlessly praise the quality of SweatyRocks leggings. With its unique look, you can sport these pants both in the gym or at whatever casual event for the price of $15.99 only.