How to Wear a Scarf as a Headband: 15 Easy Ways to Do It
As one of the must-have accessories in the world of style and glamor, scarves have earned a spot as one of spring's most essential items for ladies. While these pieces of fabric are no longer new to us, there are loads of fun ways to use them. 
Quit tying a scarf around your neck or wrapping it around your favorite Birkin bag. The next big trend we are in is headscarves! It's time we put a stop to going out and leaving our hairs unadorned. You need no golds and glitter in your head, but rather just one accessory to make you turn heads.
How to do it? It's no complicated mathematical equation. Just follow any of the 15 easy scarf headband styles we have listed here!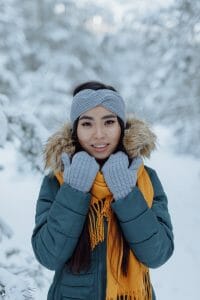 A knitted scarf isn't too bulky for headwear. Fold it lengthwise and twist it one time in the middle. This serves as a simple yet attractive touch as a headband. Wrap this carefully around your head. Considering how thick its fabric can be, it's much preferred that you wear this on top of your head rather than place it along your forehead underneath your hair. Tie it well at the back of your neck to secure it doesn't move. Knitted scarves for headbands are ideal for the cold and quite a bad accessory during the summer. Shy away from this style if you want to say cool under the heat!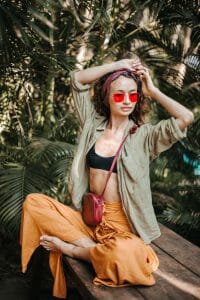 For a retro-inspired look, all you need is a small square hair scarf and your creative hands to do the whole process. You have to fold the scarf diagonally and let both opposite points sit together, then neatly fold it lengthwise. It is up to you if you want it thick or thin, but the preferred style here is something that's not too broad. Lastly, make a "U" shape around your head using the scarf while both loose ends meet on top of your head. Tie them both and you are done!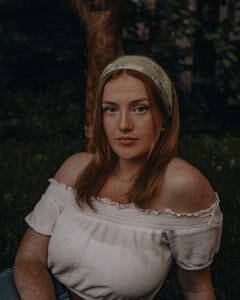 What's a more classic way to tie a scarf on your head than to have it pulled back like flipped bunny ears? All there is to do is to find the midsection of the fabric and place it on your forehead. Adjust the tightness according to your comfort level and slowly let both ends meet at the back of your neck. Tie a knot once and make use of bobby pins for a more secured placement or you can do two knots if you don't want to be bothered using other accessories. Let the loose ends of the scarf drape behind your back. It's a good sight, especially if you wear a flowy dress with it.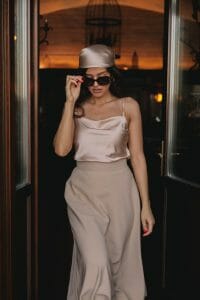 Lizzie Mcguire is more than happy to let you use one of her popular signature styles. Should you be experiencing the dreaded bad hair day, you need a cover-up that conceals more than what a regular headband would. A bandanna cap is one of the easiest styles you can achieve in an instant. Of course, just because you're covering a portion of your crowning glory doesn't mean you have to let go of your class and awesome style. Choose your most luxurious satin or silk scarf for a glimmering headpiece that will help bring back your confidence.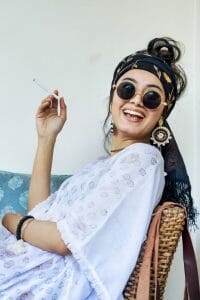 Aim for the bohemian heights! Well, aside from your boho-inspired ensemble, you shouldn't forget about adding some of your personal touches in your head. Braid a portion of it and tie your hair in a low ponytail or messy bun if that's the look you want to go for. Just don't ignore the idea of wrapping your sheer scarf as a headband and tying it up on the lower side for a distinct appearance. A scarf with tassels on the tips might energize your unconventional spirit, so definitely go with such a type!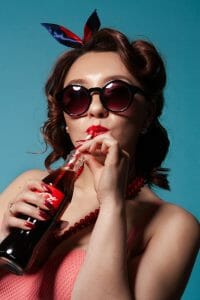 Show your cute side in front of the camera! Whether you are picked as an advertising model or you simply want to be noticed by scouting agents, you have to invest in how you look. Not necessarily that you have to undergo cosmetic procedures because there are surefire and cheap ways to stand out among other girls! With a small square scarf in vibrant colors, have it folded well before you tie both ends in a knot. The remaining fabrics, if they are stiff, can replicate the ears of a rabbit and that's the look we're after. Slide the ears on the side, for a more adorable aura!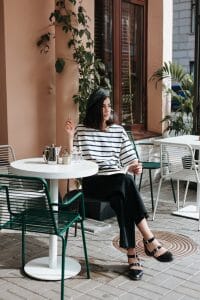 You need a stiff scarf on this one. This might even tend to be a complicated style, but it's not a worry if you are not in a hurry during the day. If you have experience in napkin folding, this would be a lot easier! Anyhow, the steps involved aren't written in a long list. A square scarf has to be folded in a diagonal style then fold the longer side. Make sure it's super thick in width. Next, draw half of the fold back and tuck the pointed end to conceal. Wear it around your head and gently pull the mid part up until it closely resembles the shape of a princess tiara.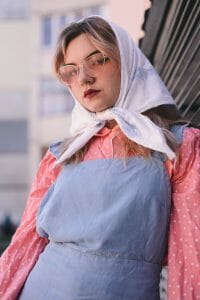 Celebrities and European women all show favor in the babushka way of wearing your scarf as a head covering. This protects your entire hair, making it perfect for truly hot or humid days. You don't really need a tutorial for this one because right after first glance, your hands would know how to do it in style. This is going to stay in place no matter if you are on the run to your nearest book shop or you're racing for the sales season in your favorite clothing store.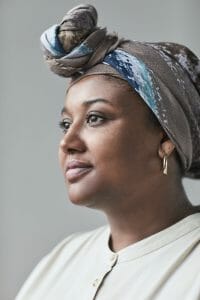 Have something attractive on your head by going for the rosette turban. You need an oblong scarf for this one, so be sure to use that one that's been sitting for so long on your closet shelf! The process starts by wrapping your head up at your neck and drawing the fabric to your forehead. Once you're there, tie the ends in a double knot so they'd stay that way the entire day. Make sure the rest of your head is well-covered. Perhaps a mirror in the back would help you. The remaining scarf fabric has to be twisted around the knot and the loose ends can be tucked under for neat results. For added volume, tie your hair in a bun first. This will be your base for the head wrap.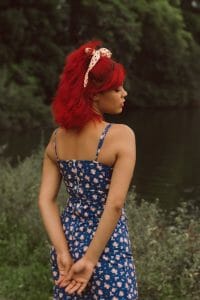 You can have fun and play around with your hair accessories without seeming like a kindergarten student. To look cute on a date, try to place the ribbon somewhere else, like on top of your head. A long scarf is needed to get the look we are wanting here. Start at the base of your neck and smoothly tie both ends on top of your head. Make a firm ribbon right there and then so you'd look chic, cute, and fun!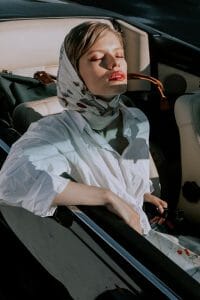 You can definitely refer to this as the babushka 2.0. Got the image I am thinking of right now? This style is best worn with a convertible car and a 90's inspired fashion. You drive in the middle of nowhere and suddenly experience some problems with your car along the way. Who would fail to notice a damsel in distress when you're wearing an attractive vintage scarf in a lady-like manner? To get this look, do the babushka version, but both excess ends shouldn't be tied. Instead, wrap them around your neck and fold them tidily underneath.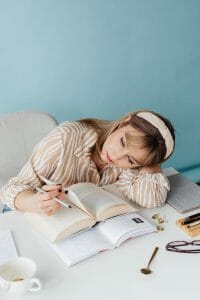 Nope, you wouldn't be able to focus on your daily paperwork with your hair falling down on your face. It's alright if you have a short fringe but the rest of it is a pure distraction! Grab your scarf, anything will do as long as it can adequately be wrapped around your head. Make a clean knot in the middle area and wear it as you would with a regular headscarf!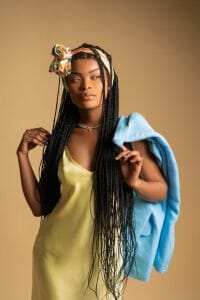 All eyes will be on you if you are daring enough to sport this side bulky ribbon style. It's nothing too complex, actually, but the challenge is when you have to flaunt it with confidence around people. Printed scarves are ideal, but it's also attractive to go for one color only. After doing a ribbon on top of your head, push the prominent detail to the side of your temple.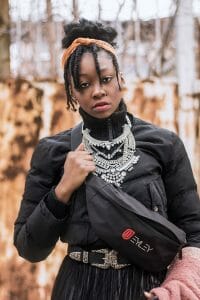 For something that's deemed intricate, the rope style is actually far from complex to take inspiration from for your head accessory style. To make an exact replica of a rope, fold your scarf's length in half and start twisting them around. Secure your scarf's design by creating a knot on the loop. With this look, consider the type of scarf you are about to use and dodge those that would seem too bulky.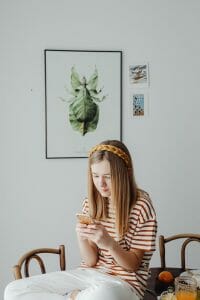 Last but definitely not least, another detailed scarf design you can try is the braided one. A thick accessory is preferred so you won't look like you're having too much fabric on your head. Use a bit of your hair as the third leg to properly braid your scarf or opt to make loads of single knots until you achieve the desired length. Put your friends in awe at your hairstyle, albeit a time-consuming one.