Scarf Ideas for Hair: 13 Ways to Hoist the Hairdo
Are you having a bad hair day? Girl, you are not alone on this one! Countless ladies are dashing off to their computers and searching for an alternative to conceal their unstyled crowning glory. But, you know what, you don't have to brainstorm for hours just to have the perfectly accessorized hair for the event you've been anticipating to attend. In fact, you have just come to the right place as we will give you all the best advice fit for a trendy girl like you. All you need is a scarf to elevate your whole look.
To help you out, here are 13 scarf ideas for your gorgeous hair!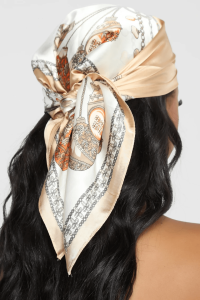 Be bold enough to defy the conventional ways by sporting a one-of-a-kind look that displays your liking for peculiar lifestyles through this bohemian-inspired hairdo. A scarf with different prints will do the magic for you and there are numerous ways to tie it around your head. You can either wrap your head halfway with just enough space not to cover your eyebrows and ribbon it up at the back of your head or you can fold the scarf and style it like a headband. Actually, whatever you think suits you. Don't be afraid to get creative!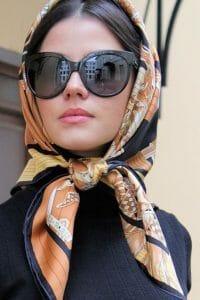 Be that mysterious-looking chic at the fashion event. With a luxurious designer scarf from Versace, you will surely turn heads as you strut your way through the crowd- a real stunner, indeed! Simply cover your whole head and tie both ends in a ribbon underneath your jaw. Grab your favorite sunglasses, a black one is preferred. And, make sure your outfit matches everything from the colors of your choice down to the fabrics to prevent an awkward or an overdressed mishap. Keep it cool, but extremely classy- a throwback fashion game!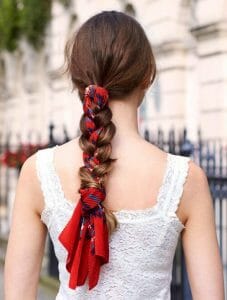 Take advantage of your talent in braiding to keep yourself looking youthful. This is so IN with teenagers and even young ladies due to how timeless a braid look can go. Whether you do a simple French braid or the exquisite fishtail braid, don't forget to make use of your colorful or pastel-colored scarf. This will make passersby take a second look at your elegant hair. The perk with using a scarf is that you no longer need a scrunchy to keep your hair tidy anymore.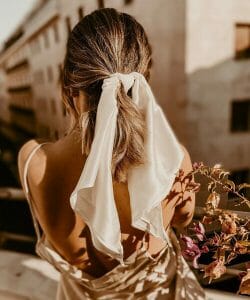 No matter if you are a guest or a bridesmaid, you have to ensure that you look your best (of course, without trying to steal the spotlight from the bride! lol). Aside from wearing that lacy, figure-hugging dress, don't leave your hair untouched. Thinking of doing a low ponytail? Girl, white silk (or whatever fabric matches your garment) scarves will make you on the go. Tie your hair using an elastic band while leaving off a side fringe for a chic vibe and add in your preferred white scarf. Then, either do a ribbon or keep the tie simple.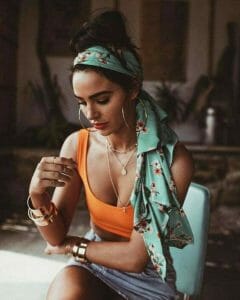 With a wardrobe filled with bold colors, this fashion statement will surely fit you! You can do a lot of styles with a long scarf at your disposal. Floral, plain, or checkered, any pattern can be an excellent hair accessory. Do a bun on your hair, a messy one, most preferably, and tie the scarf like a headband around your head. Leave the remaining lengths of the piece hanging freely down one side of your shoulder. Style yourself with a tank top and a skirt, and don't forget to wear your minimalist jewelry like hoop earrings, necklaces, and bangles.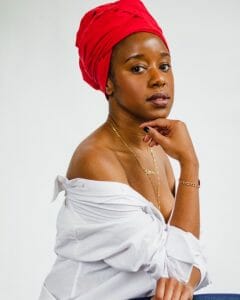 There can be days wherein we just want our hair off our faces. Whenever you feel like tying up every strand, don't let your hairstyle go boring! A scarf makes a nice turban and it sure will keep your hair in place. That one with tassels on the edge will add up more of a glamour effect, but if you don't have one yet, it is not too late to own one! Just bear in mind not to go for patterns for this one if you want to go for the conventional way. Instead, select intricately-colored ones with attractive hues. But, you know what, you are in charge of what you wear, so whatever suits you, I guess!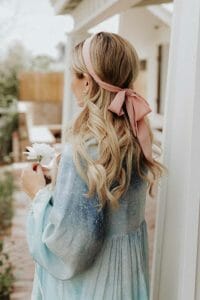 When we were little girls, we always dreamed of becoming real-life princesses. And, you know what? That's not entirely impossible! You can effortlessly achieve the princess image just by having a few essential pieces. First, ready your fairytale-like, flowy dress, a few jewels from your "royal treasure box", and a nicely woven scarf. Curl your hair in wavy patterns and neatly wrap the scarf on your head, ending it up with the classic ribbon. You will be amazed by the results! Guaranteed, you'll feel like you belong to the royal family. So, which royal family would you want to be in?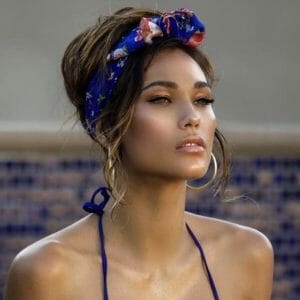 You don't always have to hide the knot you made to ensure your scarf does not end up getting untied in the middle of your activities. In fact, knots can be pretty and stylish! You can choose among several options such as ending both ends in a bun or a ribbon if you don't mind having a fabric loosely hanging in front of your face. This is a super debonair look that you can wear every single day and it might even end up becoming a staple item in your closet. You know the rule, stay on top of your fashion game!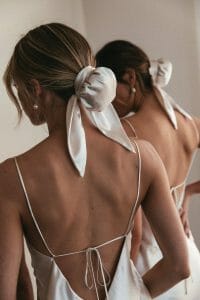 As I said, imagination is the limit. You can do lots of things with your hair with a mere scarf on your hand. Tie your hair first in a tight bun before you wrap around a satin hair scarf and tighten it by circling the cloth on the bun. Let the remaining length hang down freely for a simply sophisticated look. Wondering which event would this hairstyle be perfect in? I can list several! Sport this simple style in weddings, dates, family reunions, and beach outings. A backshot of this is Instagrammable so don't forget to take a few snapshots!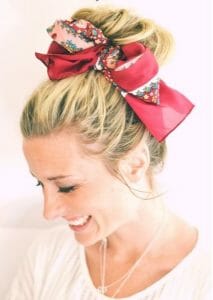 Sometimes, you don't really have to overcomplicate things up. If you have already styled your hair and forgot to include a scarf on it, don't worry as you can still include this timeless piece of an accessory to your fashion look. This will look great in a big messy bun so tie it around in a ribbon or depending on what knot you like to display. Whether you are wearing a dress, a skirt, or you are in trousers, this ribboned hair is a perfect day-to-day look! You will be emitting true and classic girly vibes wherever you go.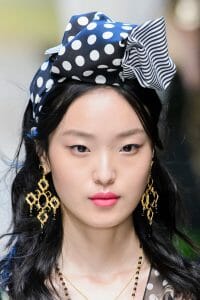 Do you want to be extra? Style your hair using a scarf and make it look like an actual headpiece! With just a few twists or folds, you will surely achieve a certain cosmopolitan look. Royals, such as Her Royal Highness The Duchess of Cambridge, Kate Middleton, seem like a fan of glamorous hair accessories that match the outfit and you know what, it is not that hard to carry the same look. Of course, just make sure you have all the essential pieces before you do a catwalk in the streets of New York.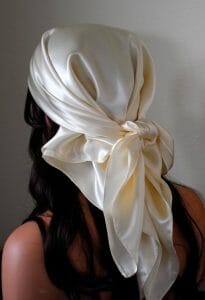 This may not be your common hair scarf style, but girl, trust me when I say this is worth a shot for your new Instagram post! A scarf with a wider width will be needed. Try to match the scarf with your hair color in a fabric you highly prefer! Wrap this around your head and tuck both ends or make a loose knot on the side. Think of the scarf as if it is part of your real hair. The unintentional folds made after wrapping will serve as the natural design for your headpiece.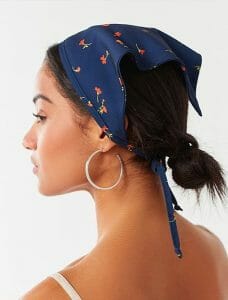 It is not a problem at all if you forgot to bring your umbrella on a hot, humid day. Luckily enough, if your friend happens to carry a nice and clean scarf, your head will be saved from the harsh sun rays! Follow what your instincts tell you. Fold the scarf diagonally and tie both ends tightly after covering up your entire head. Not only is this an acceptable fashion wear, but you are also a thousand steps away from getting the horrible heat stroke! What can I say? Scarves can come in handy, so always have one that's kept on your bag wherever you go.
In all honesty, using scarves to complete the look does not usually come to mind. With a wide array of various accessories commonly worn by fashion lovers, you have to think of something that will contribute to your identity and personality. With that, do not hesitate to purchase a set of scarves. A little treat you can give to yourself every once in a while! They never go out of style thanks to their versatility.
Of course, except for this list, you can definitely try out various more ways to wear a quality scarf. After all, an idea sometimes pops into our minds regarding what the next hair scarf style would you wear the next day. Don't be afraid to express your mood through how you accessorize yourself!