Best Leggings for Tummy Control [For All Types of Women]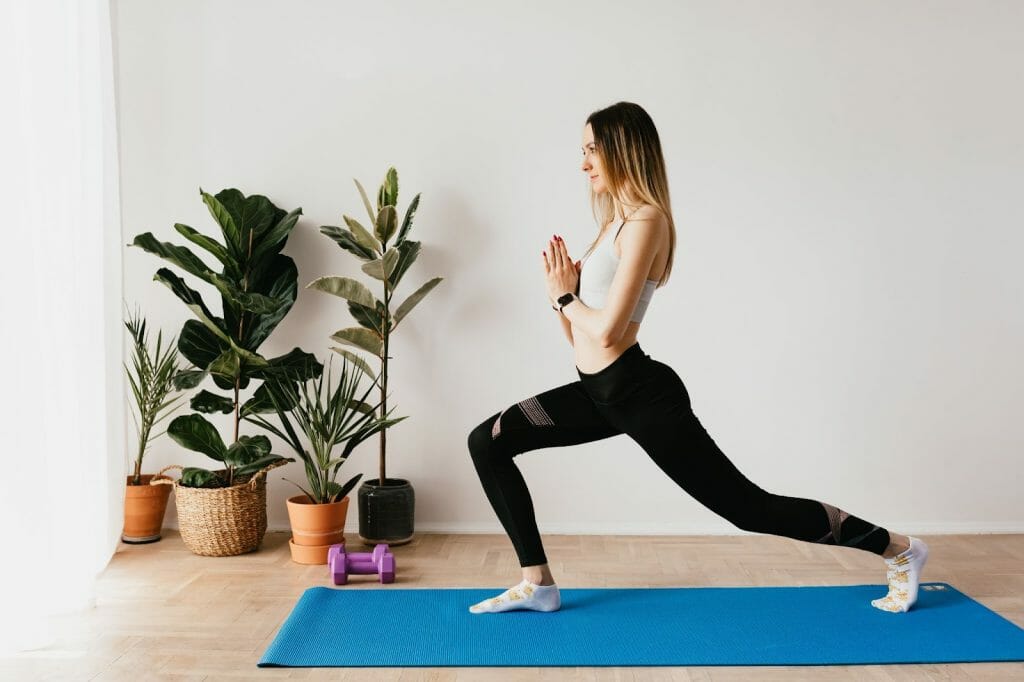 It doesn't come as a surprise. Many women are self-conscious about their bodies, especially when it comes to their stomachs. Some of them are even willing to spend thousands of dollars for surgery and quick fixes to get rid of the flab and to make it look more flattering. 
While that certainly gives you instant results, you don't actually have to go under the knife. The better alternative is the wardrobe staple, which is leggings. They have to be comfortable, made from premium materials, squat-proof, and have tummy control. 
These are usually high-waisted. When you feel like your tummy needs a little shaping or support for the entire day, you have to have a pair ready in your drawer.
Below, we have listed the best leggings for tummy control for all types of women. Make sure you add them to your present leggings collection.
17 Best Leggings for Tummy Control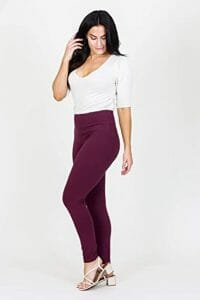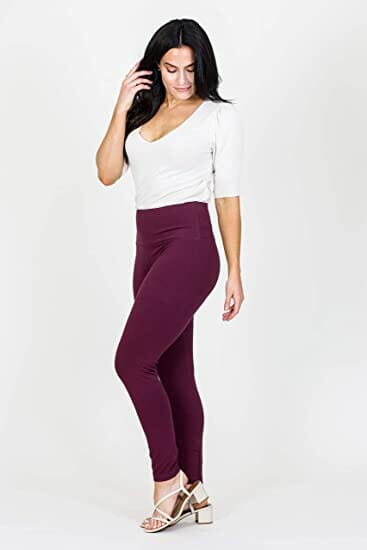 Make a fashion statement out of these Intro Pull-On Cotton Spandex Leggings. Whether you're out for a workout or lounging, these pants keep up with your expectations. The wide waistband plays out its role effectively, sitting naturally around the waist without any rollovers. No doubt, these leggings will make you look and feel great. It's just right on the compression, keeping your lower half in great shape with a slimming effect. Since it's made from cotton and spandex, you're guaranteed comfort like no other.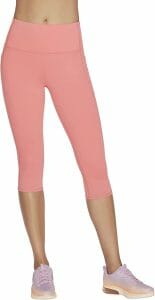 Skechers Go Walk High Waisted Capri may be a little pricey for a pair of stretchy pants, but they're a good buy. Notice the seams that are meant to keep you from experiencing any chaffing and rubbing. It also ensures that the fabric won't cause friction and itchiness around your midsection. As it's a high-rise in design, the whole waist is concealed and looks toned. The Capri style makes it perfect as activewear and can be worn during hot, humid days, too. Meanwhile, the GoFlex fabric feature offers a matte finish with a soft, cotton-like hand feel to it.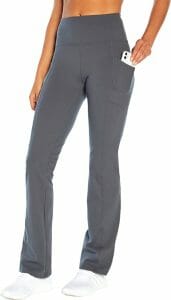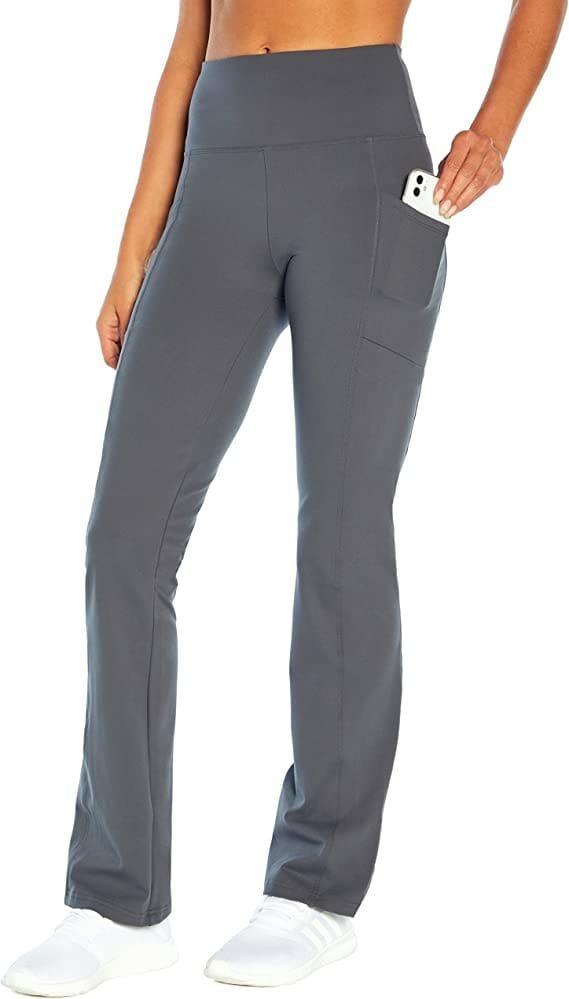 If you want a no-ordinary pair of leggings, the Marika Eclipse Tummy Control Bootleg Pants are meant for you. It has compression from the waist down to the thighs, and the fabric flares like a bell bottom down below. These pants have a 4-inch curved waistband with power mesh lined on it for effective tummy control. There are also side pockets for your phone and other small essential items. To add, this clothing is made of stretch opatek luxe offering a double-knit quality, keeping it opaque, moisture-wicking, and quick-drying. 


Is there a crop top you badly want to wear, but your stomach is getting in the way? The Gym People Workout Yoga Leggings will save the day for you. Noticeably, the waistband is thick enough to cover the entire area of your belly and is tight enough to cause compression for a flatter feel. The tummy control feature thoroughly supports you no matter how flabby or bloated you can be. Whatever movements you make, you can never go wrong with these leggings as they're designed not to roll over, unlike the others that are made from cheap materials. Notice as well the interlock seams that keep you from chafing, which, according to Healthline, can take a few days to heal if it occurs. 

Leonisa Compression Leggings help sculpt your curves. Regardless of your size, the DuraFit fabric maintains the right compression from your waist down to your ankles. It stays in place throughout the day, and it doesn't easily wear out over time. It also includes a PowerSlim feature that helps hide away your cellulites or any other textures on your skin. The incredibly wide waistband covers the whole tummy up underneath your bust. It also has a butt-lifting effect which you'll certainly love. The other properties include moisture-wicking, breathable, and fast-drying features. 


The classic black leggings are never waning just yet, and Vogue has officially declared them an essential either for smart workwear or loungewear. Simply put, you can never go wrong with black. Turn your attention to the phenomenal 90 Degree Power Flex Tummy Control Leggings if you want another addition to your wardrobe. You can rely heavily on its tummy control features as it's high-waisted and supportive, no matter your body type. The PowerFlex fabric allows a squat-proof effect, making it ideal even for leisurewear. The whole structure of these pants encourages a more streamlined silhouette that helps bring out the best body shape in you.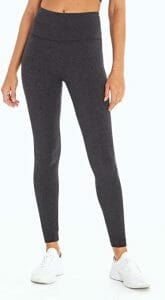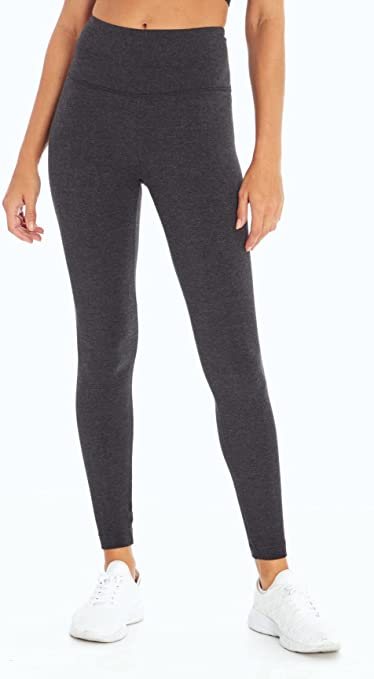 Gyms have mirrors in almost every corner. It's encouraging to sweat even more, when you are comfortable in the clothes you wear, especially when you look pleasant as you lift weights or use the workout machines. Honestly, not all the leggings you find in the market are just as good as the Bally Total Fitness High Rise pants. These have a 4-inch waistband with a power mesh lining, slimming compression, and excellent tummy support. It has a V-shaped back to make your bottom look more appealing on top of the other important qualities, such as being breathable and sweat-wicking.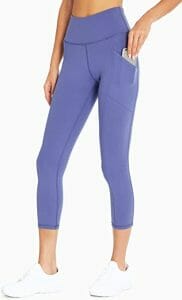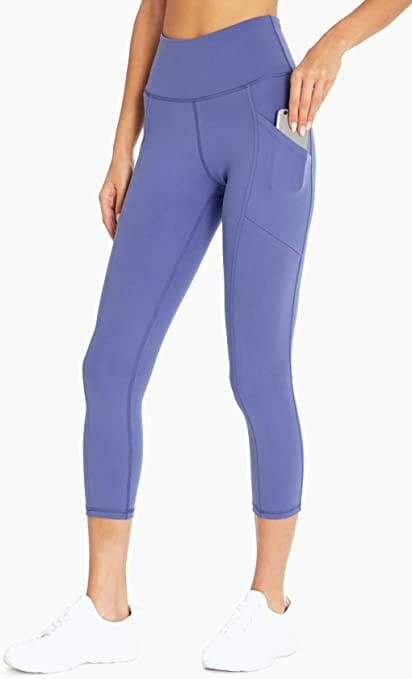 Sport the vibrant Marika Tummy Control Mid-Calf Legging no matter what activities are set to be done for the day. Your lower mid-calf down to the ankles can feel the coolness of the air while you sweat hard during your training or drills. The 4–inch waistband that's thick enough not to get you pulling your pants up constantly provides appropriate support for your entire abdomen. With the right tightness felt around your skin, the premium fabric used, including the compression all over, encourages the body surface to heat up better and, eventually, increase your workout performance, according to a study.


If you're looking for seamless leggings to rid of any chance that you'll get skin irritations, the Phisockat High Waist Yoga Pants are your most affordable choice. It comes with a wider waistband for better tummy control. You won't feel too much constriction around as it evenly distributes the texture of your skin to create a smoother surface. Whatever color you go for, these leggings are consistently non-see-through thanks to the opaque fabrics used to prevent unwanted exposure. They're super soft, breathable, and effective in wicking away the moisture on your skin. 

There's a reason why the Hi Clasmix Fleece Lined Leggings are a bestseller on Amazon. These economical stretchy pants surpass expectations in quality, price, features, and comfort. As it's fleece-lined, it's just the right choice for winter as these retain the tummy control you need. It's soft, cozy, and dependable during the coldest of seasons. The waistband is worth noting, as well as it hugs your skin persistently without causing you any breathing problems or discomfort. They're designed to get rid of any saggy skin, and it doesn't move all over the place during movements.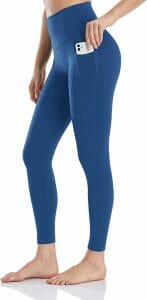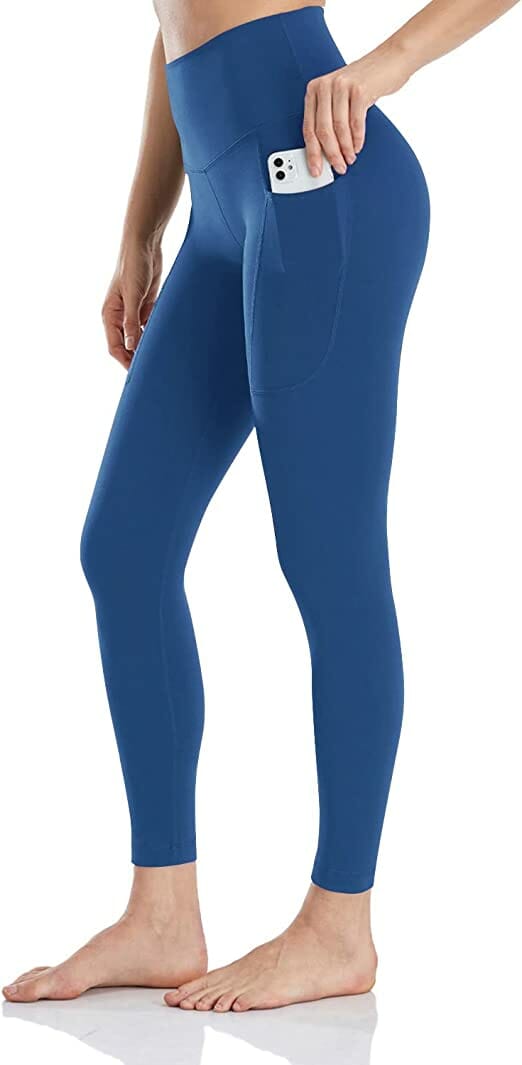 Whether you are about to go for a yoga session or an intense outdoor drill, it's undeniable that the HeyNuts Essential 7/8 Leggings are one of the ultimate choices of fitness fanatics. It comes in various attractive colors, which are great additions to your entire leggings collection. What's more, is that the high-waisted band performs well in avoiding muffin tops without digging into your skin. It has a pull-on closure, too, should you want to adjust its fit. You'll have access to the freedom you've wanted for so long as you feel the buttery texture of these incredible HeyNuts leggings.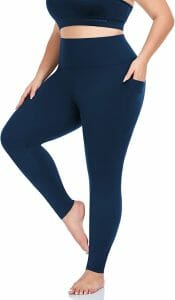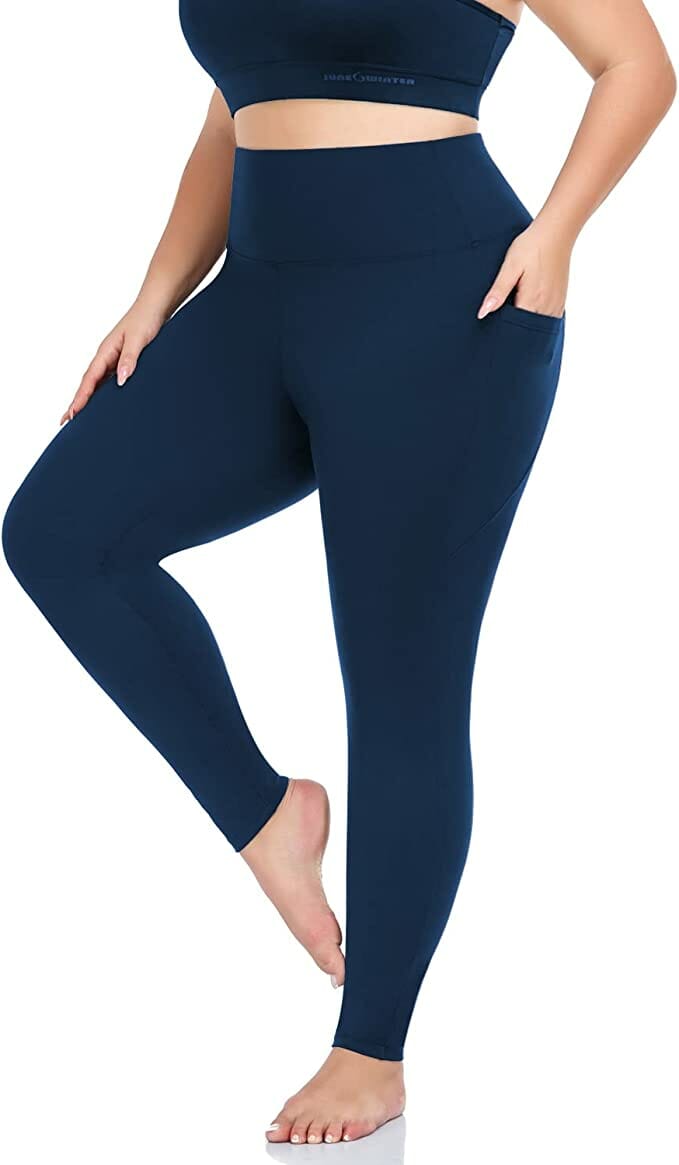 Finding the right athleisure clothing for plus-sized women used to be quite challenging. Luckily, with the encouragement to embrace diversity in bodies, finding the perfect leggings for the curvy ladies out there has been made easier these days. MoreFeel Plus Size Leggings will improve your shape, thus boosting your confidence better, especially when out in public. The amazing support it offers in every area of your waist down to the ankles will keep you from being anxious as you work out. There will be no roll-downs around the waist area since it provides just the right tightness around your body.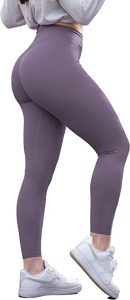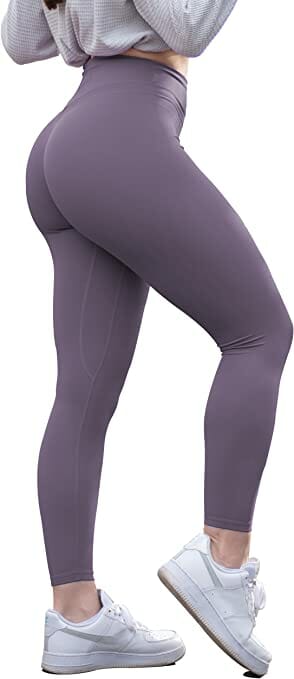 Get ready to turn heads whenever you sport the TomTiger Women's Yoga Pants. These have two main features: butt-lifting and tummy control. You're provided with adequate support in the right areas, improving your natural silhouette. The nylon and spandex combination also guarantees a soft and comfy feeling without allowing you to get drenched in sweat. It feels just like a second layer of your skin, so expect it to be lightweight and convenient for any movement you do. It's also opaque, so worry no more about any unexpected underwear shows whenever you squat. 

Spanx is a well-trusted brand, hence why it's popular, especially with women. They make quality leggings, including the Spanx Seamless Leggings, that are expected to last a long time. These fit women of all sizes, provided you follow the size chart. What's more, is that the high-waist design encourages a smooth figure without the dreaded muffin tops. As these are just right in compression and tummy control, no extra flab will show on top of your waist. The entire garment is firm, and it doesn't easily get worn out. Maintaining these leggings is also easy as you can just hand wash them after use. 

The list wouldn't be complete without the popular Calvin Klein Power Stretch Leggings. Almost everyone knows the brand, so you can also trust that these leggings will go beyond your expectations. You can't miss its wonderful features, which you can enjoy when you put them on for casual occasions. It's properly stretchy and hugs the waist perfectly with its thick band. It has a pull-on closure, too, for a perfect fit and to prevent your pants from rolling down. These CK leggings can be a bit steep in price, but when you're after quality, it's money well spent.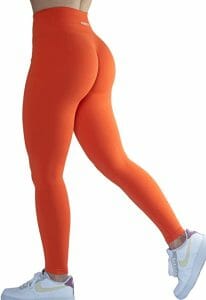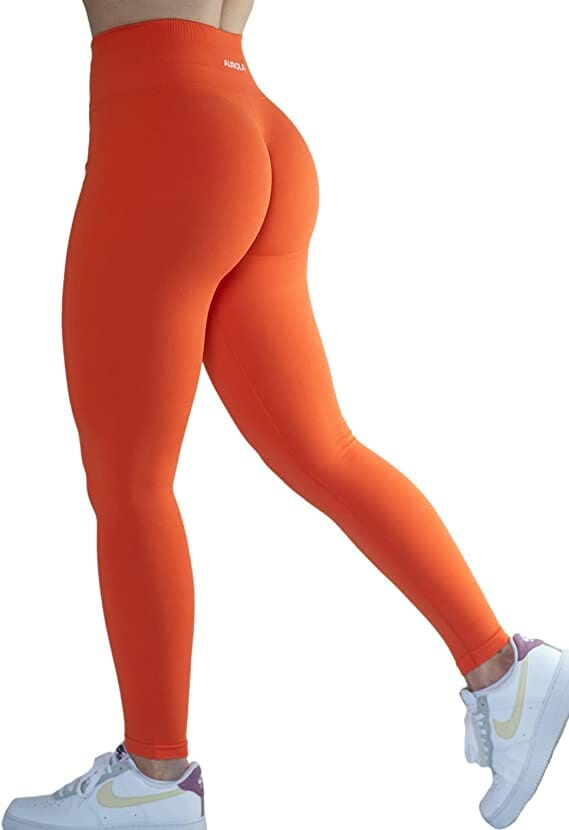 Looking to cover your navel? The Aurola Seamless Scrunch Tights have so much more to offer aside from their excellent tummy control. It allows a proportionate figure as it evenly spreads out your belly to form a flatter and smoother surface. The flatlock seams also help maintain the health of your skin, as no chafing and rubbing will take place. There's also a gusseted crotch to ease your movements and prevent any camel toe. This entire garment excels both in compression and support.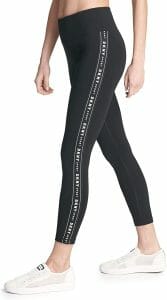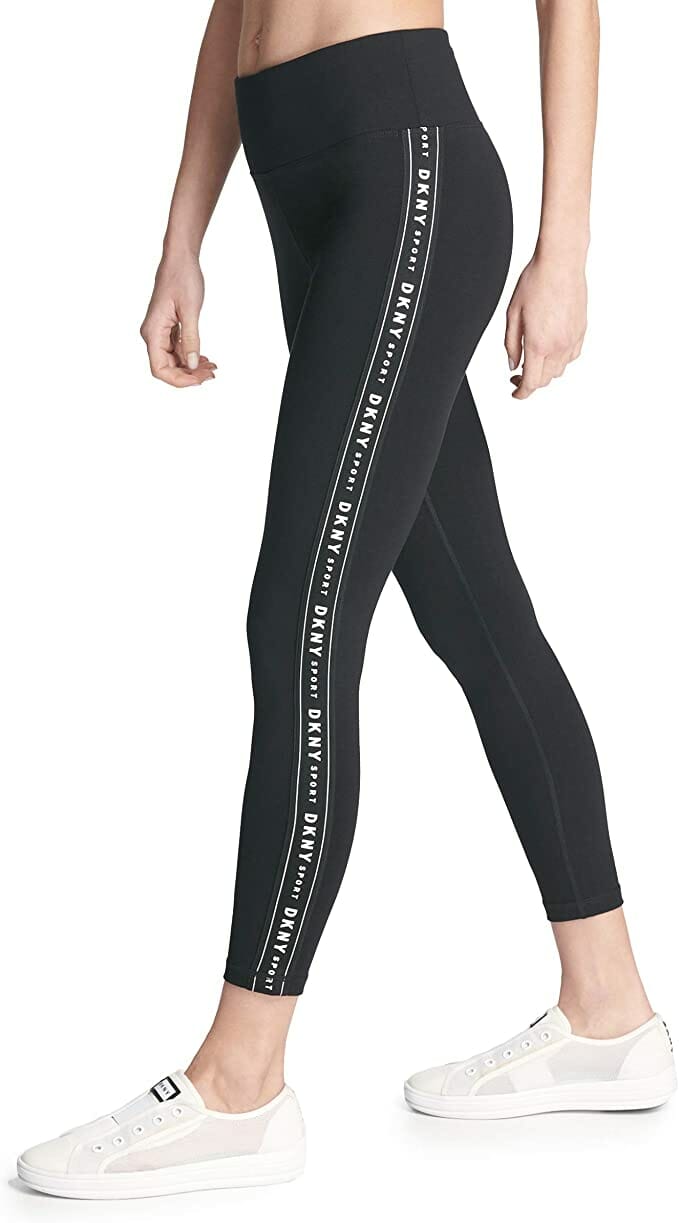 DKNY is an accessible luxury brand that produces high-grade garments. An example is these DKNY Tummy Control Workout Yoga Leggings with a fabric combination of cotton and spandex. The evident thick waistband is smooth and effective in improving the appearance of your stomach. You can strut these stretchy leggings anywhere, as these can be used in the gym or for any casual occasion. The classic logo taping detail on the side adds a timeless design that can elevate your entire sportswear look. Just match it with your typical white shoes and a comfy top and you're set for any appointment with your friends.