Types of Leggings: What's To Know?
Leggings are a very comfortable and versatile piece of clothing. It is very convenient and easy to use. It keeps the legs snug and tight which can make it very comforting and warm to wear. So what is there to know about the different types of leggings? Is there much to learn about it? Here, we are going to tackle and learn the types of leggings that are going to open up your wardrobe to a lot more different possibilities with the simple use of them. Hang on tight and keep on reading.
First off, we start by distinguishing the different types of leggings according to their material, length, and styles. Learning these differences will help you work your way around how to style them in fashion and wear them depending on the occasion. This will also get you excited about getting yourself a pair of these different types of leggings so that you can have more options to mix and match your clothes with. Whether you are going to the office, gym, grocery store, a special occasion, or simply hanging out with friends, we have a certain pair of leggings for your use. We know that these are all-around pants that are so comfortable to move in and one or two pairs may seem enough, but wait till you have a glimpse of these precious gems and let us know what you think!
Legging Fabrics and Material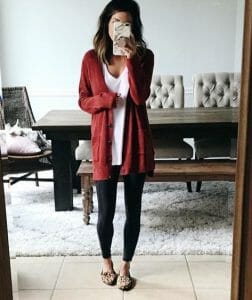 Cotton is a generally comfortable fabric used in clothing. It is breathable, thus, it is cooler to wear in hot conditions, while a thicker cotton fabric is warm and cozy for cooler climates. It is used as a popular legging material but it is not such a good idea to be worn while working out because it does not absorb sweat. It is a more popular choice to use it as comfortable bottoms when you prefer staying snug at home or simply pair it with a casual top when heading out with your friends for some errands.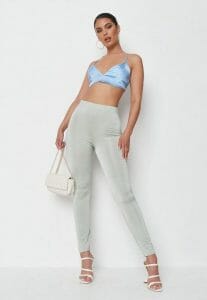 You are very well familiar with this one. Polyester or Polyester Blend is what is commonly used for activewear leggings. It is perfect to be worn in the gym, while running, or doing your workouts at home because it is water-resistant and sweat-wicking, so it is great for workouts. The downside to it though is that polyester fabrics tend to harbor odor easily so it can get a little icky. We recommend that you go for a polyester blend rather than just pure polyester.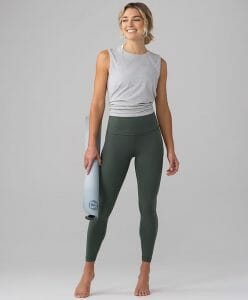 Here is another material that is commonly used for activewear leggings. It is a man-made, synthetic fiber just like polyester, that is lightweight, soft, and smooth, giving off a perfect fit when worn. It stretches up to 500% of its length which makes it really perfect to move around in, making it an ideal garment for athletes such as cyclists, and runners. Some disadvantages of this fabric, though, are that it is not breathable and it traps moisture, sweat, and body odor within the material which may be harmful, as it can lead to various skin infections.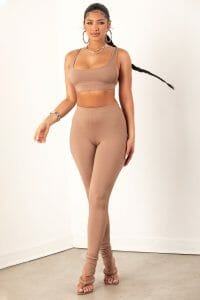 Due to the lack of breathability of spandex alone in leggings, a good spandex mix such as this nylon-spandex is a great choice for both performance and style. Nylon has great durability, while it is also lightweight and easy to care for. Nylon mixed with the spandex material gives you that perfect fit and breathability.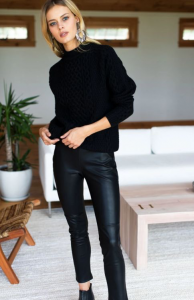 Whether leather or faux leather, both offer a significantly classy and sexy look to an outfit. It's a fun piece of clothing to wear, as it can be used for fun night outs, concerts, or even for a more formal event. Lightweight and durable, it allows for free movement making it really comfortable to be in. These are really stylish leggings you will love to own and dress up with. Pull it out of your wardrobe any day if you want to rock your day looking more stylish than ever in your leather leggings.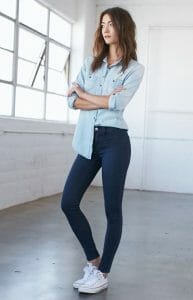 As the name implies, jeggings are leggings made by combining denim-like jean materials. Denim can be a little stiff and restricting to wear, while leggings are the complete opposite, so, if you want to go for that casual look with jeans but want to stay comfy, jeggings are the perfect solution. So if you wanna go for that skinny jeans look without the restrictions, jeggings perfectly imitate them complete with pockets and even the button sometimes, despite it not being functional. At least it looks the same!
Legging Lengths
Leggings have become available in different and various lengths. It has innovated into many different looks, and we are going to get just right into that. Let's see which one best fits you and which one perfectly complements your look. What length do you think is most flattering on you?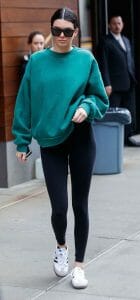 This is the most common type of leggings, and that which you see almost everywhere. It runs down to your ankle just like any pants, gracing your legs beautifully with a tight hug around it. It is flattering to the eyes, sleek, and comfortably covers the entire leg. It's super convenient to use, and not to mention, comfy! This is definitely a go-to outfit for when you feel a little lazy to prepare something grand to wear. This is already uber presentable in itself and can match almost any top.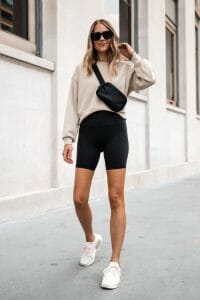 These have been making a buzz in fashion lately. Other than using this pair just for riding on a bike, it has made its way into some casual fashion and is now being widely accepted – making its way into normalcy. It is a cute and somehow glam outfit, especially when paired with a chic topic to match it with. This length, which is above the knees or sometimes a little higher, brings in that sexy, athleisure look that is perfect for that day out during the weekend. These are uber comfy to wear especially during warmer temperatures.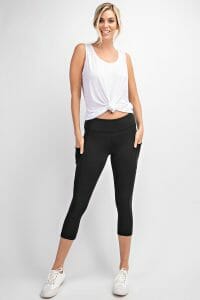 A Capri is a 3/4 legging length that reaches until the mid-calf. It is almost as comfortable as the biker shorts but gives more coverage to the legs. It is quite easier to pull-on than the ankle length because you don't have to stretch it so much as it only reaches until the mid-calf. It is also a perfect option to use in the gym especially on those hot days. It can also be worn on a regular day and be styled for casual outfits by just pairing it with the right top to match it. Complete your look with your favorite sneakers or sandals and you're ready to go.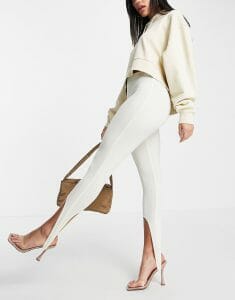 So, stirrup leggings are the ones that have straps that go around your foot, from under, all the way up to the ankle so that it stays in place and you wouldn't have to keep pulling it down. These are perfect workout leggings, plus it makes a great athleisurewear as well. They also serve as great comfort clothing especially in the colder months and are great to style with boots or heels too.
Legging Styles
As we mentioned above, leggings are very versatile, flexible, and durable. They are available in so many different styles and can be styled in so many different ways. It is fun to explore the many ways you can show up in your leggings and what you can pair them with. Let us show you what styles are available so you know what you are getting into and so you can play around with them.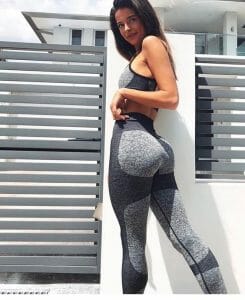 The scrunch booty involves some push-up leggings. You worked hard for those booties, so why not flaunt them. These leggings provide ample support and comfort so you can confidently walk out the streets at ease. They will definitely define, lift, and accentuate your curves for a very flattering look. It is so comfortable that it even sculpts your tummy area and thighs, giving off that slimming appearance you'll love.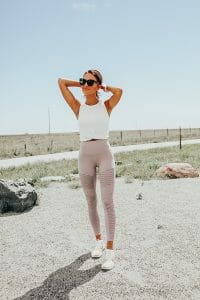 This is a type of sportswear that is used to increase blood flow and muscle oxygenation during exercise. They support and stabilize the muscles while training by absorbing some of the strain as the muscles are being squeezed. While for recovery, it speeds up the process of muscle repair and reduces muscle fatigue when worn after working out, helping reduce soreness.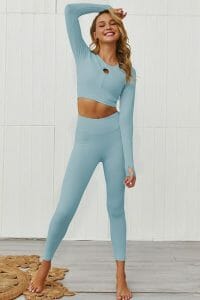 This is a stylish pair of leggings that are uber comfortable to wear to the gym so you wouldn't have to worry about pulling up your pants time and time again while you do your reps. You can be at ease and fully confident with all your movements with this perfect pair of leggings.
Open up your wardrobe world with these different kinds of leggings and take your pick with what suits you best. Leggings are a very comfortable piece of apparel that you can wear with almost anything, everywhere, on most occasions. They are must-haves in every wardrobe for your workout and gym needs, all the way to some casual looking clothing. Throw some on and find that it is so easy to style, so you can easily and confidently go out there and do what you need to do. Shine bright and always be on point with your outfits with the help of these different types of leggings we've posted!