What Size of Bralette Do I Need? Your Size Guide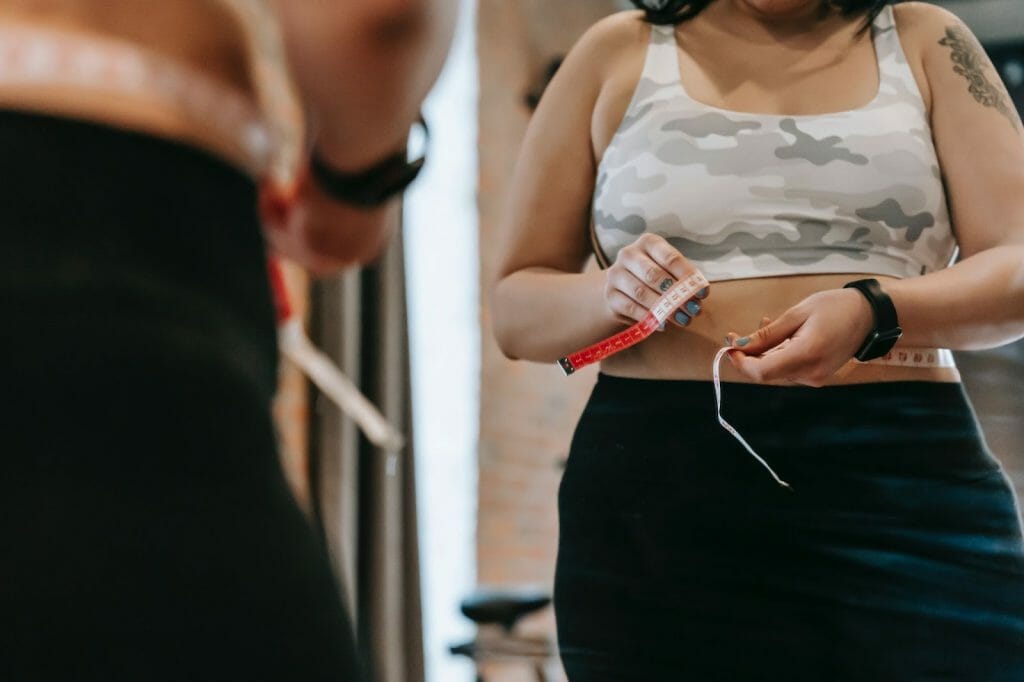 Your bralette size may come in XS, S, M, L, XL, or XXL. And for you to be able to determine which among these sizes is your category, you have to measure your chest first. Of course, the focus shouldn't be on the size alone but as well as on the shape.
Truthfully, bralettes are heaven-sent to all ladies who have maturing chests. These pieces of garments are ultra-chic and comfortable to wear; you won't be able to trade this for anything else– not even your traditional bra.
Yet, buying a bralette isn't as easy as tossing one into your shopping cart. You have to know your exact size for a fuller bralette experience. Want to know how? This guide is for you.
Is Bralette Size the Same as Your Bra Size?
Your bralette size depends on what your bra size is. You won't be able to have the perfect fit by just guessing whether you're small or medium on the bust. Once you're confident about your proportions, that's when you'd initially find your perfect bralette.
However, the measuring tape around your band and bust aren't the only ones to consider here. You also have to feel the pads, especially how they're formed, so you'd find out which flatters you the most.
Vogue, through Genevieve Gralton, agrees that wearing undergarments should make you feel comfortable and beautiful. And there's no other method in which you can achieve that than to take the first steps right.
Fun fact: Your bralette's stretch needs some time to recover after being used. Make sure you change your upper underwear every day.
6 Bralette Styles to Consider
Before you can go directly to knowing the size you should go for, it's almost always the aesthetics of the bralette that draws our attention. Know what your style is and see if it actually suits you.
Be aware of what the shape of your boobs is as well as this should perfectly match the cup form of the bralette. Don't worry if you just started knowing about this. Here are 6 bralette styles that might make your chest look more gracing: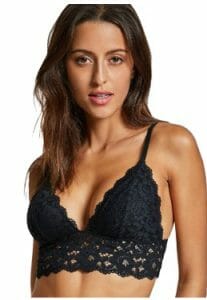 For full and rounded breasts, a thin, lightweight, and unlined bralette will perfectly complement the assets, according to Sapna Palep, the co-CEO of Journelle. Not only would they make your breasts look far from being too over the top, but the halter, as well as the racerback styles, will also look eye candy to you and to anyone who sees it. They also won't be too tricky should you wear certain tops.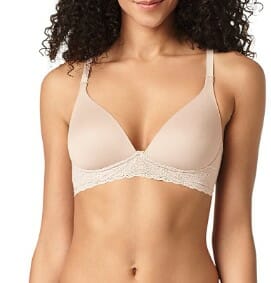 Meanwhile, those who have compact breasts should go for contour padded bralettes to push their assets up together. Compact breasts are usually athletic in shape and are common to those who come in smaller sizes. The usual problem for this type of chest is that the bra would usually have a gap or excess space on top of the breast. But with a bralette, the fabric will hug your skin comfortably. Consider getting the wireless triangle bras as well.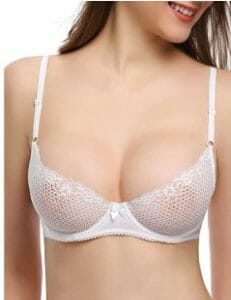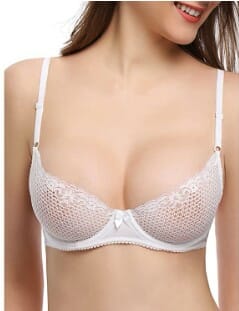 Ladies, if you have slender or teardrop breasts, consider getting a demi silhouette bralette to enhance your breast form. How do you know that this is your shape? Check if you're fuller on the bottom, thin and long, like a tulip. Since your age will age and change as gravity dictates, your bralette should be able to keep up with the natural alterations on your chest. A demi silhouette does it better than any other type of bralette in the market if you're looking for your boobs to look full and round.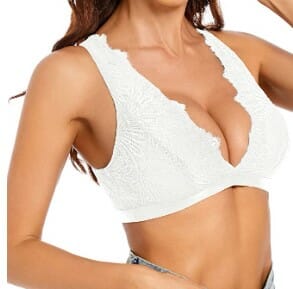 Wide-set breasts are often the case for ladies with smaller boobs. The goal your bralette must achieve is to lift your breasts up and push them inwards for a more balanced look. You have to ditch those bralettes whose cups are sticking together to avoid an odd look. Go for spacer bras as well for a lightweight and airy feeling throughout the day.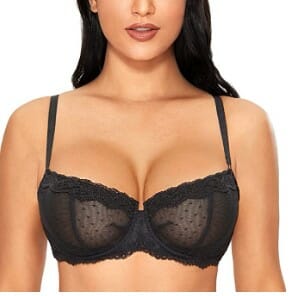 A balconette bralette is made for those whose breasts are full on the bottom but not that firm. The design will push your whole chest up without putting more pressure on the top of the breast. This helps create a rounder and firmer look overall. Bralettes like this are similar to bandeau-style bras, and they help even out the weight of your chest. If you want added coverage, a bralette with stretchy fabric overlays would be ideal.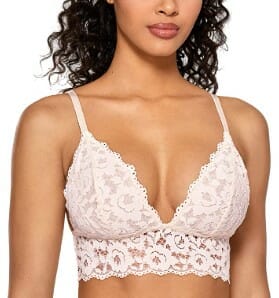 Plunge bralettes would also be the alternative for women who have asymmetrical breasts. Also, this is more common than you think, considering puberty, hormones, and even trauma are major influences that affect the appearance of your chest. Though your girls are not twins in appearance, bralettes that frame your natural boob shape will be helpful. Aside from the plunge bralette, shallow contour undergarments would also be a good choice.
3 Steps to Measure Your Bra Size
Before you get started, there are some basic things you'd need. First, get yourself a measuring tape, a pencil, and a calculator (optional). A paper within your reach will also be used for you to be able to jot down your proportions.
Now, if you're all set, follow these 3 simple steps to accurately measure your bra size so you can finally get the bralette that you need:
1. For you to be able to take your band measurement, place the measuring tape behind your back and let it rest under your armpits, but it should be above your bust area. Also, make sure that the tape hugs the skin– not too tight and not too loose.
The other tip of the tape should be at your front, and check where the number falls. Record the measurement in inches.
Note: If the number is odd, round up or down depending on your build. If you're lean, round up, but if you're softer on the band, round down.
2. Next up is the bust. This is the fullest part of your chest and is usually where your nipples are, depending on the form of the boobs. Use the measuring tape once more and record the proportion in inches. Be sure that the tape is not hanging loose, so this won't defeat your purpose of finding the right bralette size.
As the tape sits flat on your skin, check how many inches your bust is. This determines your cup size.
3. Lastly, you may need to calculate this one or simply solve it mentally. Simply minus your band size from your cup (bust) size. The difference will serve as your guide in finding out what category in size for bralettes you are under.
Note: Your bra size constantly changes. To keep up, replace your bralettes every six months and remeasure your band and cup size.
Size Guide for Bralettes
Once you have all your bust and band measurements figured out, the next thing to do is to check your bralette guide. But before you do so, your cup size must be determined first. Check out the table for this:
| | |
| --- | --- |
| Cup Size | Measurement |
| A Cup | 2.7 to 3.8 inches difference |
| B Cup | 4.33 to 5.11 inches difference |
| C Cup | 5.5 inches to 6.2 inches difference |
| D Cup | 6.6 to 7.4 inches difference |
| E Cup | 7.8 to 8.6 inches difference |
Now that you've determined your cup size, here's the general table for bralette sizes:
| | | | | | | | |
| --- | --- | --- | --- | --- | --- | --- | --- |
| Cup or Band | 65/30 | 70/32 | 75/34 | 80/36 | 85/38 | 90/40 | 95/42 |
| A | XS | XS | S/M | L/XL | L/XL | XXL | XXL |
| B | XS | XS | S/M | L/XL | L/XL | XXL | XXL |
| C | XS | XS | S/M | L/XL | L/XL | XXL | XXL |
| D | XS | S/M | S/M | L/XL | XXL | XXL | XXL |
| E | S/M | S/M | L/XL | L/XL | XXL | XXL | XXL |
4 Tips in Ensuring Your Bralette Fits Properly
To give you the ultimate bralette encounter you deserve from the glorious and genius innovation called the bralette, we have gathered 4 more tips you should bear in mind. 
Let's face it, knowing your measurements isn't enough. There are other more things you have to do before you can declare a bralette your match made in heaven as an undergarment.
1. Check the Band's Fit
Find out if you can insert your two fingers underneath your band. Pull it gently, and it has to stretch for at least an inch. Make sure that the band fits well once you've closed it on the first hook behind your bralette. 
One purpose of having several columns of hooks is to give you a sort of adjustment in case the stretch gradually wears out. You can move from one hook column to the last part until the bralette no longer fits.
2. Check the Cup's Fit
The cup of your bralette should be wide enough to conceal your boobs. If they're too small, your breasts will spill, but if it's too big, then wrinkles will form on the cups.
3. Check the Gore's Fit
The gore or the bridge that connects the two cups together should rest flat against your skin. They should neither be poking nor gaping open. Give attention to the wires as well. The right bralette should have its wires sitting under your boobs and not on it. 
4. Check the Strap's Fit
There's this common mistake ladies do in the dressing room. Once they fit in their bralettes, they don't take advantage of the strap. The straps make a big difference when adjusted and positioned properly. If the cups are pushed out forward, simply tighten up the strap. But if the cups are pressing hard on your chest, give it more space by loosening up the straps.
Once you've made sure you've followed this guide, the next step involves wearing and flaunting it at an event.
You might also want to read: Bralette: When to Wear and Where