What to Wear With Leggings: 12 Easy Styles Just For you
Let's admit it, leggings are a fashion staple, that's why they never go out of style. They can be worn at any time on different occasions. However, no matter how versatile a pair can be, it isn't that easy to match it with the right pieces of clothing. You don't have to worry though because we will guide you through the right picks and styles that go along with a quality pair of leggings. These 12 easy outfits will certainly make you look trendy in every possible way!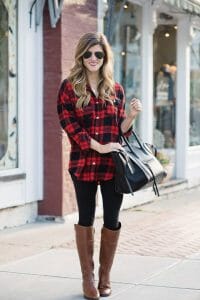 Plaid shirts are timeless, so never toss them away, especially if they are long enough to cover the rear. This is a perfect casual and cozy look for a meetup with your besties! Whatever color your plaid shirts are, they'll click well with black leggings, but if the leggings are colored, make sure your top matches the shade on your bottom. Wear your favorite white sneakers for a more laid-back vibe or hoist up the fashion game with a pair of knee-high riding boots.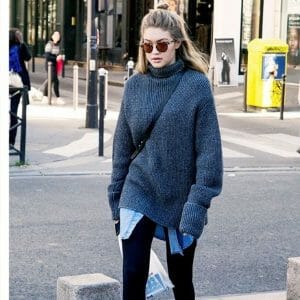 Throw on a white top whether it be a sleeveless, an up-to-date shirt, or you can also go for a sweater! Layer this with a nude cardigan and BAM, you're ready to leave the house. This is a flawless outfit, especially for students who have to go on meetups for homework or group activities on the weekend. Take note, college students, you'll look chic as long as you have a pair of leggings. Choose simple-style shoes or boots depending on the season!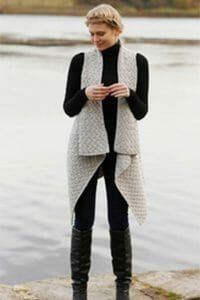 What I love about waterfall vests is their glamorous cut at the front. The intentional excess fabric adds more character to the whole look no matter if you add in a plain-colored sweater for your leggings. The color palette will make anyone take a second look so choose the shades carefully. Personally, skin tone palettes are preferable, but if playing safe is not in your character, you can definitely search the horizon for other more sets of appealing hues. Knee-high boots or a pair of heels will draw everyone's attention to your classy daytime look.
Too tired to over complicate your fashion sense for the day? Just grab a long shirt out of your wardrobe and pair it with a good pair of leggings. The fun thing about shirts is that they come in different styles, sizes, and fabrics, so have a matching game before you rush to wherever you are going! By the way, although this sounds very simple and easy, the combination can sometimes be tricky. The wrong shirt can make you appear older or baggy, so choose a shirt that rightly accentuates your body.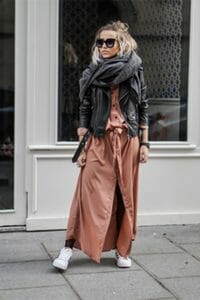 It can be challenging to wear a long dress with a pair of leggings. You have to bear in mind not to have the wrong proportions on your outfit! So, if you are not sure about the dress you have in your closet, you might want to invest in a clothing piece that's actually meant to match the good old leggings. Purchase those that suit your preference whether you go for the ones that have patterns or simply go for a plain one.
Tip: One thing you should be looking for is a long dress that has a slit on it so you can still show off your legs!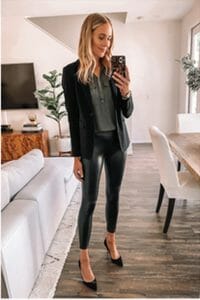 Need to attend a formal, emergency meeting with your boss and colleagues? You don't need to spend so much time thinking about what to wear for the forum. Be at your effortless best by taking out your preferred pair of leggings, an elegant top, and a business coat. Make sure the colors match each other! For me, a black women's coat, unbuttoned, and a white inner always works. Complement it with a black pair of leggings and black high heel pumps, then you are good to go!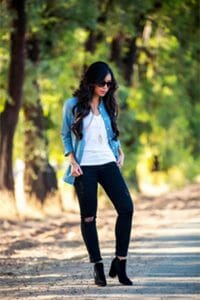 An unbuttoned chambray shirt made as a blazer and a tee as the inner is ideal for your outing with your boyfriend's family. Although it looks like denim, this is actually lighter and softer in texture. It is typically light blue and it works well with white or grey tees and of course, black leggings! Brown boots, sneakers, or a pair of trainers in black, white, grey, or dark blue are great choices. Leggings will give you the comfort you need throughout the road trip. Think about it as a mix of comfort and style.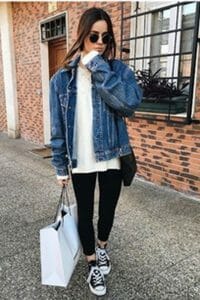 Layer a denim jacket over your top. This is part of the fashion craze that adds a more refreshing overall look with your leggings. The denim trend never goes out of style, so why not take the opportunity and flaunt the effect it adds up to your casual look? To make your whole outfit appear even better, grab a baseball cap and then wear your sunglasses. Style your hair on a low ponytail or low messy bun or let it fall down naturally in subtle waves.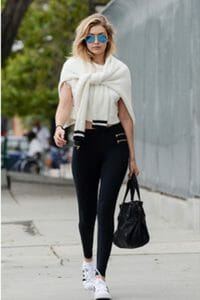 Are you very much into the black and white style? Guess what, all your white tops in your closet will match perfectly with black leggings. Of course, don't forget to accessorize! It is much preferred if your bracelets, watch, or earrings don't go off the color code. Add on a trendy bag and shoes you feel to wear today and you're ready to meet people!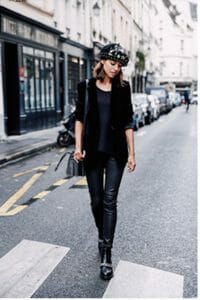 No doubt, this will be a super cool look. Black is the new sexy as what people say, so why not be the definition of it? The tricky part in completing this look is the fabrics of each of your clothing pieces, so do a mix and match to ensure your style doesn't look awkward. Take out all your black pieces and lay them on your bed to reimagine your look better. With an all-black outfit, metallic belts can add an even classier look. Holding a simple yet sophisticated pouch or bag in colors red, white, or black is a plus point.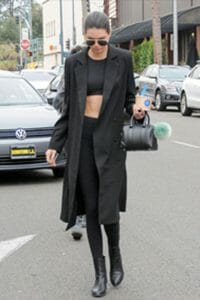 Before you go off the streets of New York during the cold season, make sure you put on a thick jacket for a laid-back style or go for a Khaki coat- always a timeless piece! Try on your leather leggings, throw on a black and fit turtleneck piece, and add in a nude, white, or black coat to keep you warm and at the same time, stylish all day.
Feeling dauntless to show off your figure and curves? A nice tank top is undoubtedly a popular choice, especially if it's warm and humid! You can show off your abs or rear proudly without looking ridiculous. Tank tops come in various colors, styles, and prints so depending on how your mood is for the day, choose one that suits it without tossing the fashion sense away!
A pair of trainers or slides work best in this combo. Wrap a jacket around your waist or loosely on your neck and shoulders and you're ready to sweat off in the gym. Don't forget to bring a cap with you to upgrade the look on your way to Starbucks for a refueling cup of matcha green tea latte after workout.
Fashion Tips to Complete the Look
Accessories, no matter how small they are, can transform your whole outfit. By choosing the right ones and knowing which part of the body needs emphasis, you'll surely go from plain to extraordinary! To never run out of style, make sure you have a collection of leggings of different colors that can go well with most of your wardrobe. Designate ones that are great for office work, gym, or casual day-outs. Other things you need to have at your disposal are pouches, handbags, earrings, necklaces, bracelets, and hats. You don't have to wear all these add-ons in one outfit. Anyways, with all those ready for any type of event, you'll certainly be at the top of your game in the ever-dynamic fashion world!