What Tops to Wear With Sweatpants? [Men and Women's Guide 2021]
Sweatpants are considered a wardrobe essential at home, especially when you just want to lounge around or watch Netflix on weekends. But hey, you shouldn't undermine sweats! Many celebrities and fashionistas consider them suitable outfits for runways or streets.
The fact that sweatpants can be easily paired with any top is a great advantage. Besides, you can make them look more stylish depending on your mood for the day. It's such that you can definitely rock your style with sweats!
And for this article, we gathered our best top recommendations men and women can pair with their sweatpants nifty.
Trendy Tops to Pair With Sweatpants for Men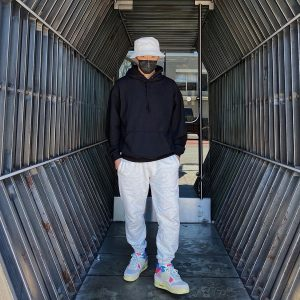 There's no other way to add visual interest to your look than wearing contrasting sweatpants and tops. As such, wearing contrasting or complimenting colors works well; just make sure to match the colors' intensity so you won't look overworked in your chosen outfit.
Try to pair white sweatpants with a black top (like a hoodie, tank top, or tee) to create this simple look. Add some accessories to let your friends know you're still cool even when the sun's effin' hot outside. Depending on your preference, you could wear a pair of sneakers with some elements to create this simple look.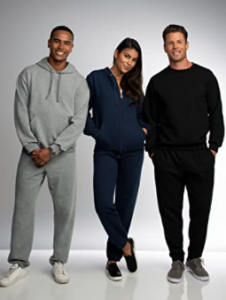 Though some might think you'll be hitting on a gym with this monochromatic outfit, this look works the other way around. You can instantly sport an athletic or sporty vibe without sweating at all. Most of these co-ords come in a color that will surely give you a form-fitting shape (well, that's how colors work) with an edgy vibe.
If you just want to make your manly outfit look basic, simply pairing them with your old-school sneakers in the same colors as your outfit is a way to go. And to spice things up, you can opt for wearing a beanie or a cap.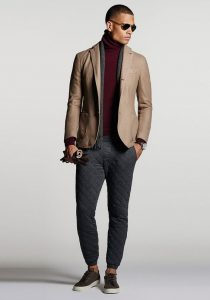 Who says you can't wear a blazer with tapered sweats? Those who assert this statement might haven't seen how great this outfit can be once worn. The blazer's elegant yet relaxed outfit instantly adds a great layer to your basic shirt and sweatpants. And in case you didn't know, blazers are lightweight, so you won't have to worry about sweating.
Finally made up your mind by wearing one? You can complete your look by putting a blazer on top of a maroon-colored turtleneck and nice-fitting sweatpants. Add in some loafers of the same color with your top and a subtle shade for an instant graceful style.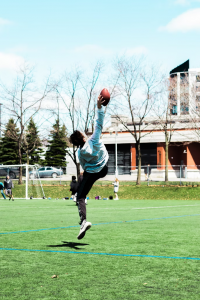 We won't deny it, but hoodies are a sportswear classic. Ideally, this top lets you vibe in the athletic feels within you. They aren't an excellent choice for formal or professional settings because they're dedicated to casual and streetwear. But don't let this idea let you down! You can bring a twist to your skimpy outfit by pairing your sweatpants with a nice-fitting hoodie.
For instance, opt for a relaxed but slim waist hoodie. Sure, you'll be giving your friends a gym-goer outfit even if you just want to lounge around their house. In that case, your outfit is picture-ready any time of the day!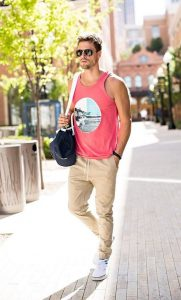 One classic outdoor wear, especially when the summer season kicks in, is a tank top. For a more relaxed and trendy outfit, you can match a sleeveless top with tight-fitting sweatpants. You can complement your whole look by throwing in a body bag and white sneakers.
Nonetheless, the key to making this appear well on you is to keep the equilibrium from head to toe. For example, if your sweatpants are fitted, you should wear a flowing tank top. And to achieve a functional menswear look, you can definitely rock a top tank with chino sweatpants. Pretty straightforward to power up your street getup!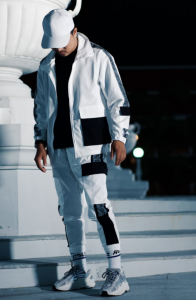 To set off a racer-style vibe, opt for a pair of sweatpants and a jacket that encompasses color co-ords. In this way, you won't have to deal with a top that matches your outfit. This style makes sense when going to sporty-race car events, where you'll find plenty of goers with the same interest as you.
You can instantly stand out from the crowd by marrying top and bottom with chunky rubber shoes. Wearing socks would make your look more polished, but it's entirely up to you if you want to wear one. And oh, throw in some cap, and you'll get second looks *wink*!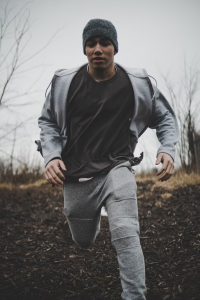 One of the advantages of getting a jacket is that it can be easily paired with any bottom, such as sweatpants. Aside from it being practical, it looks casual but relaxed. Moreover, this inspiration sets off a friendly vibe at the top and party-ready at the bottom. You can mix and match them with a loud pair of sneakers to spice some things up.
For instance, a gray jacket layered with an inner black top paired with gray sweatpants would be your next go-to look when meeting a friend outside work. Other men go with a neck scarf or bandana to create an accent.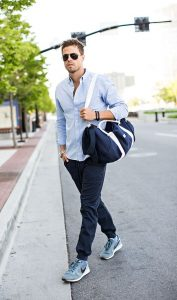 Button-down collar shirts create a God-sent gift from heaven when paired with tight-fit sweats. In comparison to a suit, you can definitely wear one with sweatpants and call it a day. A button-down shirt and sweatpants combo is a sure bet for a genuinely casual professional look.
Add light blue rubber shoes to the ensemble for added style points. Likewise, you'll look great with fitted sweatpants and a shoulder bag. In case you missed it, this look could be acceptable when worn at the office. Also, wearing a black shade won't hurt your overall outfit!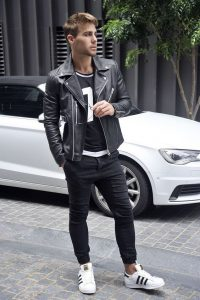 Yes, you can achieve a moto-vibe with sweatpants provided that you wear a leather jacket. You can style a contemporary but grungy look by pairing it with elegant and similarly classic sweatpants. Then all you need is a good undershirt that you can tuck in and a pair of white sneakers for an added polish.
Thus, you've just got yourself an edgy outfit. To prevent seeming overdressed, choose your pair of shoes nicely.
Chic Tops to Pair With Sweatpants for Women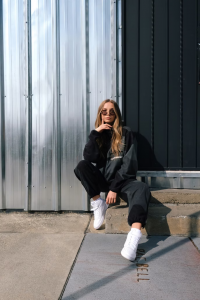 Hop into the sporty and athleisure vibe of sweatpants, but with a twist. A long-sleeved sweatshirt and sweatpants in a single hue create a monochrome look. Most of these styles encompass form-fitting and structured features, but they will undoubtedly shape your figure. Pair this co-ord outfit with white shoes for a more dynamic look.
If you want to make the party more enjoyable, pair this essential with heels to make your look more polished. Wearing a cap that comes in a nude shade will instantly convert your look into a head-turner. After all, this sporty and elegant OOTD will give you a swag appearance. Slay girl!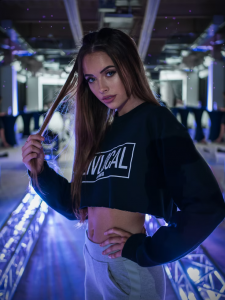 If you feel bored with a full top sweatshirt, you can introduce your high-waist sweatpants with a cropped top. Besides, your next glam style is gray knitted cuffed sweats, a black long-sleeve crop shirt, and white shoes. The style may be accentuated in a variety of ways. Pairing this set look with open-toe heels would be an ideal choice if you want to stand out in a crowd.
If you can't get enough of this pair, combine it with a nude beanie and clunky shoes for a sophisticated yet striking loungewear style. Introduce some eye-catching accessories, and you're ready for a night out or a party.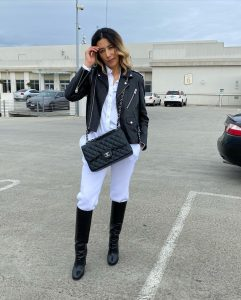 Mix and match your sweatpants with a white button shirt and a leather jacket to get a stylish and elegant look. You have the option of tucking your top in or letting it flow freely. It's simply that there's something about this jacket that can elevate your everyday sweatpants attire to a more sophisticated look.
In any small event, a pair of knee-high boots can do the work of boosting your style. Not only does the leather jacket keep you warm in chilly weather, but it also gives you an additional energetic feeling on any given day.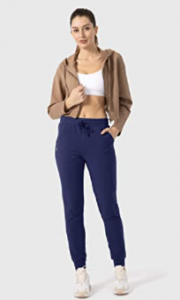 Although sweatpants and bralettes are generally considered staples for loungewear, you can still wear them in public. Fortunately, there are different types of bralettes available in the market for you to choose from. Feeling cheeky but want to maintain a neutral vibe, marry your navy blue sweatpants with a white bralette or sports bra. 
You can also opt to layer your top with a cropped hoodie that screams, "I'm feeling good today!" To do this, just make sure that the colors you choose complement one another. Otherwise, your outfit might be a disaster. As for the shoes, a neutral pair of sneakers can balance your overalls.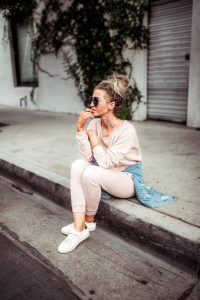 Matching sweatshirts and sweatpants for loungewear may still create a comfortable yet playful mood. Even at home, we're confident you'll be more productive with this style. You may amp up the effect by wearing a denim jacket and white shoes to give the impression that you're not at home. With this combo, you'll never have to worry about your next weekend-lazy look. 
Wear gold or silver earrings to complete the outfit and make you feel edgy and dapper. You'll also look very stylish in this outfit with sunglasses and a messy bun. And, because sweatpants often have cuffed or tapered ankles, you may casually brag about your new shoes to your friends or partygoers.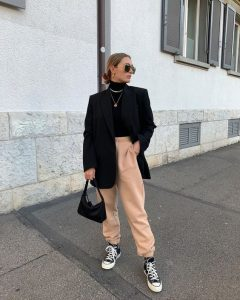 You can go retro with a turtleneck top layered with a black blazer and paired with nude-colored sweatpants. Make sure to tuck in your top as it may create a baggy figure if not properly worn. Layering over turtlenecks works excellent for coats, blazers, sports coats, and suit jackets. They instantly elevate the appearance of your OOTD.
If you feel that this hype is boring, go on and add some dangling rope necklace. Meanwhile, a matinee or an opera accessory would be a great addition. Make sure that you don't overwork your style, or else you'll end up wanting to go home early. A black pair of low-cut converse shoes will balance your outfit.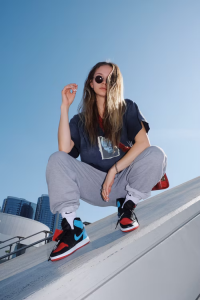 Sweatpants are one of the most adaptable trousers that can be worn anywhere and at any time. Furthermore, you can never go wrong when you mix your sweatpants with your favorite graphic tee shirt. This applies to any type of footwear, such as sneakers, sandals, or slides. You can use heels instead of shoes if you want to go for a more feminine look.
You may simply match this outfit with any shoes and a bun hairdo. In any case, a denim jacket may be worn to complement your overall look. This is a perfect outfit for a walk around the neighborhood or a metropolis. Wearing dark-shade sunglasses to finish it off would also be an excellent complement!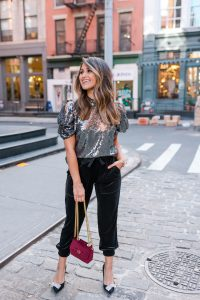 You'll look great with a sparkly blouse and velvet sweatpants during a nighttime party. It perfectly captures the phrase "shining, dazzling magnificent" without going crazy. Wearing sweatpants to work may be inconvenient, but you may complement your look with an equally beautiful top item.
Your boss will not look down on your outfit since you paired black sweatpants with a fancy shirt. As a result, tucking your top in, combined with a purse and high-heels, gives your outfit a slim-fit flair. After a long day at work, this is an incredible place to relax and have some fun. Come on, you deserve it!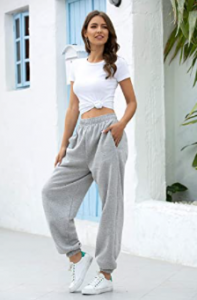 Combine a white-fitted knot top shirt with gray sweatpants for a weekend outfit. This combination, nevertheless, works great! Wearing white sneakers with bling may give a slight edge to your look.
And the next thing you know, your OOTD is on fire, and your sweatpants couldn't be much cuter. This is another summer-ready outfit that you may wear on your next day off. Dress in a flash and enjoy a day trip with your friends in these comfy clothes.