How to Cut Palazzo Pants That Are Too Long [3 Steps to Follow]
The key to really pulling off any piece of clothing, particularly the trendy and flowy palazzo pants is to wear them with the right length and style that best compliments your height and figure. 
And, if you're out there looking for the best guide that would teach you how to shorten the measurements of your favorite pants, then you have come to the right place. For a job made easier, you can directly hit your way to your local tailoring shop, but the DIY method is also a compelling alternative.
Here's how to hem your palazzo pants shorter in the comfort of your home.
When Do You Know That Your Palazzo Pants Are Too Long?
Technically, a pair of palazzo pants whose lower portion puddles either on the shoes or on the floor is considered to be too long. As palazzo pants are meant to look flattering on the legs, you can instantly tell if it's showing the opposite vibes if it breaks and folds down to your ankles.
The figure should fall down seamlessly and match the overall height from the waist down. Easily, you can realize if there's too much fabric below and that calls for your drawer's sharpest scissors, a thread, and a needle.
What's the Ideal Length of Cropped Palazzo Pants?
Cropped pants of any kind are expected to end between the calf and the ankle. The general rule on this, no matter how long your cropped palazzo pants are, they should not fall more than two fingers above your ankle.
One of the primary reasons why there are cropped palazzo pants is to put emphasis on the narrow or slim lower leg proportion which many find attractive. A pair of cropped pants can draw attention to these parts.
What's tricky though is that going too cropped can make you look short. A common error many ladies find themselves stuck into when it comes to sporting a pair of palazzo pants. The wrong length can really cause your legs to appear stubby.
Though this may not be your intention, the best way to deal with this fashion mishap is to stick by the rules.
What's the Ideal Length of Wide-Legged Palazzo Pants?
Wide-legged palazzo pants, in contrast to the cropped palazzo, should be almost skimming the floor, but the billowy bottoms should barely touch it. You know you got the length right if you're not tripping on your pants or your garment does not fray.
Take into consideration what shoes you are going to wear. A pair of palazzo pants can look right despite the excess lower fabric if it's paired with any high-heeled shoes. It won't be a match, however, if you are going to sport it with mules and strappy flats.
One common problem we have in purchasing palazzo pants is that the mass-produced garment does not account for every woman's height. It makes online shopping a lot more complex than it has to. But, being keen on the product description and measurements will help you buy the right one.
3 Steps to Properly Shorten Your Palazzo Pants
If you have spotted the perfect pair of palazzo pants except that there's a bit of an issue with the length, don't be too quick to ditch it and say goodbye to it. Hemming these pants until they come in the right proportions is now easy with these steps we are about to give you:
1. Measure Your Desired Length
To get you started, rip out the old hem using a seam ripper. Carefully do this and make sure you don't damage the actual fabric. Pull the seam out as you break the stitches and thread. 
Put on your pants afterward and pair these with the shoes you'll most likely wear with your palazzo pants. Then you can start cuffing the lower ends. Use several straight pins to hold the cuffs in place. 
Having a mirror so you can see how it looks as well as walking around help you check if the length is up to your satisfaction. See if the pants are swinging nicely or do they catch on the back of your heels. Do any necessary adjustments as needed.
Take the pants off and slowly turn them inside-out. The pins act as your guide on how short your palazzo pants will be, so ensure they don't fall off their original place. 
2. Do the Preparation Process 
Where the pins lie is the initial line that will tell you where the new hem will be sewn. Take a ruler and tailoring chalk for this one. Measure the distance from the edge to the hem fold and mark it using the chalk. Use more pins for a more secure hold.
After that, get your iron ready and start making a crease. But, before you do that, the settings of the iron should be right according to your palazzo pant's fabric. Too high a temperature can burn your clothing and too low of it won't make effective creases.
Next, using a ruler, measure the edge up to about 1 1/2 inches and draw lines. The excess fabric from the original hemline has to be cut by a sharp pair of scissors. 
3. Start Sewing
You can now take off the pins one by one. The first line you made will be where you'll insert the threaded needle. If you don't want it to look visible outside, adjust the length of every stitch you make. 
If you know how to use a sewing machine, take advantage of that for an easier procedure. Do the same operation with the other pant leg of your palazzo.
Once you're done, turn the pants right outside and try them on. If they are already looking posh and even in length, the garment is ready to be worn for any event. If you need a bit of an adjustment, remove the seams and do the process again.
Can I Stick a Fusible Tape Instead of Sewing?
Yes, you can! It's quite tricky though. You have to really consider the weave, material, and weight of the fabric as these can affect how effective the tape will stick on.
In many cases though, fabric tape is seen as a better and more convenient alternative to sewing, especially if you're admittingly a beginner in dressmaking or you simply don't have time to insert a thread in the eye of the needle.
You can do procedures 1 and 2 and put the tape inside the fold. Take a different cloth and cover the portion and have an iron do the magic. Heating up the tape until it melts is a complicated method. You have to make sure it sticks well without burning anything.
For some who have already dealt with fusible tapes, the outcome is more appealing if you use the traditional thread and needle pair.
5 Recommended Palazzo Pants With Measurements
We know how far from easy it is to ultimately buy the palazzo pants you have added to your shopping cart. To make your experience better and aid you in finding the right pants immediately, we recommend these five pairs: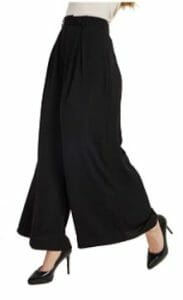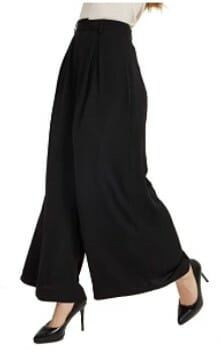 These casual pants can be worn for almost any occasion. The Tronjori brand's size ranges from extra small to plus size with a helpful chart that you can refer to. This looks prime in people who are at least 5'7" to 5'11" in height with a pair of 3-inch heels. Anyone who is 6 feet tall or more will feature a cropped version. Meanwhile, those who are around 5'6" down to 5'2" can flaunt this garment excellently with high heels. Disinclination to do so can make you appear shorter and the garment too long for you.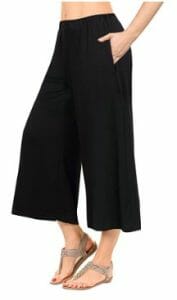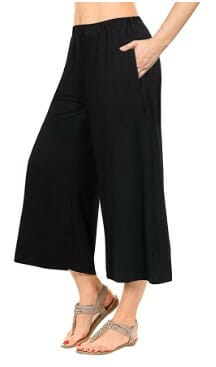 For lounging or casual events, GlorySunshine offers you a quality pair of cropped wide-legged pants. Their garment ranges from extra small to extra large in different variations. You can refer to their size chart for a clearer expectation in regard to the fit and length. Their proportions in length start from 31.89 to 34.25 inches. Do check the waist sizes too.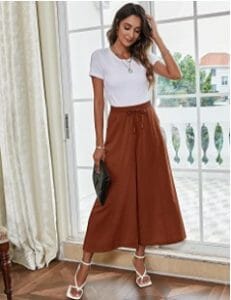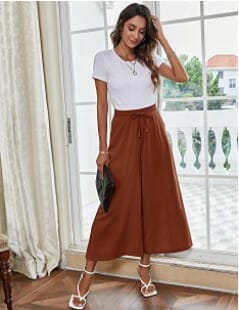 Feature an attractive shade in one of the comfiest fabrics there is- linen! These palazzo pants that give off a laid-back, beach vibe can be worn anywhere you go while looking classy. Look your best without looking awkward in your pants' length! If your waist to ankle ratio measures anywhere between 34.42 to 38.58 inches, then the KILG store is where your spot should be.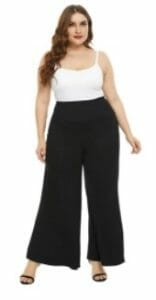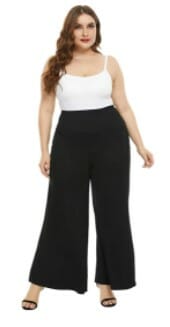 Another loungewear you can purchase. Hanna Nikole provides one that will delight all plus-sized women out there! You are guaranteed to look attractive and flattering on this and the first thing to achieve that is to determine what size you come in and compare it to their available measurements. Their size chart features around 40.6 to 42.1 inches in length which tells that these are ones made for women who are blessed in height.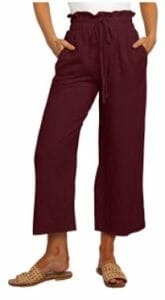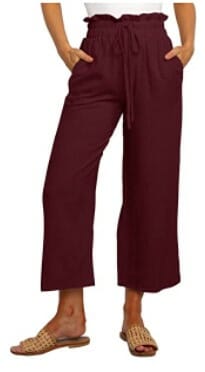 One thing is for sure, you won't have to struggle to find what pants fit your waist if you're holding this one with a drawstring closure. The next step you'd have to scrutinize is how long the length goes! These women's casual pants start at 39.17 to 41.54 inches to cater to almost all body types and sizes. Since you can just effortlessly adjust the fit around your waist, if the pants result in being too long, you can just go back to our sewing steps instead of throwing this away and calling it a waste.