Best Leggings for Lifting [18 Squat-Proof Workout Leggings]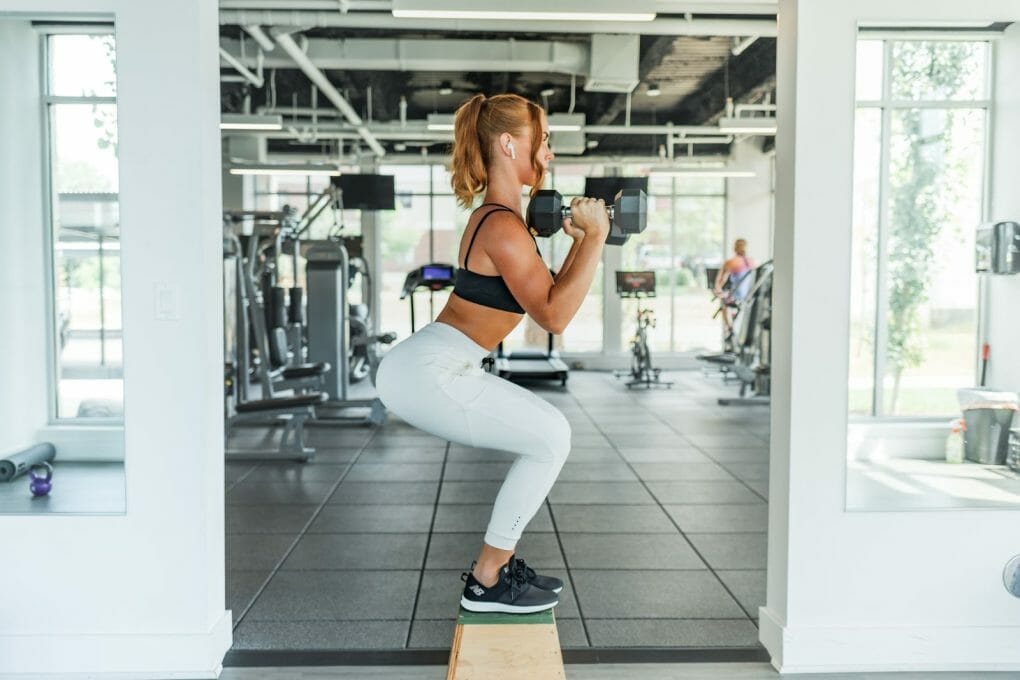 Putting on the best leggings for lifting helps you complete your entire session without unnecessary breaks or distractions. They're made to withstand rigorous activities, allowing any movement you make throughout the day.
Certainly, workouts are an essential lifestyle routine to keep you in tip-top condition. And now that gyms are back to being fully accessible, nothing can stop you from achieving your goals. That is, until you realize that your leggings aren't as opaque as you thought. 
Yep, we've all been there. To keep you from future embarrassments, this article lists the tested and proven best leggings for lifting. Caution: you'll get addicted to wearing them. Let's dive right in!
18 Best Leggings for Lifting
The best leggings for lifting must be non-transparent, soft, stretchy, and comfortable. These are some of the features that will help ease your intense workout drills. The right garment will keep you on top of the game, oozing out enviable confidence. 
Besides the qualities mentioned, they don't have to come with eye-bulging price tags. Go through the top 18 best leggings you'll love for your workout schedules.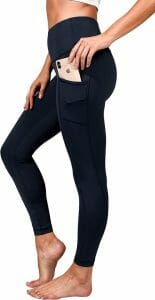 Lifting your weights would require squats and other necessary movements to perfect the drill. What you need is the squat-proof 90 Degree By Reflex leggings. These have a 4-way stretch fabric technology to support your workouts and ensure you won't experience any unwanted exposure, more so in a public set-up, such as the gym. The polyester and spandex combination provides gentle compression to keep your blood flowing. At the same time, the high-waist design prevents your leggings from falling down. 90 Degree By Reflex is a brand trusted and well-loved by many.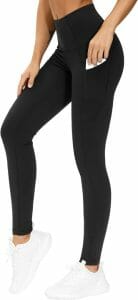 Whether you do HIIT or deadlifts, The Gym People workout pants are another go-to choice. The brand uses nylon, polyamide, and spandex fabrics for a more natural feel. It's non-restrictive, supportive, and has an ultra-stretch fit, providing you with enough thickness and breathability. Additionally, the comfortable high-waisted band doesn't fall and gives you your needed tummy control. Your entire waist from the front and the back are smoothed out, plus the whole garment doesn't shrink quickly. Experience these non-chafing workout leggings, and you'll notice a significant improvement during your lifting sessions.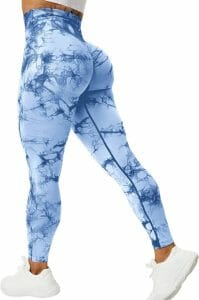 Voyjoy tie-dye seamless leggings are a crowd favorite. The design gives off a butt-lifting effect, boosting, even more, any woman's confidence when lifting weights or doing random exercises in the gym. On top of these desirable characteristics of these leggings, you'll experience their non-see-through, quick-drying, and skin-friendly qualities. Aside from the fact that you can heavily rely on these leggings when lifting weights, the Voyjoy tie-dye leggings can also be used for your pilates and yoga.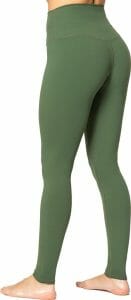 Sunzel workout leggings have everything that you need. These have a 4-way stretch quality; they're buttery soft, breathable, sweat-wicking, and most of all, squat-proof. When worn, you can do as many weight-lifting reps as you can. The polyester and spandex fabric combination ensures you're comfortable the whole time you're in the gym and even when you have other leisure plans afterward. Experience the compression around your waist without the band digging too much into your skin. Make use of your two durable side pockets for your essential items like keys and cards.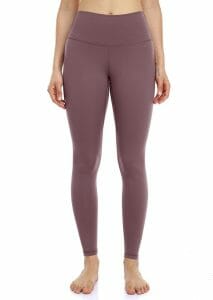 Should the temperature drop a few degrees, it's time to put on the fleece-lined leggings from Colorfulkoala. Feel the added warmth it provides as these leggings are made for cool weather. These stretchy pants are not ideal for physically demanding activities but for low-intensity lifting workout sessions. Keep sweating as you lift your weights, and guarantee you'll reach your goal in no time. These thermal leggings have a pull-on closure and a 25-inches inseam. You can use these as a layer or wear them as is, depending on how cold the weather is.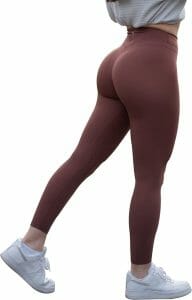 The Tomtiger Yoga pants allow you to have a full range of motions during your workouts while wicking away your sweat. Whether you're up for yoga or intense training, these leggings are 100% squat proof, plus they stay in place, keeping you from adjusting your leggings every minute. It's made from 80% nylon and 20% spandex, making you feel comfortable throughout your weightlifting session. You'll also feel a lot sexier with these leggings, thanks to their butt-lifting effect. Your silhouette looks improved, and you'll feel good as you sweat yourself out.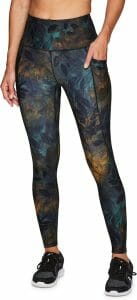 The RBX yoga leggings are made for high-performance workouts. These are made from squat-proof Tech Flex fabric, which provides total support and coverage when bending, stretching, or squatting. Move confidently when wearing skin-hugging, smooth, moderately stretchy, and moisture-wicking leggings. On top of all these cool features, the prints available are ultimately eye candy.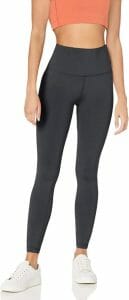 Amazon Essentials active sculpt leggings feature a high-waist band to flatter your figure and ensure your entire leggings stay in place. Unlike other poor-quality leggings, these are made from polyester and elastane, giving you the best of both worlds. You have the guarantee that this pair is robust and can actually keep up whenever you do weightlifting or squatting. It has a 4-way stretch fabric and a moisture-wicking quality, so you won't end up soaking in your own sweat the entire time.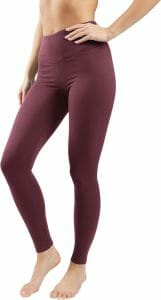 Suppose you're up for weightlifting drills or regular outdoor exercises during the cold season. In that case, the Yogalicious fleece-lined leggings are the way to go. People also use these leggings for their runs during the winter season. The brushed interior provides added warmth; basically one of the best gear for your cold wardrobe collection. From how these pants look, you know you won't experience unwanted exposure. It's thick enough to give you the coverage you need. The 4 ½ inches rise that covers the navel is durable and not easily stretched or worn out after several uses.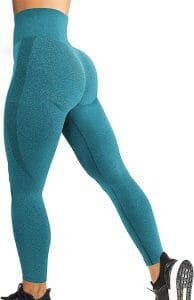 Yeoreo's contoured leggings are made for gym goers. They're thick, stretchy, soft, and super comfortable. But aside from these essential features, Yeoreo has crescent shading around the butt area and on the sides of the legs. These  improve the look of your curves and overall silhouette. You may have to upsize a bit unless you prefer a tight fit. These seamless knitted fabrics are undeniably great for lifting, yoga, running, exercise, cycling, and more.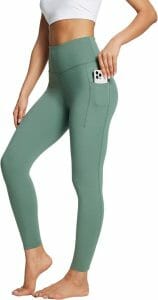 The Baleaf workout athletic leggings will be ideal if you're into leggings with a matte finish. These are moisture-wicking, stretchy, and non-see-through. You can sport a pair either for workouts or lounging. The seamless inner design is worth noting, too. You'll experience a great difference when you wear these Baleaf athletic pants. Your yoga, lifting sessions, and other activities can be done without feeling any unwanted friction against your skin. No matter how low you squat, the pants stay in the right places, and the seams are expectedly robust. 

Turbofit workout leggings are made from premium nylon and spandex fabric combinations. This pair is breathable, wicks away moisture, is quick-drying, opaque, and soft. This is made to be colorfast, too, which means when you get this washed, the original color stays the same, unlike dyed leggings. So no matter how often you wear this to the gym, the vibrance of these leggings stays consistent. People would think they're still new! The high-waist design also improves your hips and butt. An invisible pocket at the back of the waistband is also added for your keys and cards. There's no need to bring a purse when you're out and about next time.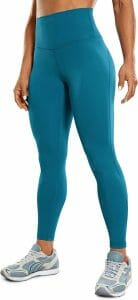 This is one of the ultra-dry collections of CRZ YOGA. It's sweat-wicking thanks to its fast-drying fabrics: polyester and elastane. No matter how much you sweat, you won't feel soaked in your perspiration. This has 25 inches inseam, and it's meant to sit above your ankles. Specifically made for training and rigorous activities, these ultra-dry leggings can undoubtedly keep up with your intense workouts. A gusset crotch is sewn to avoid the embarrassing camel toes, and a U-seam on your behind to emphasize your butt. Those who struggle with their love handles would also love the high-waist design. It has tummy control without digging into your skin.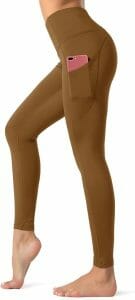 When you're lifting weights, the leggings you need have to feel like your second skin; that's what you're getting if you invest in a pair or two of Dragon Fit yoga leggings. The whole garment is made from polyamide and spandex, guaranteeing that these are buttery soft, and comfortable. The seams are interlocked to avoid the horrible chafing and other skin irritations that poor-quality leggings can cause. There's also a gusset crotch to maximize free movement and keep your front smooth and camel toe-free. These leggings are suitable for Capri, lifting, and other fitness workouts. 

The IUGA yoga pants come in multitudes of colors. You can create a collection or have them all, so you won't have to worry about what leggings to wear next for your lifts. Of course, these are not sheer; they're made for everyday wear. Primarily, these leggings are for active wear. These stretchy pants are made for yogis by yogis, so you'll definitely find this much better than any other brands. The ultra-stretch fit conforms to your body figure with a bit of compression to make you look slimmer and to get your body more contoured. You can also take advantage of the side and hidden waistband pocket. You won't have to end up misplacing your keys and other essential items anymore.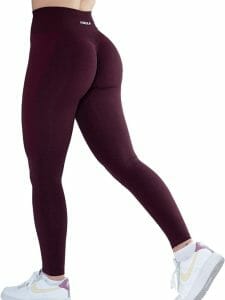 The Aurola seamless scrunch tights are ⅞ leggings. These provide full coverage from your waist to the ankles— a perfect pair of workout pants. Some of the highlights of this garment include a gusseted crotch to get rid of your camel toe, flatlock seams to avoid skin irritations and chafing, thick material, and breathable properties. These leggings are also moisture-wicking and have a 4-way stretch, allowing you to move any way you want. The whole garment is made from spandex, nylon, and polyester. Several attractive color options are available, such as gray, blue, red, and brown.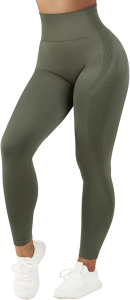 The last thing you want from your workout leggings is they come stiff, but that won't be the case with Kunisuit butt-lifting leggings. It's made from polyester and spandex, guaranteeing that they're buttery soft. The ruched design is noteworthy, as well as the high-waisted band to control your curves. They also keep your leggings in their right places without having to adjust them every once in a while, more so when you're lifting weights. It's definitely squat-proof and has shades on the bottom to give you that peachy bum effect. On top of these, the Kunisuit workout leggings are lightweight, breathable, moisture-wicking, lint-repellent, and prevent the formation of cameltoe.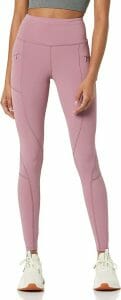 Topping the aesthetic look is the Core 10 thermal leggings. These have mesh paneling on the knee, keeping you cool during your highly intense weight lift drills. The squat-proof designs will keep you from worrying about unwanted exposure; it's assured that you're getting a garment that's just right when it comes to the thickness of the fabric. Experience supreme comfort in a pair of Core 10 leggings. This is breathable, supports dryness, and is easy to maintain, since you only need to toss it on your washing machine. It has a pull-on closure with a cool seam design all over without causing undesirable friction on your skin.