Best Postpartum Leggings [14 Lifesavers for Moms]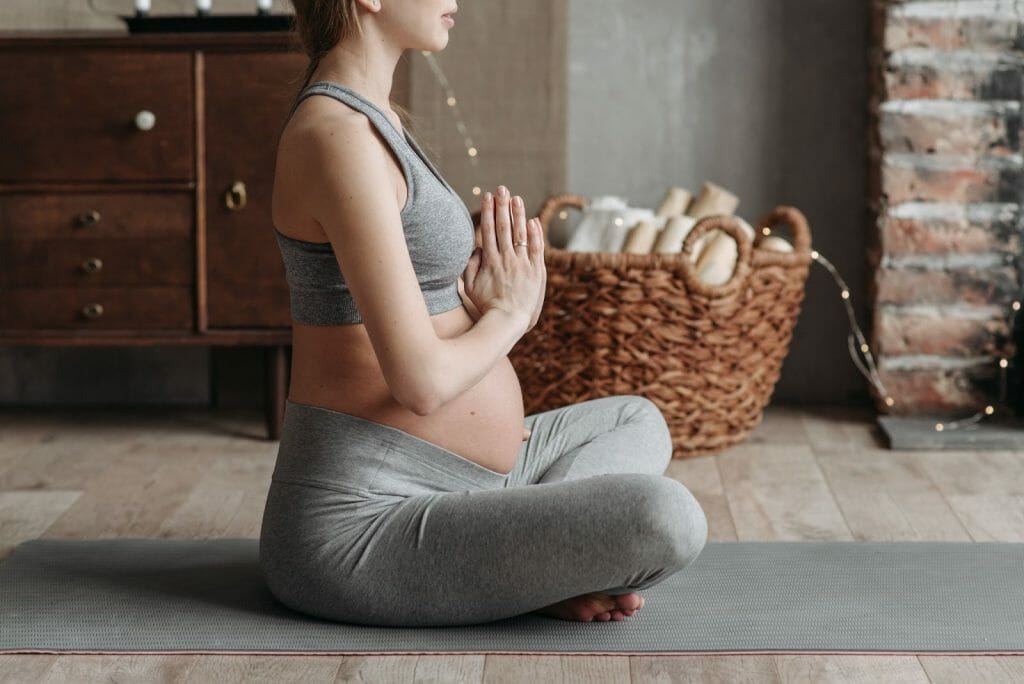 Everybody celebrates with you in bringing a new bundle of joy to this world. And now that maternity is over, moms like you are set to get to the next stage; the postpartum period. During this time, your body begins to heal, and it's a much better experience if your wardrobe can keep up with the changes. 
Seriously, no mom would immediately grab a pair of jeans after birth. The things they want are soft, comfy, and smooth, stretchy pants that won't irritate their sensitive areas. We're talking about leggings here, but not just any leggings. Moms like you need postpartum pants to aid you in your recovery. 
In today's post, we're covering 14 postpartum leggings moms perceive as their ultimate lifesavers.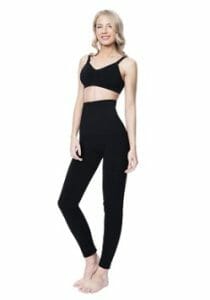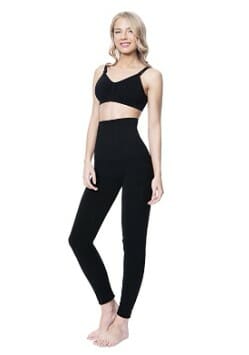 "Say goodbye to love handles and postpartum belly!" says a-more-than-pleased mom who first-handedly experienced that there's no need to worry over dimples, belly fat, and bulging hips. She also noted that these Mothers Essentials compression leggings should be deemed your key pieces during your body's transition and healing period. Honestly, after giving birth, you won't have much time to think about what to wear. Luckily, these slimming leggings are perfect for providing a moderate level of support with secure seams up in the middle. Its high-waist feature helps in improving your posture by giving your back the support it needs.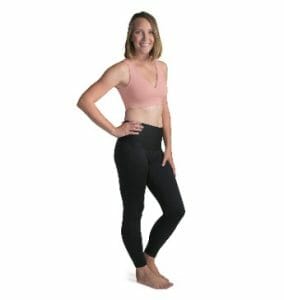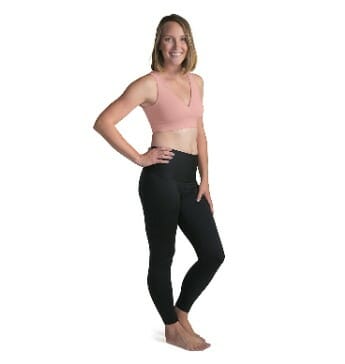 Literally, it's not easy to find a pair of leggings that ticks all the boxes. But apparently, many moms did. These Kindred Bravely maternity leggings offer a compression feeling, not too thick and not too thin fabric quality, and most of all, breathable. What's more, is that these leggings can be worn at any stage of a mom. Talk about pregnancy to breastfeeding period! There are different styles with large pockets, so you can slip your phone conveniently as you carry your mini-me around the house. To add, these pants may come off a bit pricey ($89.99), but they're absolutely worth it.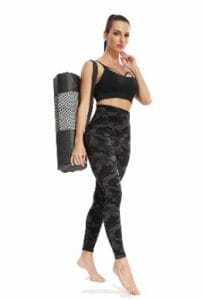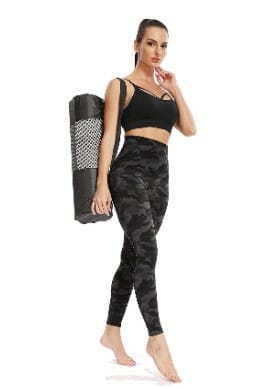 Any mom couldn't be happier if they found out about these leggings! The Rheane postpartum leggings suck everything in, making you feel a smoother, bulge-free body despite your recent labor. One mom says, "These are the best pants in the world!". She'd practically wear these every day if she could, but of course, the key to preserving your leggings is to rotate them. Well, that is unless you buy several pairs. The seamless structure of this garment prevents chafing as well as the forming of a camel toe. These should definitely be a mom's top choice during belly recovery.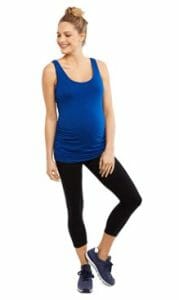 Another top must-have postpartum leggings should grow with you during your entire pregnancy to post-pregnancy period. More and more moms are going gaga over these Motherhood Maternity crop leggings thanks to their secret fit belly that has a seamless stretch maternity panel. These pants are undeniably soft, comfy, and stylish, perfect for lounging; as you know, moms need to rest and chill before they can go back to their everyday lives. Order the best crop leggings for a great price and experience their worth yourself!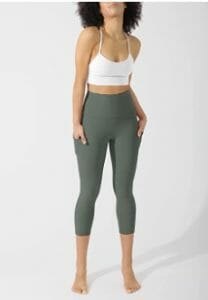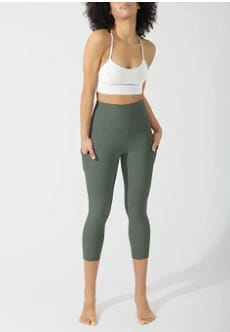 Moms like you need maximum comfort throughout the day. This helps lessen the stress motherhood may bring. Ododos Capri leggings would be your perfect match as these pants are made of soft fabric with a 4-way stretch feature. Definitely high-waisted with a thicker band, so your whole tummy is covered and protected no matter what movements you make. The garment has 2 side pockets perfect for carrying your essential items while you entertain the baby. Of course, we can't ignore the stylish structure of these pants. Moms like you need these for a surefire way to boost your confidence!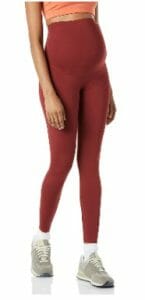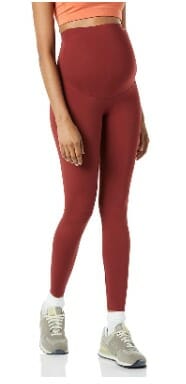 All mothers need support during their recovery after the pregnancy period. And what's a better way to help them and their bodies heal than to give them these sculpting leggings from Amazon Essentials? These are undoubtedly soft and non-see-through with an athletic feel. You'll have more energy to accomplish during the day as a mother with these on. Experience the compression these pants offer! It lifts the butt, sucks in the thighs, and allows adequate space for your belly without overly squeezing it.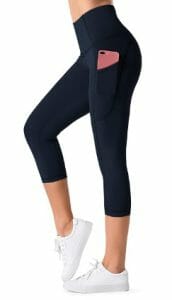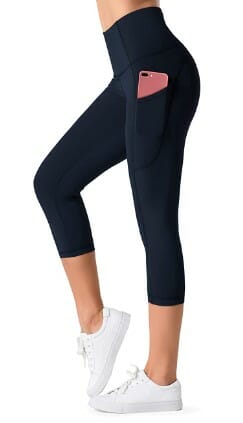 Some of the characteristics you have to look for in a pair of leggings as moms are features such as the 4-way stretch, a piece of interlock fabric for ease in your movements, a pocketed waistband, and most significantly, a tummy control property. It's a no-brainer that these pants should also feel soft to the core for a more positive postpartum experience. Active moms can truly benefit a lot from these Dragon Fit leggings, especially if you do pelvic floor exercises, as also recommended in the New York Times. The wide waistband ensures that your belly is all tucked in the right places without causing itchiness and other unwanted irritation.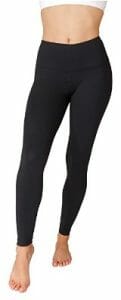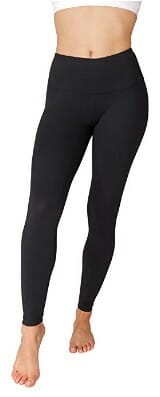 Don't stress about what clothes to wear right after you get out of the hospital. Your belly's haven is your leggings. And although thousands are available in today's market, you have to consider trying on the power tummy control leggings from 90 degree by reflex. Have a magical moment with these on as you notice the thick, durable material that's been used. It covers your tummy from the belly button down while prohibiting your areas from going all over the place. These are also squat-proof, which means you can freely pick up your baby's scattered toys on the floor without hearing its fabric snap.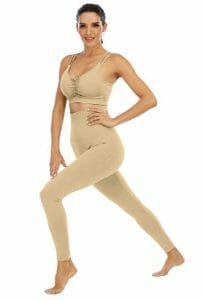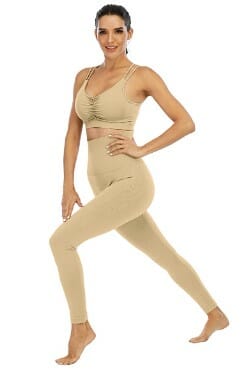 Get the core support you need right after you have your baby! Chrleisure is your go-to leggings to keep your guts from jiggling around. The fabric is not see-through, so don't worry about the accidental exposures. The tight but non-restricting waistbands don't roll down even if you've worn them for several hours while tending to your baby. One review says, "These leggings are snug, nice, and compressed." With a price of $12.99, these in-demand leggings are within your budget's reach.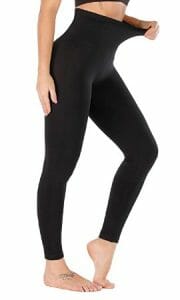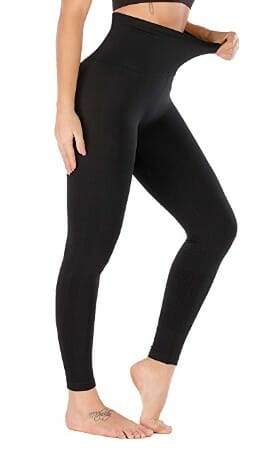 Get the relief you deserve while taking care of your precious baby! The Running Girl leggings are seamless and have a tummy control feature without making you feel too compressed. They'll never roll down as the band is form-hugging. Your love handles won't be felt through these pants anymore, and it won't harm your confidence as these help in getting you back in shape. Also, it's worth noting that these stretchy pants will complement your bum well. Your partner sure wouldn't fail to notice!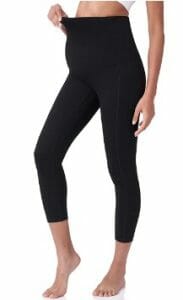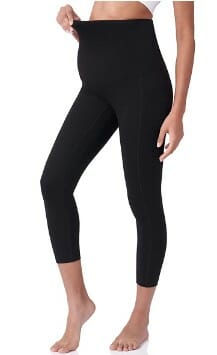 Don't miss out! These Poshdivah Capri leggings are a wardrobe staple for any mom. Forget about dresses; they don't offer you support at all. Nor the regular jeans; they're far from comfortable. Instead, these Capri leggings will grow with you from maternity even to the postpartum period. The material used is ultra-soft, so you're ensured that your delicate after-birth skin doesn't get itchy or irritated. In a way, these pants feel like Lululemon running leggings, but at a lower price of $24.99.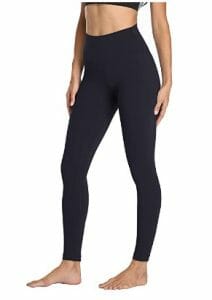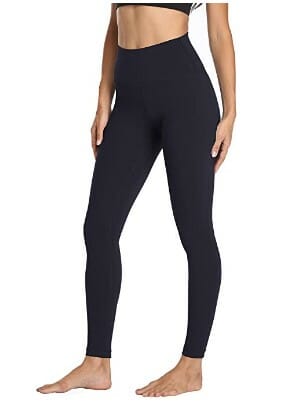 Have a true-to-size fit and comfy pair of leggings from Mipaws, moms! These are super stretchy, but they don't wear out quickly after several uses. The tummy control feature alone should serve as a green flag. Get rid of your flab and other post-pregnancy belly conditions gradually by committing to wear these Mipaws leggings. Don't settle by just having one pair; have as many as you can! You'll certainly feel like a queen with a more flattering figure after you put these on.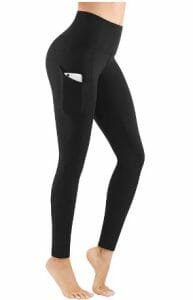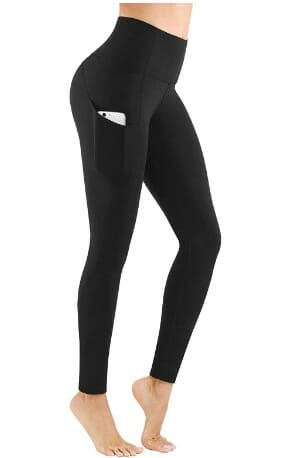 Yoga pants are more versatile than ever. They have several features that can help moms greatly. Aside from their unquestionably buttery, soft feeling, these ones from Phisockat also showcase a waistband that would conceal and put in place your tummy. Over time, your belly will heal at a faster pace and in a better way. Aside from the perfect fit, these stretchy pants won't look see-through even if you test them out in varying light conditions. What more can you ask? Everything is found in these pairs!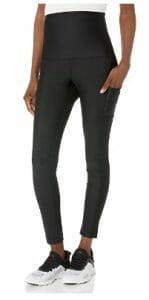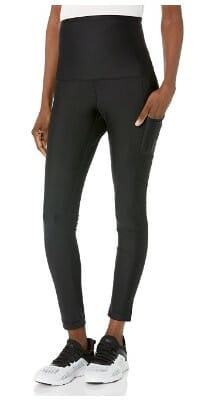 Becoming a mother is not easy, more so when you also have to deal with your body's drastic changes in appearance. But the great news is that you can get back to having that killer body. One of the many ways to achieve that is to ready a collection of postpartum leggings, including the ones from Motherhood Maternity. Have the perfect fit from the most excellent materials used, and use them regularly until you get rid of your belly pouch. You can also slip your phone into one of the pants' deep pockets conveniently without losing your focus on the baby. No doubt, these are a must-buy for those who have postpartum and even pregnancy bodies!
You may also want to read:Best Leggings Brand [15 Names You Should Know]