Best Leggings Brand [15 Names You Should Know]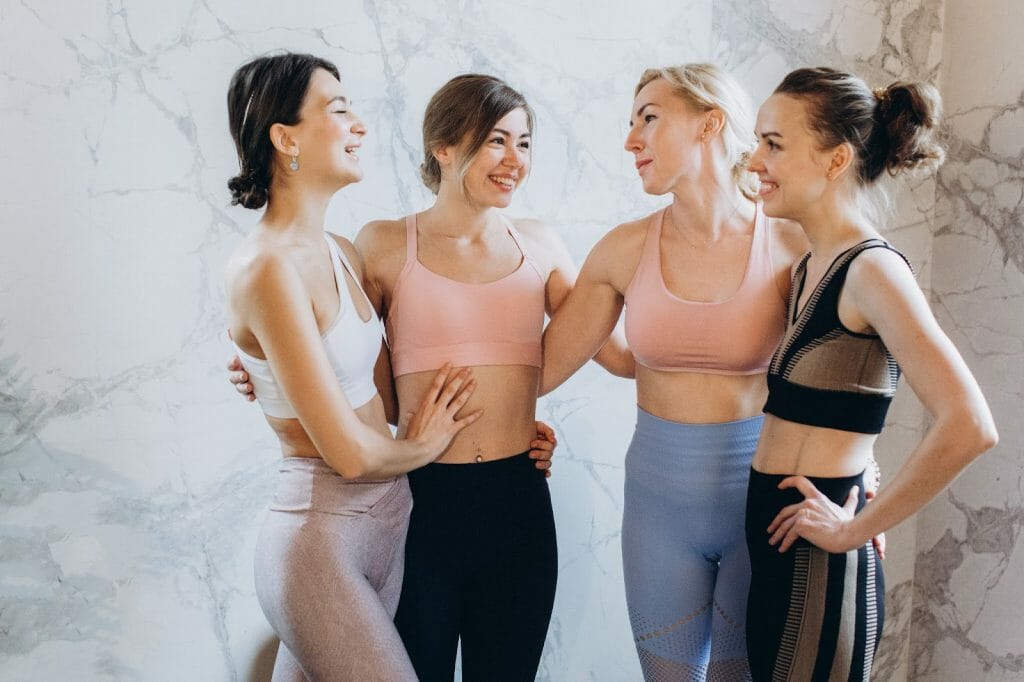 Leggings are an absolute favorite for lounging, attending classes, hitting the gym, or getting your daily dose of caffeine. Since the pandemic hit, more and more women have invested in quality leggings that hit the right spot in terms of comfortability and quality.
And today, we will get to know the big names behind the best leggings known to the world. Though there are numerous brands, only 15 of them feature excellent fabric material, classic designs, and innovative technology. Once you seriously invest in them, you're never going back to the cheaply made ones.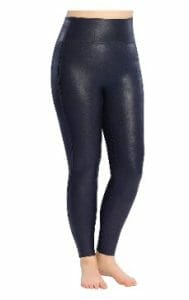 Who wouldn't be thinking about Spanx when it comes to stretchy, durable leggings? Various leggings from the brand have put smiles to those who've spent years and years searching for the right stretchy pants. A personal favorite is its faux leather leggings. It can be effortlessly added to your entire night-out ensemble whenever you're out of town. There's no seam at the front (goodbye camel toe), and the waistband is broad and figure-hugging. Every bit of their Spanx leggings is worth every penny.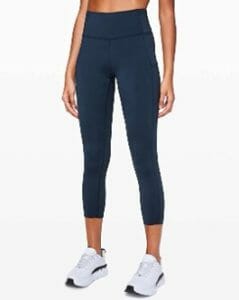 For your workout or sports gear, Lululemon is your first stop. Their incredibly-made leggings are well thought-out; you won't have to buy a pair every month–well, unless you want to collect their garments. But what I'm saying is that their pants are so robust that they can last longer than you'd imagine. No matter how much of a runner you are or how intense your everyday drills are, the Lululemon high-rise crop, among many others, will retain its shape, quality, and function for you. Some of them are made from Nulu, Lycra, Luxtreme, and more.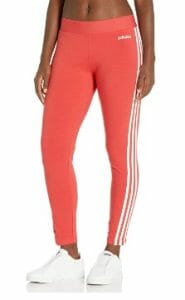 For decades, Adidas produced high-quality workout clothing, which made models, athletes, celebrities, and people, in general, commit their loyalty to the brand. If, until now, you're not able to experience the quality leggings of Adidas, it's time that you buy a pair and judge every detail of it yourself. No matter how long the brand has been in the world's market and under the eyes of several critics, the excellence just never wanes. From lounging to sports, Adidas has everything you need.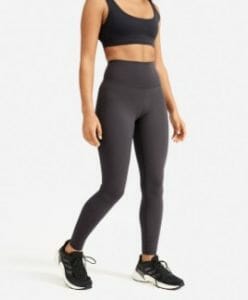 Do you want a pair of leggings that do it all? Then try Everlane. Their must-have is no other than the Perform Legging that comes in black, ink gray, and heathered charcoal, to name a few. No doubt, the fabric is supreme in performance as the material comes from a renowned Italian mill. Around 80% of the overall garment is made from recycled materials, so you're putting in the effort to save the environment. Talk about practicality should you become an Everlane fanatic.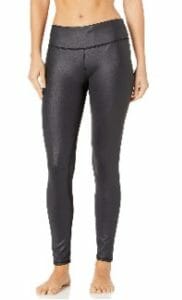 Wondering what brand produces the best yoga leggings? Look no further as we introduce you, Alo! Yogis find this as their wardrobe staple as the brand's stretchy pants impressively help them to achieve every pose without the hassle of adjustments. When worn, you'll see yourself sporting a smooth and sculpted version thanks to the garment's signature performance fabrications. The true verdict about Alo leggings is that they're buttery soft, so you can calmly meditate, silky for ease in movements, and flattering to uplift your confidence.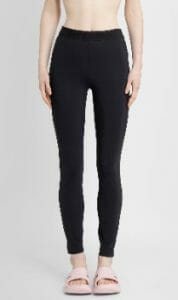 As the work-from-home set-up continues, why not update your loungewear collection? Pretty sure, even though the situation subsides, many of you will be hesitant to give up the comfort a pair of leggings offers. And, should you invest in quality leggings, the ultimate chic is one from Paris, otherwise known as Givenchy. By carefully selecting the right pair, you might end up getting one that exhibits a contemporary style mixed with French sophistication and street-style. Though leggings are deemed casual at best, you'll stay looking classy even with Givenchy leggings.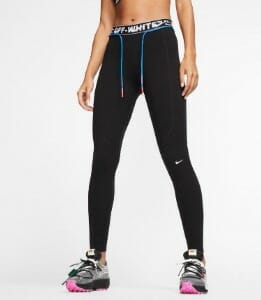 Widen your fashion scope when it comes to your leggings by exploring Virgil Abloh's luxurious taste in various clothing, including the ever-casual leggings. Off-white is increasingly becoming popular as it storms the fashion world in style. Its leggings are deemed a medium of elegance, eccentricity, design, and exclusivity, which, in return, attract massive attention from the West to the East. This is a quality brand that's not set to disappoint leggings lovers. It's not just about the name, but it also attempts to give you precisely what you paid for.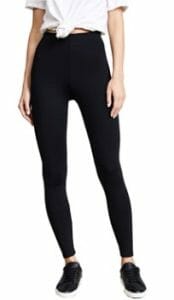 Set yourself up for the best when you go for the Commando leggings. Don't give up searching for a pair that offers peak performance as you've arrived at the right place. Experience their buttery-soft leggings and micro-fiber ones, depending on your preference. The 4-way stretch might be a standard feature of many leggings, but this, combined with many others, can make a pair superior to the rest. The fabric disallows sagging or bagging, and the waistband ensures a firm fit. Find out more about their classic designs that range from simple black to snake patterns.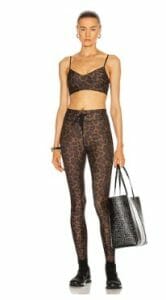 There's admittingly a gap in the way fashion clothes look. The Upside was born in 2014 to remedy that, hence the birth of sets of leggings that feature funky prints. These aren't for any ordinary woman. You have to carry the spirit of each of their leggings before you'd be able to ultimately exhibit its elegance. Of course, there's also a collection of The Upside leggings that come in classic colors with identifiable minimal prints. At first glance, anybody can easily tell what brand the pants are.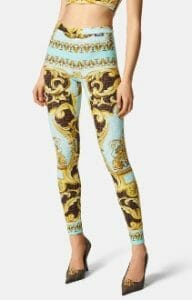 Get to witness fashion through the Versace lens. Indeed, leggings are more than just a pair of stretchy pants that would allow you to work and perform better in the gym or in your WFH set-up. This Italian powerhouse is not about giving you the ordinary garment. They're here to actually produce iconic ones in bold prints made from high-quality materials. Take note, Versace leggings are so fashion-forward that you have to set yourself ready before you put on one. Nonetheless, by starting up your Versace collection, you're set to not be late when it comes to looking stylish.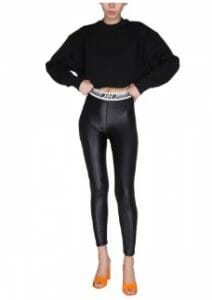 MSGM leggings are crafted both for style and performance. To aim for the sweet spot of active and streetwear, MSGM launches leggings that come in kaleidoscopic patterns, shapes, and bright colors. These pants are perfect if you want to gain the attention of the whole club. Right as you step into the hallway, you'll be everyone's subject, yet not for the wrong reasons. The material is far from cheap, and the waistband secures a perfect form-hugging fit.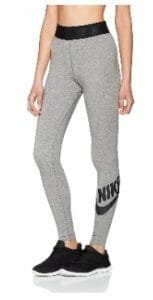 Every time you have to fulfill your daily cardio or run, a pair of Nike leggings should be the first thing you grab from your wardrobe. They're literally one of the epitomes of world-class comfort, beauty, and purpose. It's no question how high in performance their pants are and they range from loungewear to sportswear. The classic Nike logo is stamped subtly or not too subtly on the garment, so it's easily recognizable. With Nike leggings, you won't feel restricted when you do your movements. As their tagline says, "Just do it."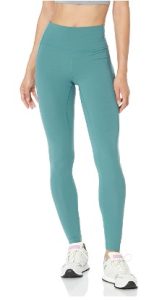 Core10 is a way to go if you're up for affordable leggings that are stylish and in line with the trends. You'll get to see a wide range of garments in sets, so you won't have to think about what to pair your leggings with. Remarkably, expect the moisture-wicking properties to work right off when you start sweating, so your body won't feel like it's soaking in a pool of water. Since the pants are superb in material, they won't be feeling nor look sheer. At the end of your drill, removing your Core10 leggings off your legs will come off smoothly.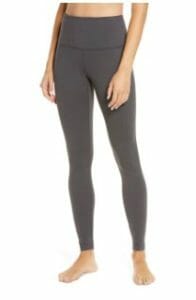 Zella is a Nordstrom-made brand that produces leggings that are specifically made for you no matter your body shape, size, or form. Innovation is one of the brand's essential keys to giving what people really need. Whether you're out for a hiking session or simply hit the gym, Zella leggings will keep up with your game and lifestyle. The last thing you'll experience with this brand is disappointment as the classic structure, aesthetics, and features all remain in every clothing piece.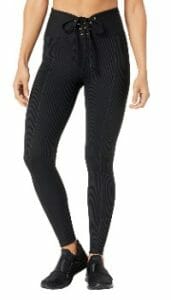 Get the leggings that you'll actually love. Go to Year of Ours and have a delightful, luxurious experience once you put on their supreme leggings that persistently hold up well despite the intensive workout session and thorough washing. The quality is excellent, an absolute must-buy for everyone. The width of the fabric is thick too. With that, your lines and bumps will be properly concealed with the bulky feeling. To add, the waist just works perfectly as it gives you an illusion of a smaller and cinched area. Some may come off relatively pricey, but Year of Ours remains to be a popular choice as it continuously satisfies customers who are extremely in love with the comfort a pair of leggings can offer.
Read more about leggings: Best Leggings for Tall Skinny Little Girls: 12 Supreme Must-Haves